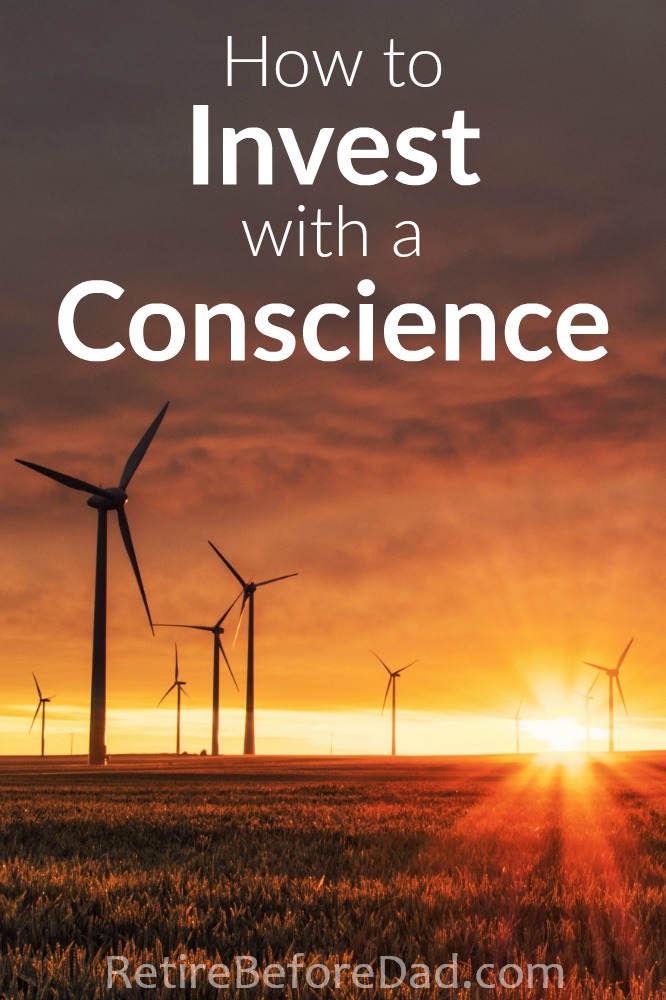 Is it possible to invest with a conscience?
Among the many excuses to not start investing is concerns about investing money in the big mean corporations… according to what comes up in my Facebook news feed.
You've heard it before… Walmart doesn't pay for enough health insurance. Exxon pollutes. Monsanto unleashed an army of rabid nanobots to terrorize the world's organic corn farmers (that's not quite true).
Wall Street investors don't give a crap about the environment, or political leanings, or social impact of publicly traded companies. They only care about money.
Broad index funds and ETFs are made up of thousands of companies, including the so-called bad actors. Most index investors are fine with this, but some people can't fathom owning cigarette, marijuana, weapons, or gambling companies due to their sometimes negative impact on society.
You don't have to turn a blind eye. It is possible to invest with a conscience. When buying individual stocks, it takes another layer of research. Or you can go with established mutual funds or ETFs that put sustainability at the forefront of the investing strategy.
More interesting, today there's a new breed of investing platforms specifically designed to help you invest with a conscience. We'll review three of them. But first, an overview of ESG investing and a few mutual funds and ETFs to look at as examples.
What is ESG Investing?
Socially conscious investments are commonly referred to as ESG which stands for Environmental, Social, and Governance.
Environmental concerns include climate change consideration, pollution, waste reduction, nuclear energy, and sustainability.
Social concerns include human rights, consumer protections, gender equality, animal rights, and diversity.
Governance issues revolve around the treatment of employees, corporate structure, and executive compensation.
Additional criteria that might impact your investment decisions could include religion, politics, and health issues. All values-based investing is generally placed under the ESG umbrella.
A few stock research companies provide company ratings on ESG issues. The notable leader in the space is a company called MSCI.
ESG Funds and ETFs
ESG mutual funds and ETFs have existed for conscious investors for some time. Two of the more prominent mutual fund companies are Calvert (now owned by Eaton Vance) and Parnassus Investments.
A few mutual funds to check out if you're interested:
Calvert Equity Portfolio (CIEYX)
Calvert U.S. Large Cap Core Responsible Index Fund (CISYX)
Parnassus Fund (PARNX)
Parnassus Core Equity Fund (PRBLX). We own this on in our kids' Virginia 529 plans.
These companies are primarily managed mutual funds, meaning there's a team of investment research specialists choosing the stocks based on certain criteria. Managed mutual funds generally carry higher fees, so pay attention to the expense ratio. Calvert has a few lower-cost index funds to add to the mix.
If you're a strict index investor, Vanguard has a fund for you called the Vanguard FTSE Social Index Fund (VFTSX) which is passively managed and tracks the FTSE4Good US Select Index. The expense ratio is a low 0.22%
The two largest ESG exchange traded funds (ETFs) are the iShares MSCI KLD 400 Social ETF (DSI) and the iShares MSCI USA ESG Select ETF (KLD).
Click here to see a bigger list of ESG ETFs. Wikipedia also has a big (sloppy) table with a number of ideas too.
Mentions on RBD are not a recommendation to buys or sell. But these may give you some ideas on what's out there to start your own research. Make sure to read the prospectus to understand the specific ESG investing strategy for each fund or ETF to make sure they align with your values.
These ESG investments and others can be purchased through any full-service online brokerage.
ESG Platforms to Help Invest with a Conscience
Investors who want to become more serious about their investing while staying true to their core values can turn to a new breed of investing platforms. These platforms harness technology to create a compelling investment experience to invest with a conscience.
Below are three investing platforms where you can own stocks without compromising your beliefs. Each of these has their own pros and cons. Expect to pay a small premium for guidance on ESG investing. But if ESG issues are important, a small fee is likely worth it to you.
Swell Investing
Swell Investing
is a promising new company that encourages you to Invest in Progress.
Though in startup mode, Swell Investing is incubated by Pacific Life, a 150-year-old insurance company. At Swell, you get the excitement and new technology of a young company with the stability and solid footing of an established financial firm.
This platform isn't about avoiding companies you might not like, it's about investing in companies that are making the world a better place.
Swell is built on a belief that today's biggest challenges will result in tomorrow's leading industries.
I like the messaging here, and the company points out that investing this way has outperformed the broader markets sighting the MSCI KLD 400 index compared to the S&P 500 performance since the index's inception (early 90's).
Swell serves as your investment adviser and fiduciary, which is an important distinction. This means by law, the company act in its clients best interests. 
Swell maintains six portfolios.
Renewable Energy
Green Tech
Disease Eradication
Clean Water
Zero Waste
Healthy Living
The portfolio managers use a rules-based investment approach to select investments that align with the core principles of each portfolio. Fees are very straightforward. The company charges 0.75% on your portfolio amount. The minimum to invest with Swell Investing is $500. My favorite claim:
No expense ratios (That would just be lame).
Swell believes that ESG investing can change the world and earn high returns. However, Swell hasn't been around long enough to prove they can do it.
They've partnered with Folio Institutional to serve as its custodian. Which basically means Folio takes care of all the stock trading stuff while Swell chooses how to invest your money and handles the customer experience.
The pricing is straightforward, but a little high in my opinion. At 0.75%, they've left some room for a decrease once they build a customer base and experience growth. I think the model will attract more investors with fees in the 0.40%-0.50% range.
One concern is that all six funds are managed by the same three people. A small bio of each is on the site, but we don't know about their investment track records. Even though this is rule-based investing, portfolio weightings and stock selection for six funds is a lot of responsibility. I'd like to see more portfolio managers in the near future.
Even so, Swell Investing appears to be a top new platform in a growing space.
Motif Impact
Motif Impact

is a robo-advising ESG investing service by provided by Motif Investing. The company partnered with MSCI to launch Impact in March of 2017.
Impact is a fully automated investment service that aims to align your values with your investments in complete transparency.
The Motif Impact platform features three investment portfolio selections.
Sustainable Planet – Invest in companies that work to reduce their carbon footprint.
Fair Labor – Invest in companies that promote fair wages, safe working conditions, and job security
Good Corporate Behavior – Invest in businesses with strong ethical track records to ensure accountability, fairness, and transparency
For those unfamiliar with the baseline Motif Investing platform, it enables investors to create their own mini-ETFs around certain themes. These groups of stocks are called motifs. For example, you could create your own motif called Solar Stocks of up to 30 stocks and invest in all of them for one transaction fee of $9.99. You can also buy and sell individual stocks for $4.95.
It's like creating your own mutual fund or ETF. Motif leverages their core platform to create these social portfolios which seem similar to the professionally created motifs.
Instead of charging a fee per trade, Motif Impact is a subscription model that charges a flat fee of $9.95 per month. In return, it's a completely passive investment.
The minimum to start is $1,000. However, that's far too little for a service that costs $120 per year. That's a 12 annual fee%!
Motif Impact missed the mark big-time on pricing. For this service to make sense at this flat fee, I wouldn't recommend starting to invest with Impact with less than $10,000. At $10,000, the service charge is a 1.2% fee, still higher than many of the mutual funds. A percentage fee structure would have made more sense if they wanted to bring in more beginner investors.
If you're interested in robo-advising and ESG investing, to expect to pay up. With that in mind, Motif Impact may be worth checking out for investors with at least $10,00o to invest or more.
Aspiration
Aspiration

's motto is Do Well. Do Good and claims to be a financial firm that puts your conscience and the earth before everything else.
Akin to its name, Aspiration seems to be aiming to be a larger financial firm. For now, it only offers basic banking and investing services.
The company products include two non-exchange mutual funds and a checking account. They are:
Redwood Fund (REDWX) – A fund with the goal of investing in companies whose sustainable, environmental, and employee practices result in their being poised for growth. It's available exclusively to Aspiration customers and is managed day-to-day by UBS Asset Management.
Flagship Fund (ASPFX) – A mutual fund that has the goal of long-term growth with less volatility than the stock market. It's made up of a number of other mutual funds each of which pursues non-traditional strategies.
Summit Account – A high-yield checking account offering 1.00% APY, no monthly service fees, and free access to any ATM in the world and a debit card.
The mutual funds are available to research on sites such as Yahoo Finance, but they are only available for purchase on Aspiration.com.
What is really cool, and perhaps the most innovative and risky aspect of investing with Aspiration is that you choose the fee you are willing to pay. And that's your fee.
Then 10% of that fee goes to charity.
Overall, I like Aspiration's big agenda to grow into a larger financial institution that aims to put greed aside and create sustainable investment and banking products. As a startup, it has its work cut out for itself.
Conclusion
I can't say that my conscience drives investment decisions in my portfolio. I own oil and cigarette companies, polluters, companies contributing to the obesity epidemic, and probably a few bad apples I don't know about.
Corporations are vessels for providing jobs, products, services, and economic growth to our country and the world. I'd be a hypocrite to shun Exxon as an investment while I still drive to work.
But some people pay close attention to corporate activities and don't want to support certain companies.
As an example, Mrs. RBD is a vegetarian. So we would never buy Tyson's Food in her Spousal Roth IRA. We did buy Whole Foods though, and that turned out OK.
The point is, investors with a conscience don't need to avoid investing altogether because of their values. ESG funds, ETFs, research resources, and platforms are available to help you invest with a conscience.
Photo credit: Karstan Wurth via Unsplash
Disclosure: The author is long PRBLX, WFM