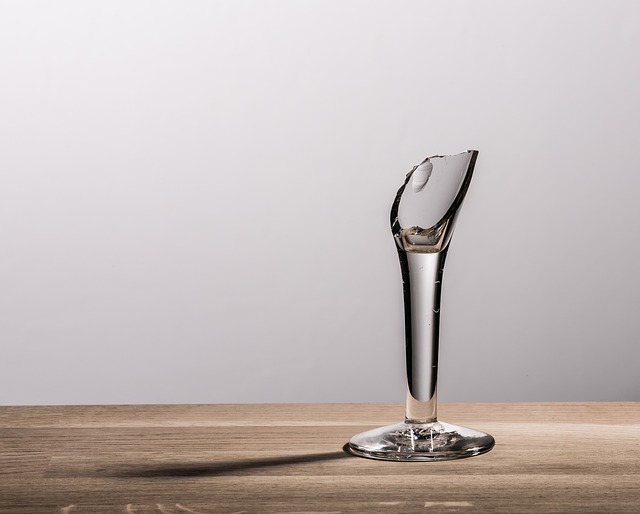 My 401(k) savings have grown to a plump 6-figure level after 14 years of participating in my employer's plan. For 13 of those years, it was a very crappy 401(k) plan due to poor fund selection, high expense ratios (fees), and third-party adviser fees.
The third party did nothing after 2004. But they still took fees every pay period for more than a decade.
Sucked.
After about six years of lobbying, they finally caved and switched to a more established provider with no third-party fees. The new plan is cheaper for the company and has a better variety of lower cost funds for employees. Still not awesome, but I was happy for a change.
Fees were costing me thousands in the original plan. I figured I could have left my job and saved $4,000-$5,000 a year in fees by moving my 401(k) to an IRA with a broader selection of investments.
Had the plan offered better funds from the beginning, I'd be wealthier today.
Before reading about why your 401(k) may be broken too, there's a free opportunity to get a FREE 401(k) analysis on your own 401(k)… and see the results of mine. Second opinions are rarely free.
Free Analysis for Your 401(k)
I recently came across a startup called Blooom that is tackling allocation challenges head on. This company can analyze your 401(k) and automatically improve your fund selections based on your age and retirement goal.
Blooom has partnered with the vast majority of 401(k) providers and is helping everyday workers invest better.
Here's how it works. Anyone with a 401(k) plan can sign up and link their account to Blooom for a free analysis. Blooom then securely looks at how your funds are currently allocated and makes a suggestion for how it should be allocated.
If you decide to purchase the service, they'll reallocate your money for you on a regular basis for a flat monthly fee.
For as long as you're a customer, they'll keep an eye on your portfolio and reallocate whenever needed and as you age.
Blooom is offering a no-obligation free trial on their site right now.
So I decided to try it for myself. The results were pretty cool and the user experience on the site was fun. 
About half of my 401(k) money is currently in the Blackrock 3000 stock index ETF. The rest is in a Vanguard Balanced Index, a US debt index fund, and two international funds. 79% is in stocks. 21% in bonds and a money market account. This first view is of my stock allocation.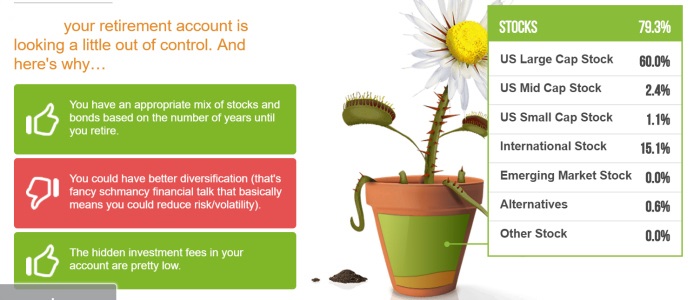 Based on my criteria of age and desired retirement age (55), Blooom then recommended an alternative allocation. For stocks, it recommended a higher percentage allocation than I currently have. It also recommended adding more mid-cap, small-cap, and international stocks for greater diversification.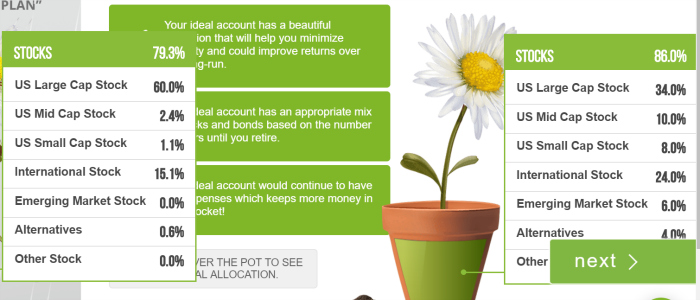 That's not a bad recommendation. However, I'm not in the mid-cap and small-cap funds because the fees are much higher than the index funds. Same with emerging markets.
So the analysis is recommending I pay higher fees for added diversification. Which perhaps isn't a bad idea. But I'm still comfortable with what I have because it's simpler and lower cost. The free analysis also looks at bond allocation. Mine is on the left, their recommendation on the right: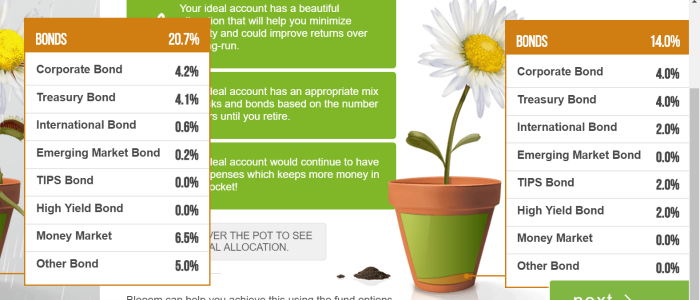 My bond exposure is from a Blackrock US debt index and in the Vanguard Balance Index fund. I also have about 6% in a money market account that is still left to be allocated since the recent transfer. Once I allocate the 6% into stocks, I should hit their bond percentage target.
The free trial doesn't show the actual fund changes Blooom would make. To get that you have to sign up for the management service.
Blooom charges a flat fee of $10 per month, $120 per year. No hidden fees. Cancel anytime.
For an account worth $50,000, that makes the annual fee 0.24%. For an account worth $100,000, it costs only 0.12% annually for the service. Balances under $10,000 would incur a fee greater than 1.2% which is a bit high in my book.
But you can still get the free analysis. Blooom is only for 401(k) and other defined benefit plans (i.e. 403(b)s) for now.
I liked seeing the outcome as a second opinion. I suppose I could diversify a bit more and sacrifice the higher fees. It definitely made me take a second look at my allocations.
I'm confident in my selections (and ability to make changes) so I don't think this service is for me. But if you're someone in need of help with your 401(k) allocation, this seems like a solid tool with serious venture capital backing.
It is a robo-adviser, but there are qualified humans making sound investment decisions behind it.
Click the button below then "Start Now" to get your no-obligation free analysis. (at least check out the hilarious video if you don't do the analysis). You'll be get the first month free if you become a customer.
Get a Free 401(k) Analysis at Blooom
Why Your 401(k) Is Broken (and How to Fix It)
Your 401(k) situation may be broken for a number of reasons.
Your employer doesn't have one
They have one but you aren't participating
You aren't contributing enough to get the match
The fund selection sucks
The fees are too damn high
You don't know how to allocate your money
Your employer doesn't have one
The Census Bureau estimates that 79 percent of U.S. workers have access to a 401(k) or other defined contribution plan, but only 41 percent of those eligible employees made contributions.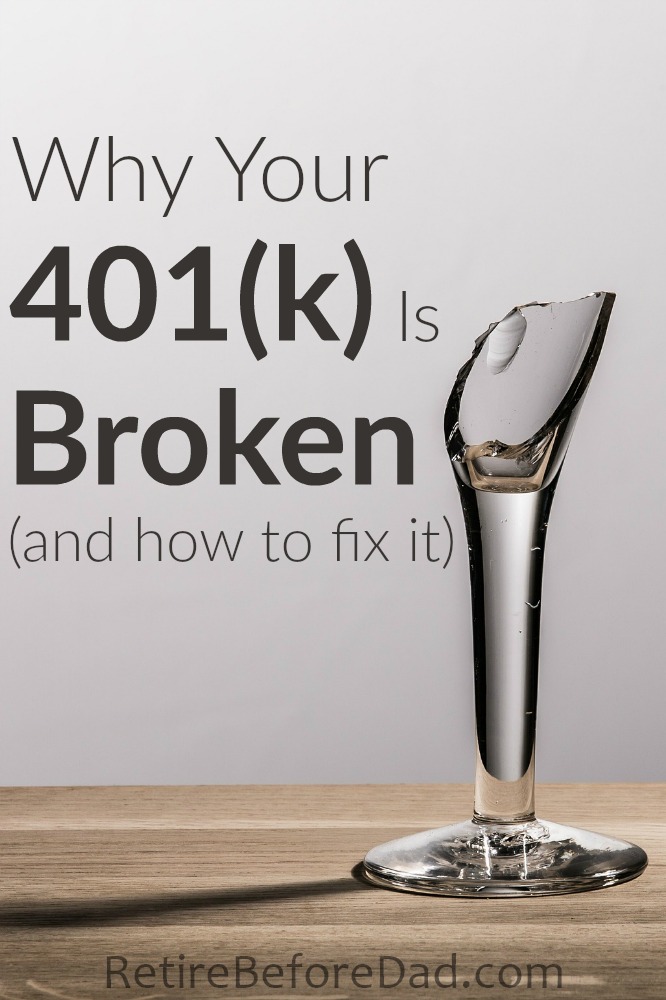 You can lobby your employer to offer one to employees if they don't have one. If that is fruitless, you'll have to settle for contributing to a traditional IRA to get inferior tax savings. Another option is to find an employer with a plan.
By switching to an employer with a 401(k), you can contribute up to $18,000 (for 2017) and lower your tax bill. If there's a match, it's free extra money. Make sure to consider the 401(k) when you're negotiating salary and benefits.
If you're self-employed, you're eligible for a solo 401(k) which is sweet. Read more about the solo 401(k) here.
They have one but you aren't participating
Fix this ASAP.
You aren't contributing enough to get the match
A big part of contributing up to the match comes down to understanding the plan verbiage. The wording can be confusing.
The plan will say something like the employer matches 50% of employer contributions of up to 8% of salary. That basically means it's a four percent match, but you need to contribute eight percent of your salary to get it.
In this case, contribute a minimum of 8% to your 401(k). Always contribute at least the minimum. If you don't, you're turning away free money.
The fund selections suck
This one hurts because I dealt with it for 13 years. Signs of bad fund selection include:
Funds only available from a single managed mutual fund company (i.e. American Funds)
No index fund or ETF selections
High expense ratios on all funds (greater than 0.75%)
Third party adviser fees (12b-1 fees)
You want to see at least some index funds with low fees. If there's a third party involved, like the sales guy my company trusted, fees are even greater. That's a sales cost tacked on called a 12b-1 fee to account for "marketing and distribution costs"… better known as kick backs.
Ask your administrator if there are any 12b-1 fees. Ask the third party if they're a fiduciary (meaning they are legally required to serve your best interests.).
If your 401(k) is showing any of these red flags, talk to your HR department and get answers. Tell them you don't like your plan and explain why (bad funds, high fees). Then encourage your coworkers to do the same.
Took me six years to get results, but the management finally did change the plan. Unfortunately, their apprehension to change probably cost me tens of thousands of dollars.
The fees are too damn high
Every mutual fund and ETF has something called an expense ratio. That's a euphemism for fees. It's a percentage number that represents the net annual fees you'll pay for the fund to be managed.
You can find the expense ratio anywhere you get mutual fund and ETF data. Ideally, it should be right on your 401(k) administrator's website in addition to the prospectus. It's available on the summary tab of Yahoo Finance or from your online broker.
A typical low-fee index fund should have an expense ratio of less than 0.25%. Many are under 0.10%. Managed mutual funds, which are funds with managers who pick stocks, tend to be closer to 1% or more. Managed international and emerging market funds tend to be even higher.
About 80% of managed mutual funds underperform the low-cost index fund benchmark. You can try to guess which 20% of the managed funds will do it year after year (hint, very few), or just go with the index funds. Fees vary drastically with the quality of plans and how well your company negotiates a deal. This is often based on how large your employer is because the bigger companies have more leverage.
You don't know how to allocate your money
OK, so your employer has a plan and you're contributing at least up to the match. Now, which funds should you put your money into?
If your money isn't invested consistent with your risk tolerance, you may not be maximizing the potential of your account.
Not everybody understands how to allocate a 401(k) portfolio. What's difficult here is that everyone's age, goals, retirement timelines, income, and plans differ. You can't just send me or your buddy an email to ask what funds are best. There's a number of factors to consider.
Let's dig a little deeper.
How to Allocate Your 401(k) Contributions
Let's pretend on Monday you started a new job. During orientation, the HR dude went over benefits, tax forms, and ethics, and then briefly touches on the 401(k). He explains the rules and the match, but can't offer any suggestions about how to allocate your 401(k) contributions.
You're on your own.
So you're hesitant to even start contributing at all. But you know from reading cool blogs online that you MUST begin contributing to your 401(k) because it will make you wealthy over the long-term. So how do you invest the money?
There are a few factors to consider. First is age. How old are you and when do you plan to retire? Then what's your risk tolerance? And what funds are in your plan?
I'm 42 and plan to retire at age 55. But I can't easily access my 401(k) money until I'm 59 1/2 unless I convert it to a Roth IRA. So my investment horizon is still about 17 years.
If you're 24, it's a solid 35 years before you can touch the money. If you're 57, your needs are completely different.
All investors, regardless of age, should diversify their 401(k) funds. Don't put all your eggs in one basket. Make sure to diversify your stock investments between large, mid, and small market capitalizations and both domestic and foreign stocks. Add more fixed income exposure as you age.
The basic idea for allocating funds in your 401(k) is the younger you are, the more heavily weighted to stocks you should be. The older and closer you are to needing the money, the more heavily you should be weighted toward lower risk investments such as bonds and money market funds.
Sounds simple, but limited fund choices or high fees can complicate things.
If you're still not comfortable or confident in making the allocation decision, you have a few other resources.
Age-Based Target Funds
Most plans (except crap ones like my old plan) have some kind of age-based target fund. These funds are a set-it-and-forget-it way for new and inexperienced 401(k) to get started. The funds are managed to have different investments based on your age.
So there's a pre-packaged diversified fund for 24-year-olds, 42-year-olds, and 57-year-olds, and everywhere in between.
They follow the basic allocation rules. Younger investors more stocks. Older investors fixed income and cash.
The age-based funds are modified to be lower risk and volatility as you age. That's why you can set and forget them. Investing in one of these is better than putting your money into the money market fund.
The problem is they tend to be very conservative no matter what age you are. For example, an age-based fund for a 24-year-old may hold 80% stocks and 20% bonds, which is a bit too conservative.
Another drawback is the management fees. They tend to be at about the same level as a regular managed mutual funds and higher than index funds. If you don't know what you're doing, or fund selection is preventing you from getting started investing in your 401(k), an age-based portfolio may be right for you if available in your plan.
Age-based portfolios have come to popularity in the past decade. If your plan doesn't have one, ask your HR department to get with the times.
A Human Adviser
Lastly, if you really are clueless or scared and don't like the idea of a robo-adviser, it's probably worth speaking to a fee-only adviser about allocating your 401(k) contributions. Especially if your balance is high.
Find a fee-only Certified Financial Planner (CFP) who accepts appointments on an hourly basis for an hourly fee. One hour should be enough time for an ethical CFP to help with fund selection. Make sure the adviser is a fiduciary. Keep in mind, they always want more of your business, so explain you only need help with your 401(k) if that's all you want. Your allocations will need to change over the years.
I don't normally recommend getting adviser help since most of this stuff isn't too difficult and they're expensive. But small tweaks to a large balance can make a huge impact over many years. You don't want to F this up by keeping your money in cash or only bonds.
How is your 401(k)? Crappy like my old one? Or plenty of low-fee options? I'm curious to hear about the quality of your plans and who the good providers are (aside from Vanguard and Fidelity).
Photo credit via Pixabay
Subscribe to Retire Before Dad!
You'll receive my weekly articles in your inbox and the FREE eBook 6 EASY Income Streams You Can Start Building Today!