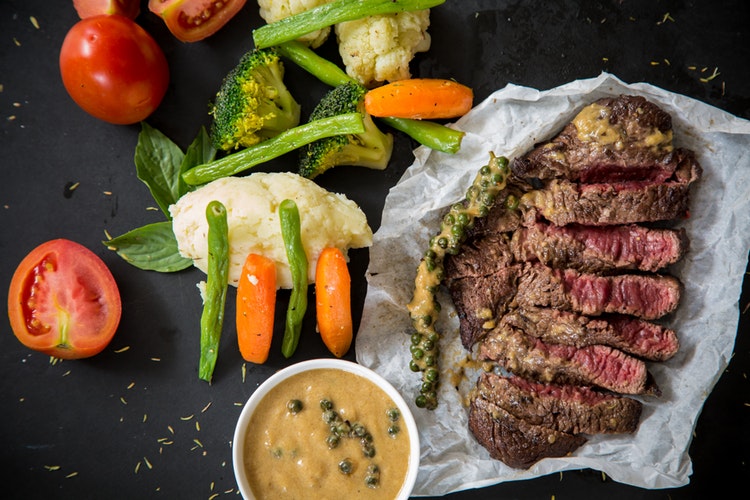 One of my new favorite podcasts is the Animal Spirits Podcast hosted by bloggers Michael Batnick and Ben Carlson of Ritholtz Wealth Management.
These guys are prolific writers and tweeters who often poke fun at investment pundits and fund managers who try to predict future market returns.
Turn on CNBC and there's always someone who claims to know something that will make them sound smart. They say things like "The market may fall 20% in the second half of the year".
Statements like this, regardless who they come from, are pointless. Because the market may rise 20% too. Or it may fall 40% next year or may rise 5% next week.
Or the market may not. In fact, the market is highly likely to not achieve any given prediction.
I always laugh when pundits take it to the next level and add a probability. "There's a 55% chance that the market will rise 15% in the next 18 months."
Batnick and Carlson are reliable for calling out this kind of nonsense and other Wall Street baloney.
On a recent episode with like-minded writer Morgan Housel of the Collaborative Fund, the trio shared their favorite annoying phrases from Wall Street and the personal finance world.
These included phrases like Wall Street jitters, I've seen this movie before and it ends badly, and earnings missed estimates (it's the estimates that miss earnings).
Housel also had this to say:
One other that I've always seen as crazy in personal finance articles is when someone says 'this person is debt-free except for their mortgage'. Well, that's a big asterisk right there. You're debt-free except for the six figures of debt you piled on top of yourself that pushed like 10's of millions of consumers into financial hell during the great recession. I've always equated it like someone saying they're vegan except for steak dinners.
The Debt-Free Scream
I'm probably guilty of writing the phrase debt-free except for the mortgage at some point in the 200+ blog posts I've written.
It's become a common term in personal finance because of the Dave Ramsey Show. That's where I picked it up. I used to listen to the show on satellite radio when I'd had enough CNBC for the day.
The personal finance community is mixed on the quality of Dave's advice, particularly toward the rear end of the 7 Baby Steps. Regardless of what you think about Dave and his Baby Steps, he's helped millions of people better their financial lives through debt reduction.
When people tally up their credit card, student loan, car, business, medical, tax, and personal loan debt, the number can be quite intimidating. Becoming debt-free except the mortgage is often a triumphant accomplishment worthy of celebration.
Listeners to the Dave Ramsey Show call in or show up at the Dave Ramsey corporate offices to celebrate by letting out an I'M DEBT-FREE scream, usually with an 'except the mortgage' caveat. Then sometimes commit to tackling the mortgage too.
Or start saving for a down payment for a house.
When the mortgage is finally paid off too, they tend to scream a little louder.
Mortgage Freedom for my Retirement
Mortgage freedom is always on my mind. The quote above and a recent Kevin O'Leary article (on CNBC, not that I believe everything I read/hear/watch on CNBC… or podcasts) put it fresh on my conscience. O'Leary says you should be completely debt-free by age 45.
I'm 43 today. I won't be mortgage-free by age 45. But it's still a worthwhile goal to pursue, especially for those in pursuit of F.I.B.E.R or its cousin (F.I.R.E.)
This post isn't about the pros and cons of paying off a mortgage early. Make your own determination what's right for you.
My plan to retire before my Dad at age 55 includes being mortgage-free. I don't want a large payment when I'm not working, and I don't want to owe anyone anything.
I've thought about this for years and keep coming back to the same conclusion, even though I fully understand the math and benefits of a mortgage. I've never regretted paying off debt.
We've owned our home since 2011, but refinanced in August 2016 for 30 years at 3.375%. I've paid only the minimum payments so far.
We have another 337 payments until it's paid off. Paying the minimum each month, it will take until 2046 when I'm 71 years old to own our house outright.
I'll turn 55 in 12 years.
So there's this awkward dilemma. Paying off our mortgage is a critical component of our retirement plan, but we haven't made any extra mortgage payments yet on the current loan.
The reason I haven't committed to starting to pay it off is lack of a concrete plan. I want to create a plan and execute it.
Our mortgage balance is above the average for our state, but below the average for our zip code. The loan-to-value ratio is about 60%. We bought well below our means and we aren't over-extended.
It's big enough that we don't want to attack it head-on with everything we have. Because that will take at least five years, and we'd completely miss out on building income streams and the compounding effect that comes with time.
But I think I've finally devised a mortgage freedom plan that makes sense for our situation and I shared it with Mrs. RBD on our recent drive to the beach.
A Path to Mortgage Freedom
My personal investment thesis is to max out employer-sponsored retirement accounts and IRAs and invest them in low-cost funds and ETFs. With excess cash flow each month, I build income streams and reinvest the income generated into more investments to compound returns over time.
As such, using all of our cash flow to make extra mortgage payments isn't palatable for me. That's too many years of not investing.
I've come up with an alternative idea that combines some extra mortgage payments on our home mortgage, but also the money in our banana stand… aka, the equity in our rental property.
Last year, I was on the verge of selling our condo rental. It was a seller's market then and that has become truer in the past 12 months.
I've owned the property since 2006. At today's estimated value, we have about $100,000+ in equity built up in the property. That amount is not enough to pay off our house, but it's a solid chunk.
My thought last year was to sell the property and either put the money toward our home mortgage or keep the cash for a rainy day… to buy a more profitable rental property, a different home, or possibly other investments.
Instead, the property continues to work for me, paying down the mortgage and earning positive cash flow.
My latest idea is to keep renting the condo and utilize it as a tool to eventually pay off our residence in full.
The property is in a highly-regarded walkable location that attracts well-paid professionals. It's cash flowing relatively well in a market of increasing home values and rents (and taxes). We've had zero tenant problems in the past 7 years. We keep a healthy cash buffer in the event of a vacancy, repair, or tenant issue.
It's also finally appreciation in value after a decade-long slump that started during the 2008-2009 housing/banking crisis.
As an enticing bonus, there's also the realistic chance that the D.C. Metro Region could become the second headquarters for Amazon. Two or three of the leading proposed locations are well within commuting distance from the condo. What if?
That alone is not a reason to hold onto the property but certainly adds to the intrigue of the idea. We should know that by the end of the year.
There's a Spreadsheet for That
This idea of using the condo to eventually pay off our home mortgage simmered in my head until I had a chance to make a spreadsheet to figure out exactly how this mortgage freedom plan would work.
I started by using my basic mortgage calculator spreadsheet (download that for free) to plot out the amortization tables for both the condo and home loans. Then I added an 'Equity' column on the condo sheet using the estimated value minus the mortgage balance.
I played around with extra payment amounts to see what kind of impact early payments today would have on the future. Then I plotted it out on a chart and here's what I got: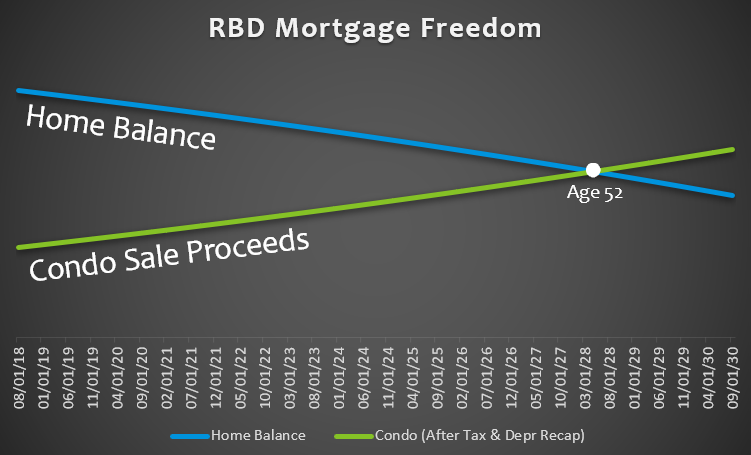 Update: I was a little lazy the first time around and did not include sales fees, taxes, and depreciation recapture costs. After some comments on the omission, I went back and reran the numbers accounting for everything. Luckily, I hired a CPA in 2016 to do a sales analysis including taxes and depreciation recapture and was able to model that over time on the spreadsheet. The updated version delayed the crossover date by about 16 months. 
As the home mortgage balance decreases, the equity in our condo rental will increase. At some point, the lines will cross and we can sell the condo and pay off the house.
Assuming a modest appreciation rate of the condo (2%), and extra payments of just $200 per month on both mortgages, the crossover point will happen in about 9 years when I'm age 52.
A Few Caveats
This scenario is still an estimate. Home values can fall or rise more than anticipated.
In the updated analysis, I did factor in realtor commissions, taxes and depreciation recapture to get a more accurate timeline.
History suggests the condo value should rise. Though considering it's gone nowhere in 12 years, I'm not that confident in appreciation. 2% seems reasonable for now.
Also, $200 extra payments are fairly conservative. Condo cash flow covers this and still leaves room for taxes and other property expenses.
$200 each month for our home mortgage is doable too. It will come out of monthly cash flow.
If I start there but increase the amounts every year, the payoff date moves up. As the lines draw closer, we can get more aggressive to move up the payoff date.
Another consideration is we may not stay in our home. Plans change. Life happens.
We may consider moving to another neighborhood, city, or even another country.
None of that is planned today. But we aren't ruling it out. But I don't want to wake up 8 years from now in the same house regretting that we never made a plan.
One other possibility is we might still sell the condo sooner rather than later. Condos don't make great rentals. The condo association has issues. Tenants turn over. It can be a headache.
If we can sell it in a hot market and walk away with a solid chunk of cash, we may take the deal.
Conclusion
Starting this month, the plan is a go. We're using automated payments to cover the mortgage and the extra mortgage payments. Nothing else really changes.
Our tenants are good for now. But I expect they'll move out in the next 12 months due to having a baby. The condo is very rentable and that could be an opportunity to raise the rent. I will look into selling it again when they move out which could make this plan obsolete. That determination will depend on price.
The extra $200 toward each mortgage won't impact our monthly cash flow much. If I lose my job again, we can always stop the extra payments. We have enough cash to cover emergencies and can always sell investments if needed.
We also have a home equity line of credit to tap our mortgage in a pinch. That shouldn't be necessary but it's a solid back up.
The ultimate goal of mortgage freedom in retirement is worth the extra payments. If at any point we decide that mortgage freedom isn't right for us, there will always be a bank willing to serve us a juicy sirloin.
Photo by Malidate Van via Pexels
Subscribe to Retire Before Dad!
You'll receive my weekly articles in your inbox and the FREE eBook 6 EASY Income Streams You Can Start Building Today!