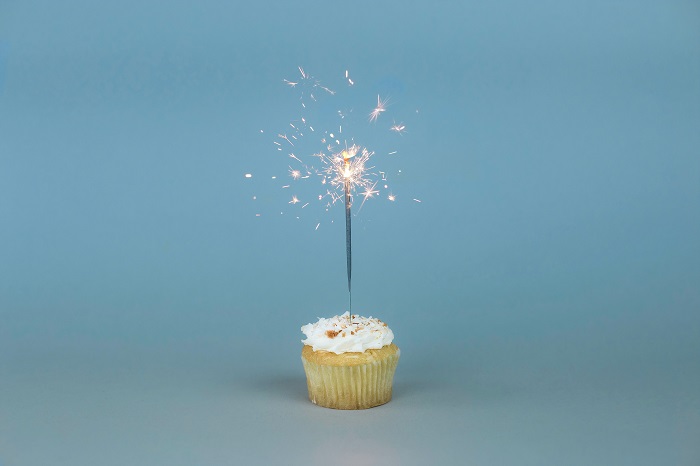 Starting a blog five years ago changed my life.
Before my blog, I watched too much television and lacked self-motivation. The blog empowered me to make better use of my time. I became more productive, more thoughtful about investments and money decisions, and eventually, I replaced the part-time income my wife once earned.
Through the blog, I've made new friends, interviewed CEOs, and become a regular contributor to a legitimate news publication. I've partnered with dozens of companies leading the financial technology revolution. People pay me to write stuff for them.
I didn't expect any of this when I started writing about my personal finances. I was just trying to make a few extra dollars.
Cautiously and anonymously, I began writing with the expectation that it wouldn't last. But here I am.
Why I Built This
I started this blog for a few reasons. Primarily, I was looking for a way to earn extra money after my wife lost her job.
But along the way, I've helped thousands of readers make better decisions with their money. That is a big driver today.
After maternity leave for our firstborn in early 2012, Mrs. RBD's employer arranged a part-time relationship for her to continue working. She worked 12 hours a week from home with a (very uncooperative) baby at her side.
This arrangement sort of worked for about year until they had to let her go when the work dried up.
That event scared me.
The extra year of partial income helped us transition to living on one income, but I didn't feel financially secure when it was gone. I wanted to replace her income to continue our wealth trajectory.
One way to increase my income was to double-down on my information technology career. But I didn't love my career. My employer acted as my nemesis at times and I felt trapped. There was no enjoyable path to significant income growth within that company.
Inspired by a friend with a health-related blog who was passionate about his profession, I sought to start something similar.
I knew I couldn't sustain any side business that wasn't about something I loved. So the topic was obvious, investing and personal finance. I boiled down my specific passion to a goal I set back in 2003 about retiring one year earlier than my Dad who retired at age 56.
RetireBeforeDad.com was available, so I went with it.
The Early Days
Lots of dividend investors share their stock portfolios and recent purchases online. One of my favorites blogs back in 2013 was called Dividend Growth Machine. It's no longer active, but the anonymous blogger still writes very detailed quarterly portfolio updates on Seeking Alpha.
I was already investing and tracking my investments the same way, so I thought why not share mine online too?
I knew people were earning money online, but I was clueless about how to blog or start an online business. But I jumped in. It's one of the best decisions I've ever made.
In late August 2013, I published my first blog post. It was an 'about this blog' article telling readers about myself and the basis for the blog. From there I wrote about my retirement strategy (then re-wrote it), and the birth of our daughter who came 18 days early, two weeks after my first post.
Shit got real when she arrived. Two kids, one income. Big mortgage. Expensive suburb. Mediocre benefits.
Most of the early stuff has been deleted or rewritten because it was poorly written or uninteresting. I spent more time commenting on other blogs to try to drive traffic back to mine. That brought in my very first readers.
My posts started getting longer a little bit better every month. One post, in particular, sort of put me on the map with other dividend investors when it was shared by Dividend Ninja and Dividend Growth Investor. Thanks, guys.
Then a casual interaction on Twitter led to a happy hour with a few other bloggers (including J. Money, Johnny Moneyseed, and Write Your Own Reality) near my home which led to my first exposures to the personal finance blogging community and my first (of many) features on Rockstar Finance. Thanks, J$.
The community of readers on Rockstar opened my eyes me to a broader audience who were interested in a wider array of personal finance topics rather than just investing. I started writing more about topics outside of dividend investing and travel.
My audience grew. I attended FinCon 2015 in Charlotte and learned what it would take to get my blog to the next level.
After that first conference, I paid $300 for a professional logo design competition at 99 Designs. Then laid the foundation for what would become my second blog, Access IPOs.
From that point on, it's been an undulating climb upward. Lots of good articles, and plenty of bad ones. But every year I reach more readers, earn more income, and more people find the work I do here beneficial.
5 Things I've Learned from 5 Years of Blogging
The basics of blogging are simple with a little bit of research. Once you think of a good URL and install WordPress with an inexpensive web host, you can start publishing to the internet in minutes.
The five things I'm highlighting today transcend blogging because most of you reading this aren't bloggers and won't ever be. Yet, you too can benefit from taking a risk and starting something on the side. Maybe you already have.
Discover your strengths and find a business model that is exciting to you. Avoid large upfront investments when you're getting started, and don't quit your day job.
1. A Side Business is a Cure for a Mini-Career Crisis
I was dissatisfied with my career for many years. My boss was difficult, but the work wasn't challenging. I questioned my choice of a career in IT. And I didn't understand the importance of job satisfaction in pursuit of early retirement.
In hindsight, I was in a mini-career crisis.
For a time, I strongly considered changing careers to become a fee-only Certified Financial Planner (CFP). But when I overspent on my condo in 2006, that career change was out of the question.
The real estate crisis made things worse with the condo. Then the recession crushed my employer's billing rates by 25%. I was lucky (and grateful) to not take a pay cut, but my income became stagnant. Job prospects elsewhere were dismal.
Starting my blog helped me forget about all that stuff. It made me interested in work again. I become motivated to write better, grow my traffic, and earn money on my own terms.
Operating as a side business let me dip my toes into a new career without the risk of abandoning my primary one. That meant I could keep the safety of my salary and benefits while I experimented with a blog.
Striving to succeed at my side business and the satisfaction it gave me rubbed off onto my day job. I became a better worker overall.
2. Writing Makes you Think More Clearly
Every time I publish an article or share something on social media, I expose the words and images to the world. That invites scrutiny from a global mass of trolls and assholes who find pleasure in ridiculing others while maintaining a veil of anonymity.
The most effective way to avoid the anger of the internet is to write clear and accurate content. Poorly researched topics, unthoughtful comments, or inaccuracies can attract the wrath of the internet.
Therefore, I think through my words and ideas thoroughly when I write them so they are less vulnerable to attack.
In today's world, people don't have a lot of patience for wordiness. Words on the internet need to be written so that eyeballs continue
to
scroll
down
the
page.
That is accomplished with easy-to-read sentences and logical progression of thought.
This way of writing affects how I interact with others at home and at work. I listen better and limit my spoken words to what is necessary.
With three young kids at home, I'm often forced to simplify answers for complicated topics.
Daddy, where do farts come from? – My 6-year-old son
Writing about money on the internet requires a similar mentality.
3. Entrepreneurship is Empowering
Before my blog, I was obligated to my information technology career. My income was good, but my future earning power was limited.
But as dedicated as I was to my employer of 14 years, when times got tough, they had to lay me off. Thankfully, the economy was strong and unemployment in my field in my city was at all-time lows.
The blog actually made me want to leave my unsatisfactory job so I could focus all of my energy on building my side business for a period of time. Those four months were enlightening while my side business partially supported my family.  But full-time entrepreneurship was no easy lifestyle.
Having a side business meant that I didn't need to stress about a temporary jobless period. Instead of hurrying to find the first job, I could wait to find the perfect job.
The hiring manager at my new company told me that my achievements as a blogger impressed her more than my 14-years of IT consulting. That was a good sign.
Now that I'm settled at my new job, I'm unexpectedly using skills I learned from my side business. In addition to performing the IT work I've always done, I'm developing WordPress sites for my employer.
4. The Economy is Changing and So Must You
Industries change. Nimble companies must adapt to the marketplace or be overtaken by hungry startups.
The economy and the shape of a worker's career is changing too. Decades ago, it was normal to start a career with a company and stay with them until retirement. In more recent years, employees tend to switch jobs more frequently.
This trend continues. We're moving toward a gig economy where more workers act as independent contractors and work multiple jobs to earn a living. Uber is the breathing organism leading this trend, but it's widespread.
Federal legislation is moving in this direction because companies and industry groups like contractors. It's cheaper than full-time employment.
What became crystal clear during the last recession (and what I experienced first-hand last year), is that employers are not loyal to their employees when times are tough. Shareholders demand profits, and executives exceedingly expect to be paid millions regardless of their performance.
All this means that you can sit at your office and hope and worry the company is performing, the economy will remain strong, and your job is secure. But hope isn't a plan.
More than ever, we need to create multiple income streams to weather the next storm and the storm after that. This is what I write about. Invest for passive income. Diversify your income streams. Build a side business.
It doesn't matter where the income streams are coming from. Utilize your personal skill set and knowledge to make it happen. The future you will thank you.
5. Know When to Step Away
A bloggers day is never done. There's always more to write, promote, email, create, record, tally, and monitor.
The same is true for any entrepreneur. But there's a time to hunker down and get work done, and a time to put it aside.
As a side entrepreneur, making the time to write and manage a business is even more difficult. It means prioritizing time almost every evening, some early mornings, and an occasional weekend when the kids are occupied or in lieu of a social life.
The only reason the work gets done is that I love what I do here.
But I'm always there for my family after work, for dinner, and for bedtime. Weekends are for family excursions. And a few set nights a week, I still sit down with Mrs. RBD to watch Game of Thrones or whatever else is streaming.
During the four months of full-time blogging after losing my job, I struggled to separate work and life under the pressure to provide for my family. But I never missed a breakfast or walk to the bus stop.
Toward the end, and especially after securing my new job, I was able to relax and simply enjoy the time off.
The experience strengthened the vision I have of my retirement, that I won't work at all. At age 55, I plan to stop working (and blogging) and never work another day. As long as the numbers work. There's still work to do.
Thank You
I've written close to 300 blog posts and pages for this blog, enough words to fill a few books. There's a lot more to come.
I don't mention this often, but my email inbox is always open. I respond to every reader email I receive. Your emails over the years have inspired many blog posts and help keep the content fresh. Keep them coming.
Thank you to everyone who has ever laid eyes on this website. Especially those long-time readers who were around in the early days and stuck with me through the evolution. Newbies… I'm thrilled that you're here too.
Thank you for subscribing to my email list, sharing articles with your friends and family, and for all the comments and feedback you've provided over the years.
– Craig
Photo by Audrey Fretz on Unsplash
Subscribe to Retire Before Dad!
You'll receive my weekly articles in your inbox and the FREE eBook 6 EASY Income Streams You Can Start Building Today!