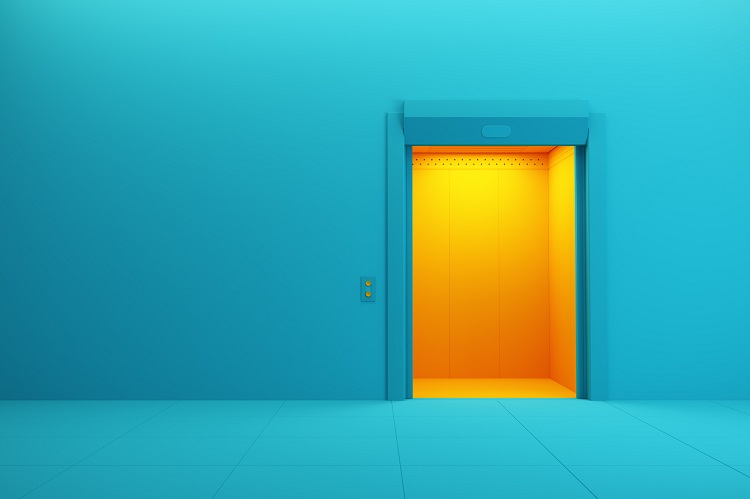 Elevator small talk is the worst.
Riding the lift with someone you know and talking about your work or weekend is fine. But when strangers are stuck in the confined space for a 30-second ride, I don't see the point in talking.
In my 20-some years of riding office elevators, I'd never heard a decent joke or made any connection to another human.
I've always felt uncomfortable and done my best to avoid encounters (I take the stairs).
However, at my new job, people seem pretty happy all the time and want to interact. So I've recently decided to be more open and friendly in the elevator.
Early morning on day last week, I had the opportunity to ride the office elevator with a seemingly friendly older worker. I said good morning and smiled, then went about my blank stare through the doors.
We were headed to the same floor. The bell rang, the door opened, and the man gestured for me to exit first.
Then he said, "Another day in paradise!".
We shared a laugh.
One Year this Week
In October 2017, my employer of 14 years laid me off at no fault of mine or theirs.
There was no severance pay. I never had expectations of a severance. It wasn't that kind of company.
Leaving was overdue and I needed a change. The job market was strong and my side business was ripe for full-time attention.
I considered unemployment an opportunity, not a curse.
Months earlier, I sensed a bit of trouble ahead and built up a cash buffer. Mrs. RBD agreed that if my employment ended, it would be a good thing (temporarily).
Our high-yield savings account had a $19,000 balance.
Our two cars were fully paid off.
We refinanced our mortgage twice in during the previous six years to lower our monthly housing payment.
I had built seven income streams outside of my full-time job. These paid me more than $3,000 of income every month.
That wasn't enough to live on alone, but it was a nice supplement to our savings.
We dramatically cut back our spending. I focused on building my side business while casually looking for a new full-time job.
I thought about not going back to work and becoming a career blogger. But my IT career was lucrative and the job market was in peak condition.
Giving up the salary and health benefits when our young family of five relied solely on my income seemed a bit too risky and unnecessary.
After four months of blissful unemployment, I landed the ideal job for my background and experience.
That was one year ago this week.
Relief
Part of what led me to start this blog in 2013 was job dissatisfaction. Early retirement is an attractive escape when you don't like your job.
In hindsight, I stayed too long with my employer and a repetitive project. The work was easy and I became comfortable with my role.
There was also a false sense of loyalty to my employer which was limiting my potential. A toxic personality or two made things worse. I ignored the negative effect certain people had on my career and mental health and focused too narrowly on growing my salary.
Eventually, I found a new opportunity within my company to join a high-performing team which would help expand my earning potential.
This new role brought fresh challenges and a more engaging environment. I met like-minded colleagues and felt like my work was making a difference.
But even though the new project was more rewarding than the old, I was still dealing with a mediocre employer and disorderly management.
Then the contract I was supporting was cut by 80%. News of my impending layoff was a relief.
Then a Funny Thing Happened
When my job ended, I already had a solid lead established. But it wasn't expected to materialize for a few months.
This job prospect felt like a safety net and gave me the confidence to pursue my side business while I waited.
Having worked for a small business (less than 40 people) for so long, I was eager to join a larger, top-tier company. In my specific expertise, only four or five potential employers fit the mold.
While waiting for the initial lead to warm up, I found a different job posting on LinkedIn. It was a perfect fit for my background.
Phone interview. In-person interview. Technical presentation. Offer.
The new job is in a corporate office complex instead of a client site. My commute is about the same distance but in the opposite direction.
The facilities and professional HR department are a breath of fresh air compared to my previous employer, which operated from an undesirable office building and was always reacting to preventable mishaps.
The new work is challenging and diverse. The office is remodeled, spacious, has multiple coffee shops, a gym, and an abundance of resources for employees.
People at my new employer love what they do and have a desire to keep learning, even those near retirement age.
Then a funny thing happened last year… something I wasn't sure was possible after 14 years of job malaise… I started to genuinely enjoy my career.
Safe for Work
When I set my goal to retire completely by age 55 back when I was broke, unemployed, and living with my parents, There was no job or boss to hate motivating me to retire early.
My motivation was a positive one, to work toward the goal of extended travel in retirement inspired by the freedom I experienced while backpacking the world.
But after many years of working for the same company, my motivation changed. I wasn't happy with my career or employer.
I wanted to retire early because I didn't like my job, not because I was pursuing the goal of freedom and travel.
That was an unhealthy state of mind. My distaste for work reached its pinnacle (NSFW) in 2015 when all I cared about was my income and the anonymous pursuit of early retirement.
That, of course, was a misguided attitude. A year later, I left the project that was making me unhappy for brighter pastures.
I now realize that job satisfaction is paramount on the path to early retirement.
At my job today, continuous learning and exploration are encouraged. My side business activities enhance my career. It's no longer something I feel the need to hide from my employer.
Many employees have advanced degrees in our field and are conducting the work they've been compelled to do since college. There's a cult-like feel to the place, but not like Facebook's. It's real.
The company doesn't own your life. Hours are reasonable and flexibility is built into the culture and policies. It's a comfortable balance.
Though I have the flexibility to work from home, I go into the office almost every day. I like it there. I'm more productive there. Dare I say, I enjoy human interaction that doesn't come from my young kids.
Even in the elevator (on rare occasions).
Oh Think Twice
Getting to where I am today has been a process. Professional development was important, but an attitude adjustment was in order too.
Marrying and having children were my callings to strive to be more than another name on a payroll. Supporting a family is serious business. Without an attitude adjustment and a genuine shift in mindset, I'd be dangerously unhappy in my career.
I'm not getting soft on you. My goal to retire at 55 remains. Earlier if possible. But now the road there is more scenic.
Periodic bouts of displeasure will always be a part of any job. When those come along, I mentally fall back on investment income and the decision I made in 2013 to start a side business that I enjoy, one that empowered the future me.
The growing proceeds from multiple income sources decrease my reliance on full-time employment. Knowing that I have secondary income sources has a strange effect on my work ethic.
It improves.
Since I'm no longer working solely for financial survival, the motivation to work is multifaceted. Thus, salaried employment no longer feels like an exchange of time for money. It's more fulfilling.
Photo via DepositPhotos used under license.
Favorite tools and investment services right now:
Credible* - Now is an excellent time to refinance your mortgage and save. Credible makes it painless.
Personal Capital - A free tool to track your net worth and analyze investments.
M1 Finance - A top online broker for long-term investors and dividend reinvestment (review)
Fundrise - The easiest way to invest in high-quality real estate with as little as $10 (review)
*Advertising Disclosure: RBD partners with Credible which offers rate comparisons on many loan products, including mortgage refinances and student loans. This content is not provided by Credible or any of the Providers on the Credible website. Any opinions, analyses, reviews or recommendations expressed here are those of the author's alone, and have not been reviewed, approved or otherwise endorsed by Credible. RBD is compensated for customer leads. Credible Operations, Inc., NMLS Number 1681276, not available in all states. 320 Blackwell Street, Suite 200 Durham, NC 27701.