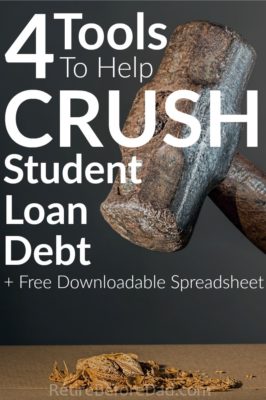 Higher education is critical for economic mobility in the modern world. Getting student loan debt to pay for college is better than no college at all, as long as the achieved degree has an adequate return on tuition
But student loan debt is a ball and chain. Monthly payments siphon your money away from where it could be going, into investments for growing wealth.
If you are not yet able to completely crush your student loan debt, you need to make sure the interest rate is low and the minimum payments are not strangling your budget.
Then it's up to you to sacrifice spending to free up money to pay extra toward your loans. There's no magic bullet. It takes hard work.
To help you crush student loan debt, I assembled four resources to help make progress on your loans.
The first section points to a couple of resources to help refinance and consolidate your loans (if needed). They also provide some free tools to plan your repayment.
There's also loan trackers built into the free money tool, Personal Capital (which tracks of all your money accounts). It's incredibly powerful and ideal for loans.
Below you'll also find a free online calculator to help visualize your regular and extra payments.
And at the end I've shared a FREE downloadable spreadsheet to help plan your escape from student debt.
Refinance Your Student Loans
Your student loan debt interest rates may already be low. But if you don't plan to pay off your loans quickly, you definitely should check to see how low you rates are. Below are two super-innovative companies tackling student loan debt.
SoFi
SoFi is a different kind of lending company. They specialize in refinancing student debt. Instead of relying solely on the FICO score, SoFi looks at education, career experience, monthly income, and expenses.
I'm a big fan of SoFi because the student loan debt problem in the United States is huge. And SoFi decided to address this most difficult challenge head on. Borrowers on the platform are called members and have access to perks such as career strategy services, customer support seven days a week, and invitations to local SoFi events (they're known for dating events!).
SoFi will give you a rate quote in just 2 minutes. Check it out to help lower your payments by consolidation loans at a lower rate.
LendKey
LendKey is a place for graduates to refinance student loan debt, and for current students to score competitive rates on private student loans (undergrad and graduate). It's also a great resource for calculators, financial aid, scholarships, advice, and student loan debt refinancing.
This is a highly-reputable website that only partners with premium student loan lending. Technology has made it way easier to refinance. Definitely check this company out.
Personal Capital (Free Loan Tracker)
My all-time favorite personal finance tool is Personal Capital. This totally free tool links with all your financial accounts and tracks spending, student loan debt payments, analyzes investments, and graphs everything so it's easy to view. It's kind of like Mint.com, but way easier and better.
The loan trackers are especially awesome. They track every one of your loans in one place. It's also helpful to track your budget and your investment accounts. They do offer advisory services if you want, but it's by no means required.
Best of all, it's 100% free.
Track Your Money With Personal Capital
Free Downloadable Spreadsheet
Lastly, I put together this spreadsheet for anyone who wants to download it. I've been using this basic spreadsheet to track loan payments for years. This is simple amortization tables showing how each of your payments affects your monthly end balance. It shows how long until your loan is paid off, and how much faster it can be paid off if you add extra payments.
Just fill in the blue fields and watch the spreadsheet do its thing. Contact me if you have any questions.
The Excel workbook accommodates up to five student loans. They are consolidated into one tab and a chart is automatically generated for all the loans.
The main tabs are protected, however, an unprotected tab is included and I've provided the passcode to unlock the protection if you like.
Click Here To Get The Free Spreadsheet
Subscribe to Retire Before Dad!
You'll receive my weekly articles in your inbox and the FREE eBook 6 EASY Income Streams You Can Start Building Today!