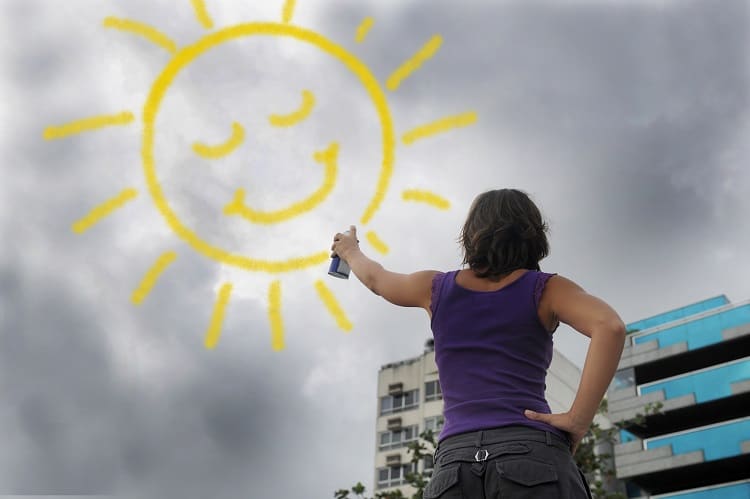 The negative news is overwhelming if you spend the day consuming it on your phone or TV.
My wife worried a lot about the virus and all that's happening until she deleted Twitter.
I'm very comfortable with our new lifestyle. On the first day I worked from home, I came up with a list of all the positives for me and our household. That list is the basis for today's post.
Yeah, I wish our lives were back to normal. But there's a lot of good things happening for us right now, and I'm thankful for our safety and stability in such a tumultuous time.
I've written about preparing for more difficult times. Not about stockpiling toilet paper and can goods, but investing for income and building side business income in case of a job loss.
Never depend on a single income.
When times are prosperous, it's smart to prepare financially for the bad. Most people (and many corporations, apparently) don't do this. And our government has proved time and again that they won't do it either.
Individuals can't borrow their way out of this without severe long-term consequences.
If you prepare when times are good, you'll be better off than everyone else and ready to take advantage of opportunities when the economy sours.
That's where we are today. I'm grateful for the decisions we made in the last ten years that put us here. I'm also optimistic about what lies ahead.
We'll all return to how things were once the scientists and doctors of the world develop treatments and vaccines to permit social engagement again.
Until then, here's a list of what makes me grateful and optimistic today, in no particular order.
Investment Opportunities
For younger investors, this is an excellent opportunity to start investing. Stocks are much cheaper than a month ago. Here's what I'd do today if I were getting started with investing.
Older investors can benefit too. Even though it hurts now, you have the wisdom and financial resources to profit from the opportunities ahead.
The lower prices from the stock market downturn should help us thrive and become wealthy in the decade ahead. However, those who experience unemployment in the coming year will be disadvantaged.
Unemployment estimates I've seen range from 10-20%. That's debilitating for our economy and individuals — but leaves 80%-90% of the population less affected. If that's you, embrace your employment and use the surplus income to strengthen your financial security.
Hang on tight for more volatility. Beginners should focus on market indexes (SPY, VTI) instead of picking individual stocks. Experienced investors can evaluate the more recession-proof stocks, companies our economy and consumers need regardless of the virus.
Don't catch falling knives.
Stocks are inexpensive and may get cheaper. But also be alert for potential real estate deals or side business opportunities to diversify income and build wealth. Recessions are a great time to make investments.
The situation is terrible and could get worse. Be patient. The value of your investments may fall in the short-time. Extend your investment horizon to 10 or more years to give yourself an advantage.
Adaptability
When I read the latest bad headlines, I try to fall back on all of the positive impacts this crazy situation has had on our lives so far.
We're a solo-salary family. So while we're distancing, Mrs. RBD can focus on the kids while I continue working at my day job.
Not everybody is in this fortunate situation. I've spoken to dual-income parents who are passing the kids back and forth, relying on grandparents, using vacation time, or resolving to give the kids an iPad all day.
Hourly workers and small business owners who can't work from home have it much worse. Unemployment is spiking as I type this. A friend of mine lost his job yesterday.
Mrs. RBD chose the stay-at-home role eight years ago. It's been difficult up until now and got much harder a few weeks ago. She'd much rather have the kids at school but acknowledges our situation is better than most.
Unbusyness
Swimming and soccer are canceled for the season. That's a bummer. But it also means our Saturdays won't suck as bad this Spring.
The morning rush of getting ready, eating, and darting off to work and school is no longer a thing. Evening activities are canceled, too, so we can enjoy dinner time without shoveling food in our mouths before heading off to Cub Scouts or a PTA meeting.
We're trying to keep a home school schedule for the kids, but also keeping an open mind. When the kids are playing amicably or enjoying a learning activity, we don't interrupt.
I'm reminded of when I was backpacking without the constraints of time. Having a flexible schedule with lots of downtime is a plus.
The extra free-time is ideal for house projects and possession reduction.
Remote Work
Tuesday, March 10th, was my last day in the office.
My employer was ahead of the curve with social distancing and remote work. An internal expert explained that the number of infections would double every four days if the country didn't put drastic measures into place.
He predicted by the end of March that there would be 100,000 cases. Four days later, 200,000.
Before the virus, I already worked remotely once a week but wanted to increase my days at home. This is an opportunity to test that.
Working at home now is similar to when I was unemployed and blogging full time. Back then, I found it hard to manage my time and be productive. I learned a few lessons.
This time around, I'm using a productivity tool (Asana) to help with to-do tasks, and I'm scheduling more breaks to get outside for walks and bike rides, and helping out with some homeschooling activities.
My workday is longer, with more frequent breaks.
One of the triumphs of this global event is the adaptability of our office-based workforce. One of the tragedies will be the hourly service workers and small businesses that can't take a laptop home to do their job.
No Commute
Commuting used to consume about eight hours per week, plus about 30 minutes to get ready for work each day. Not going into work saves me time and reduces stress. It also saves me $150-$200 on fuel.
Many coworkers and customers I deal with already work from home full-time. Adapting has been a cinch for our company and team.
The one downside is the lack of productivity vibes I get from being in the office. Face-to-face meetings are far better than remote.
Another downside is unnecessary meetings. The people who flourish in an office environment are scheduling not-so-productive meetings just to maintain human interaction.
Family Time
We're stuck at home, the five of us. But it's Spring, we're healthy, and being at home together spurs creativity and resourcefulness.
Most online education tools are now free. It's overwhelming choosing which resources to utilize, from live streams by our local teachers and parents, to the endless content on Scholastic and Khan Academy.
Soon enough, we'll drive to a less populated area and enjoy some hiking in the woods. My six-year-old daughter drew a family picture of us having a picnic. So we'll be doing that this weekend.
I see this as an opportunity to spend more quality time with my kids. Years from now, when we're retired empty-nesters, I expect to remember this period fondly.
Admittedly, I've experienced a few moments of frustration with my kids getting out of hand. School used to wipe them out.
But Mrs. RBD is a hero keeping them busy, and there's no place I'd rather be.
Corporate Disruption
It sure seemed like the stock market got ahead of itself after a 30% gain in 2019. When the economy crumbles and companies face new realities, management must take drastic measures to navigate the challenges and stay in business.
We've already seen dividend cuts and suspended buybacks in retail, hospitality, and energy sectors. Expect more.
Harvard Business Review (hat tip: Apex Money) recently provided a cost-cutting guide for corporate managers (hint: there's a ton of waste).
In good times, employees become unmotivated, and companies overspend. The coming layoffs will improve corporate health and the overall market, unfortunately, at the expense of workers.
Hopefully, the government stimulus will soften the blow, and our economy will quickly recover when the virus is under control — assuming there are no unforeseen domino-effect crises on the horizon.
The most prepared and adaptable companies will survive. Over-leveraged charlatans will falter.
The same goes for startups. A recession does not bode well for unproven unicorns.
It's the natural tail-end (or beginning) of an economic cycle. As Warren Buffett famously said, "Only when the tide goes out do you discover who's been swimming naked."
This period of corporate disruption will fortify our best investments for long-term growth.
Travel Benefits
Now is a great time to book travel. My in-laws found cross-country flights for $99 each way. Depending on how long this all lasts, they may have to cancel.
But if you're considering travel 6-12 months from now and have the courage to make a reservation, there are undoubtedly some deals out there. Most airlines and hotels have loosened their cancellation policies.
Last year we took a big Spring break vacation, so we decided to stay home and save money this year. I know several families who are disappointed about canceled vacation plans.
We canceled a weekend trip to visit Baltimore in April. Our family beach vacation scheduled for June is up in the air.
We're using the home time to accumulate significant travel rewards through everyday spending and credit card welcome bonuses. I'm also accumulating paid time off for future travel.
The global travel restrictions are astonishing. But normal will return.
Good Timing
Our family is in the best financial shape of our lives. My salary and benefits are more valuable than ever. RBD, the business, had a record year in 2019. I expect to see a decrease in blog income for the foreseeable future, but it's still a decent income stream as a part-time gig.
Since I'm sleeping longer and commuting less, I have more energy to write and manage the business during the evenings.
We sold our condo last year when our tenants moved out, and the Amazon H2Q mania was peaking. The sale padded our high yield savings account.
We've finalized the tax implications and what's leftover provides financial security and dry powder for opportunistic investments.
I'm so glad we sold the condo when we did.
Financially speaking, it's devastating to see our net worth drop by more than 20% this month. But our income, including most of our passive income streams, remains stable. Stock prices fluctuate but will recover with a long-term mindset. Dividends are more stable.
Job security
I work in IT consulting. My employer's primary customer is the federal government. The specific part of the government that I've worked for over the years has suffered massive IT budget cuts for a decade.
But now that we're on the precipice of a recession, the government is poised to unleash spending. Trillions.
The government arm that I support should receive a significant budget increase with the stimulus.
At the same time, thousands of government workers are eligible to retire in the next five years. This means that the demand for experienced employees in my specific niche is sure to be high.
The government workers and contractors are already location independent, so even if the virus remains a headache for months or years to come, it's business as usual for my company and role.
More than ever, I'm grateful for employment.
Normality
Nearly a decade ago, we decided to leave our apartment for a single-family home in the suburbs. We have a modest house on a quarter-acre lots. Our three kids run around outside after lunch for recess. There are fewer cars on the street.
We learned this week that school is canceled for the remaining school year. We're heartbroken. The kids miss their teachers and classmates, but they have each other.
These are unprecedented times. Yet, we still have electricity, running water, internet and a functioning system to heat and cool our house. It's Spring, and we're fine to leave the house. Soon, I'll start working on our porch.
We've been exploring the nearby woods and unfamiliar roads around our neighborhood, finding adventure in our backyard. Next, we'll have that family picnic and find the uncrowded bike and hiking paths.
The plumber recently came to fix a few things. It didn't matter what time he showed up.
Costco is open, Netflix and Disney+ are streaming, and Mario and Luigi and friends are on the race track.
So despite the upheaval of our usual schedules, we're enjoying less hectic days in an abundance of comfort.
Conclusion
The uncertainty is painful. Now is when the so-called economic experts try to tell us how bad or not it's going to be. Don't go looking for answers.
Focus on the positive and controllable instead of what's negative and out of your hands.
Sports will return and schools will reopen. Soon enough, we'll socialize with our neighbors and travel the globe again.
Photo via DepositPhotos used under license.
Favorite tools and investment services right now:
Credible* - Now is an excellent time to refinance your mortgage and save. Credible makes it painless.
Personal Capital - A free tool to track your net worth and analyze investments.
M1 Finance - A top online broker for long-term investors and dividend reinvestment (review)
Fundrise - The easiest way to invest in high-quality real estate with as little as $10 (review)
*Advertising Disclosure: RBD partners with Credible which offers rate comparisons on many loan products, including mortgage refinances and student loans. This content is not provided by Credible or any of the Providers on the Credible website. Any opinions, analyses, reviews or recommendations expressed here are those of the author's alone, and have not been reviewed, approved or otherwise endorsed by Credible. RBD is compensated for customer leads. Credible Operations, Inc., NMLS Number 1681276, not available in all states. 320 Blackwell Street, Suite 200 Durham, NC 27701.