Lucid Motors Stock (LCID): Invest in Luxury EVs Today
This page contains links to our partners. RBD may be compensated when a link is clicked. Read disclosures.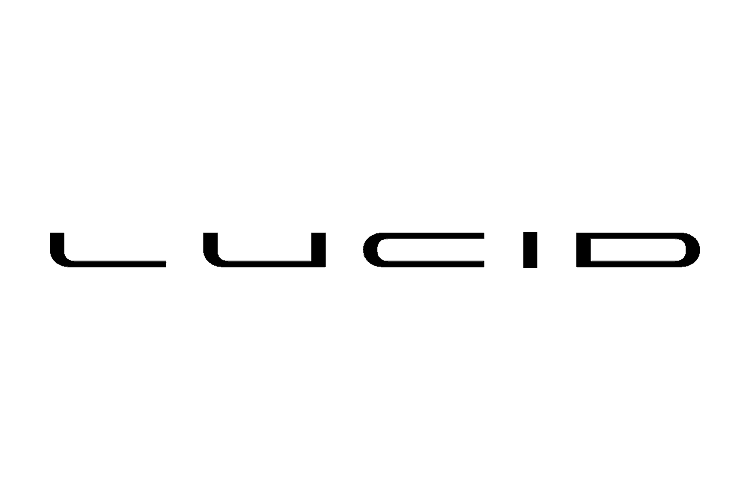 Learn about investing in Lucid Motors stock (LCID) now that the Lucid IPO (technically, a SPAC merger with Churchill Capital Corp IV (CCIV)) is complete. Also, check out the Lucid Motors stock price prediction chart to forecast potential returns.
Open an account with a commission-free online broker such as M1 Finance to buy LCID stock today.
---
The Lucid Motors stock symbol changed to LCID on Monday July 26th. The current Lucid stock price is below:
"Previously named Churchill Capital Corp IV (CCIV), the post-combination company was renamed Lucid Group, Inc. and its common stock began trading on the Nasdaq under the ticker symbol "LCID" on July 26, 2021." Read the July 23rd press release.
---
Lucid Motors Stock and IPO — Recent News
05/31/2023: Lucid Raising $3 Billion From Saudi Owners
05/05/2022: Lucid reports 30,000 EV reservations and raises prices on its Air sedans
01/05/2022: Lucid plans to launch in Europe this year
12/13/2021: Lucid Group Joins the Nasdaq-100 Index
11/01/2021: EV Startups Lucid and Rivian Deliver First Models to Customers
10/27/2021: First Customers Picking Up Lucid Air EVs at Oct. 30 'Lucid Rally'
09/28/2021: Lucid to Deliver 520-Mile, $169,000 Electric Sedan Next Month
09/17/2021: Rivian and Lucid Turn Up the Heat on Tesla With Big Milestones
09/16/2021: Lucid Air achieves 520 miles of range
07/26/2021: Lucid Motors Debuts on Nasdaq Through Merger with Churchill Capital Corp IV
07/23/2021: Churchill Capital Corp IV Stockholders Approve Lucid Business Combination
02/22/2021: Lucid Motors to Go Public in Merger with Churchill Capital Corp IV
Older news…
---
What is Lucid Motors?
Lucid Motors is an electric vehicle (EV) manufacturer in the process of entering the marketplace for environmentally friendly luxury sedans. It is expected to rival Tesla, Rivian, and Nikola in the electric vehicle market, one of the fastest-growing automotive segments worldwide.
The company was founded by Bernard Tse and Sam Weng and was initially named Atieva to focus on batteries and powertrains. In 2016, they rebranded to Lucid Motors and began the development of an electric luxury vehicle.
Peter Rawlinson is the CEO remained through the SPAC merger.
Lucid Motors raised more than $1 billion in venture capital funding before the Lucid IPO completed.
Prominent pre-IPO investors included Saudi Arabia's Public Investment Fund, Venrock, Mitsui, and Jafco, and the China Environmental Fund.
Headquartered in Newark, CA., the company has approximately 500 employees.
Lucid's mission is to:
Inspire the adoption of sustainable transportation by creating the most captivating luxury electric vehicles centered around the human experience.
Here's a video about the car. Scroll down for an exterior photo.
Is Lucid Motors Publicly Traded?
Yes.
Lucid Motors is not affiliated with Caliber Imaging Diagnostics (LCDX), formerly known as Lucid Inc.
When was the Lucid Motors IPO date or SPAC date?
Lucid Motors announced its SPAC merger with CCIV on February 22, 2021, confirming earlier reporting by Bloomberg. The deal completed on July 23rd, 2021.
The Lucid IPO (the first day of trading under the ticker symbol LCID after the CCIV SPAC merger) was July 26th, 2021.
The deal raised approximately $4.4 billion in cash for Lucid to invest in car production.
The company is still ramping up capabilities as an automobile manufacturer, and private funding has covered its employee and development costs so far.
However, due to the intense interest in electric vehicles and a healthy IPO market, a SPAC merger was the fastest and least costly way for Lucid Motors to become a publicly-traded company.
What is the Lucid Motors Stock Price?
Below is the current Lucid Motors stock price, with today's change, the change since January 10th (Bloomberg merger scoop), and since February 22nd (formal SPAC merger announcement).
What is the Lucid Motors Stock Symbol, Lucid Motors Ticker?
The Lucid Motors stock symbol is LCID.
Lucid Motors merged with Churchill Capital Corp IV, whose stock symbol was CCIV.
Lucid Motors Stock Price Prediction Chart
Nobody can accurately predict the future price of Lucid Motors stock price (though that won't stop analysts from trying).
Use the dynamic Lucid Motors stock price prediction chart below to forecast future stock prices based on annualized returns.
For example, if Lucid Motors stock is forecasted to return an average of 10% per year, you can find the future price based on today's latest trade value. This chart depicts the value of one share.
The current year in second column from the left, is weighted for the current year. Each column to the right of it is a full year return based on the annualized return column, or CAGR (compound annual growth rate).
Will Lucid Motors be a Motley Fool Stock Advisor Recommendation?
The combined Lucid Motors/CCIV will surely be evaluated as a potential Motley Fool Stock Advisor recommendation.
Lucid Motors stock fits the mold of high-growth, disruptive business models that the Fool typically recommends.
Considering the Fool's early Tesla buy recommendation and push for forward-looking companies (especially in the EV space), I wouldn't be surprised if Lucid Motors stock becomes a top pick.
When the Motley Fool recommends a company, there is usually an immediate spike in the price. Fool newsletter subscribers are notoriously long-term-minded and rarely sell, meaning the stock price will continue to rise.
Lucid Motors may also receive a recommendation by the Motley Fool Rule Breakers newsletter or other premium services. Both services have handily beaten the broader market since the early 2000s.
Read this Motley Fool Stock Advisor review to learn about their stock selection methodologies and how you can participate in excellent returns.
Stock Advisor is currently half-off at just $99 for an annual subscription if you use the button below. There's a 30-day full refund period if you don't like it.
How to Buy Lucid Motors Stock
Now that the SPAC deal is complete, you can buy Lucid Motors stock (LCID).
***This article is not a recommendation to buy LCID Invest at your own risk***
I recommend the commission-free online broker M1 Finance for long-term investors who may prefer a broker that's better for dollar cost averaging and dividend reinvestment instead of trading apps.
M1 Finance is a reliable and robust, no-fee online broker for beginner to intermediate investors. It's easy to get started.
As your investing skills and portfolio mature, M1 is one of the best platforms to scale.
Investing in stocks is 100% free on the platform. They also offer an integrated checking account and low borrowing rates. Read my complete M1 Finance review here.
M1 Finance does not offer IPO access. But it's my favorite for everyday investing.
Buy Lucid stock by simply adding LCID to your main portfolio pie. Then add funds to your account. The platform will automatically buy Lucid stock during the next trading window.
The platform is more intuitive than old-school brokers because it's built on a modern technology platform. You create portfolio "pies" that contain all the stocks and ETFs you want to own and in what percentages. Simply add Lucid Motors stock to your portfolio pie.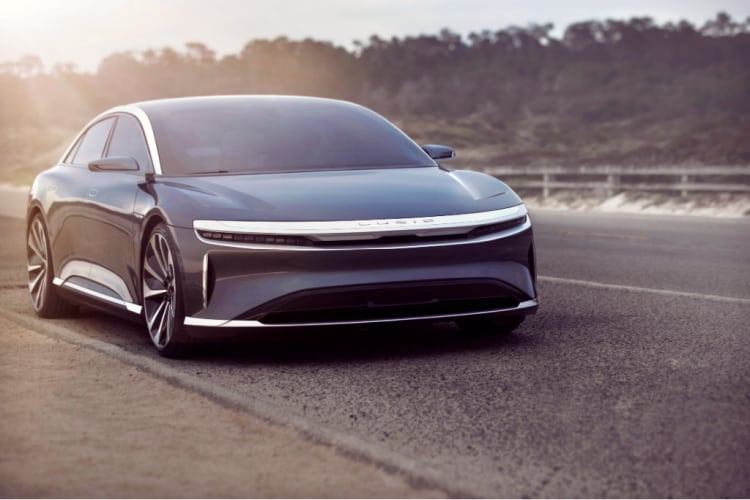 Lucid Motors Lucid Air Commercial
Lucid Motors debuted its first commercial during an NBA basketball game on Christmas day, 2020. It has aired several times since then, including during the Rose Bowl and on CNBC.
Here it is:
What Happened with Lucid Motors and Churchill Capital Corp IV (CCIV)?
Churchill Capital Corp IV (CCIV), a special purpose acquisition corporation, and Lucid Motors merged as announced on February 22nd, 2021. The deal closed July 23rd.
The deal confirms January 11th reporting by Bloomberg.
Churchill Capital Corp IV was already a publicly-traded company. The acquisition made Lucid Motors a public company.
Here are some facts about the deal:
CCIV and Lucid combined at a transaction equity value of $11.75 billion.
The deal valued Lucid at an initial pro-forma equity value of approximately $24 billion at the PIPE offer price of $15.00 per share.
The deal provided Lucid with approximately $4.4 billion in cash.
None of Lucid Motor's private investors sold stock in the transaction and were subject to a six-month lock-up for the shares they received in the transaction.
Lucid had no debts at the announcement of the deal
Doing a traditional IPO would have taken longer and been more costly. The SPAC gives Lucid Motors the money it needs to expand production and begin delivery its luxury vehicles.
Lucid Motors Chairman of the Board of Directors, Andrew Liveris, is an "Operating Partner" at CCIV, which fueled the deal's speculation.
Other prominent CCIV Operating Partners include Sir Jony Ive (original designer of the iPhone) and Allen Mullaly, former CEO of Ford Motor Company.
Conclusion
This website has followed Lucid Motors for more than a year. The Lucid IPO (SPAC) allowed Lucid Motors to go public much faster than initially anticipated.
Startups were jumping on the SPAC bandwagon to go public while the markets and regulatory environment were good. However, SPACs has slowed considerably, in part because of market conditions.
Lucid completed its IPO near the peak of SPAC volume and exuberance.
If Lucid Motors is a truly remarkable business, the real money will be made over the next decade. Buy and hold investors will benefit if the company can deliver the vehicles.
Check out this list of the hottest upcoming IPOs for more investment ideas.
Lucid Motors News Archive
07/22/2021: Churchill Capital Corp IV to Adjourn and Reconvene Special Meeting of Stockholders to Friday, July 23, 2021 to Allow Stockholders More Time to Vote on One Remaining Required Proposal for the Business Combination with Lucid Motors
07/22/2021: Lucid Motors' $4.5 billion merger is being held up by spam filters
07/19/2021: The $20 Billion Winner of the American EV Startup Boom: Saudi Arabia
05/18/2021: Lucid Motors Tweets New Stock Symbol on the Way: LCID – Anticipated July 23rd
04/08/2021: WSJ Video: Not a Tesla – The Startups Racing to Make Your Next Electric Car
04/06/2021: Lucid Motors' Tesla-Like Rollout Strategy Is Destined For Failure
03/29/2021: Lucid CEO Wants $25,000 Electric Cars
03/16/2021: Lucid Motors CEO on Apple car rumors: 'I welcome the competition'
03/08/2021: Bloomberg: Inside the $156 Billion SPAC Bubble (Lucid mentions)
03/02/2021: Tesla vs. Lucid: Here's how the EV rivals are and aren't alike
02/26/2021: The Lucid Air's Spring Launch Has Been Delayed
02/20/2021: Lucid Motors Is Said to Near Deal to Go Public via Klein's SPAC
02/16/2021: Reuters: Lucid Motors nears SPAC deal as Klein launches financing
02/12/2021: First look inside Lucid Motor's new factory in Arizona
02/09/2021: Lucid Motors reveals European deliveries will begin in the first half of 2022
02/03/2021: Lucid Motors suitor's stock has tripled (CCIV) on belief a deal is coming
01/26/2021: Biden plans to replace government fleet with electric vehicles
01/22/2021: Lucid Motors prepares to go public thanks to Saudi money and SPAC mania
01/11/2021: Lucid Motors Is in Talks to List Via Michael Klein SPAC (BLOOMBERG ARTICLE)
01/15/2021: Unverified reports on Twitter – "Lucid plans to go public by April so they can start distributing vehicles by June"
01/13/2021: Cramer regarding Lucid Motors – "Yes, it's one of the good ones" [Shows CCIV price quote] 01/08/2021: Lucid is in talks to build electric car factory in Saudi Arabia
12/04/2020: Lucid Motors completed its 1st factory in AZ where will build 400,000 EVs/year
11/17/2020: Tesla, Lucid, Rivian, and others join forces to create ZETA: a push for electric cars by 2030
11/17/2020: What Donald Trump Taught the Electric-Car Industry
11/13/2020: How the 'Dead Zone' Could Help This Car Take on Tesla
10/14/2020: Elon Musk announced Telsa cut the price of the Model S to $69,420 on the same day competitor Lucid Motors revealed the price of its cheaper Air sedan
10/11/2020: Inside Lucid Motors' plan to take on Tesla
08/12/2020: Lucid Air Could Have An EPA Range Of 517 Miles
06/17/2020: Lucid Air Reveal Set For September 9th, Arizona Factory Set To Open This Year
02/20/2020: Lucid Factory On Pace To Begin Production Later This Year
12/03/2019: Lucid Motors Begins Construction Of Arizona Factory
Disclosure: This web page contains affiliate links from our partners. If a reader opens an account or buys a service from a link in this article, we may be compensated at no additional cost to the reader. Opening an account with a broker that provides access to IPOs does not entitle the customer allocations of specific IPOs. Car photo courtesy of the Lucid Motors Press Room. The author is long RIVN, TSLA.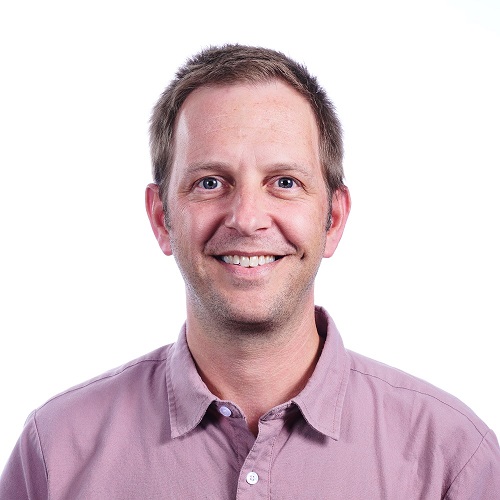 Craig is a former IT professional who left his 20-year career to be a full-time finance writer. A DIY investor since 1995, he started Retire Before Dad in 2013 as a creative outlet to share his investment portfolios. Craig studied Finance at Michigan State University and lives in Northern Virginia with his wife and three children. Read more HERE.
---
Favorite tools and investment services right now:
Fundrise — Simple real estate and venture capital investing for as little as $10 (review)
NewRetirement — Spreadsheets are insufficient. Get serious about planning for retirement. (review)
M1 Finance — A top online broker for long-term investors and dividend reinvestment (review)
High Yield Savings — Put idle cash to work. FDIC-insured savings products.