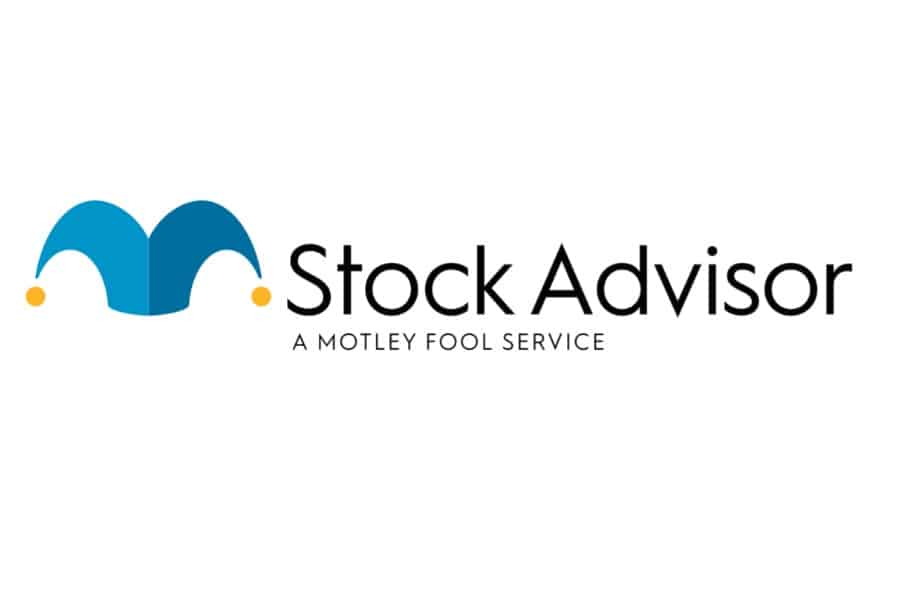 This Motley Fool Stock Advisor review was updated on 12/27/2021.
---
The Motley Fool Stock Advisor is a premium stock recommendation service that helps investors pick long-term growth stocks to achieve market outperformance.
Tom Gardner, co-founder of the Motley Fool, leads the Motley Fool Stock Advisor investment selection team. It's the oldest Motley Fool newsletter and their signature premium service.
His brother and co-founder, David, stepped down as a contributor on May 6th, 2021.
When you subscribe to Stock Advisor, you become part of a community of investors who follow the investing advice of its founders and engage with each other to learn to become better investors.
The service invests with seven guiding principles in mind. These principles drive investment decisions.
In this Motley Fool Stock Advisor review, we'll go over at the seven principles that guide the recommendation, then take a look inside the online portal and the emails it uses to communicate with subscribers.
This review also includes several screenshots of on the online portal.
Retire Before Dad received one month of free access to the Motley Fool Stock Advisor premium service to help write a balanced review. I've decided to blur and withhold the names of stocks for this Motley Fool Stock Advisor review
However: Stock Advisor 1-year membership includes a 30-day membership refund period. If you decide Stock Advisor isn't for you, just cancel your 1-year subscription within the first 30 days (they've made it quick and easy to cancel), and you'll get a 100% refund of your membership fee. No questions asked. Just a prompt, full refund.
Join for just $99 per year. You'll get the 30-day membership refund period and you can see all the current stock picks for yourself. That's 50% off the regular price ($199) if you use links on this page to sign up.
Read more: Motley Fool Rule Breakers review – Follow that link to my Rule Breakers review, a similar but separate Motley Fool Newsletter.
Why Use Stock Picking Services?
The primary purpose of subscribing to a stock newsletter is to give individual investors ideas for further research. From the recommendations provided, investors are empowered to then complete their own due diligence on each investment.
Most investors, however, use them as a shortcut for investment recommendations.
When relying solely on the newsletter's recommendation to make buy or sell decisions, the quality of the newsletter is paramount.
Newsletter quality is measured against its investment objective.
The investment objective of the Motley Fool Stock Advisor Newsletter is to beat the S&P 500 Index by a wide margin. Against this metric, the newsletter has been successful since its inception.
However, individual investors cannot expect to immediately beat the broader market indexes simply by subscribing and buying a stock or two.
To achieve returns equal to those of the newsletter, the investor must commit to the buy and sell recommendations over the long-term. Only a long-term commitment can approach the gains of the portfolio recommended by Motley Fool Stock Advisor.
Even if you follow the recommendations exactly, past performance gains may not repeat itself.
The Stock Advisor Way
The Motley Fool Stock Advisor newsletter invests with seven principles in mind. These are principles that the company lives by, and it expects each subscriber to buy into these principles to become a successful investor.
The seven principles are:
#1 Buy Businesses, Not Tickers
The founders borrow this principle from the legendary Fidelity Magellan Fund manager Peter Lynch. Stock Advisor aims to buy into a company's management and prospects instead of technical stock charts or industry momentum. They're looking for long-term returns, not a flavor of the day.
#2 Be a Lifetime Investor
Investors of the service should be long-term investors that believe in capitalism and that business drives the economy. They keep tabs on the companies and each industry they have exposure to, and continuously invest new money into stocks every month.
#3 Diversify
This one is a no-brainer. Diversification is the only free lunch on Wall Street.
#4 Fish Where Others Aren't
Stock Advisor doesn't follow the herds (although, Fool subscribers often exemplify a herd mentality; more on that below). Fool analysts do research and rely on crowd-sourced inside knowledge and insight to choose winning stocks.
#5 Check Emotions at the Door
Markets and equities fluctuate every day. The key is not to let the undulations of market activity to drive investment decisions. Buy and sell decisions are made with careful consideration, without market influence.
#6 Keep Score
The Fool.com platform offers a Scorecard tool that allows you to measure your investment performance. The tool is available to subscribers and free to any user who starts a watch list. Stock Advisor does this meticulously for each of their picks. Performance is fully transparent.
#7 Be Foolish and Have Fun
Stock Advisor believes individuals who study, do their research, and invest "Foolishly" can beat the market. The subscription service can certainly help. Don't take yourself too seriously. Admit mistakes, take corrective actions, and move on to the next winner.
Here's a video about Motley Fool Stock Advisor that adds more context to their investment philosophy:
How does Stock Advisor Works?
The business model of the Motley Fool is about as old as the modern internet itself. The company writes catchy headlines that get potential customers to click on links and images that take them to a website with an investment thesis.
This investment thesis is designed to intrigue the investor with enormous market opportunities for outsized growth. However, to learn more about the opportunity, the reader must subscribe to an email list.
The email list is then used to create a market funnel to attempt to sell the subscriber on the investment services.
It's a legitimate business model as long as customers find value in the services.
When an investor decides to subscribe to a paid service, the Motley Fool charges the credit card and an online portal becomes accessible.
If you're already a user of the Motley Fool website free services, your premium subscription services will then be accessible for the period of your subscription. Usually a year. If not, at this point your account is created.
You'll be able to log in online to view recommendations and insight. And you'll also receive timely emails with further insight and real-time recommendations.
The Online Portal
The Motley Fool Stock Advisor is less a newsletter and more of an online portal and email communication service.
Here's a view of the Motley Fool Stock Advisor home page from the online portal:
Right away, you're introduced to the best stocks to buy right now. These are current recommendations the service believes are the best for your portfolio.
The list of Best Stock to Buy is updated every Thursday.
On the right sidebar of the page, you'll see a cumulative performance box showing the performance of both Tom and David (former contributor) Gardener against the performance of the S&P 500. There's also a schedule of upcoming recommendations.
Your performance against these measures will start at zero when you sign up. You will always lag these performance metrics, but you can use the Scorecard functionality to track your investments against the S&P 500 from the day you begin.
The performance data below was updated on October 19th, 2020.

The performance data is measured by using the date of each stock pick and comparing the performance against the S&P 500 index for the same period for each stock pick. The numbers you see are average returns of the entire service since inception.
The S&P 500 percentage is not its performance since the inception of the newsletter.
The Power of the Herd
Herd mentality is the tendency for people's behavior or beliefs to conform to those of the group to which they belong. Investors naturally chase stocks that go up.
However, investing alongside a subscription service brings the herd mentality to a whole new level.
First off, the Motley Fool Stock Advisor service makes recommendations when the market is open. An email goes to investors recommending they buy the stock.
I've witnessed this happen and seen the stock price spike immediately after. Take this example from February 7th, 2019. I received the following email at 1:57 pm EST recommending the purchase of a stock: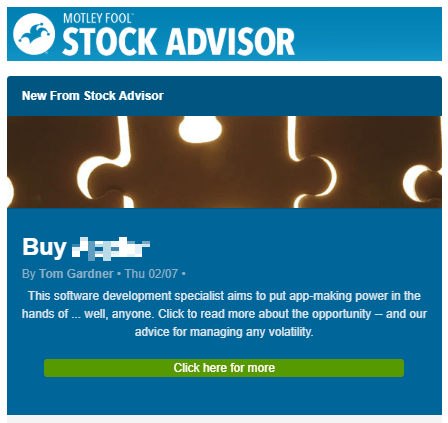 As a new subscriber preparing to write a review of the service, I immediately went to see how the stock was trading. Here's what I saw: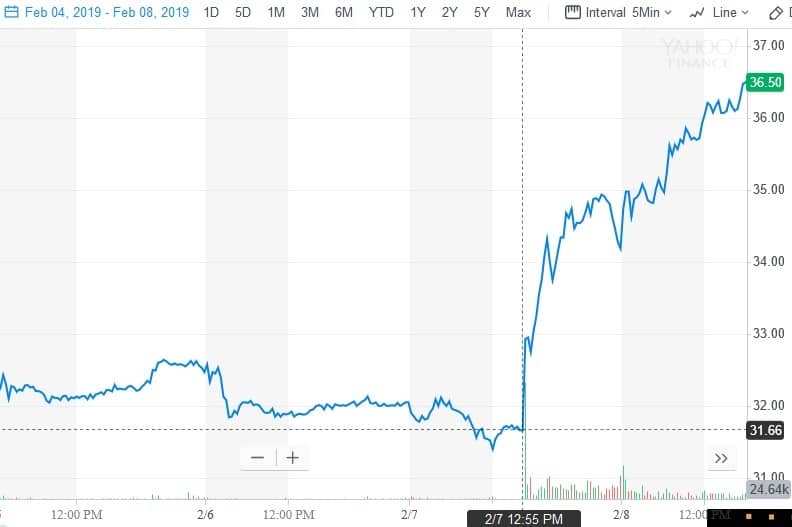 At 12:55 pm EST, the stock price spiked! Unfortunately, for whatever reason, I did not receive my email recommendation until about an hour later. There appeared to be a slightly less dramatic increase when I received the email.
Email delivery timeliness is one area that could use improvement. However, this may be out of their hands.
I checked the news below the stock chart and laughed when I saw this:

So you see, when Motley Fool Stock Advisor makes a recommendation, subscribers buy immediately. The most agile traders may catch the wave, but the rest of us will likely pay a higher price.
And since Stock Advisor recommends investing for the long-term, these buyers are likely to hold for as long as they're told to, which may inflate the price in the near term.
Community
Speaking of the herd, fool.com has discussion boards for stocks in their non-subscriber areas and a separate premium discussion board area for paid subscribers.
Discussion boards available to subscribers tend to focus more on recent action from recommended stocks in the service. The boards are active, depending on the latest news and earnings reports.
It's a place where you can engage with other investors, comment on recent articles, and share and consume insight.
Similar to other online discussion boards, it takes time to become acclimated and comfortable.
Frequent Update Articles
Motley Fool staff writers provide frequent insight on recommended stocks. These articles are available under the research tab on the menu.
This insight is exclusive to subscribers. They often talk about recent earnings, industry trends, and bull cases for recommendations.
The article feed is how Stock Advisor keeps tabs on their research and shares it with subscribers. Some articles were emailed to me while others were only available online.
Another feature is the 10% Promise. Any time a stock moves up or down by 10% or more, a Motley Fool analyst will write an article to give insight on the move.
Research Reports
In addition to the recommendation emails and updates on current recommendations, Stock Advisor provides several research reports for subscribers.
These reports are typically about long-term trends that align with favorite stock picks. They are often the answer to the "clickbait" advertising you see on the internet and social media.
Some research reports may help investors find their own investment ideas.
Below is a sample of the research reports that were available during my subscriber period.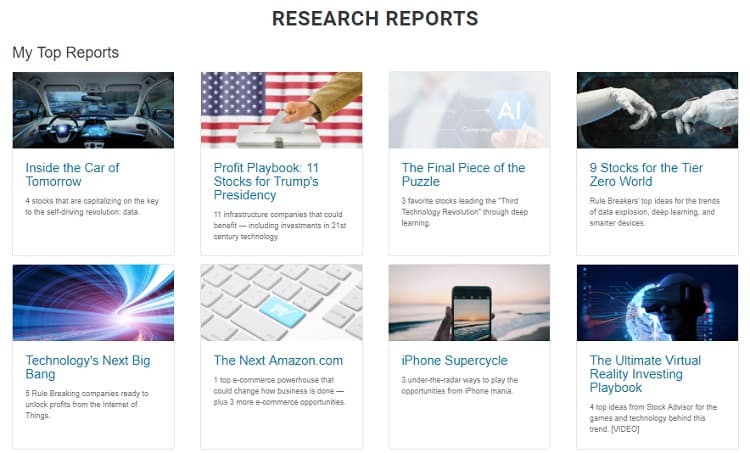 What is the Cost of Motley Fool Stock Advisor? Is it Worth it?
Price is what you pay. Value is what you get. – Warren Buffett
The one-year cost of the Motley Fool Stock Advisor service is regularly price is $199. But if you sign up today through links on this page, you pay just $99 for the year.
The value you get from the newsletter is higher as the value of your portfolio increases.
Investors with $5,000-$10,000 or more to invest should be able to earn enough to cover the cost of their premium service every year if future performance is similar to historical returns.
Therefore, I do believe the service is worth it. I use it myself.
Motley Fool Stock Advisor vs. Rule Breakers
As you know, Motley Fool has several premium subscription services. Another popular subscription service is Motley Fool Rule Breakers.
Stock Advisor operates based on the seven principles listed above. Tom Gardener and his team provide new or reiterated stocks picks to subscribers each month. Each brings unique stock selections to the service.
Stock Advisor has a more open-ended approach, selecting a wide range of stocks for its subscribers.
Both Tom and David's picks have outperformed the S&P 500 since the service's inception, but David's stock picks have far exceeded both. David left Stock Advisor on May 6th, 2021.
David is the founder of the Motley Fool Rule Breakers service, while Tom is not involved at all. Rule Breakers looks for "underappreciated growth stocks with strong management teams and sustainable business strategies."
But specifically, Rule Breakers look for six attributes in companies:
Innovative leaders that have enters emerging industries before everyone else
Sustainable competitive advantages thanks to business momentum, intellectual property, visionary leaders, or a lack of viable competition
Companies whose shares have a history of past price appreciation; winners that keep on winning and stock prices that keep going up
Strong management teams and smart backing
Strong branding and consumer appeal
Rule Breakers also loves stocks that are widely considered "grossly overvalued," which helps weed out the "obviously great" overvalued companies
Read more: Motley Fool Rule Breakers review
Read more: The 5 Best Stock Newsletters for Buy and Hold Investors
Conclusion – Motley Fool Stock Advisor Review 2022
Having spent more than two year as a subscriber (and renewing my paid subscription in 2022), I am impressed by the simplicity of the online portal.
There is so much information to digest, but Motley Fool Stock Advisors is very welcoming to new investors, offering on-boarding articles and tips for new investors including the very basics of opening a brokerage account and buying a stock.
The email communication was also impressive. When recommended companies reported earnings, they usually sent some correspondence to remind you they are on top of it.
Much more exciting, however, was the new stocks recommendations. These come in midday emails with a simple subject: Buy [STOCK].
Those new recommendations immediately drove me into my brokerage account to watch the price action on the stock. Motley Fool asks you to forget about short-term price movements in favor of buying shares within a reasonable period to own a stock for the long-term
However, traders are certainly in on these secret recommendations as evidenced from the immediate spikes followed by a trickle down.
Overall, the Motley Fool Stock Advisor premium service is for people looking for stock tips. Follow the recommendations strictly for several years, and you will likely match their returns for the investment period.
However, if you decide to become a subscriber, you should perform your own research on every stock.
You do not need to buy the stock on the day of the recommendation. Consider purchasing a small amount first, the more if the stock falls below the recommended price.
That said, if you only purchase some but not all of the stocks, you may miss out on winners. The bulk of the returns typically come from two or three stocks. Amazon, for example, is up more than 10,000% since David Gardener's initial recommendation.
Remember, the Stock Advisor 1-year membership includes a 30-day membership refund period. If you decide Stock Advisor isn't for you, just cancel your 1-year subscription within the first 30 days (they've made it quick and easy to cancel), and you'll get a 100% refund of your membership fee. No questions asked. Just a prompt, full refund.
Join for just $99 per year. You'll start with a 30-day membership refund period so you can see all the current stock picks for yourself.
Thanks for reading this Motley Fool Stock Advisor review.
Are you a subscriber? How are your returns? Was your experience a positive one?
Motley Fool Stock Advisor Review
Ease of Use -

9/10

Transparency -

10/10

Diversification -

9.5/10

Fees -

9/10

Value -

9/10

Mobile Access -

8/10
Summary
The Motley Fool Stock Advisor stock newsletter service service is the flagship offering from the Gardner brothers and company. Past performance is solid. The user experience and community is very strong. But keep in mind, to match newsletter performance, you'll need to invest for the long-term, meaning you should expect to pay for the service annually. Email timeliness and mobile access are places for improvement.
Note: The author is an affiliate partner with the Motley Fool. If you subscribe through any links on this page, the author may be compensated for the referral at no additional cost to the investor. This partnership did not influence the content or scoring of this Motley Fool Stock Advisor Review 2021.
Favorite tools and investment services right now:
Credible* - Refinancing makes sense if you can lower your mortgage payment amount by a significnt amount. Credible makes it painless.
Personal Capital - A free tool to track your net worth and analyze investments.
M1 Finance - A top online broker for long-term investors and dividend reinvestment (review)
Fundrise - The easiest way to invest in high-quality real estate with as little as $10 (review)
*Advertising Disclosure: RBD partners with Credible which offers rate comparisons on many loan products, including mortgage refinances and student loans. This content is not provided by Credible or any of the Providers on the Credible website. Any opinions, analyses, reviews or recommendations expressed here are those of the author's alone, and have not been reviewed, approved or otherwise endorsed by Credible. RBD is compensated for customer leads. Credible Operations, Inc., NMLS Number 1681276, not available in all states. 320 Blackwell Street, Suite 200 Durham, NC 27701.