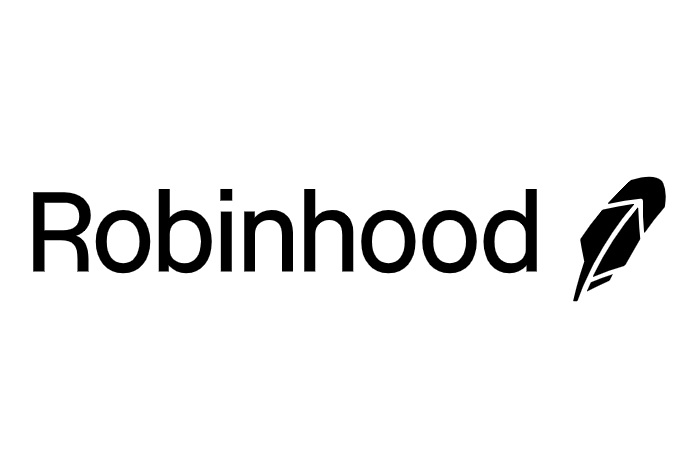 Learn how to invest in Robinhood stock today now that the IPO is complete. Open an account with Robinhood and buy the stock, or buy it through your existing broker. Also, check out the Robinhood stock price prediction chart to forecast potential returns.
The Robinhood IPO date was July 29th, 2021. The stock traded on the Nasdaq under the stock symbol "HOOD". The stock opened at $38 at 12:25pm EST.
The S-1 filing released July 19th indicated that Robinhood set aside 20-35% of IPO shares ($440 million to $770 million) for Robinhood customers (more below).
---
If you're unhappy with Robinhood, try Tradestation for IPO access or M1 Finance (for long-term buy and hold investors) as alternatives.
---
Latest Robinhood Stock IPO News
05/13/2022: What does Sam Bankman-Fried want with Robinhood?
05/08/2022: Robinhood Goes All Out to Stop Bleeding
05/04/2022: Robinhood launches stock lending program in revenue diversification push
04/30/2022: Charlie Munger says the Robinhood trading app is justly 'unraveling' for 'disgusting' practices
03/31/2022: Robinhood Nears Debut of Retirement Accounts Within App
03/29/2022: Robinhood adds four additional hours to extended trading for clients
03/07/2022: Robinhood Plans Spending Account Service Alongside New Cash Card
01/26/2022: A Year After Meme Meltdown, Robinhood Needs a Second Act
01/21/2022: Robinhood Starts To Allow Bitcoin Withdrawals
10/28/2021: Robinhood drops 10% to below IPO price as investors worry about bleak outlook
09/22/2021: Robinhood to launch cryptocurrency wallets
09/08/2021: Crypto Recurring Investments Are Here
08/18/2021: Robinhood Reports Second Quarter 2021 Results
Older news… (35+ more articles)
---
What is Robinhood?
Robinhood is a Silicon Valley startup that revolutionized online investing by offering a commission-free trading platform. Popular with younger investors, you can place unlimited stock, bond, or crypto-currency trades on the Robinhood app and pay no fees.
The disruptive business model attracted a few copycat brokers, namely M1 Finance and Webull, then caused Charles Schwab to eliminate stock trading fees. Schwab's move cascaded to the entire industry.
Now that most online brokers are commission-free, Robinhood will likely offer other paid products to its customer base en route to becoming a profitable company. Banking services and retirement accounts are top on the list.
Is Robinhood Stock Publicly Traded?
Yes!
Pre-IPO shareholders included founders, early investors (venture capital firms), and employees. Many cashed out during the IPO.
Since Robinhood is an online stock brokerage itself, the company offered IPO shares to its customers through its IPO Access platform. See more below.
Prominent venture capital investors before the IPO included Sequoia Capital, Index Ventures, Ribbit Capital, Andreessen Horowitz, and ICONIQ Capital.
When was the Robinhood IPO Date?
The Robinhood IPO date was Thursday, July 29th, 2021. The stock began trading at 12:25pm EST. Underwriters priced the IPO at $38 Wednesday evening. The stock opened for trading at $38.
The S-1 filing was released to the public on July 1st, with amended versions published on July 19th and July 27th, 2021 (see S-1 section below).
Bookmark this page for the latest.
Robinhood IPO Terms
| | |
| --- | --- |
| Number of shares: | 55 million |
| Raise | $2.1 billion |
| IPO price range | $38 to $42 per share |
| Final IPO price | $38 per share |
| Valuation | $32 billion |
| Lead Underwriter | Goldman Sachs |
What is the Robinhood Stock Price Right Now?
The Robinhood stock price will update in the box below once it begins trading. The IPO price was $38.
What is the Robinhood Stock Symbol? Robinhood Ticker?
The Robinhood stock symbol is "HOOD" and trades on the Nasdaq.
Should You Invest in Robinhood Stock Today?
This is a personal choice — do not solely rely on this article to make your investment decision.
Robinhood is a disruptive company with a massive user base whose wealth will grow over time.
Robinhood is poised to offer more products to its 20+ million users. Future services may include retirement accounts, banking services, and credit cards.
Readers should perform their own due diligence before investing in Robinhood stock today.
This article is not a recommendation to buy or sell. Please perform your own due diligence before investing.
Robinhood Stock Price Prediction Chart
Nobody can accurately predict the future price of Robinhood stock price (though that won't stop analysts from trying).
Use the dynamic Robinhood stock price prediction chart below to forecast future stock prices based on annualized returns.
For example, if Robinhood stock is forecasted to return an average of 10% per year, you can find the future price based on today's latest trade value. This chart depicts the value of one share.
The current year in second column from the left, is weighted for the current year. Each column to the right of it is a full year return based on the annualized return column, or CAGR (compound annual growth rate).
Will Robinhood Stock be a Motley Fool Stock Advisor Recommendation?
We won't know until after the IPO if Robinhood will be a Motley Fool Stock Advisor recommendation. However, Robinhood stock fits the mold of high-growth, disruptive business models that the Fool typically recommends.
When the Motley Fool recommends a company, there is usually an immediate spike in the price. Fool newsletter subscribers are notoriously long-term-minded and rarely sell, meaning the stock price will continue to rise.
Robinhood may also receive a recommendation by the Motley Fool Rule Breakers (review) newsletter or other premium services. Both services have handily beaten the broader market since the early 2000s.
Read this Motley Fool Stock Advisor review to learn about the stock selection methodology and about how you can participate in excellent returns.
Stock Advisor is currently half off at just $99 for an annual subscription.
Can you Buy Robinhood Stock?
Yes. The Robinhood stock symbol is HOOD.
How to Buy Robinhood Stock Today
Anyone with a brokerage account can now buy Robinhood stock.
So what is the best online brokerage for buying Robinhood stock now that it is public?
Robinhood, of course!
But it's not my favorite online broker overall.
As an individual investor, you'll want to open an account with a commission-free broker. That way, you'll invest most of your money instead of waste it on fees.
I'll go over one of my favorites below. It's also commission-free and will make it easy to buy Robinhood stock after the IPO.
What is the Best Online Broker to Buy Robinhood Stock, other than Robinhood?
For investors looking to participate in IPOs, TradeStation and Webull offer IPO investing to customers and has been doing it longer than Robinhood. However, you're never guaranteed a share allocation, and most high-demand IPOs will not be available.
Robinhood is for active amateur to intermediate traders. Long-term investors may consider other platforms that are better for dividend reinvestment.
I'm a big fan of the online brokerage M1 Finance. M1 Finance is a reliable and robust, no-fee online broker for beginner to advanced investors. It's easy to get started. As your investing skills and portfolio mature, M1 is one of the best platforms to scale.
Investing in stocks is 100% free on the platform. They also offer an integrated checking account and low borrowing rates. Read my complete M1 Finance review here.
The platform is more intuitive than traditional brokers because it's built on a modern technology platform. You create portfolio "pies" that contain all the stocks and ETFs you want to own and in what percentages. Simply add Robinhood stock to your portfolio pie.
Robinhood IPO Shares were Available to Customers
UPDATE 07/29/2021: Now that the IPO is complete, this is no longer an option. This section will remain for historical purposes.
Will Robinhood customers receive access to the Robinhood IPO?
Yes. However, it's unclear how many investors will receive shares and how many shares per investor. If you request shares, keep your expectations low. You may not get any.
Request shares through the IPO Access Platform within the Robinhood app.
Update 07/19/2021: An email was sent to Robinhood customers on July 19th about accessing the Robinhood IPO through IPO Access. Here's a screenshot of the email: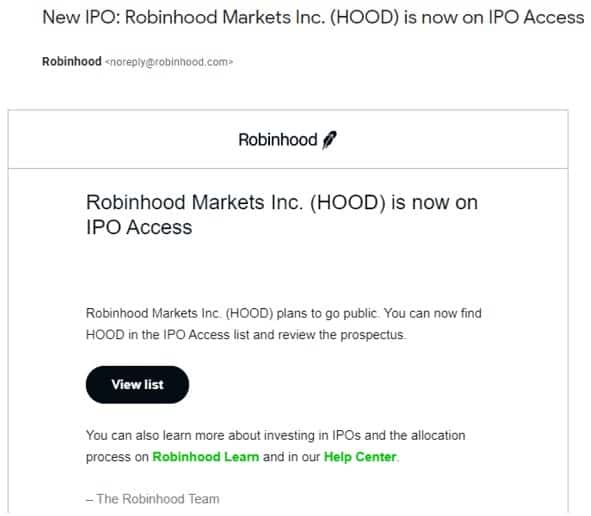 Update: 07/01/2021: Yes! As predicted in December 2019. The S-1 filing indicates that 20-35% of IPO shares will be allocated to Robinhood customers!
Robinhood is a unique case because its success is a result of its loyal customers, and they have an existing online stock brokerage platform.
Now that Robinhood IPO Access is live and they've completed at least one deal, the Robinhood IPO is ready to move forward. The initial S-1 filing shows that some shares will be set aside for Robinhood customers.
Here is what it says in the amended S-1 filing (July 19th, 2021):
We expect to offer approximately $440 million to $770 million worth of shares of our Class A common stock offered by this prospectus for sale to Robinhood customers through our IPO Access feature on our platform (assuming an initial public offering price of $40.00 per share, which is the midpoint of the estimated offering price range set forth above). See "Underwriting (Conflicts of Interest)—Participation by Robinhood Customers in the Offering."
Employees will be able to sell 15% of their shares immediately and 15% three months later.
Update 05/20/2021: It's official. Robinhood IPO access is here. Rolling it out gradually to all customers.
I expect the longest-standing customers, or customers with the most assets, will have the opportunity to buy more shares than new or smaller customers.
We've seen this happen before. In particular, Uber offered shares to drivers that completed a certain number of trips. Square offered IPO shares to its users. Airbnb did the same for hosts.
Since Robinhood is an online broker that may eventually offer IPO access anyways, I believe there's a good chance of a Robinhood directed share program for customers.
Pay attention to the news, this page, and your email associated with your Robinhood account in case it happens.
Does this mean you'll get free Robinhood stock? No. You'll still need to purchase the shares, but you'll get in at the IPO price, not the opening trade price.
Update 03/25/2021: Both predictions are coming true! Reuters reported on 03/25/2021 that Robinhood is building its own IPO platform!
Where can I find the Robinhood S-1 Filing?
View a PDF of the Robinhood S-1 filing below or download the July 1st version of it here.
Here is a link to the original Robinhood S-1 filing released on July 1st on the SEC website.
You can find the most recent filings, including S-1 amendments here. The amended July 19th version is here. The amended July 27th version is here.
You can find a real-time SEC feed of the latest IPO filings on this recent S-1 filings page.
Conclusion
For ordinary investors, it was challenging to acquire pre-IPO Robinhood shares if you don't have a Robinhood account. But more than customers 250,000 (at least) received access.
If you didn't get IPO shares, that's not necessarily a reason to be disappointed. Google's shares rose 18% on the day of its IPO. Many people probably sold that day. Had they held for the next decade, their holdings would have been up 1,000%.
As always, please perform due diligence on the company and don't buy Robinhood stock with money you can't afford to lose.
Check out this list of the hottest upcoming IPOs for more investment ideas.
Robinhood Stock News Archive
08/03/2021: Robinhood surges more than 24%, blows past $38 IPO price
07/29/2021: Robinhood Stock Opens for Trading at 12:25pm EST. First trade: $38
07/28/2021: Robinhood IPO's large retail allotment has Wall Street braced for volatility
07/27/2021: Here's How to Buy Shares in the Robinhood IPO (hurry)
07/26/2021: Economist: Robinhood takes its IPO to the masses
07/23/2021: Barron's: The Robinhood IPO Is Coming Soon. Steer Clear.
07/21/2021: NYT: Robinhood's Guinea Pig for Upending Public Offerings: Itself
07/21/2021: Robinhood faces 'looming regulatory risk' as it gears up for its IPO
07/21/2021: Robinhood IPO: Still A Bad Bet For Investors With Alarming Risk
07/19/2021: Robinhood Sends Emails to Users to Request IPO Shares via IPO Access (see below)
07/19/2021: Robinhood warns retail trading is slowing down, especially in cryptocurrencies
07/19/2021: Amended S-1 Filing Released Today. Read here.
07/18/2021: Robinhood: Serious Fun (The Generalist)
07/15/2021: Robinhood, Others Upend Rules for Early IPO Trading
07/09/2021: Robinhood gives founders second chance at $1.4 billion windfall
07/06/2021: The Robinhood Conundrum
07/02/2021: Robinhood is earmarking 20% to 35% of its own IPO shares for customers
07/01/2021: Robinhood IPO Filing is now Available
06/24/2021: Robinhood's IPO Plans Slowed By SEC Review
06/08/2021: Robinhood Markets Is Said to Now Target July for IPO
06/01/2021: Robinhood Adds New Board Members to Advance IPO Push
05/25/2021: Robinhood nears its biggest trade of all, an IPO, after wild year
05/20/2021: It's official. Robinhood IPO access is here. Rolling it out gradually to all customers.
05/18/2021: Robinhood Plans to Reveal Its IPO Filings as Soon as May 24th
05/07/2021: Robinhood's Big Gamble
05/03/2021: Robinhood raked in $331 million from clients' trading activity during Q1
04/30/2021: Robinhood deepens ties with JPMorgan by using bank for money transfers
03/30/2021: Robinhood's Revenue Increased By 514% YoY- $682M In 2020
03/29/2021: Robinhood heads for IPO with a tarnished reputation
03/25/2021: Robinhood aims to allow users to buy into IPOs
03/25/2021: Reports confirming that Robinhood is building IPO access into the platform
03/23/2021: Robinhood Files for IPO Confidentially
03/07/2021: Robinhood chooses the Nasdaq for its IPO, sources say
02/26/2021: Robinhood to Plan Confidential IPO Filing as Soon as March
02/25/2021: Robinhood is still on track for a hot IPO despite the GameStop controversy
02/03/2021: Robinhood moves forward with first Super Bowl ad as brand crisis mounts (video below)
02/02/2021: Sen. Elizabeth Warren asks Robinhood to explain why it restricted GameStop
02/02/2021: Robinhood's Other Drama: An IPO Firm May Need More Than Ever
02/01/2021: Robinhood raises another $2.4 billion as broker app deals with retail trading frenzy
02/01/2021: Robinhood appears to be benefitting from the trading controversy
02/01/2021: Robinhood CEO explains to Elon Musk why his platform restricted trading last week
01/29/2021: Robinhood restricts crypto trading 'due to extraordinary market conditions'
01/29/2021: Robinhood raises $1 billion and taps credit lines to make trading of GME available
01/07/2021: Robinhood Weighs Selling Its Shares to Clients in IPO (YES! This website agrees.)
01/28/2021: Class-action lawsuit filed against Robinhood for restricting trading
01/28/2021: Robinhood will allow limited buying of restricted securities Friday, GameStop jumps
01/28/2021: Robinhood, Interactive Brokers restrict trading in GameStop stock and options
12/17/2020: SEC charges Robinhood with misleading customers about how it makes money
12/16/2020: Massachusetts regulators file complaint against Robinhood, alleging manipulation
12/08/2020: NY Post Reports: Trading app Robinhood hires Goldman Sachs to lead IPO
09/03/2020: Robinhood is reportedly under SEC investigation, could pay $10 million fine
08/17/2020: Robinhood Now Valued at $11.2 Billion With New Fund Backing
07/21/2020: Robinhood scraps launch of its investing app in the UK
07/22/2019: Robinhood Raises $323M to Democratize Finance For All
04/11/2019: Ahead of IPO buzz, Robinhood introduces new premium trading features
Disclosure: This web page contains affiliate links from our partners. If a reader opens an account or buys a service from a link in this article, we may be compensated at no additional cost to the reader. Opening an account with a broker that provides access to IPOs does not guarantee the customer allocations of specific IPOs. The author is long HOOD.
Favorite tools and investment services right now:
Credible* - Now is an excellent time to refinance your mortgage and save. Credible makes it painless.
Personal Capital - A free tool to track your net worth and analyze investments.
M1 Finance - A top online broker for long-term investors and dividend reinvestment (review)
Fundrise - The easiest way to invest in high-quality real estate with as little as $10 (review)
*Advertising Disclosure: RBD partners with Credible which offers rate comparisons on many loan products, including mortgage refinances and student loans. This content is not provided by Credible or any of the Providers on the Credible website. Any opinions, analyses, reviews or recommendations expressed here are those of the author's alone, and have not been reviewed, approved or otherwise endorsed by Credible. RBD is compensated for customer leads. Credible Operations, Inc., NMLS Number 1681276, not available in all states. 320 Blackwell Street, Suite 200 Durham, NC 27701.