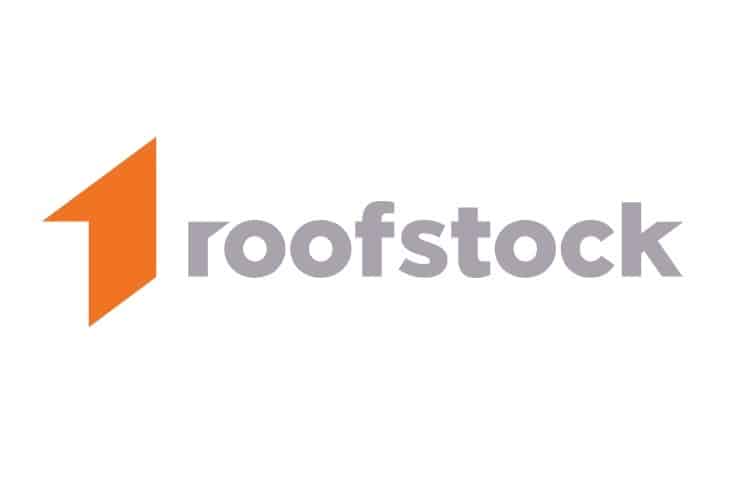 This Roofstock review was updated on 12/28/2021.
---
Roofstock is a real estate property marketplace specifically designed for investors.
Real estate investors can search for, analyze, and purchase profitable single-family rentals (SFRs) from the convenience of a computer or phone.
Roofstock provides an end-to-end experience that enables investors who live in high cost of living areas to buy lower-cost properties out-of-state.
It's ideal for investors who want to own rental properties, but who cannot find affordable or profitable properties in their home area.
The company also makes it straightforward to hire experienced property managers so investors can start collecting passive income on day one.
Best of all, Roofstock-listed properties usually come with tenants already in place.
Roofstock makes investing in single-family rental properties radically simple.
Though experienced real estate investors may prefer conventional bargain hunting, first-timers may appreciate the platform's structure.
75% of its users are first-time real estate investors. More than half are under age 35.
I've highlighted Roofstock on different posts for more than two years now, and a handful of RBD readers have purchased properties on the platform.
This Roofstock review will help you determine if it's right for you.
How Does Roofstock Work?
Sometimes landlords need to sell their rental properties, but they may have an active, long-term lease with reliable tenants.
Before Roofstock, landlords would have to wait for the lease to expire or displace the tenants before selling the property, causing two problems:
Vacancy costs – To sell the property, the landlord would need to empty, clean, and make cosmetic improvements before placing the property up for sale on traditional marketplaces (MLS). Then find a buyer, deal with inspections, and wait to close. The process can take a few months or more, causing losses.
Tenant displacement – Removing a tenant when they don't want to leave can disrupt the family and lead to possible lease infractions.
With Roofstock, the landlord can liquidate the investment and transfer the lease to the new owner. The tenant stays and continues to pay rent to the new owner.
The landlord avoids vacancy costs and enjoys significantly reduced transaction fees.
Single-family rentals are non-correlated investments and provide stable cash flows and less volatility than the stock market indexes.
Roofstock estimates the SFR market to be $3 trillion in the U.S., with 16 million SFR properties today and 29 million expected by 2030.
In four years, the company has completed more than $2 billion in transactions.
Roofstock-listed properties are not listed on the MLS (multiple listing service) like most real estate properties. The company has created a more efficient way for landlords to sell investments to eager investors looking for profits.
Why Invest in Single-Family Homes via Roofstock?
Single-family homes make great investments, even more so today as families vacate the cities for the suburbs due to the virus.
These properties offer low volatility, price appreciation, steady cash flow, and consistent rent increases.
As long as the investor prepares for maintenance and vacancy costs, the long-term outlook for single-family homes in good locations is excellent.
Compared to stocks and bonds, single-family rentals offer comparable returns with less heartburn.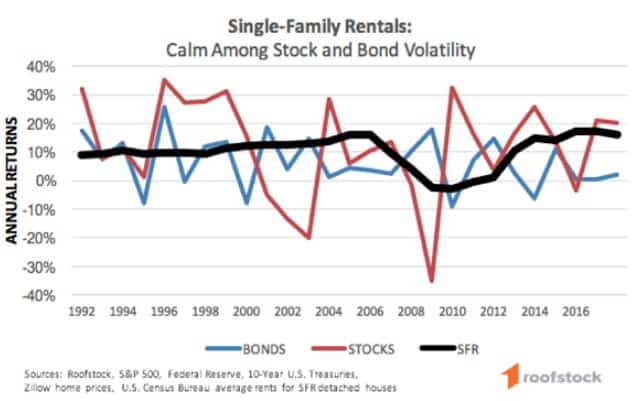 Single-family rentals provide adequate protection against inflation, and there are usually no condo fees or HOAs to hinder your investment.
The Roofstock Marketplace provides a pool of occupied and turkey SFR properties, ready for investors to start collecting income.
Selling on Roofstock
Sellers prefer Roofstock over the MLS for several cost and hassle-saving reasons:
Reduced selling fees
Don't have to break a lease to sell
Tenant continuity
Vacancy avoidance (lost rent)
Capital expenditure avoidance (no cosmetic fixes needed)
This graphic from the website shows how a Roofstock sale compares a traditional real estate transaction.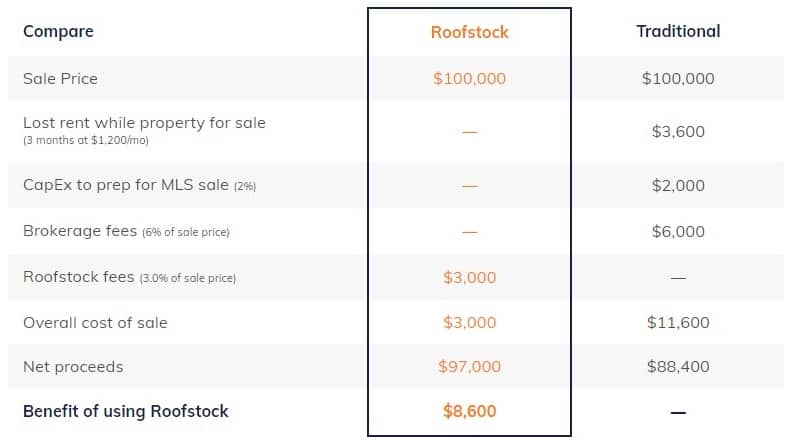 The seller sets the final listing price. But Roofstock provides data and other financial metrics to help determine an accurate value.
Like a traditional sale, properties priced correctly or below market price will sell quickly and sometimes trigger a bidding war.
Overpriced properties may hear crickets.
Roofstock reserves the right not to list properties that are not priced appropriately.
A crucial difference between Roofstock and MLS is Roofstock provides several key investment metrics not available otherwise. The data equips the buyers and enables the landlord to showcase its value proposition.
The Roofstock Marketplace
The investment property Marketplace is the bread and butter of Roofstock. It's a browsing engine that empowers investors to filter and sort on an impressive toolbox of metrics.
As of writing this Roofstock review (August 2020), 284 active properties are listed on the Roofstock Marketplace.
Roofstock is an increasingly popular platform for sellers with excellent traction for a company its age.
When you arrive at the homepage, click the View Properties button to get started. Here's how it looks with the first row of properties: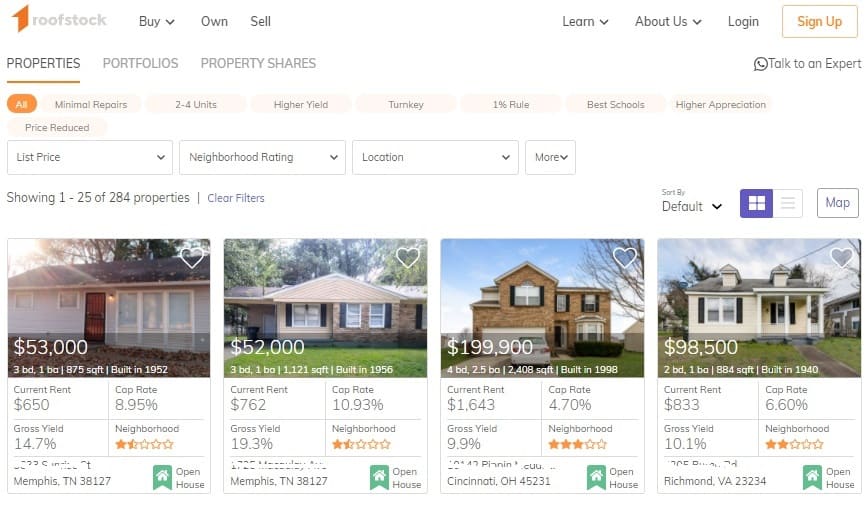 There is also a list view and map view to amplify the search tool.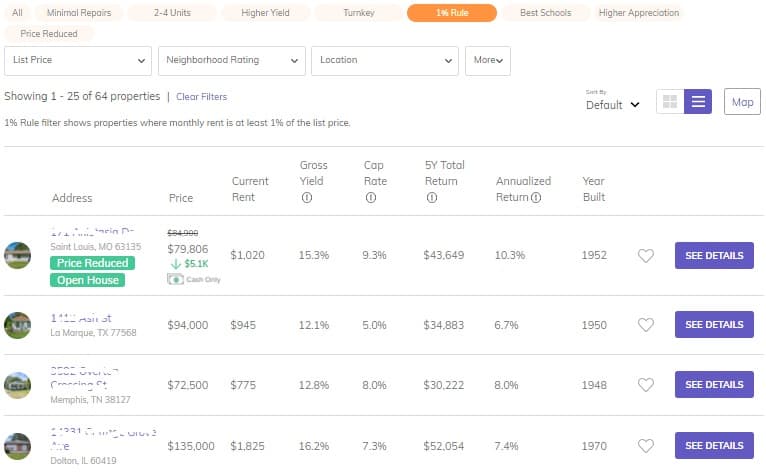 Roofstock Marketplace Review: Key Filters
Across the top, there are filters to narrow the search quickly. The most notable is the 1% rule of thumb filter, which identifies properties where the monthly rent equals 1% of the listing price (seen above).
The 1% rule of thumb is popular in real estate investing. It's a way to rapidly reduce the pool of investments before conducting a more in-depth analysis.
Investors can also filter by price, cap rate, gross yield, expected appreciation, location (state), schools, financial metrics, and their proprietary neighborhood rating, among other metrics.
One annoyance is the quick filters at the top (in orange), don't function well with other metrics. For example, it wouldn't let me click the 1% rule filter and narrow my query further by state.
Though primarily for single-family rentals, investors can also find a handful of multi-unit properties.
Click or tap the More dropdown arrow, and you'll see additional filters, including rent amount, square footage, occupancy, and months remaining on the lease. The data is transparent and comprehensive.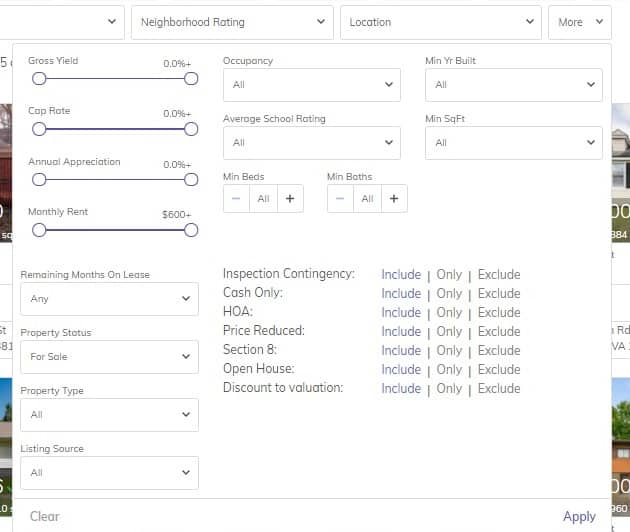 Best of All
Even if you have no interest in an immediate purchase, the Roofstock Marketplace is a fun place to practice evaluating and analyzing rental properties.
It's a notable training ground for aspiring investors compared to sites such as Redfin or Zillow — because Roofstock caters to investors and the specific metrics that reduce risk and lead to long-term profits.
Compare properties on Roofstock to potential rentals in your high cost of living area, and you'll see why it can make sense to become a long-distance landlord.
Roofstock Review 2022 — Example Single-Family Rental
For this section, I want to highlight one property to show a live listing. There's a lot to see, so I've only included the primary screenshot.
I recommend checking out the listings for yourself to see more detail.
Here's the primary view of a 120-year-old property listed in the Pittsburgh area for $65,000. It rents for $960, putting it well within the 1% rule range.
But it needs several repairs.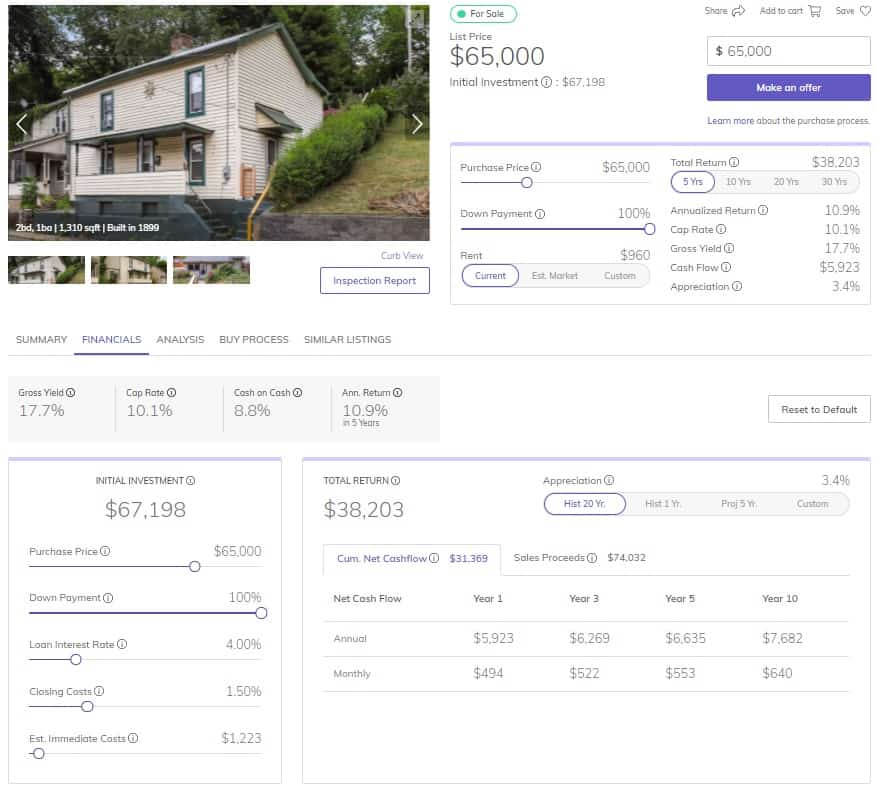 There's a ton of financial details, cash flow and value projections, and charts in the various tabs and views. Also available are inspection reports, financing and management options, and comparable sales.
Dig into the listings yourself. You can view most of the data without a login.
Roofstock Review 2022: Fees
For most listings, Roofstock charges a marketplace fee to buyers and a commission to sellers. Here are the details:
Buyers – Roofstock charges the greater of $500, or 0.5% of the purchase price. For a $110,000 property, the buyer would pay $550 to Roofstock on top of customary closing costs.
Sellers – Roofstock charges the greater of 3% of the sale price, or $2,500 on tenant-occupied and vacant properties. For a $110,000 property, the seller's cost would be $3,300 on top of customary closing costs. Multiple-property transactions receive a discount.
The value is substantial for sellers compared to the standard 6% fees that real estate agents receive. See the Selling on Roofstock section above for a comparison chart.
Tax Considerations
Ownership of an investment property purchased on Roofstock is not different than acquiring the property elsewhere. Real estate investing tax advantages are well-known.
Roofstock provides self-directed IRA investments through a partnership with New Direction Trust Company.
The company also facilitates 1031 tax-deferred exchanges. These allow the investor to defer capital gains taxes upon reinvesting the proceeds from a previous property into a new property or portfolio of equal or higher value.
Keep in mind, if you invest in an out-of-state property, real estate owners are subject to state and local taxes at the address of the property. So if you buy out-of-state, expect to have to file an additional state tax return.
Purchase in-state to avoid the additional tax administrative burden.
Roofstock Guarantees
Roofstock offers a 30-day Money Back Guarantee on all single-family purchased properties (multi-family properties not included).
If the investor is dissatisfied, the company will relist the property for free or repurchase after 180 days. Terms and conditions apply.
Roofstock also offers a Lease Up Guarantee, which applies to investors who purchase a vacant home and work with a preferred property manager.
The company "will pay you an amount equal to 75% of the estimated market rent rate starting 45 days after your property is rent-ready for up to 12 months."
Roofstock Review 2022 — Other Offerings
The bulk of this Roofstock review focuses on the Marketplace, where most customers engage and transact.
But Roofstock has several peripheral products to help investors grow wealth through real estate. These other offerings are in different stages of maturity and customer adoption.
Roofstock Academy
Roofstock Academy is a training program designed to help new investors avoid mistakes. The most popular class is the Mastery Program which combines 50+ hours of lectures with five hours of one on one coaching.
There's also a coaching-only product.
The cost of the Mastery Program is about $1,400. The coaching only offering (five hours) is about $800.
Roofstock offers a slight discount for both if you pay upfront. They also provide up to $2,500 in marketplace credits for students who go on to purchase properties.
Roofstock One
Roofstock One's motto is, "You invest. You relax. We do the rest".
In this product, investors can buy 1/10th of a single-family rental with a minimum investment of $5,000. They own a share of a trust which holds and manages the property.
Owning fractional shares of a real estate investment enables the investor to buy multiple properties to diversify.
Roofstock retains a 10% ownership stake, so their goals align with investors. The arrangement still has tax benefits for the investor, and they participate in potential price appreciation.
Roofstock One is available exclusively to accredited investors.
This offering seems similar to types of real estate crowdfunding we've highlighted before, but less compelling.
As a peripheral offering, those looking to invest with smaller minimums may fair better with established crowdfunding platforms such as Fundrise for non-accredited investors, or EquityMultiple for accredited.
Roofstock Portfolios
Roofstock Portfolios enables sales and purchases of more than one property at a time. Some landlords may have dozens of properties in one locality and may be looking to offload an entire portfolio all at once.
The Portfolios product lets the seller list multiple properties while the buyer picks and chooses what to buy and makes an offer.
Sales of multiple properties (more than five) incur lower transaction fees.
From the Marketplace page, click on the Portfolios tab at the top to see available property clusters.
In the examples below, you can see the properties are listed in bulk in a single market location.
Sellers set the minimum number of properties for sale. The buyer can then pick all or some of the properties for purchase.

Roofstock Cloudhouse (Beta)
Roofstock Cloudhouse is a rental property calculator that delivers insight into any single-family address in the U.S.
Type the address into the search box, and the free service returns data regarding the neighborhood, schools, and rent amounts.
The results are as comprehensive as the data provided for listed properties. You must create a login to get detailed financial analysis data.
Try the free Cloudhouse calculator here.
Bring Your Own Property (Beta)
The Bring Your Own Property service lets investors submit an investment property address to Roofstock, who will run its proprietary underwriting analysis.
If approved, they'll connect you with a vetted Roofstock local real estate agent who shares exclusive access to view the underwriting details and return projections, as seen in the Marketplace.
They'll also help the investor complete the purchase and set it up with a property manager.
Roofstock the Company
Roofstock is an Oakland, CA-based startup founded in 2015 out of frustration with the status quo. The process of buying and selling investment properties has always been inefficient.
Seeing an opportunity, a team of experienced real estate investors and west coast technologists combined to build a platform tailored to real estate investors, with a focus on user experience and data analytics.
Since its founding, the platform has grown to $2 billion+ in transactions, 70+ markets, and 100k registered users.
In its most recent Series D funding round, the company raised $50 million from prestigious venture capital firms such as SVB Capital, Khosla Ventures, Bain Capital, and Lightspeed.
Total venture funding to date is about $132 million, with an estimated valuation approaching $1 billion, according to data on Crunchbase.
Roofstock Review 2022 — Important Considerations
Roofstock makes buying an investment property easier compared to standard practices. But the best deals can be highly competitive with nationwide and international buyers looking for properties.
Investors may place multiple offers before a successful purchase. Even then, there's no guarantee the property will perform.
You won't find "steals" on Roofstock, because the best deals are in high demand. But you will find comprehensive data on which to base your investment decisions.
Though Roofstock properties are pre-vetted and often tenant-occupied, it does not preclude investors from performing exhaustive due diligence to increase the chances of long-term profits and minimal hassle.
If you search Bigger Pockets, Reddit, or other online real estate discussion forums, you'll find stories where transactions didn't go smoothly or investors are dissatisfied. Real estate purchases aren't always perfect, especially investments.
Red tape, local zoning, lousy tenants, and maintenance issues can quickly turn an investment into a headache with a leaky bank account.
If you decide to move forward with a purchase, move slowly, stay selective, and only buy as a fully-informed investor. That doesn't happen overnight, so learn about real estate investing before jumping in.
Overall, Roofstock is an excellent platform for aspiring real estate investors looking for a supported entry into the asset class.
Affiliate Disclosure: RBD partners with several companies and brands as an affiliate, including Roofstock, and may receive compensation for referrals originating from links on this page. RBD only features products and services that he has used or vetted before sharing with the audience. Click here to learn more.
Roofstock Review
Ease of Use -

9.5/10

Transparency -

9.5/10

Diversification -

7/10

Fees -

9.5/10

Investment Selection -

10/10
Summary
Roofstock is a real estate investing marketplace, the first of its kind. The website and technology is easy to use to identify and evaluate investments. The data is comprehensive, requiring sellers to provide significant details of each property. Most transactions happen as single properties, but bulk acquisition is available. The low cost of many investments makes it feasible for wealthy investors to acquire multiple properties on the platform. The cost to sell is well below MLS, but buyers incur a reasonable 0.5% fee, which would otherwise not be paid. For a company in startup mode, the number of properties available on the platform is impressive, though the best deals move quickly.
Pros
Strong Inventory
Rent Ready or Tenant Occupied
Low-Cost Properties
Accessibility for Out-of-State Investors
Helpful Property Data
Excellent Usability and Filtering
Cons
Lack of "Steals"
Competition
Closed Platform (no MLS access)
Roofstock One Uncompelling
If you have questions about this Roofstock review 2022, please leave them in the comments or contact me and I'll do my best to answer or clarify. Also, if you have direct experience buying or selling on the platform, we'd love to hear about your experience.
Favorite tools and investment services right now:
Credible* - Now is an excellent time to refinance your mortgage and save. Credible makes it painless.
Personal Capital - A free tool to track your net worth and analyze investments.
M1 Finance - A top online broker for long-term investors and dividend reinvestment (review)
Fundrise - The easiest way to invest in high-quality real estate with as little as $10 (review)
*Advertising Disclosure: RBD partners with Credible which offers rate comparisons on many loan products, including mortgage refinances and student loans. This content is not provided by Credible or any of the Providers on the Credible website. Any opinions, analyses, reviews or recommendations expressed here are those of the author's alone, and have not been reviewed, approved or otherwise endorsed by Credible. RBD is compensated for customer leads. Credible Operations, Inc., NMLS Number 1681276, not available in all states. 320 Blackwell Street, Suite 200 Durham, NC 27701.