"As Long As The Stock Market Doesn't Crash"
This page contains links to our partners. RBD may be compensated when a link is clicked. Read disclosures.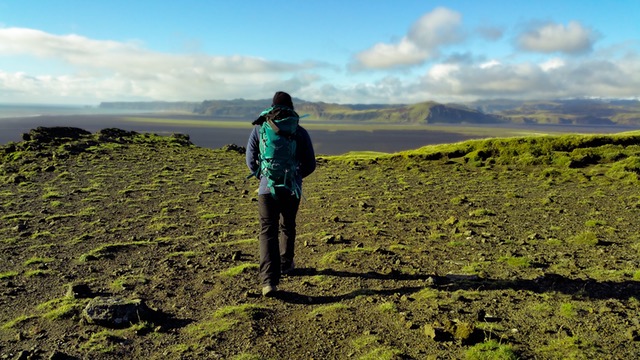 I ran into my former coworker, Bob, in the office lobby the other day. We started talking about retirement. He's planning to fully retire later this year. He'll be 62-years-old.
The last time we spoke about retirement, his target age was 67. I congratulated him for being five years ahead of schedule.
He's one of the featured characters in a post I wrote more than three years ago called Learning From Your Coworkers Who Cannot Retire.
The post was a little rough around the edges but still managed to get a feature on Rockstar Finance. It was the first article of mine to earn that distinction (see a complete list of featured articles here).
At the time, I worked with a lot of older people. Many were in their late-fifties and sixties and unable to retire because of family situations, health problems, divorces, bad choices, and lack of planning.
I remember one former coworker telling me he couldn't retire because he wouldn't be able to afford his SUV payment. Once he paid it off, he bought a bigger SUV!
Another guy in his mid-sixties was still working to support his aging mother. He retired not long after his mother died in her late nineties.
Bob used to come by my desk and talk about all the surgeries he needed. Occasionally we'd talk about money.
Back in 2013, he told me he was nine years away from retirement despite recently paying off his house. I found it hard to believe he needed nine more years with a paid for house.
Well, apparently, he didn't. He's ready to retire in the Fall.
We don't work together anymore since I abandoned my cushy job. But we're still in the same building. I keep tabs on all my former coworkers' retirement plans because it's so interesting to me.
Before Bob and I parted from our recent run in, I congratulated him again and quipped that I'd see him at his retirement party. Instead of smiling, he turned to me with a serious look and said:
As long as the stock market doesn't crash.
Portfolio of Cards?
As an investor in his early sixties, Bob has seen a few ups and downs. Surely, he endured the roller coaster ride of the late-nineties and the dot-com bubble crash. Then in 2009, he knows the damage felt when markets tumble due to systemic uncertainty.
So it's no surprise he'd make a hedging statement like that.
What's frightening about his upcoming retirement is it's heavily built on the success of the stock market over the past few years. His 401k balance is where it needs to be and he's ready to pull the trigger.
He wasn't expecting to be able to retire by now based on his previous estimate, but returns have been sweet. The stock market is up about 40% since our last conversation.
As long as the stock market doesn't crash, he's good to go.
The Expectations Gap
A few days later I came across an article on CNBC about what the author calls an "expectations gap". According to the article:
More than 80 percent of workers recently surveyed by BlackRock expect their retirement account returns will continue to match or exceed the returns of the past.
During the current eight-year bull market, annualized returns of the S&P 500 stand at 19.5% (CNBCs number, presumably since the March 2009 bottom). That's double the average annual returns of ~10% dating back to 1926.
In other words, when the stock market is performing well, most retail investors tend to think that will continue, regardless of valuations. The returns of this bull market are not sustainable.
Overdue for a Correction
It's foolish to time the market. Nobody can successfully call market tops or bottoms with any consistency.
However, when the stock market is due for a correction, it doesn't hurt to have some cash waiting on the side in the event of a decline.
That's not timing the market, that's being opportunistic.
So how do we know when the next correction is?
We don't know. It may come tomorrow or it may be many years away.
But as the following chart from American Funds points out, and as we all know in the back of our heads, declines are an inevitable part of investing.
Base on this table, a market correction of 20% or more occurs on average every 3.5 years.
We haven't seen one in eight years.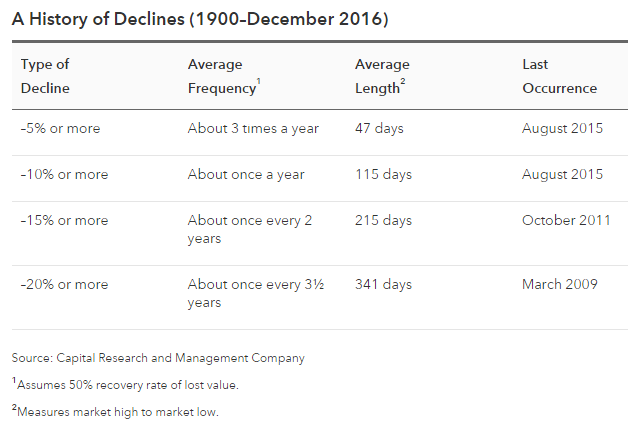 Declines of more than 15% happen on average every two years. The current streak is more than five years old.
Of course, this doesn't take into consideration the current strength of the economy, politics, and a myriad of other factors. Just history of the market.
The market could very well keep going higher. The longer it does, however, the more the psychology of market history will weigh on Wall Street. When markets fall, especially in the age of high-frequency trading, they go hard and fast. We won't know what will trigger the downturn until it happens.
The Shiller PE Ratio (aka CAPE)
As for valuation, one of the most widely recognized trackers is the Cyclically Adjusted PE Ratio (CAPE Ratio), also known as the Shiller PE Ratio. CAPE was developed by Robert Shiller, author of Irrational Exuberance,
a book about high valuations and market psychology during the dot-com bubble era.
The CAPE is a PE ratio (price to earnings) based on the average inflation-adjusted earnings of the S&P 500 index for the previous ten years. Shiller uses the ten-year average to smooth out volatility.
According to the Shiller PE, at a level of 38.44, the market valuation is currently higher than before the 2007-2009 financial crisis and approaching the level of the stock market crash of 1929.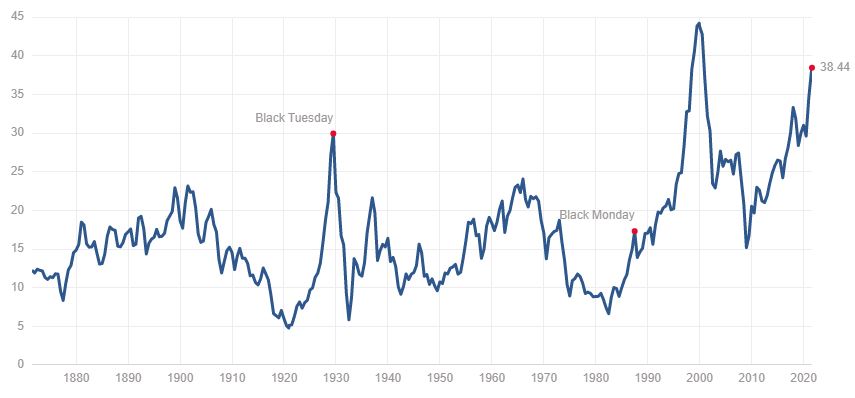 In other words, the market is clearly overvalued from a historical perspective. Doesn't mean an extended declining period or crash is imminent, but it's worthy of investors' attention.
That said, the market was looking overvalued in 2017 when I first updated the chart. The market keeps going up.
Click here to see the latest Shiller PE Ratio chart. Also, check out a recent write up about CAPE over at Wallet Hacks.
What This All Means for My Coworker
All of us who invest in stocks are putting our faith in the U.S. economy and stock market to growth our wealth and lead us to retirement. Markets fluctuate, sometimes violently. Sometimes irrationally. But over long periods of time, stocks go up.
Part of why I choose to invest in dividend stocks is for predictability. Dividend payments are easy to predict as long as a company is managed well and not overwhelmed with debt. I'm also heavily invested in index funds and ETFs. These securities fluctuate directly with the market indices.
When markets go down, dividends ease the pain to some extent, at least mentally while funds recover. Declines become an excellent opportunity to buy high-quality dividend stocks and index funds if you have the money available.
Based on some basic market history, today it's apparent that the market is both overvalued and due for a decline.
Unfortunately, my coworker is likely unaware of both. He's probably looking at his 401k balance expecting it to keep growing as it has for the past eight years. Or perhaps, the serious look he gave me was an acknowledgment of the risk he's taking.
As he eerily pointed out, his retirement this year is contingent upon the stock market not crashing. That, to me, is a discomforting plan. Having witnessed two major market declines (2000, 2009) that severely altered the retirement plans of people I know, I'm determined not to let that happen to me.
That's why I'm building multiple income streams and a couple side businesses. Market declines suck. Knowing one could hit us at any time is one reason why I don't feel wealthy today.
Nonetheless, the bull market we're in today feels pretty darn good.
But as Warren Buffett reminded us in the 2013 Berkshire Hathaway Letter to Shareholders, quoting former Morgan Stanley analyst Barton Biggs:
A bull market is like sex. It feels best just before it ends.
Photo credit lane wunderli via Pexels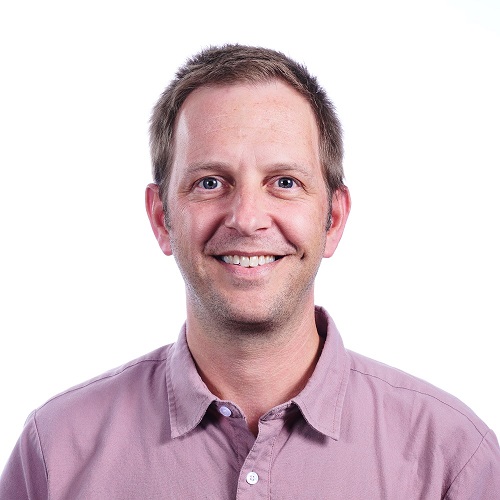 Craig is a former IT professional who left his 20-year career to be a full-time finance writer. A DIY investor since 1995, he started Retire Before Dad in 2013 as a creative outlet to share his investment portfolios. Craig studied Finance at Michigan State University and lives in Northern Virginia with his wife and three children. Read more HERE.
---
Favorite tools and investment services right now:
High Yield Savings — Put idle cash to work. FDIC-insured savings products.
NewRetirement — Spreadsheets are insufficient. Get serious about planning for retirement. (review)
Fundrise — The easiest way to invest in high-quality real estate with as little as $10 (review)
M1 Finance — A top online broker for long-term investors and dividend reinvestment (review)