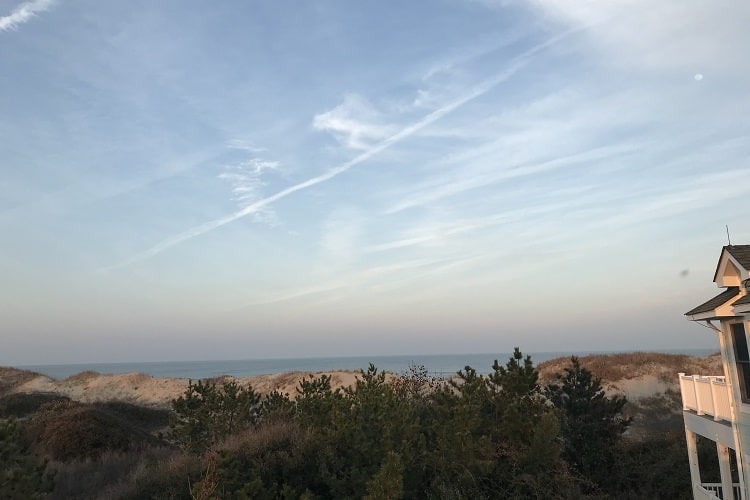 Our family spent the dog days of COVID at home. No travels, no visitors, and zero breaks from each other.
By the end of 2020, we'd had it with school and working at home.
So we booked a beach house for Spring Break in the Outer Banks of North Carolina.
And to treat ourselves, we made it a two-week retreat — one for work and school and the other for leisure.
We splurged a little, renting a five-bedroom house, third door from the beach entrance in a quiet neighborhood.
I'm too cheap for the beachfront.
We had an unobstructed view of the ocean and a nature preserve from our deck.
The neighbors were all out of town.
I took the kids down to the beach the first morning. We were alone.
It was sunny, but only about 60 degrees outside. A stiff breeze pelted sand into our lower legs.
The water was rough and choppy — certainly not safe or warm enough for swimming.
But it was a perfect day for the kids to run through the ankle-high shore break, discover seashells, and make "snow angels" in the sand.
I watched the kids with joy and gratitude.
A song from the late 1990s came to mind, and I started singing aloud.
But how many corners do I have to turn?
How many times do I have to learn?
All the love I have is in my mind
Well, I'm a lucky man
With FIRE in my hands
I Know Just Where I Am
Last year around this time, my wife and I reached our financial independence number.
For personal finance enthusiasts, financial independence is the holy grail — the "FI" in FIRE and the essential step before retiring early (the "RE").
I prefer the acronym F.I.B.E.R. which is hopefully more agreeable to FIRE critics and bathroom humor aficionados alike. But I don't know a song about that.
FI is the point when your savings and investments are significant enough to cover annual expenses for the next 30+ years.
In other words, we've saved enough (within an acceptable margin of safety) to stop earning active income and live off savings and investments.
Here's a chart I've been using to measure progress toward financial independence. The crossover point happened in February 2021.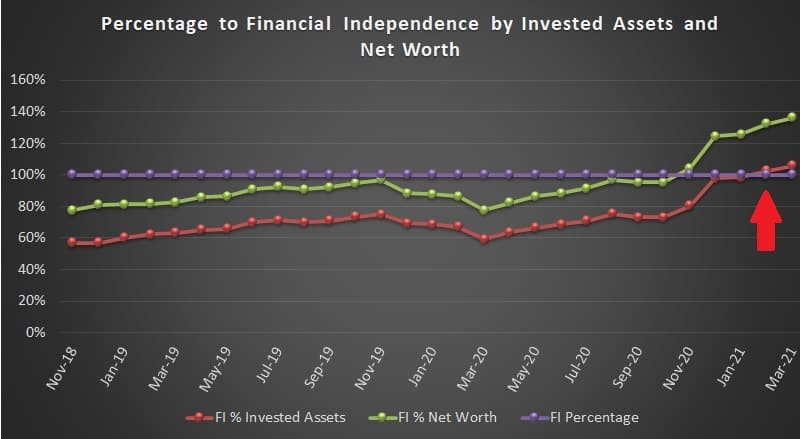 The financial independence number is a generally accepted rule of thumb, not a mathematical certainty.
It's when invested assets (not including home equity or 529 savings, in our case) equals 25x annual spending.
For example, if someone spends $60,000 per year, their financial independence number is $1.5 million.
Some people hate the financial independence number, believing it's not enough money to cover life's future unknowns.
Others think the number is too conservative.
I care enough about the FI number that I measure it, but it's not my gospel.
However, it is a significant spreadsheet milestone in route to a goal set in 2003, to retire at age 55, one year before my Dad retired from his teaching career.
More than that, I consider FI to be an enabler, giving me more options.
With FIRE in my hands, I can ease off the gas pedal and transition to a lifestyle with fewer constraints.
Happiness, More or Less
Yes, we hit our FI number last year.
But nothing changed.
I stayed at my day job, continued saving and investing, and I kept blogging.
There was no celebration or triumphant resignation letter.
I'm certainly not retiring any time soon.
The significance didn't even hit me until that day on the beach.
That's because I've seen wealth grow, only to be destroyed.
The 2000 dot com bust, the 2008 real estate bubble, the COVID plunge in 2020 — and the next one we don't know yet.
I waited a year to mention it here because financial independence is fragile at first.
Sustained increased spending or a significant decrease in asset values can impact financial security down the line.
Just last month, we came close to losing our FI status.
Our wealth is closely tied to the stock markets. So when stocks fell in January, the chart lines went down.
Even more significant, we spent close to $10,000 more in 2021 than in 2020. That increase means we need more passive income and invested assets to stay financially independent.
I adjusted the annual spending amount in the chart at the end of December.
Here's where we are today: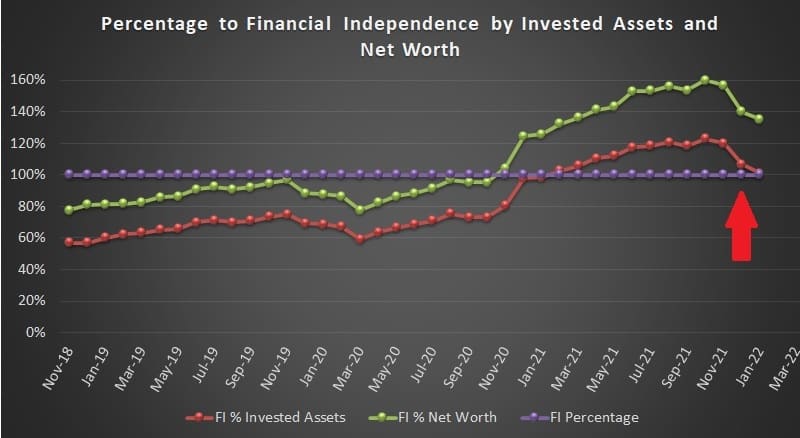 Moreover, I haven't hit the point in life when I've acquired "enough" wealth. The ten-years-ago me would think our net worth is enough.
But today, it's not — and I don't know what is.
With inflation and so many unknowns expected in the coming decades, it's best to keep earning.
However, our current wealth may be enough for me to shift priorities and earn differently.
Something In My Liberty
So what does this mean?
The financial independence number is only a rule of thumb.
Hitting FI doesn't mean I've lost the desire to continue building wealth.
I'm not ready to flip a switch and start living off of dividends and savings. I want to fortify our financial footings.
We may choose to increase our annual spending. Or we may build extra wealth to travel more comfortably, anticipate medical issues, give to charities, or leave an inheritance to our children.
I like earning money and intend to continue to earn for years to come, maybe even past age 55.
But my primary income source may change.
Reaching financial independence brings clarity, confidence, and the potential to reclaim some of my time and pursue more meaningful work.
That's my focus today — leveraging our financial independence to transition away from an unremarkable professional career toward something more rewarding and flexible. The transition has been on my mind for a while.
Favorite tools and investment services right now:
Credible* - Now is an excellent time to refinance your mortgage and save. Credible makes it painless.
Personal Capital - A free tool to track your net worth and analyze investments.
M1 Finance - A top online broker for long-term investors and dividend reinvestment (review)
Fundrise - The easiest way to invest in high-quality real estate with as little as $10 (review)
*Advertising Disclosure: RBD partners with Credible which offers rate comparisons on many loan products, including mortgage refinances and student loans. This content is not provided by Credible or any of the Providers on the Credible website. Any opinions, analyses, reviews or recommendations expressed here are those of the author's alone, and have not been reviewed, approved or otherwise endorsed by Credible. RBD is compensated for customer leads. Credible Operations, Inc., NMLS Number 1681276, not available in all states. 320 Blackwell Street, Suite 200 Durham, NC 27701.