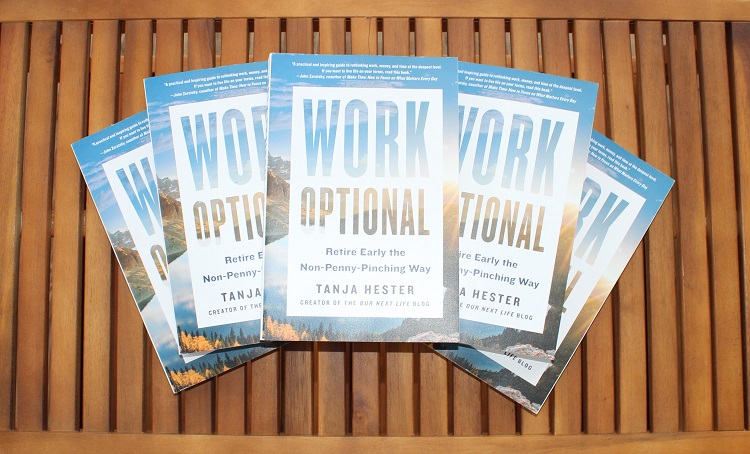 Another friend of mine in the personal finance blogging world has written a book about early retirement. It's called Work Optional: Retire Early the Non-Penny-Pinching Way by Tanja Hester of the blog, Our Next Life.
After a few years of anonymous blogging, Tanja left a fast-paced career to become a leading voice in the FIRE blogging community. Tanja's story and presence in the blogging scene was a much-needed amplifier for women and the early retirement movement.
Our Next Life and the podcast, The Fairer Cents, have inspired thousands of people to take control of their money and lives, especially when it comes to what she calls in the book the ultimate life hack: early retirement.
Her rise to success can be attributed, in part, to her willingness to tackle unpopular but important issues such as inequality, privilege, and gender in the context of money and personal finance..
An admirably prolific writer, Tanja has written a library of high-quality personal finance articles. And it's all free on the blog.
She is hands down, the authority on healthcare in early retirement, but covers a broad array of topics.
One of my favorite blog posts is called How Subsidies Make Early Retirement Possible, Even Without Obamacare, which is a unique take on how government subsidies can have a lasting effect on individual prosperity.
If you haven't already, check out the hundreds of free articles in the Our Next Life blog archive. For those who prefer more structured and condensed consumption, the book is for you.
Get the Book
Because the last book giveaway I did for Chad Carson's book had such a positive response, I'm doing another for Work Optional.
This time, I'm giving away FIVE COPIES! These are real paperback books, mailed to you the old-fashioned way with a handwritten note from me.
One copy is gently used.
More on how to win a free copy of the book toward the end of this post.
But if you want to purchase a copy of the book yourself, click here.
At $12, you'll gain far more value than its cost.

For the last giveaway, I had 52 responses for 4 books (and beer coozies). Based on that, your odds of being selected to receive a free copy are about 7.7%. But don't let that discourage you from responding!
BTW, if you buy the book using any of the links in this post, I may get a tiny kickback from Amazon.
Way Back
Tanja and I go way back as measured by internet years. I don't remember how I first came across her blog, but I was immediately intrigued by the ambitious accelerated retirement plan that she and her husband Mark had devised.
I read a lot of blogs back then. Most of them were pretty good. Then I read Our Next Life.
Cool new blog: Our Next Life http://t.co/0tTQXWKQyf via @our_nextlife #FF #travel

— Retire Before Dad (@RetireBeforeDad) March 20, 2015
Soon after, Our Next Life became a staple featured blog on the Blogfeed.
We later met in person at a bloggers conference in San Diego in 2016 while both of us were still anonymous.
She actually compromised my cover to the entire planet with the tweet below. Notice my name tag on the left. Even Steven already used his first name.
How anonymous bloggers do #FinCon16. CC @northernexpense @Tawcan pic.twitter.com/IPDGQKJ5Rs

— Tanja Hester (@our_nextlife) September 23, 2016
All is forgiven, of course, because readers care very little about whether a blogger is anonymous or not. It's all about what you write.
Work Optional – The Book
OK, OK, enough nostalgia. Let's talk about the book Work Optional: Retire Early the Non-Penny-Pinching Way.
Creating a "work-optional" life is about:
reclaiming your life from our nonstop work culture so that you decide what role work will play in your life, instead of society deciding for you.
This is not an anti-work book. In fact, the book holds meaningful work in high regard. However, only when it doesn't impinge on the activities that make you happy.
Work Optional is broken into three parts.
Part I: The Work-Optional Life you want to Live
The first part is all about defining the kind of life you want to live. Many of us forget about what our perfect life should be when we're so engrossed in our current lifestyle.
Part I teaches you how to determine your priorities with life and money, and sets you on the right track for the rest of the book. It uses a sort of Venn-esque diagram exercise to illustrate what's most important for each of us.
Part II: The Financial Plan for your Work-Optional Life
Part II is the tactical knowledge you need to attain your work-optional life. This section makes up the bulk of the book.
Tanja stresses simplicity in your financial plan but still covers a wide range of investments, financial products, and smart money habits. This section is thorough and solid.
The best graphic of this section is what she calls sequence of savings which is like a 12-step program for your money… emergency fund, then matching 401(k), then pay off debt, save for house etc.
Part III: Thriving-in your Work Optional Life
The last section covers what many young authors have not experienced… the final preparations for early retirement and how to thrive once you've left your career.
We've watched Tanja blog about this in real-time over the years. This part of the book is condensed into the key takeaways from her experience leaving work and finding life satisfaction as an early retiree who chooses to continue working on what she's passionate about.
I'm a huge fan of Tanja's writing so I recommend you should all read it any way you can get your hands on it. It's inspirational, thoughtful, and tactical.
The book is written for a wide audience. However, as the subtitle, the Non-Penny-Pinching Way, suggests, it's best suited for above-average income earners who are aimed on the right track toward financial independence but need clarity and guidance.
The Giveaway
Time to give away some books! Here's how it's going to work.
If you're interested in submitting for the book, fill out the form below. Please include your name, email, where you're from, and why you are interested in early retirement (or why you're not!).
Please keep your response to 3-5 sentences. Be creative, but not long-winded!
This giveaway is meant to share a great resource, but it also gives me the chance to learn more about you.
Please submit your response by Saturday, February 23rd at noon EST to be eligible. Recipients will be chosen by Sunday evening.
Note: To keep shipping costs within reason, only U.S.-based readers are eligible (or U.S. territories – last time I mailed a book to Guam and it was cheaper than California!).
Selected readers will be notified via email at which point I'll ask for your mailing address. Please allow a week or two for delivery. After all the winners are confirmed, I'll delete all responses and emails.
---
NO LONGER ACCEPTING SUBMISSIONS. THANKS FOR ALL THE GREAT RESPONSES.
---
Don't want to wait? Click here to buy the book on Amazon.
That's it. Thanks for reading. And don't forget to check out Our Next Life.
Photo by RBD
Favorite tools and investment services right now:
Credible* - Refinancing makes sense if you can lower your mortgage payment amount by a significnt amount. Credible makes it painless.
Personal Capital - A free tool to track your net worth and analyze investments.
M1 Finance - A top online broker for long-term investors and dividend reinvestment (review)
Fundrise - The easiest way to invest in high-quality real estate with as little as $10 (review)
*Advertising Disclosure: RBD partners with Credible which offers rate comparisons on many loan products, including mortgage refinances and student loans. This content is not provided by Credible or any of the Providers on the Credible website. Any opinions, analyses, reviews or recommendations expressed here are those of the author's alone, and have not been reviewed, approved or otherwise endorsed by Credible. RBD is compensated for customer leads. Credible Operations, Inc., NMLS Number 1681276, not available in all states. 320 Blackwell Street, Suite 200 Durham, NC 27701.