This CIT Bank review was updated on 05/11/2022.
---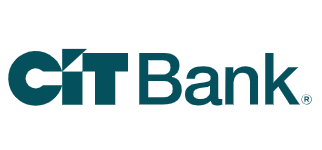 After years of being a Capital One 360 customer (and an ING Direct customer before the acquisition), I finally decided to move my money to a higher-yielding account. The CIT Bank Money Market has been an excellent choice for my money.
The security is very strong, yet the user experience is simple and not over-engineered.
CIT Bank offers a basic savings account that makes it easy to transfer money out of your checking to earn high yields with zero risk.
In this CIT Bank review, I'll cover who is CIT Bank, how to open an account, and we'll look inside my own personal account with screenshots so you can see the user interface.
Expect everything you need from a high-yield online savings account and none of what you don't need.
Who is CIT Bank?
CIT Bank (not to be confused with CITI Bank), is part of CIT Group, a Pasadena, California-based bank with roots tracing back to 1908. Originally called Commercial Investment Trust, CIT Group is the 45th largest bank in the United States as of March 2018 and member of the Fortune 1000 list.
Not too big, not too small. CIT Bank is a member FDIC (#58978), meaning, your deposits are insured by the U.S. government for up to $250,000 ($500,000 for joint accounts). Keep your accounts below this threshold to ensure the security of your funds.
Click here to learn more about FDIC insurance.
Why CIT Bank?
When choosing an online bank for high-yield savings, the number one factor you should look for is the interest rate. Online-only banks don't have physical branches or the cost of those branches.
That means the costs savings can be funneled back to their customers. Hence, the interest rate at CIT Bank is much higher than your local bank.
Of all the high-yield money market accounts provided by online banks, CIT Banks is consistently at the top of the list for the highest rate in the business. On top of that, every time the Federal Reserve raises rates, CIT Bank raises their rates in tandem.
CIT Bank has committed to providing the highest yielding online bank account. And they'll likely continue to, or else their customers will leave.
On top of being the highest yielding account, CIT Bank offers impeccable security, an easy-to-use website, and excellent customer service (I've called twice now and was quickly matched with a knowledgeable representative).
CIT Bank Routing Number
The CIT Bank routing number is 124084834. Use this to link to your checking account or other online tools.
CIT Bank Promo Code
Because the rates are so good and the lack of fees, CIT Bank promo codes are rarely released. I have not seen any, despite there being a field in the signup process.
But you can still click here to see the latest promotions including the CIT Bank Savings Builder account that currently yields around 0.50%. $100 minimum deposit per month or maintain a $25,000 balance to get that rate.
Inside Look at CIT Bank Review 2022 (with Screenshots)
Now that the account is open, external banks are linked, and the initial deposit is transferred, let's take a look at the user interface.
Here's a complete look at the main homepage.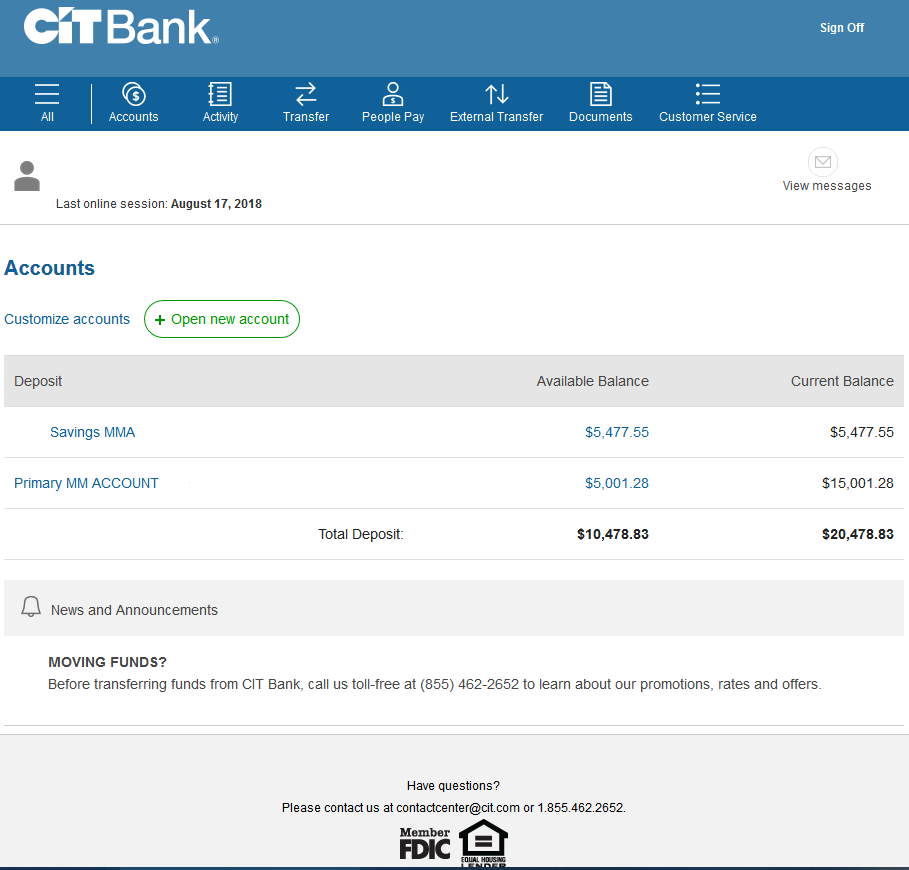 From this screen, you can click on any of the menu items, or click on the account itself.
The "All" Menu
First, we'll take a look at the "All" menu item. When you click all in the top left of the home screen, a box opens from the left side. You can then expand each item further by clicking the heading or word.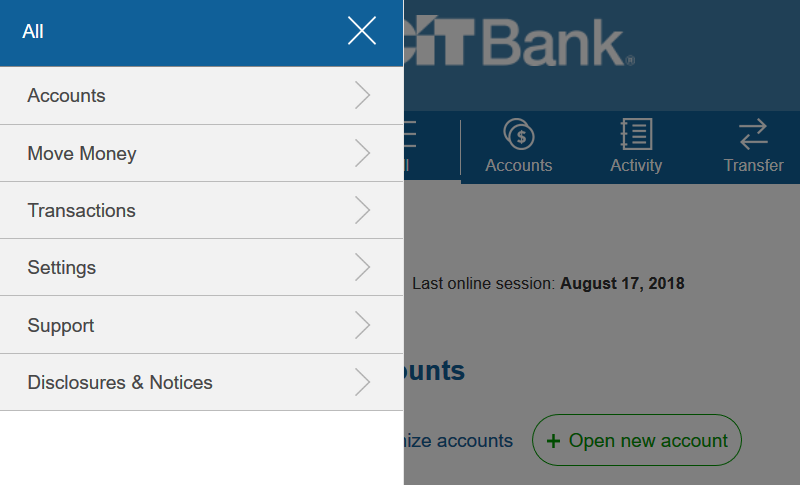 The All menu item is important because it's the only way to get to certain places on the screen. For example, click Accounts to get to External Transfer Accounts.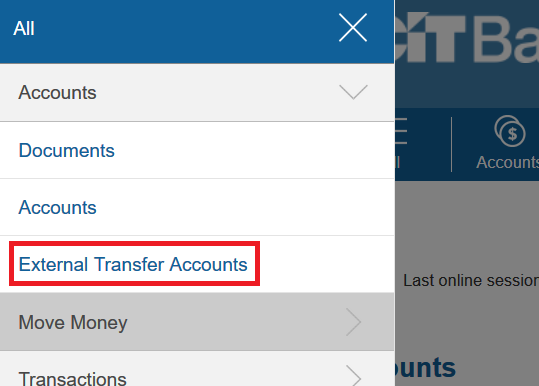 Account Activity View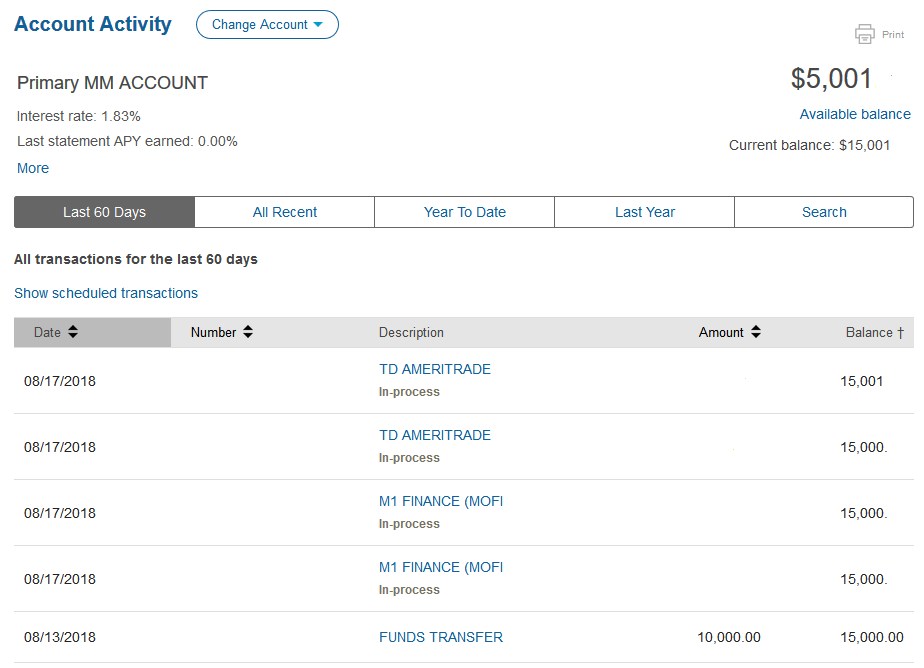 Internal and External Transfers
The next screenshot is a side-by-side view of the transfer screens. Click the internal or external tab in the menu to access transfers.
CIT Bank separates the two types of transfers (Internal and External). Internal transfers are only available if you have more than one account.
Since I have both a primary account and a secondary account for my rental property, I can transfer between them. If not, you can only transfer between your CIT account and external checking or savings.
Here's a view of both the Internal transfer and External Transfer. They are very similar. The notable difference is the frequency selection and the fine print at the bottom.
Basically, it says you can't make more than 6 transfers per month, which is the law.
As for frequency, when you change the selection for internal transfers, an additional box opens us for the different options (once, weekly, bi-weekly, twice a month, monthly, quarterly, semi-annually, and annually).
Money transferred into CIT Bank from an externally linked account cannot be withdrawn for five days. This is normal for savings accounts and money markets and allows for the bank transfer to completely clear.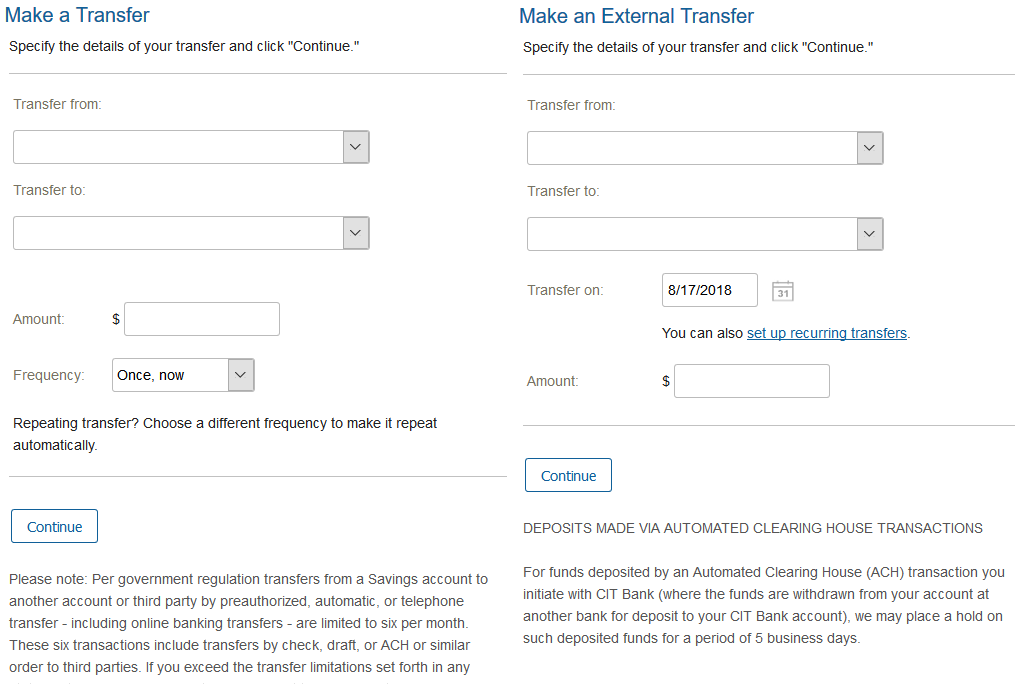 People Pay
CIT Bank offers the "People Pay" function for sending money to friends. I don't see this replacing Square Cash or Venmo, but it's there nonetheless. Here's a description:
What is People Pay?

People Pay is a fast, safe way to send and receive money. You can use it to:

Reimburse your roommates for rent and other expenses.
Send your niece or nephew a cash birthday gift.
Pay the friend you owe for lunch or those concert tickets.
Pay your babysitter, landscaper, or piano teacher with just an e-mail address.

How it works?

Send money. You can send money to almost anyone with an e-mail address or mobile number. Receive money. The person receiving the money is sent a notification with instructions on how to claim it. You will be notified of the payment status by e-mail to Primary e-mail.
Documents
The Documents tab is where you can see your statements, tax forms, or any notices. Forms are downloaded in PDF format.
Customer Service
The Customer Service tab is where you can make changes to your account or password, find contact information to get help, and access the Customer Dashboard which is where you may have to upload verification of identity in the signup process.
CIT Bank Review 2022 – Other Types of Accounts
The screenshots from above are all for the CIT Bank Money Market account because it's the best year for a high yield and flexibility.
But that's only one product. CIT Bank offers a variety of savings products listed here that may be right for you. Percentage rates are as of 08/22/2018 and are subject to change.
CIT Bank Money Market (1.85%) – High-yield rates. Flexible money access.
CIT Bank Savings Builder (2.45% 01/03/19) – High-yield rate. Minimum $100 deposit to get the rate or $25,000 balance.
CIT Bank Savings Builder (1.14%) – Lower rate if you don't maintain minimums
CIT Bank Savings (1.55%) – Reach your goals with interest rates to help maximize your return.
CIT Bank Term CDs (0.72%-2.50%) – From 6-month terms up to 5 years.
CIT Bank No-Penalty CD (2.05%) – Assurance and flexibility with access to funds.
CIT Bank RampUp Plus CDs (1.26%-1.27%)- Enjoy flexibility and the freedom to boost your rate and your deposit once during your term.
CIT Bank RampUp CDs (1.2%-1.38%) – 3 or 4-year terms
CIT Bank Jumbo CDs (1.45%-1.75%) – Earn higher rates on bigger deposits ($100,000 minimum)
CIT Bank Review 2022 – Opening an Account
Opening an account is an easy process at CIT Bank. I've done it twice now, once for me and once to assist my parents (in their 70's).
It's fairly smooth, aside from one step that took some extra effort with my parents which I'll talk about below.
Here are the steps to open an account:

Choose a Product
After beginning your application, you'll be prompted to select an account type. At this point, you should already know what kind of account you want to open.
I've chosen the money market account because I want a long-term bank account for transferring cash out of checking into a high-yield account. The rate typically rises when the Federal Reserve raises rates.
For a higher yield, explore the CD types from the homepage.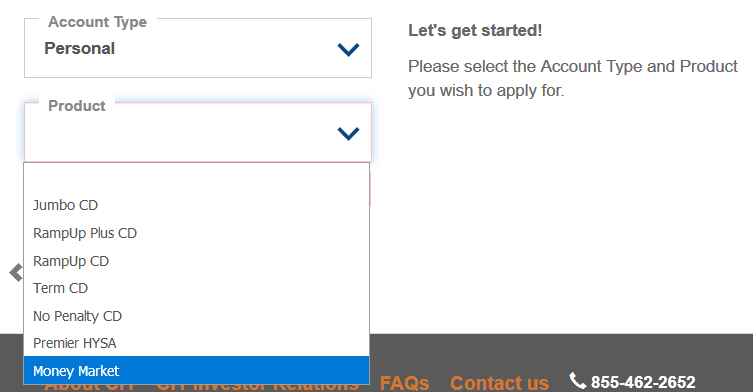 Enter your Personal Information (Individual or Joint)
Next, it's time to enter your personal information. This is the standard name, address, SSN required to open an account. You'll enter the primary account holder first. Then enter the joint account holder's information.
Two Factor Authentication
CIT Bank uses strong security throughout the signup process to verify you are who you are. You'll sign off and log back in as a security step.
It utilizes a phone or text message to send you a 5-digit code which is then input after filling in your login information, but before typing your password.
The extra step is to ensure security. You'll do this the first time you use a new device (computer, smartphone, or tablet), and sometimes when you make a transfer. I found this process to be quite simple. So simple, in fact, that my parents could do it without too much trouble and they are in their 70's and barely know how to send text messages.
This can seem excessive early on, but after you do it a few times, only a password is needed.
Verifying Identity
To prevent fraud and secure your account, CIT performs an identity check based on information about you based on your taxpayer identification number.
The identity check is a list of simple questions about you. For example, I was asked what streets I had previously lived on and what companies I have accounts with.
When I answered the questions correctly, my identity was confirmed and my account opened.
However, I also assisted my parents with opening accounts. When we got to this questioning section, we didn't know the answer to the question What street is closest to your home? We chose not to answer and were required to verify their identity another way.
The message said this could take 3-5 business days for CIT to get in touch with us. It turned out, my parents received an email that day that asked my mother to verify her identity by securing uploading a picture of her driver's license to the documents section of the website. The next day the account was approved.
The First Deposit
During the signup process, you'll be prompted to make your first deposit from another account. Enter the routing number and account number of the account you're transferring from. Then the amount.
CIT Bank allows up to 10 linked bank accounts. You can add more once your account is fully opened.
Once you've started the initial deposit process, you'll need to verify your linked account before the money is actually transferred. The bank uses a two-step micro deposit and verification to securely link the accounts.
Micro-Deposits
CIT uses a standard ACH transfer to move money between accounts. The bank made two small deposits to my checking account the day after I opened my account. Then it immediately withdrew the funds.
I then logged into my CIT Bank Money Market account to verify the deposit amounts and the external account was verified and ready to use.
CIT Bank Review 2022 – Mobile Experience
CIT Bank has mobile apps for both Apple iTunes and Android. While convenient, the iTunes app lacks much of the functionality available on the desktop as of this writing.
The most notable omission from the app is the ability to make external transfers. Internal transfers are available. But to make an external transfer, you need to click over to an internal browser within the app which takes you to the mobile site.
You can do what is needed from this access, but viewing the desktop on mobile is not responsive. The same is true if you log in from your mobile browser.
Responsive websites are standard these days for any modern company. This is, unfortunately, an oversight by the engineers that built the user interface.
That said, a relatively minor investment in the mobile app would be a suitable workaround for the lack of mobile design for smartphone browsers.
Another frustration is viewing available balance vs. pending deposit balance. It's difficult to see when a deposit is pending.
On the plus side, the app is there and you can view your account and make adjustments. You can also use TouchID on the iPhone to access the app. The app also offers mobile check deposit and People Pay.
Here are some screenshots from the iPhone app:
Here's a view of the main home page.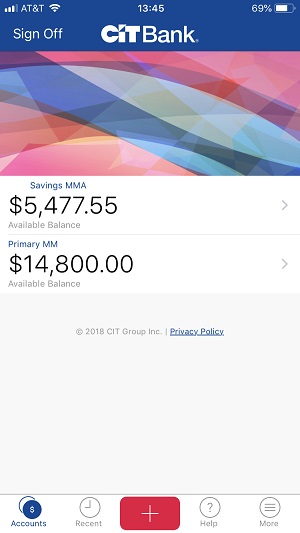 This is what you get when you tap the red plus sign.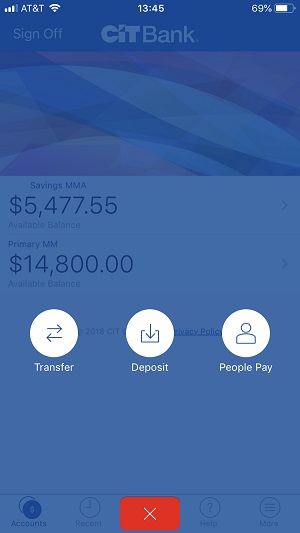 Here's the account view.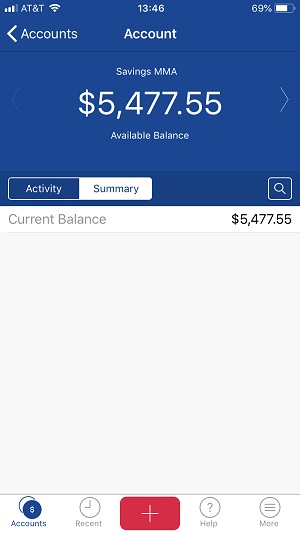 And the transaction view.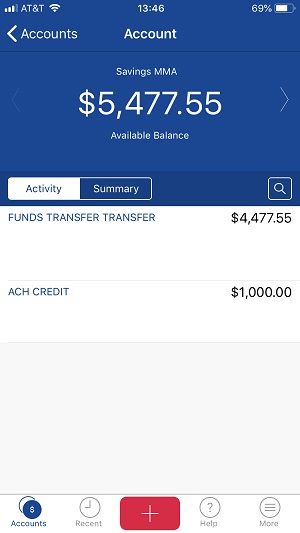 That's about it. Nothing fancy, and not quite enough to make this a pleasant mobile experience. But gets some of the jobs done.
Why I left Capital One 360 for CIT Bank Money Market Account
The Capital One 360 interest rate has lagged other high-yielding accounts over the years. When I called to try to get a better rate, they couldn't upgrade my account to a higher yielding option without starting over. The interest rates on the accounts were lower than CIT, and there was a $10,000 minimum threshold to get the highest rate.
On top of that, I felt that Capital One 360 tried to get a bit too fancy with their user interface. A savings account doesn't need to be fancy. Just show my balance and transactions clearly and allow me to link to my aggregator accounts such as Personal Capital.
I miss the old ING Direct Orange account that was acquired by Capital One. The days of high rates and ease of use on the orange website are gone, but CIT Bank is a good replacement for those who miss ING Direct.
CIT Bank Review 2022 Rating
CIT Bank
Interest Rates -

10/10

Ease of Use -

9/10

Account Types -

9/10

Security -

9.5/10

Fees -

9.5/10

Mobile Experience -

7/10
Favorite tools and investment services right now:
Credible* - Now is an excellent time to refinance your mortgage and save. Credible makes it painless.
Personal Capital - A free tool to track your net worth and analyze investments.
M1 Finance - A top online broker for long-term investors and dividend reinvestment (review)
Fundrise - The easiest way to invest in high-quality real estate with as little as $10 (review)
*Advertising Disclosure: RBD partners with Credible which offers rate comparisons on many loan products, including mortgage refinances and student loans. This content is not provided by Credible or any of the Providers on the Credible website. Any opinions, analyses, reviews or recommendations expressed here are those of the author's alone, and have not been reviewed, approved or otherwise endorsed by Credible. RBD is compensated for customer leads. Credible Operations, Inc., NMLS Number 1681276, not available in all states. 320 Blackwell Street, Suite 200 Durham, NC 27701.