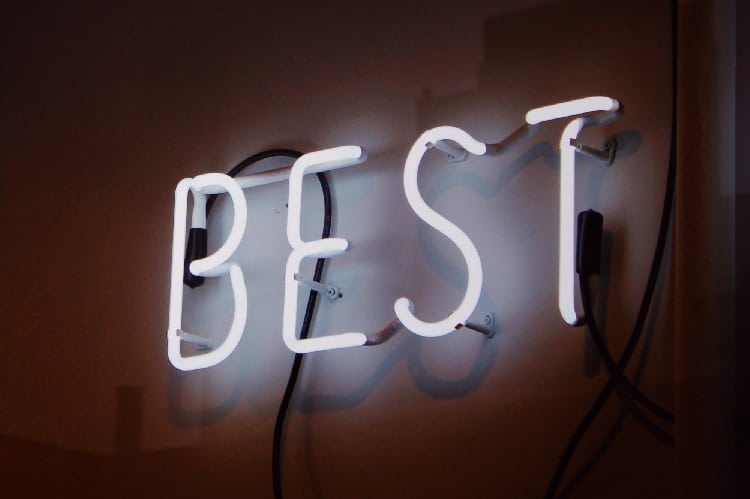 Below you'll find a table with the best online brokers for dividend reinvestment and fractional shares. I've created this list as a way to document how each online broker handles dividend reinvestment.
After more than 25 years of dividend investing, I've used several brokers and dividend reinvestment plans. My personal favorites are the ones that make it easy to automate the reinvestment into the most undervalued stocks. I call this the portfolio reinvestment strategy.
Some online brokers have more flexibility to include the ability to select which individual stock you'd like to reinvest dividends into and those which you want to pool the dividends.
What is Dividend Reinvestment?
Dividends are payments made to shareholders of a stock. The payments generally come out of the company's quarterly profit and lower the stock price by the amount of the dividend. The price change occurs on the ex-dividend date.
Investors can receive dividends a few different ways:
Into the brokerage cash account – Most common
ACH to a bank account
Check – More typical for direct stock purchase plans (DSPPs/traditional DRIPs)
For years, the term dividend reinvestment plan (DRIP) was reserved for direct individual stock ownership (owned through the company, managed by the transfer agent (e.g., Computershare), not a broker.
However, nowadays, many of the brokers are calling the reinvestment option a dividend reinvestment plan.
Dividend reinvestment describes what is done with the payment instead of using it for spending. Reinvestment usually refers to buying more stock of the company that paid the dividend. But that's only one dividend reinvestment strategy.
Three Dividend Reinvestment Strategies
There are three dividend reinvestment strategies: individual stock reinvestment, pool and deploy, and portfolio reinvestment.
Individual Stock Reinvestment
Reinvestment into the same stock that pays a dividend is what most people think of when they here dividend reinvestment. This option seems to be most attractive because long-term stock returns are usually quoted with dividends reinvested along the way.
However, reinvesting into the same stocks is the worst of the three strategies. That's because doing so ignores the current valuation of the stock. You may be overpaying, thus, not optimizing your reinvestment strategy.
Plus, not all brokers allow fractional shares. Therefore, you must own enough shares to pay a dividend large enough to buy one share.
Nonetheless, many stockbrokers give investors the option to reinvest into the dividend-paying stock. See the table below for a list of brokers that allow dividend reinvestment.
Pool and deploy
The pooling dividend strategy is when the investor receives dividends and lets them accumulate in a brokerage cash account before deploying to new investments. The investor then purchases the most undervalued stock on their buy list.
Most serious dividend investors prefer this method instead of buying an individual stock every quarter.
Set an investment minimum (e.g., $1,000), then wait for that much cash to accumulate before making your next investment. Or supplement the investment minimum with a cash infusion.
Now that most online brokers are commission-free, you can lower the minimum without worrying about trading fees.
Portfolio Reinvestment
The portfolio reinvestment strategy is the newest strategy for dividend reinvestment and is built into the M1 Finance platform. It's the best online broker where this strategy works.
With this strategy, you create your ideal dividend stock portfolio. Then the specific allocation directs where to invest the dividends automatically.
Instead of reinvesting the dividend directly into the stock that paid the dividend, or pooling dividends before deploying, the platform reinvests the dividends into the most undervalued stocks in your portfolio. Thus, it automatically balances your portfolio to your set allocation percentages.
Let's say you own four stocks and want each to be 25% of your portfolio (or pie, if you're using M1 Finance). If the stock price of on stock increases to be 28% of the portfolio, and another decreases to 22%, the M1 Finance platform will reinvest the dividends into the 22% stock.
You must monitor each stock to make sure you want to hold it long-term.
M1 Finance has fractional shares built into the platform, so you're always buying new stocks based on dollars, not the number of shares.
Read my M1 Finance review to learn more about this platform.
With that, here is the table of brokers. Scroll right on mobile. You'll find more details about each dividend reinvestment policy after the table.
Best Online Brokers for Dividend Reinvestment and Investing
Here's a list of the best online brokers for dividend reinvestment, popular with dividend growth investors.
Note: Bold links indicate affiliate links from our partners included in the best brokers for dividend reinvestment list.
M1 Finance – The Best Online Broker for Dividend Reinvestment
M1 Finance is the best online broker for dividend reinvestment and my favorite overall broker for beginner to intermediate investors. It's not a trading platform. M1 Finance is designed for long-term investing which, aligns perfectly with dividends reinvestment.
You can manually reinvest dividends into individual stocks if you wish. However, it's designed to optimize dividend reinvestment by automatically reinvesting dividends and new deposits into the most undervalued stock in your portfolio at a given time.
M1 Finance has the investor create "pies" with "slices" to build your ideal portfolio. Then every time you add funds to your portfolio, the platform allocates new cash to match your pre-set allocation percentages.
It's a different platform than traditional brokerages, but more intuitive for new investors. The company offers optional checking, spending, and borrowing accounts in addition to its brokerage product.
Dividend Reinvestment Fidelity
Many investors open their first account with Fidelity through their employer 401(k). That's because Fidelity is the leading administrator for employer-sponsored retirement plans.
But Fidelity is also one of the best online brokers for dividend investing. I've chosen Fidelity as my primary broker because my employer-sponsored retirement accounts are already there.
And I've been delighted with the platform.
My preference is to pool dividends and invest in undervalued stocks when my cash account gets large enough. However, Fidelity has an excellent dividend reinvestment interface.
Fidelity does offer fraction shares. However, if you want to sell fractional shares, you must liquidate your entire holding.
While logged in, go to Accounts & Trade/Account Features/Brokerage & Trading/Dividends and Capital Gains to adjust. Choose "Reinvest in Security" or "Deposit to Core Account." Learn more here.
Here's what it looks like: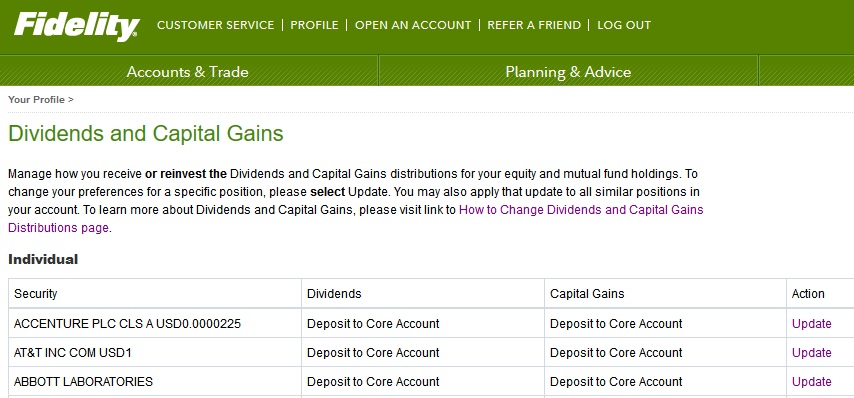 Dividend Reinvestment TD Ameritrade
TD Ameritrade is expected to be acquired by Charles Schwab in 2020. However, don't expect the Schwab platform to cannibalize. TD Ameritrade customers love the trading platform. I suspect most of the cost savings will be on the back end, preserving the technology built by TD Ameritrade.
I was a long-time TD Ameritrade customer and loved the dividend reinvestment and analytics. Specifically, the dividend 12-month project tool tells you how much your portfolio will pay in dividends in the coming year.
TD Ameritrade offers a DRIP program you can set up within your account or by calling customer service. You can select individual stocks to reinvest, or pool dividends into cash.
Go to My Account/Dividend Reinvestment/ then Enroll/Edit. Click the "Enroll" box next to each stock you want to reinvest. Learn more here.
Dividend Reinvestment Charles Schwab
Charles Schwab is one of the largest and most powerful online brokers for stock and mutual fund investing. It recently eliminated all stock trading commissions, which caused a cascade in the industry. Almost all online brokers eliminated commissions on stocks.
Doing so devalued many of its competitors. Schwab is expected to complete the acquisition of TD Ameritrade sometime in 2020.
Charles Schwab offers dividend reinvestment to its customers. You can select which stocks you want to enable dividend reinvestment on the platform.
The company recently announced it plans to offer fractional trading, further expanding the dividend reinvestment capability. Learn more here.
Dividend Reinvestment Vanguard
Vanguard is the biggest mutual fund company based on assets under management. It's extremely popular among the FIRE community because of its low-cost index funds, which the company invented in the 1970s.
They offer dividend reinvestment for stocks, mutual funds, and ETFs. You can pool dividends or reinvest per holding. Vanguard calculates fractional shares to three decimal points.
Dividend Reinvestment Ally Invest
Ally Invest offers a dividend reinvestment plan (DRIP) for all customers. You can either request that all eligible securities get enrolled for dividend reinvestment or individual stocks. Ally Invest is a commission-free broker. There is no cost to the DRIP plan.
Only stocks priced at $4 and above are eligible.
To enroll, go to Ally Invest Live. Then select the gear icon and choose All Settings. The dividend reinvestment toggle is at the bottom of the screen.
Dividend Reinvestment ETRADE
ETRADE offers a dividend reinvestment plan (DRIP) for all customers. You can either request that all eligible securities get enrolled for dividend reinvestment or individual stocks. ETRADE is a commission-free broker. There is no cost to the DRIP plan.
Only stocks priced at $5 and above are eligible.
Dividend Reinvestment Pubic
Public is a relatively new app-only investment platform. They offer fractional shares and dividend reinvestment, but you must call a customer service rep to set it up. Public is setting itself up as a social investing platform, on which you can discuss stock purchases with your peers.
Dividend Reinvestment Robinhood
Robinhood does not yet offer automatic dividend reinvestment. However, since there are no commissions to trade, you can self-reinvest any time you receive a dividend.
The company recently announced it now offers fractional shares, a prerequisite for dividend reinvestment. So I expect to see a Robinhood dividend reinvestment plan in the near future.
Conclusion
I hope this list of best online brokers for dividend reinvestment is helpful. If you have suggestions on how to improve the list, or want to point out any changes or inaccuracies, please contact me.
Featured photo by Jon Tyson via Unsplash
Favorite tools and investment services right now:
Credible* - Now is an excellent time to refinance your mortgage and save. Credible makes it painless.
Personal Capital - A free tool to track your net worth and analyze investments.
M1 Finance - A top online broker for long-term investors and dividend reinvestment (review)
Fundrise - The easiest way to invest in high-quality real estate with as little as $10 (review)
*Advertising Disclosure: RBD partners with Credible which offers rate comparisons on many loan products, including mortgage refinances and student loans. This content is not provided by Credible or any of the Providers on the Credible website. Any opinions, analyses, reviews or recommendations expressed here are those of the author's alone, and have not been reviewed, approved or otherwise endorsed by Credible. RBD is compensated for customer leads. Credible Operations, Inc., NMLS Number 1681276, not available in all states. 320 Blackwell Street, Suite 200 Durham, NC 27701.