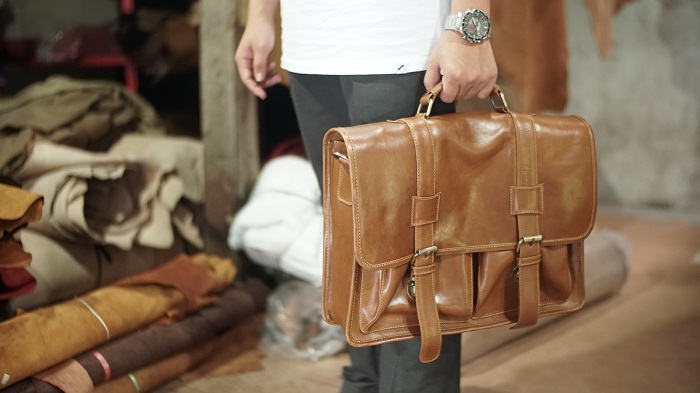 This portfolio page shows the current holdings in our retirement and taxable brokerage accounts. I also share our forward 12-month investment income, total combined asset allocation, and a chart showing our progress toward financial independence.
Data is current as of August 17th, 2021
Investment Assets
We have eight different accounts with Fidelity. They include two traditional IRAs, two Roth IRAs, and two employer-sponsored retirement accounts (a 403(b) and 401(a) with my current employer), a SEP IRA, and a taxable brokerage account.
I also have a brokerage account with M1 Finance.
This data excludes our real estate crowdfunding and children's 529 investment accounts.
To create the charts on this page, I extract all the account data and consolidate it into an elaborate spreadsheet designed to make it easy to update this page.
The charts that come out of this process help me to understand our total assets and rebalance once a year.
I select index funds based on cost and finding funds that satisfy my target asset class with the broadest coverage (highest number of holdings).
I own a portfolio of dividend growth stocks and some speculative growth stocks. These are typically long-term holdings sourced through research and subscription services such as the Motley Fool Stock Advisor and Sure Dividend.
Read my Motley Fool Stock Advisor review here.
Here's a consolidated look at the total assets in our nine brokerage accounts (mobile users, scroll right).
We own a few different "total market" index funds because of limitations in my employer accounts.
Specifically, there is no access to a total market all-inclusive fund (e.g., FSKAX) in my employer accounts, so I use FXAIX, FSMDX, and FSSNX to achieve a similar broad market exposure to FSKAX.
Because of this oversight by my employer plan, we own more index funds that I would like (many of us have complained!).
Here's the same list of assets broken out by account type. Many funds are held among multiple accounts.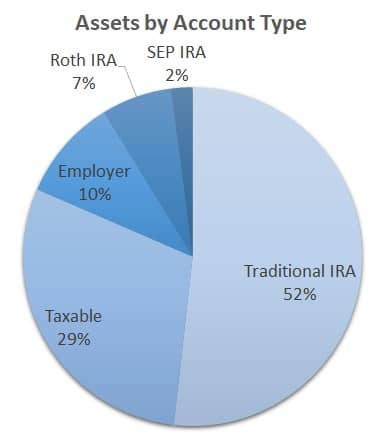 Here's the current ratio of stocks to bonds and cash: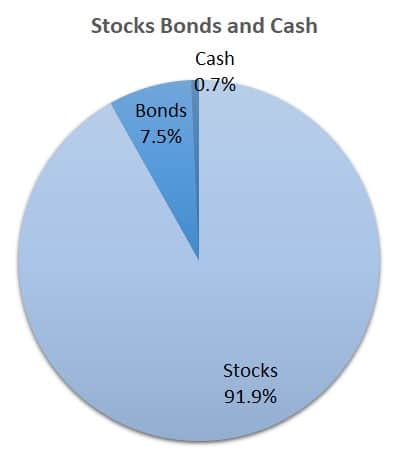 Here's a look at our U.S. investments vs. international: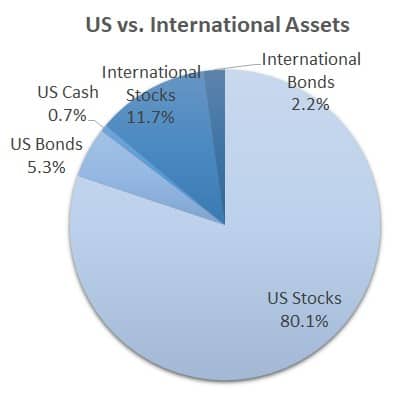 Here's a deeper look into our portfolio, looking at index funds vs. individual stocks vs. managed funds and ETFs: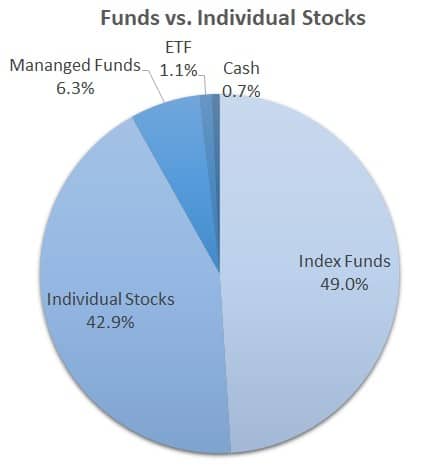 Finally, here's a further breakdown looking at the types of funds we own. We own a few different types of index funds because of what's available in my employer accounts. They've recently made index investing a bit more challenging, requiring more funds.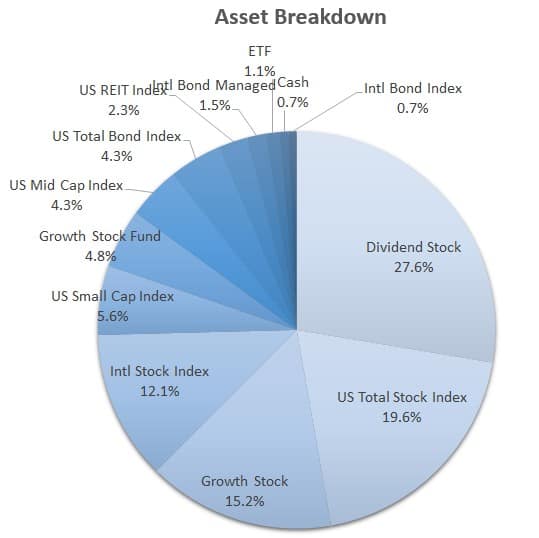 Forward 12-Month Investment Income (F12MII, aka Forward Passive Income)
Here's a newly formatted table for calculating forward income. I use this number to measure my passive income investments.
If I stopped earning a salary today, I'd expect to earn the F12MII as passive income in the following 12 months.
And here's the more familiar income received vs. project chart I've been updating and sharing since January 2015.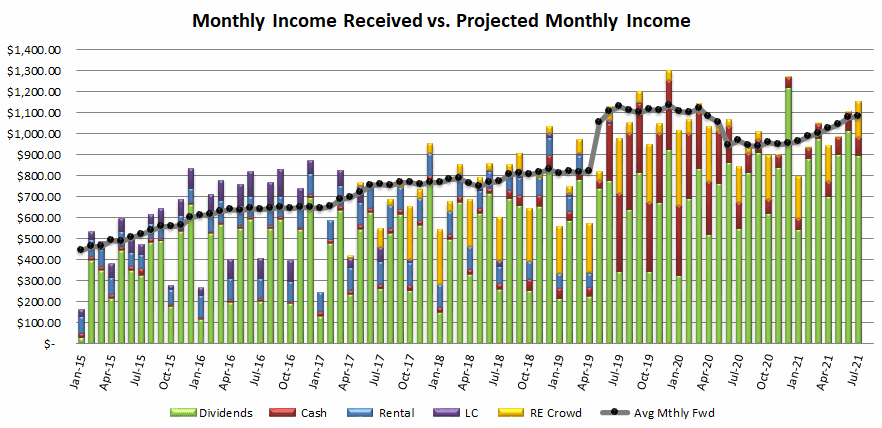 Taxable Dividend Stock Portfolio
My dividend stock portfolio is the primary account that I've blogged about since the inception of RBD. Though I'm no longer reporting all of the specific transactions every quarter, I continue to share my portfolio holdings.
The bulk of this portfolio resides in a taxable account at Fidelity. When the cash balance reaches $1,500-$2,000, I make a new investment to increase shares in an existing holding or initiate a new stock position.
I also own stocks in a taxable account at M1 Finance into which I invest biweekly.
I invest at least $500 per month in stocks and reinvest all the dividends. Read my M1 Finance review to understand how pie investing works.
I select dividend stocks using various lists and valuation metrics. Specific resources I use include the Sure Dividend Newsletter, the Dividend Aristocrats list, and the Dividend CCC list.
Sure Dividend recommends the most undervalued dividend stocks on the first Sunday of every month. I've been a subscriber myself for several years now because it helps narrow the universe of stocks I want to own and double check my own research.
Use the Sure Dividend coupon code "RBD41off" to save $41 on an annual subscription.
For guidance on where to invest, see my guide Best Online Brokers for Dividend Reinvestment.
Here's a history of the income my dividend portfolio has received going back to 2015. I've organized the data by income by month, per year.

And total annual dividends since 2015. These two charts only include dividends received in taxable brokerage accounts (non-retirement).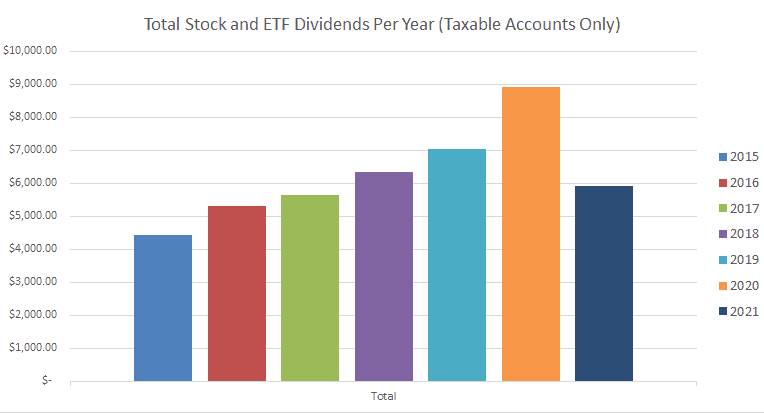 I've decided to no longer share my dividend stock portfolio holdings. The reasons are many. But primarily, dividend investing may not be the right strategy for the majority of readers. Readers considered my portfolio recommendations to buy for themselves, which is not the case (I've owned some stocks for 20+ years).
Therefore, I prefer to share what my total asset allocation looks like (retirement and taxable), but still provide a view into my F12MII and dividend income history.
Financial Independence Number
Lastly, I measure progress toward financial independence by tracking our annual expenditures and subtracting F12MII.
Read more about the financial independence number here.
I multiply that number by 25 to give me a target financial independence number. Once our invested assets (excluding home equity and college 529 savings) surpass our financial independence number, we've reached financial independence.
I also calculate our FI number against net worth.
Based on the latest numbers, we are 98.3% of the way toward reaching financial independence. I've gotten much closer due to decreased spending in 2020. It looks like we may pass the threshold any month now.
I won't consider us securely financially independent for at least a year after breaching the level. Here's the chart: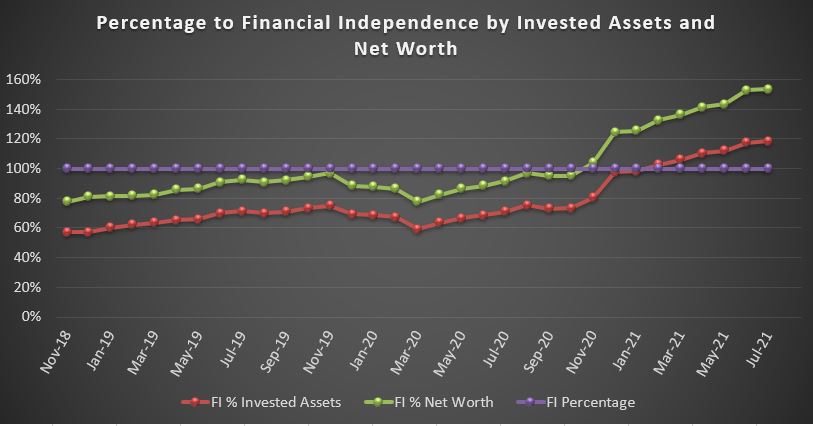 Photo by lutfi nur fauzi via Unsplash
Favorite tools and investment services right now:
Fundrise - The easiest way to invest in high-quality real estate with as little as $10 (review)
Personal Capital - A free tool to track your net worth and analyze investments.
M1 Finance - A top online broker for long-term investors and dividend reinvestment (review)
SaveBetter - SaveBetter is a simpler way to access high-yield, insured savings products.