The S&P Dividend Aristocrats List is a group of companies that have paid and increased dividends for 25 years or more. Income investors favor Dividend Aristocrats because the companies are solid long-term holdings with predictable, safe, and growing dividend payments.
Dividend growth is a key metric for income investors to ensure income growth outpaces inflation. Stability and reliability are also important factors so that income streams remain consistent in a retirement portfolio.
The table that follows below is a quick value ranking system to help investors start their investment research process. After the ranking table, be sure to look at my methodology.
I call this a quick value rankings list because it's a first-glance look at the current best value opportunities. Keep in mind, this is in no way a complete way to evaluate a stock. Further research is necessary before buying one of these stocks.
Don't consider this ranking system a recommendation to buy or sell individual stocks. However, use it as a starting point for further due diligence and research.
I also make no guarantee of the accuracy of this data. Data is sourced from Yahoo Finance, so it's as good as they provide it.
You'll see the Score column update too, which is how the final value ranking is determined. The data is updated every few days.
The dynamic ranking system below is designed to point out the Dividend Aristocrats that may be undervalued at a given point in time and are worthy of additional research. I'm currently using a 35-point system to rank the stocks based on my own investment philosophies and objectives.
How to Buy the Most Undervalued Aristocrats
You can attempt to buy the Dividend Aristocrats one at a time or use an ETF like the NOBL. However, I prefer a better method.
For buying the Dividend Aristocrats, I'm a big fan of the online broker M1 Finance. With M1 Finance, you can create your own "pie", a kind of a customized mini-ETF. Then you can buy all the stocks in the pie at once. Every time you add funds to your account, M1 will automatically buy more of each stock.
M1 Finance charges nothing for the first $1,000 in your account. After that it's a 0.25% annual fee or 0.15% for accounts over $100,000.
M1 is becoming popular among millennials for its simplicity and excellent design. Part broker, part robo-advisor. It was founded by a 25-year-old Standford grad and is geared toward that generation. Super-slick desktop and mobile usage.
For tracking your portfolio, I recommend another great tool (and 100% FREE!) that I use every day. It's called Personal Capital. It's not a brokerage, so you can't buy stocks through it directly.
Personal Capital consolidates all of your data from separate bank and brokerage accounts into one view, calculating net worth and analyzing your investments. So cool. If you're looking to get serious about investing and personal finance, definitely check it out. Click here to learn more.
Dividend Aristocrats List Eligibility
To be eligible for membership in the S&P 500 Dividend Aristocrats list, a company must meet the following criteria (source):
Be a member of the S&P 500
Have increased dividends every year for at least 25 consecutive years
Meet minimum float-adjusted market capitalization and liquidity requirements
S&P maintains the complete eligibility standards of the Dividend Aristocrats list. This list is different than the U.S. Dividend Champions List maintained by David Fish at Dripinvesting.org.
The Dividend Champions List is not bound by membership in the S&P 500 index so smaller companies qualify. In addition, the Champions follow fiscal year instead of calendar year. So the S&P 500 rules may not include certain companies with great dividend histories (such as Parker Hannifin) whose streaks are fiscal year based.
Many dividend growth investors prefer the Dividend Champions, Challengers, and Contenders (CCC) for its more comprehensive range of companies.
But the Dividend Aristocrats are the most famous, so many investors choose to stick with the most well-known list. I've chosen to do the same for this exercise to keep the size of the table manageable.
Methodology
Up to five points is awarded to each stock based on the following criteria:
Current P/E Ratio
Forward P/E Ratio
Current Yield
PEG Ratio (Price to earnings growth)
Price to Book Ratio
Payout Ratio
The maximum score is 30. These are six valuation measures I use in my own investing. I'm sourcing the data from Yahoo Finance and using Google Sheets to assemble the data and calculate the points. Below you can see the vital data, but I'm calculating the scoring behind the scenes because it doesn't fit. Basic logical commands calculate the scoring based on the metrics listed after the table.
If you have any suggestions for additional metrics, please write them in the comments section. Data that is N/A or unavailable is scored as zero.
After the table, you can look into the specific scoring criteria I'm using. This data is manually cut and pasted into a table due to Yahoo Finance no longer working for data. I still have included the former Yahoo Finance retrieval information in case you need it or it still works for you. See the website TwoInvesting.com for information on automatically importing data into spreadsheet and the new service they are using.
Scoring Metrics
Current P/E Ratio (Yahoo Finance)
0-10

, 

5 points

10.01-15, 4 points

15.01-20

, 3 points

20.01-30, 2 points

30.01-40, 1 point

>40, 0 points
Forward P/E Ratio (Yahoo Finance)
0-10

, 

5 points

10.01-15, 4 points

15.01-20

, 3 points

20.01-30, 2 points

30.01-40, 1 point

>400, 0 points
Dividend Yield (Yahoo Finance)
>4%, 5 points
3.01%- 4.0%, 4 points
2.01%-3.0%, 3 points
1.01%-2.0%, 2 points

0.01%-1.0%, 1 point

No dividend, 0 points
PEG Ratio (Yahoo Finance)
0.0-1.0, 5 points
1.01-2, 4 points
2.01-3, 3 points
3.01-4, 2 points
4.01, 5, 1 point
>5.0, 0 points
Price to Book (Yahoo Finance)
0-2, 5 points
2.01-4, 4 points
4.01-6, 3 points
6.01-8, 2 points
8-10, 1 point
>10, 0 points
Payout Ratio (Yahoo Finance)
<35%, 5 points
35.01%- 45.0%, 4 points
45.01%-60.0%, 3 points
60.01%-75.0%, 2 points

75.01%-90.0%, 1 point

>90.00% =, 0 points
Please provide any feedback you may have in the comments section or by contacting me. I'm happy to consider other metrics or adjusting the methodology as long as the data is available and it fits into the screen.
To learn more about the Dividend Aristocrats, visit the Standard & Poors Indices Website.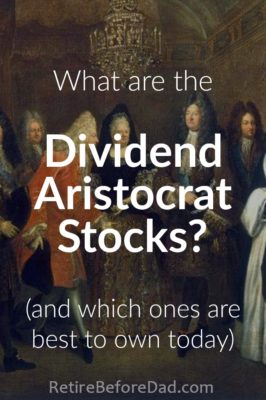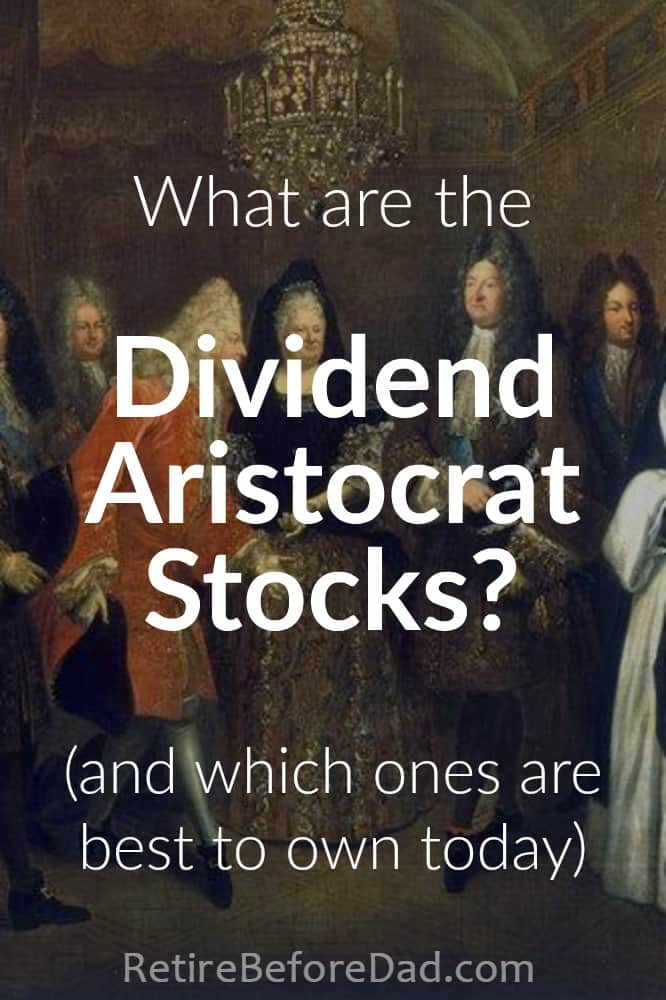 Specific Spreadsheet Formulas
PLEASE NOTE: This section no longer describes how I'm getting the Dividend Aristocrats stocks data. You can still view the template to see the old formulas, however Google Sheets has been slow, unreliable, or not working at all for these functions. I'm now using Yahoo Finance data and manually bringing it into the ranker sheet. 
Due to popular demand, I've created a Stock Rankings template Google Sheet for readers to see the behind the scenes scoring system. I've laid that out above, but I've had a lot of requests to see the details. Click the button below to check out the template page. If you use this format or one derived from this on your own website, please attribute and link.
Below is the information or formula in each cell of the first row with data (row 2). A manual sort is done by highlighting the table from Column B to Column L. The data is otherwise self-updating by using the GOOGLEFINANCE function and Yahoo Finance API calls.
You don't need to be technical to do this on your own Google spreadsheet. Just copy these lines and add the attribute you need. I also add the "iferror" function so that temporary bad data doesn't throw off the methodology. The spreadsheet is only as good as the data, and sometimes Yahoo Finance does not provide the correct information. You can look directly on the site to validate a problem.
Column A - Static Numbers (manual sort done without this column)
Column B - Company Name (typed)
Column C - Symbol (typed)
Column D - 

=

iferror

(

importData

(

concatenate

(

"http://finance.yahoo.com/d/quotes.csv?s="

,

$C2

,

"&f=l1"

)

)

)


Column E - =iferror(importData(concatenate("http://finance.yahoo.com/d/quotes.csv?s=",$C2,"&f=r")))
Column F - =iferror(importData(concatenate("http://finance.yahoo.com/d/quotes.csv?s=",$C2,"&f=r7")))
Column G - =iferror(importData(concatenate("http://finance.yahoo.com/d/quotes.csv?s=",$C2,"&f=d")))
Column H - =iferror(importData(concatenate("http://finance.yahoo.com/d/quotes.csv?s=",$C2,"&f=y")))
Column I - =iferror(importData(concatenate("http://finance.yahoo.com/d/quotes.csv?s=",$C2,"&f=r5")),0)
Column J - =iferror(importData(concatenate("http://finance.yahoo.com/d/quotes.csv?s=",$C2,"&f=p6")),0)
Column K - =iferror((index(ImportHTML("http://finance.yahoo.com/q/ks?s="&C2&"", "table", 22), 5,2)))
Column L - Sum of unseen columns using multiple "if" statements to calculate the Scoring Metrics.
Payout Ratio - =iferror((index(ImportHTML("http://finance.yahoo.com/q/ks?s="&C2&"", "table", 32), 7,2)))
Note: Column K uses a the ImportHTML function looking in a certain table in the Key Statistics area. I couldn't find a guide on those fields but was able to figure out the location of the data point through trial and error. Good the function and you should be able to find what you need.
Yahoo Finance API Attributes
Simply replace copy a formula above and replace the Z's in this part of the formula, "&f=ZZ", with the desired attribute below.
| | | | | | | | |
| --- | --- | --- | --- | --- | --- | --- | --- |
| a | Ask | | a2 | Average Daily Volume | | a5 | Ask Size |
| b | Bid | | b2 | Ask (Real-time) | | b3 | Bid (Real-time) |
| b4 | Book Value | | b6 | Bid Size | | c | Change & Percent Change |
| c1 | Change | | c3 | Commission | | c6 | Change (Real-time) |
| c8 | After Hours Change (Real-time) | | d | Dividend/Share | | d1 | Last Trade Date |
| d2 | Trade Date | | e | Earnings/Share | | e1 | Error Indication (returned for symbol changed / invalid) |
| e7 | EPS Estimate Current Year | | e8 | EPS Estimate Next Year | | e9 | EPS Estimate Next Quarter |
| f6 | Float Shares | | g | Day's Low | | h | Day's High |
| j | 52-week Low | | k | 52-week High | | g1 | Holdings Gain Percent |
| g3 | Annualized Gain | | g4 | Holdings Gain | | g5 | Holdings Gain Percent (Real-time) |
| g6 | Holdings Gain (Real-time) | | i | More Info | | i5 | Order Book (Real-time) |
| j1 | Market Capitalization | | j3 | Market Cap (Real-time) | | j4 | EBITDA |
| j5 | Change From 52-week Low | | j6 | Percent Change From 52-week Low | | k1 | Last Trade (Real-time) With Time |
| k2 | Change Percent (Real-time) | | k3 | Last Trade Size | | k4 | Change From 52-week High |
| k5 | Percebt Change From 52-week High | | l | Last Trade (With Time) | | l1 | Last Trade (Price Only) |
| l2 | High Limit | | l3 | Low Limit | | m | Day's Range |
| m2 | Day's Range (Real-time) | | m3 | 50-day Moving Average | | m4 | 200-day Moving Average |
| m5 | Change From 200-day Moving Average | | m6 | Percent Change From 200-day Moving Average | | m7 | Change From 50-day Moving Average |
| m8 | Percent Change From 50-day Moving Average | | n | Name | | n4 | Notes |
| o | Open | | p | Previous Close | | p1 | Price Paid |
| p2 | Change in Percent | | p5 | Price/Sales | | p6 | Price/Book |
| q | Ex-Dividend Date | | r | P/E Ratio | | r1 | Dividend Pay Date |
| r2 | P/E Ratio (Real-time) | | r5 | PEG Ratio | | r6 | Price/EPS Estimate Current Year |
| r7 | Price/EPS Estimate Next Year | | s | Symbol | | s1 | Shares Owned |
| s7 | Short Ratio | | t1 | Last Trade Time | | t6 | Trade Links |
| t7 | Ticker Trend | | t8 | 1 yr Target Price | | v | Volume |
| v1 | Holdings Value | | v7 | Holdings Value (Real-time) | | w | 52-week Range |
| w1 | Day's Value Change | | w4 | Day's Value Change (Real-time) | | x | Stock Exchange |
| y | Dividend Yield | | | | | | |