20+ Passive Income Ideas for Financial Freedom in 2023
This page contains links to our partners. RBD may be compensated when a link is clicked. Read disclosures.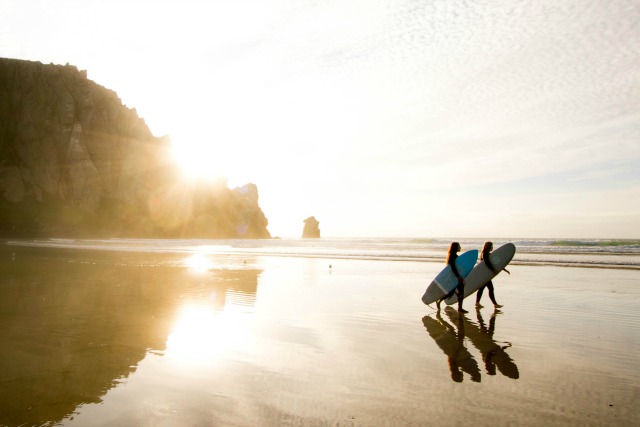 This passive income ideas post was updated on 08/09/2023.
---
Normal people earn a paycheck and spend most of it every month. Wealthy people invest their money and time into income-producing assets and business ideas that make money.
Passive income gives you flexibility, career options, and financial freedom. It's paying our bills now to support my career change.
Most of the passive income ideas in this list require an upfront money investment which will earn a yield and generate an income stream. There may also be a time investment at the front end or occasionally (e.g., monitoring company earnings), making some of these items semi-passive.
I prefer a combination of multiple income streams to help protect against market fluctuations, economic cycles, and job loss.
With that, here are 20+ passive income ideas for 2023 to power your wealth-building machine and enable a more flexible lifestyle.
Note: The items in this list are provided as suggestions for further research. Please perform your own analysis to determine what investments and activities are right for you. Some of these require that the investor is accredited, indicated with an * in the headline.
1. Single-Family and Vacation Rentals ($100 minimum)
Single-family homes and vacation rentals are some of the simplest and most reliable passive income streams out there.
But most people don't want to be landlords or can't come up with enough down payment to own their first property.
A investing platform called Arrived Homes fixes these problems while still providing the benefits of owning homes around the U.S. Ark7 is a rival platform with a similar offering.
Arrived allows investors to buy small shares of single-family homes and vacation rentals. U.S. Investors (18+) can invest as little as $100 and easily diversify assets across several properties. Non-accredited investors are welcome.
Arrived uses data science to find the right homes at the right price, and follows a strict quality process before buying the property.
It then creates a separate LLC for each property and sells shares to individual investors like you and me. Arrived hires and monitors local property managers who find the best tenants.
Investors sit back and collect consistent passive income.
You get access to the best U.S. investing markets, earn income, and there's no personal liability (because of the LLCs). Investors receive a form 1099-DIV for tax reporting purposes and will not be required to file additional state taxes if the property is outside of your state.
The primary downside, for now, is liquidity. Once an investor buys into a property, they should plan to hold for five to seven years. Arrived is building a liquidity solution, but it is not ready yet.
If you're at all curious, visit Arrived Homes (review) and browse properties. Check out my personal Arrived Returns since April 2023. Sign-up for the email list to get the latest deals before they fill up.
Browse Investments at Arrived Homes
2. Diversified Alternatives
The most important factor in reducing risk is diversification.
A passive income investing platform called Yieldstreet offers several alternative asset classes to empower investors to diversify without opening multiple accounts.
With Yieldstreet, you can diversify your portfolio and earn passive income with investments starting at $500.
The assets classes available include these and more:
Real estate
Fine art
Litigation financing
Supply chain
Venture capital
Marine financing
Yieldstreet is top on my list of passive income investing platforms because it covers several asset classes instead of focusing on one (like many below).
The company has been in business since 2015 and has a community of nearly 300,000 members who use alternative investments to build passive income investment portfolios beyond stocks and bonds.
This platform is geared toward accredited investors but has one product (the Prism Fund) that caters to non-accredited investors.
Earn Passive Income at Yieldstreet
Read more: Yieldstreet Review
3. Private Credit * (accredited investors only)
Private credit is an alternative asset dealing with privately negotiated loans and debt financing between a corporate borrower and a non-bank lender.
Sometimes businesses need cash for a purpose other than what a bank would traditionally lend for.
For example, a startup could need short-term debt financing to capitalize on a growth opportunity that a bank would consider too risky.
Private credit is nothing new. Hedge funds and institutional investors lend this way.
What is new is that high-quality private credit opportunities are now available to retail investors through a company called Percent.
Percent is a venture-backed startup making it simple for accredited investors to invest in private credit. Investors can earn up to 20% on certain deals, though average returns are closer to 12% as of early 2023.
Investments mature in as little as one month or as long as a few years. Importantly, Percent prioritizes due diligence and transparency throughout the process.
The minimum investment is $500, allowing investors to diversify among several deals. Percent charges fees up to 10% of interest. For example, if a deal paid 15% APY and the fee charged was 10% of interest, your effective APY is 13.5% after fees.
4. Crowdfunded Real Estate (eREITs)
If you don't have enough cash to buy a rental property, real estate crowdfunding is the next best thing.
There are multiple ideas on this list related to real estate, but real estate eREITs (non-traded real estate investment trusts) are the easiest to invest in because all U.S.-based investors are eligible, and it only takes a few clicks to buy a diversified portfolio of properties.
Fundrise** empowers ordinary investors to own high-quality real estate at attractive yields. This Washington, D.C.-based company is a crowdfunding innovator that has changed how investors can access profitable returns.
I've invested on the Fundrise platform for more than five years and received excellent returns.
When you invest at Fundrise, your money is instantly diversified among dozens of multi-family residential and commercial real estate properties.
Any U.S.-based investor can invest on the Fundrise platform for as little as $10.
In light of the COVID-19 crisis, I consider residential real estate to be a safer bet than commercial and retail. That's why I think now is a great time to invest at Fundrise for the long term.
Liquidity is limited, so investors with a three-year investment horizon or more will benefit the most without penalty.
Read this Fundrise review to see my investment returns since 2017.
Please note new investors will be asked to choose an Income, Growth, or Balanced portfolio to match your investment objectives. The Growth and Balanced portfolios have reduced dividend distributions over the past few years.
Choose Income to maximize passive income and Growth for total return.
This is a testimonial in partnership with Fundrise. We earn a commission from partner links on RetireBeforeDad.com. All opinions are my own.
RealtyMogul (review) and Streitwise now also offer similar investments for non-accredited investors with higher minimums.
5. Interest on Cash Savings Accounts
The Federal Reserve increased interest rates dramatically in 2022. These actions have made it more costly to borrow money.
But higher rates are also more compelling to earn the most fundamental passive income stream of all — interest on cash.
Rates were lousy for the past decade, but you can now easily earn 4+% or more in risk-free passive income through a high-yield saving account.
At 4%:
A $100 deposit would earn $4 over one year
$10,000 would earn $400
$100,000 would earn $4,000 per year or $333.33 per month
Higher rates have tamed inflation, so we're potentially entering a period where high-yield savings accounts will outpace inflation.
Any money you don't spend or immediately invest should be earning interest for you in a savings account.
Anyone can do this with a minimum deposit of $100 or less. That may earn you little the first month, but as you deposit more each month and the interest compounds, you'll start earning decent money without doing any more work.
Savings accounts are a risk-free return on your money and FDIC-insured up to $250,000 per depositor. Your money works for you, not the other way around.
One savings platform I like is Raisin, which partners with multiple FDIC-insured credit unions under one roof to always offer the highest interest rates out there.
6. Farmland *
Farmland is a safe haven for long-term investors.
Investment returns have outperformed commercial real estate, gold, bonds, and even the S&P 500 since 1990, according to data compiled by AcreTrader.
But most of us can't just go by a farm.
AcreTrader is an online crowdfunding platform that empowers accredited investors to invest in farmland and agriculture projects, making it possible to tap into these out-sized historical returns of 10% or more.
With crowdfunding, you buy small fractions of the properties, participating in returns with smaller investment amounts.
Minimum investment amounts range from $10,000 upwards, depending on the deals. Farmland is an investment asset as old as time, but now you can access investments through an innovative technology platform.
It's one of my favorite passive income ideas. Each deal pays an annual dividend-like distribution in December.
Sign up with AcreTrader and immediately begin vetting available deals, which is more straightforward than conventional opportunities.
Investors must be accredited to participate. Accredited means your net worth exceeds $1 million or your annual income is above $200,000 ($300,000 for married couples filing jointly).
Each deal type requires specific tax reporting, so be sure to consider the tax consequences before investing.
I'm in the early stages of buying my first farmland property in 2023 through a self-directed IRA via Alto IRA. I'll write a detailed article about it when the transaction is complete.
Read more: AcreTrader Review
7. Dividend Stock-Focused ETFs
Dividend ETFs are the second easiest way to start building passive income.
If you want to keep things simple and diverse, use your online brokerage account to buy a dividend-focused ETF. These ETFs are relatively low-cost and pay a higher dividend than a total market index ETF. Some examples include:
Charles Schwab US Dividend Equity ETF (SCHD)
Vanguard Dividend Appreciation ETF (VIG)
Vanguard High Dividend Yield Index Fund (VYM)
You can buy these in a commission-free account such as M1 Finance or another online broker. Buy them in a Roth IRA to eliminate the tax burden.
The funny thing about dividend ETFs is the hardcore dividend investors and the hardcore index investors both hate them. So you might find some negative articles out there.
Criticism of the un-perfect deters too many. Not getting started investing is a far more consequential error than choosing the right fund.
As long as the expense ratios are low (<0.20 or so), these are rather efficient ways to start investing for income.
Vanguard Total Stock Market Index Fund (VTI) is a suitable fund for index investors that still pays dividends and keeps costs low.
8. Individual Dividend Growth Stocks
Investors who prefer a more hands-on approach to their stock portfolio can choose to invest in individual dividend growth stocks.
This investment style is how I started investing in 1995 because it was the only option.
Dividend growth stocks pay you every quarter and typically increase their dividend every year. Owning boring dividend stocks is a long-term strategy to build wealth and passive income over more than a century.
The place to start finding individual dividend growth stocks is the Dividend Aristocrats list which consists of more than 60 stocks that have paid and increased their dividends for more than 25 years.
My favorite online brokerage for beginner to intermediate dividend growth investors remains M1 Finance. The big difference between M1 Finance and other brokers is that you select your ideal portfolio first, then grow and modify it over time.
For example, you can create a "pie" of your 10 favorite Dividend Aristocrats stocks, each at 10% of your total portfolio. So when you invest $1,000, you'll buy $100 of each of the 10 stocks simultaneously.
Or buy a dividend growth ETF (see the Dividend Stock ETFs section).
M1 Finance is available to all U.S.-based investors. The minimum amount to open an individual or retirement account is $100.
Invest in Dividend Growth Stocks
If you need help selecting dividend growth stocks, I subscribe to and recommend the Sure Dividend Pro Plan newsletter bundle.
Sure Dividend's five newsletters recommend undervalued dividend stocks and REITs throughout the month for retirement and passive income.
Use the the Sure Dividend coupon code "RBD100" to save on your annual subscription.
Sure Dividend now offers a lower-cost introduction newsletter plan called Dividend Ideas. Read my Sure Dividend review (link below) to learn more.
Read more: Sure Dividend Review – Is it Worth the Cost?
Read more: M1 Finance Review
Read more: How to Invest in Dividend Stocks
9. Managed Turnkey Rental Properties
Single-family rentals (SFR) are an excellent asset over the long haul. In the hands of a property manager, it qualifies as a mostly passive income stream.
Finding cash flow-positive rental properties is difficult, especially if you live in an expensive city or suburb. But services are available to help you purchase cash-flowing rental properties in cities and towns where the numbers work.
Properties rented out upon purchase are called turnkey properties. Often, an existing landlord wants to sell a property but has a tenant in place and doesn't want to kick them out.
There are several advantages to this. Namely, the numbers already work, and the tenant is already in place. This is particularly helpful if you are investing from out-of-state.
The leading online turnkey rental property broker is Roofstock. Browsing their website for listed properties is free.
Roofstock only operates in cities and counties where the rent comfortably covers expenses and leaves room for profit. Plus, investors get the tax benefits of real estate investing. Roofstock will help set you up with a selection of property managers, making turnkey rental an excellent passive income idea.
Read more: How I Quit My Career at 39 with Out-of-State Rental Properties
Read more: Roofstock review
10. Rent Your Car
Have you heard of the "Airbnb of cars"?
Turo is the world's largest car-sharing marketplace.
I learned about Turo from a military family in my area that needed a second car before moving abroad.
They found a cheap, local Turo car that gave them transportation without having to purchase, borrow, or overpay at a rental agency.
That led me to research Turo for my IPO website.
Turo is empowering an ecosystem of entrepreneurs turning depreciating assets into income-producing assets.
Check out Turo to see what I mean.
Turo can be largely passive, but I'd consider this a semi-passive activity. The owner who rented to our friends simply handed over the keys and collected money for two months.
But like short-term rental properties, there is some required communication, headaches with high turnover, cleaning, maintenance costs, and wear and tear.
Rent your personal car that doesn't get much use, or buy a vehicle that's ideal for renting to make it a low-effort side gig.
11. Cash Back Rewards
The best way to keep your spending organized is to use the same credit or debit card for every purchase.
I prefer credit cards over debit cards for two reasons:
Better fraud protection
Cash back and travel rewards
If you're not maximizing rewards for every dollar you spend, you're missing a valuable built-in discount on everything you buy.
Two caveats. Only use credit cards if you pay off your balance every month. Interest costs will quickly deplete your cash-back rewards. Also, pay attention to the annual fees.
If you like to travel, you can also earn valuable welcome bonuses on top of the daily rewards for spending. Dollar for dollar, you can typically earn more from travel rewards than cash back.
Earning travel rewards from spending you already do can easily net you $1,000+ in value every year.
12. Managed Commercial Real Estate Properties *
Commercial real estate used to be a difficult asset for individual investors to get into. However, with the growth of real estate crowdfunding, individual investors can now directly access high-quality commercial real estate and let professionals manage it.
While Fundrise is good for broad residential and commercial property exposure, EquityMultiple is good if you want to up your risk-reward profile to own individual properties.
EquityMultiple identifies sponsors and lenders with strong track records, finds investments that fit their requirements, then performs exhaustive due diligence to find the best deals for its investors.
I invested $20,000 in my first commercial deal in 2022 — a mixed-use apartment/retail property in my hometown. It has an expected 18% IRR over a five-to-seven-year investment horizon.
Individual deals are placed in separate LLCs for protection and to pool investor funds. EquityMultiple was founded by a real estate attorney.
I also invested $10,000 into one Alpine note, which is a low-risk six-month high-yield savings alternative that yields 6.5%
For now, EquityMultiple is only for accredited investors ($1,000,000+ net worth). Minimum investments start at $10,000. Returns are in the 6%-20% range or more, depending on how the deals turn out.
A second top real estate crowdfunding platform focused on residential and commercial properties offering higher risk/reward investing for accredited investors is CrowdStreet. I have not tried it yet, though I almost pulled the trigger on a hotel deal near my home.
Read more: EquityMultiple Review
13. CD Ladder
Certificates of deposit (CDs) are similar to high-yield savings and money market accounts. But they are less liquid. You may incur a penalty for early withdrawal.
In return for limited liquidity, you receive higher interest rates.
CDs are available in terms of one month to six years or more. Shorter-term CDs normally carry lower interest rates. Longer-term, higher rates (usually).
One strategy to take advantage of higher interest rates while maintaining liquidity is to create a CD ladder.
Let's say you have $100,000 of cash that you want to start earning interest on. Instead of putting all of that money into a lower-interest savings account or five-year CD, you split it evenly and buy five different CDs.
$20,000 – 5-year CD
$20,000 – 4-year CD
$20,000 – 3-year CD
$20,000 – 2-year CD
$20,000 – 1-year CD
The short-term interest rates will usually be lower than the five-year rate, but you'll have better access to the cash. After the first year, you can withdraw the first $20,000 and spend it or buy a new five-year CD at the back end of the ladder.
In today's rising rate environment and the inverted yield curve, the longest rate is at the 27-month mark at Raisin, where you can get a CD that pays 5%. Four and five-year CDs are around 1.6%.
Marcus rates are a bit lower, peaking at 4.75% at the 18-month CD, then falling to 4.35% at 24 months.
So if you're building a CD ladder today, you'd buy shorter-duration CDs in the 1-year or less range, then out to 27 months. As rates change and your CDs mature, adjust.
The idea is to get higher rates than a savings account but maintain enough liquidity if you need the money. Shop around to find the best rates.
14. Digital Products
Digital products are electronic files that you make using your knowledge and expertise. With digital products, there is no inventory. The primary upfront cost is your time.
You can sell digital products directly from a website, blog, or e-commerce platform.
Setting up a website is easy if you don't have one, and it might be worth it to avoid platform sales fees. Otherwise, you can take advantage of existing platforms (e.g., Etsy, Amazon, or eBay).
Some might not consider this passive because there's work to do first. But once the work is done, the product should sell indefinitely with no or only minor version updates.
The product could be a:
Spreadsheet
eBooks
Printable (e.g., education worksheets)
Templates
Blueprints/Plans
I've toyed with ideas about selling my own digital products on my websites and may eventually do so. Once the product is created, you only have to market it (social media, partnerships, etc.).
The email software I use to send new blog posts, ConvertKit, offers digital product hosting and easy delivery. ConvertKit charges 3.5%+$0.30 per transaction fee. Get paid out every week on Friday. You can get started immediately with the free version of ConvertKit.
Expand your reach by selling the same product on Etsy, Amazon, eBay or by creating a Shopify account to customize an online store.
15. Bond ETFs
Less sexy than stock ETFs, bond ETFs are the simplest way to invest in fixed income. Bonds are simply a way to loan money to an entity. In return, you receive interest payments and, eventually, the returned principal.
Instead of buying many individual bonds, you can buy a bond ETF to diversify among many bonds and leave the selection to the ETF managers or an established index.
Bond ETFs come in wide varieties, including government, corporate, short-term, long-term, junk, municipal, and international, and variations and combinations of each type.
Like most investments, higher yields mean higher risk. So choose your bond ETFs based on your risk tolerance, asset type, and liquidity.
In taxable accounts, municipal bond ETFs are one of my favorite passive income ideas to avoid taxation.
Some of the more popular Bond ETFs include:
Vanguard Municipal Bond ETF (VTEB)
iShares National Municipal Bond ETF (MUB)
Vanguard Total Bond Market ETF (BND)
iShares Core U.S. Aggregate Bond ETF (AGG)
iShares iBoxx $ Investment Grade Corporate Bond ETF (LQD)
SPDR Barclays High Yield Bond ETF (JNK)
iShares iBoxx $ High Yield Corporate Bond ETF (HYG)
Bond ETFs can be purchased on the stock exchanges through a no-fee online broker.
16. Treasury Notes
If you want more control of your fixed income payments, buying individual Treasury Notes is a decent strategy for nearly risk-free passive income.
U.S. Government bonds can be a bit confusing. There are three primary types, distinguished by their maturity:
Treasury Bills (T-Bills) — One year or less maturities, do not pay interest
Treasury Notes (T-Notes) — 2, 3, 5, 7, and 10-year maturities
Treasury Bonds (T-Bonds, Series EE) — 20, 30-year maturities
I'm highlighting Treasury Notes over T-Bills and T-Bonds for a few reasons.
First, the short-end yields at 2-3 years are in the 4%-5% range. That's a solid return after years of lousy yields.
Second, T-Notes pay semi-annual interest (aka, coupon payment). Though some of the shorter-term T-Bills have similar yields right now, they do not pay interest (you buy at a discount and receive the full principal at maturity).
Third, the inverted yield curve may be an early sign of a recession, but upon that recession and into recovery, the yield curve will slope upward again, making the T-Notes more attractive as compared to T-Bills. This normalization could also cause their value to increase.
Lastly, T-Bonds should also increase in value as the economy normalizes and rates remain where they are. But 20-30 years is too long of a timeframe for bonds when you can get much better short-term yields and long-term returns on stocks.
With T-Notes, you can create a bond ladder similar to a CD ladder. Or just use them as short-term placeholders to park money in your brokerage account while you look for other investments. T-Notes are easy to buy and liquid, making them an attractive option for now.
Treasury Notes can be bought through an online broker or Treasury Direct. Since Treasury Direct is clunky, use a broker instead. They are electronic only.
17. Create an Online Course
Online courses have exploded in the past five years. Experts and creators can now create video courses to teach others their craft. A course can be about anything that people want to learn.
Friends of mine have created courses and say the amount of effort is similar to writing a book, creating videos instead of chapters.
But once it's done and starts to sell, it's a solid passive income stream.
An online marketplace called Udemy is the most popular platform for creating courses. Udemy has a built-in audience making selling easier. However, Udemy takes a sizable portion of the income and ultimately controls the pricing.
Another option for people with an online presence is Teachable. Teachable is an all-inclusive end-to-end solution to create and sell a course on your website.
Best of all, if you want to learn anything, nowadays there's a course for it on Udemy. Learn how to earn passive income via a course or build a course to earn passive income!
18. Sell Your Designs
Creative designers have a wide selection of places to sell their designs as merchandise. Etsy stores are a popular choice for crafty types, but selling on that platform is work-intensive.
A more passive option is to utilize a platform such as CafePress to sell your designs.
It's a simple model. You create and upload a design. CafePress sells your designs on t-shirts, hoodies, and various other products. Then you make money from the design you create and upload once.
Designs need to be unique to earn because it's a competitive space.
Other sites for selling designs include Merch by Amazon and Teepublic.
19. Rent Your Storage Space
Innovative technology and the gig economy have opened many opportunities to earn income from side gigs. But most of them require extra work.
What if you could earn passive income from renting space in your home or driveway without the hassle of tenants or tourists?
Well, a startup called Neighbor is delivering.
Neighbor matches homeowners who have empty spaces with people who need to store extra stuff. Many opportunities I found are for parking cars, boats, or RVs.
Neighbor is out to disrupt the $40 billion self-storage industry by empowering homeowners to rent their space to earn passive income.
The "Airbnb of storage" — Neighbor handles the bookings, payments, and insurance, so you don't have to.
But unlike Airbnb, homeowners don't have to worry about cleaning fees or loud party people. On top of that, people who rent space usually need it for longer, reducing turnover and headaches.
So declutter your basement, garage, or driveway and start making money with Neighbor.
20. I Bonds
The U.S. Government issues a savings bond called Series I. It's a near-risk-free savings product that pays interest to fight against inflation.
I Bonds became popular in 2021 and 2022 when inflation was soaring relative to the past few decades.
The interest rate from I Bonds is derived from a combination of a fixed rate that doesn't change and an inflation rate set twice a year.
For savings bonds issued from November 1st, 2022, to April 30st, 2023, the rate is 6.89%. If you buy I Bonds any time before April 30th, you're guaranteed that rate for six months.
The rate resets every six months.
Here is the latest information from TreasuryDirect.gov.
There's a blog called TIPS Watch that does a nice job of following the latest rates and strategies.
Here are a few things to keep in mind:
There's a $10,000 maximum investment per person per year.
The rate fluctuates as inflation rises and falls, potentially making these more or less desirable in the future.
The bonds pay semi-annual interest payments (paid 6 and 12 months after purchase).
This investment is taxable as ordinary income, but not until you cash out the bonds (making them tax-deferred).
These are Illiquid for one year. If you redeem I-bonds before five years, you will forfeit three months of interest.
Though the rate is still good, I consider I Bonds to be a college savings vehicle now more than a passive income stream. Technically, you receive two distributions every year, but Interest automatically reinvests, so you can't live off the payments, only redeemed I Bonds.
I may use these bonds to fund my children's college education one day, as they may be redeemed tax-free for qualified education expenses for taxpayers under certain income thresholds (see IRS Form 8815).
Go to TreasuryDirect.gov to begin investing. It's a painful and frustrating website. I use this website to calculate payments.
Conclusion – Passive Income Ideas 2023
Thanks for reading through this entire post. For this update, I wanted to provide a mix of some of my favorite tried-and-true passive income ideas, plus some fresh ideas to keep this list helpful to everyone.
Higher interest rates have helped to give us more low-risk options. I've removed some of the less passive income streams on the list in the past.
I've also kept the list at 20 items instead of trying to one-up similar articles.
Nearly all of these I'm doing, have tried, or I'm planning to do when I have more time or money.
Find the passive income ideas that fit best into your investment objectives and perform personalized research before acting on any of these suggestions.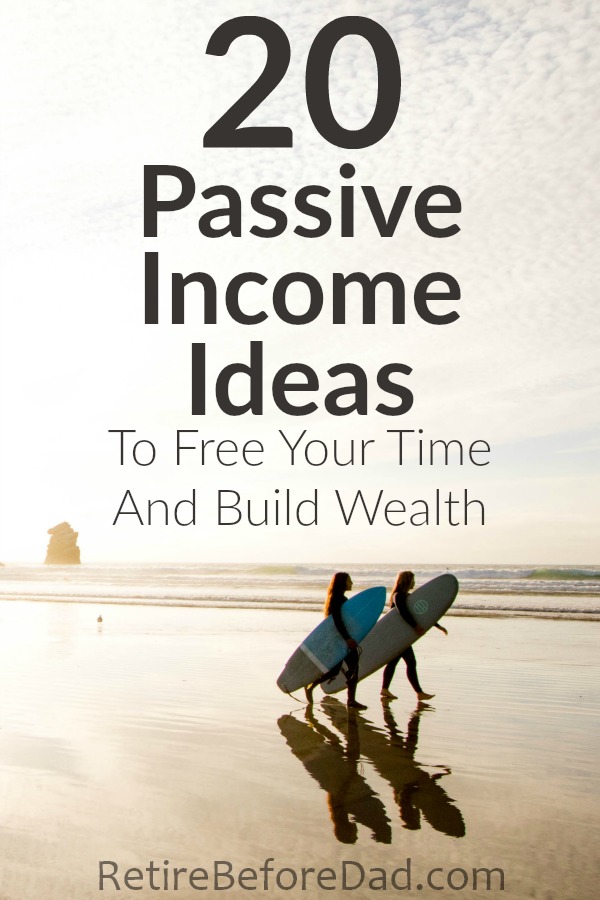 What passive income ideas are you trying in 2023?
Photo credit: Jeremy Bishop via Unsplash
Note: Bold links on this page are from our sponsors, which may influence the list order but not the recommendations.
** Fundrise Disclaimer: This is a testimonial in partnership with Fundrise. We earn a commission from partner links on RetireBeforeDad.com. All opinions are my own.
Disclosure: This is a sponsored promotion for the AcreTrader platform. RBD may have investments in companies represented on the AcreTrader platform. This informational post is by no means a promotion, solicitation, or recommendation of any specific investment.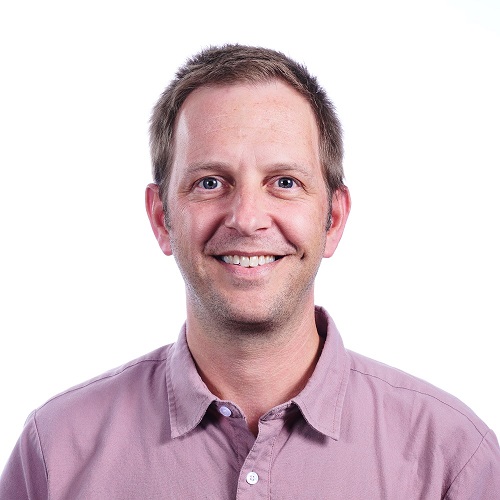 Craig is a former IT professional who left his 20-year career to be a full-time finance writer. A DIY investor since 1995, he started Retire Before Dad in 2013 as a creative outlet to share his investment portfolios. Craig studied Finance at Michigan State University and lives in Northern Virginia with his wife and three children. Read more.
---
Favorite tools and investment services right now:
Sure Dividend — A reliable stock newsletter for DIY retirement investors. (review)
Fundrise — Simple real estate and venture capital investing for as little as $10. (review)
NewRetirement — Spreadsheets are insufficient. Get serious about planning for retirement. (review)
M1 Finance — A top online broker for long-term investors and dividend reinvestment. (review)