This passive income ideas post was updated on 12/03/2019.
---
Normal people earn a paycheck and spend most of it every month.
Wealthy people invest their money and time into income producing assets and business ideas that make money. What better way to improve your finances this year than by creating new passive income streams to help free your time and build wealth?
To get you motivated, I've compiled a list of 20 passive income ideas to consider starting today.
Most of the passive income ideas in this list require an upfront money investment which will earn a yield and generate an income stream.
Others require a significant time investment to build a product or business that can generate income.
I prefer a combination of multiple income streams to help protect against market fluctuations, economic cycles, and job loss.
If you're new to building passive income streams, make sure to start with a high-yield savings account (#3 below) to park your cash before making larger investments. Putting cash into an interest-bearing savings account is an essential first step toward building wealth. Every penny counts. See #6 to learn more.
With that, here are 20 passive income ideas for 2019 to power your wealth building machine.
Note: The items in this list are provided as suggestions for further research. Please perform your own analysis to determine what investments and activities are right for you. Some of these require that the investor is accredited. Read a full definition of what accredited means here.
1. Farmland and Agriculture
Farmland investment returns have outperformed commercial real estate, gold, bonds, and even the S&P 500 since 1990, according to data compiled by AcreTrader. But most of us can't just go by a farm.
AcreTrader is an online crowdfunding platform that empowers accredited investors to invest in farmland and agriculture projects, making it possible to tap into these out-sized historical returns of 10% or more. With crowdfunding, you buy small fractions of the properties, participating in returns with smaller investment amounts.
Minimum investment amounts range from $3,000 to $10,000 depending on the deals. Farmland is an investment asset as old as time, but now you can access investments through an innovative technology platform. It's one of my favorite new passive income ideas.
Sign up with AcreTrader and immediately begin vetting available deals, which is a more straightforward process compared to urban commercial and residential. Investors must be accredited to participate. Accredited means your net worth is greater than $1 million or annual income above $200,000.
Each deal type requires specific tax reporting, so be sure to consider the tax consequences before investing. Most deals pay a dividend.
2. Real Estate Crowdfunding eREITs
My favorite of all the passive income ideas for 2019 is still real estate crowdfunding. There are several ideas on this list related to real estate, but this platform is the easiest to invest on because everyone is eligible.
Fundrise empowers ordinary investors to own high-quality real estate at attractive yields. This Washington D.C.-based company is a crowdfunding innovator that has changed the way investors can access profitable returns.
When you invest at Fundrise, your money is instantly diversified among dozens of multi-family residential real estate properties. Any U.S-based investor can invest on the Fundrise platform for as little as $500 with the Fundrise Starter Portfolio which currently yields above 7%.
Fundrise investors are uniquely positioned to benefit from the real estate growth expected from the recently announced Amazon HQ2 in northern VA.
My total investment of $12,000 is now worth $14,272.84 as of 09/15/2019. Read my investment details via the review link below.
Read more: Fundrise Review
3. Interest on Cash
If you have only a checking account or a savings account with an interest rate below 1%, you can easily increase your passive income by opening a high-yield saving account.
This is a no-brainer for 2019 while interest rates are still in your favor. Any money you don't spend or immediately invest should be earning for you in a savings account.
An interest-bearing savings account is perhaps the most passive income stream of all. Yet they've been ignored by the masses because rates were so low for a decade due to the economic crisis.
Anyone can do this with a minimum deposit of $100 or less. That may not earn you much the first month, but as you deposit more each month and the interest compounds, you'll start earning decent money without doing any more work.
Every penny counts.
It's a risk-free return on your money and it's FDIC-insured. Your money works for you, not the other way around.
Click here to compare interest rates on high-yield savings and money market accounts. Many now yield near 2.00%.
4. Dividend Stocks
Since M1 Finance completely eliminated their fees in December 2017, it's become my favorite online brokerage for beginner to intermediate dividend investors.
On the M1 Finance platform, users create pies to design their perfect stock or ETF portfolio. When you fund your account, M1 Finance allocates your money according to the pie allocations.
The platform has access to all stocks and ETFs. So, for example, you can create a diversified Dividend Aristocrats pie, stick with Vanguard index ETFs such as the Total Stock Market Index (symbol VTI) or the Vanguard Dividend Appreciation (VIG).
Or create your own portfolio masterpiece. Tax-advantaged accounts such as IRAs are available.
For those looking to create a high-quality dividend growth stock portfolio but could use some help, I recommend a service I use called the Sure Dividend Newsletter. Use that link to get a free 7-day trial or enter the Sure Dividend coupon code "RBD10" to save $10 on a subscription.
M1 Finance is available to all U.S.-based investors. Minimum amount to open an account is $100. Build your M1 Finance pie on desktop or mobile.
Read more: M1 Finance Review
Read more: How to Invest in Dividend Stocks
5. Mortgage Refinance
Even today, long-term mortgage rates are still historically low. If you can refinance your mortgage and save a few hundred dollars a month, you'll struggle to find a better investment for your money.
For example, if a mortgage refinance costs you $3,000 in closing costs, but your monthly payment decreases by $300 per month, you'll break even in the first year. That's a 100% return in less than a year. The $300 in savings is technically not a passive income stream, but it will increase your passive cash flow after one simply action. Definitely worth the effort.
That's why everyone should regularly look at their mortgage numbers to determine if a refinance is right for them. For our last refinance, we used LendingTree to find the best interest rates.
Calculate your Monthly Savings
6. Professionally Managed Commercial Real Estate
Commercial real estate used to be a difficult asset for individual investors to get into. However, with the growth of real estate crowdfunding, individual investors can now directly access high-quality commercial real estate and let the professionals manage it.
While Fundrise is good for residential and limited commercial exposure, EquityMultiple is a leader in the commercial space.
EquityMultiple identifies sponsors and lenders with strong track records, finds investments that fit their requirements, then perform exhaustive due diligence to find the best deals for its investors. Each deal is placed in a separate LLC for protection and funds are pooled from investors.
For now, EquityMultiple is only for accredited investors ($1,000,000+ net worth). Minimum investments start at $5,000. Returns are in the 7%-14% range. Learn more about how EquityMultiple works at their website.
Read more: EquityMultiple Review
Other top real estate crowdfunding platforms focusing on the commercial space that offer higher risk/reward investing are accredited investors include CrowdStreet and RealtyMogul (review).
7. Peer Lending to Real Estate Developers
PeerStreet is the third real estate crowdfunding platform I started investing on in 2017. This platform offers debt deals on various real estate projects nationwide for a $1,000 minimum investment. You can easily invest in multiple deals to spread your risk and earn returns in the 6%-8% range.
Automatic investment selection is built into the platform. Investors set their criteria for the loans they want to invest in, and when one becomes available, the system invests your money for you. After that, you have 24 hours to perform due diligence on the loan.
PeerStreet is the most elegant real estate crowdfunding platform I've used. Unfortunately, it's for accredited investors only at this time. Also, demand for higher-yielding loans has increased due to the recent scarcity of loans above 7%. It takes longer now to assemble a high-yielding portfolio greater than $10,000.
RBD readers get a 1% yield bump on your first investment.
Read more: PeerStreet Review
Earn Passive Income at PeerStreet
8. Veteran Business Bonds
A company called StreetShares helps veteran small business owners (also some non-veteran owned) acquire capital for their business cash flow needs by providing loans. What's really cool is that these loans are funded by investors.
For a $25 minimum investment, all U.S.-based investors can earn a flat yield of 5% on their money by investing in StreetShares Veteran Business Bonds. And you help veteran entrepreneurs.
StreetShares lends money to business owners at a higher rate leaving plenty of margin for non-performing loans. Higher yielding investments are available to accredited investors.
Read more: StreetShares Review
9. Turnkey Rental Properties
Finding cash flow positive rental properties is difficult, especially if you live in an expensive city or suburb. But services are available to help you purchase cash flowing rental properties in cities and towns where the numbers work. Properties rented out upon purchase are called turnkey properties.
Usually, an existing landlord wants to sell a property, but has a tenant in place and doesn't want to kick them out. You are buying an investment property already rented.
There are several advantages to this. Namely, the numbers already work, and the tenant is in place. This is particularly helpful if you are investing from out-of-state.
The leading online turnkey rental property broker is Roofstock. Browsing their website for listed properties is free. Last I checked, several hundred were listed as available.
Roofstock only operates in cities and counties where the rental numbers work and rent comfortably covers expenses and there's cash leftover.
They're a one-stop-shop for investors looking to build passive income through single-family rental properties. From the website, you can buy properties sight-unseen. Then they'll set you up with a selection of property managers, making this a completely passive investment.
10. Litigation Finance
Litigation finance is a type of alternative investment offered on the YieldStreet platform. Legal investments come in different forms including pre-settlement financing, legal advertising, and post-settlement finance.
I learned about this investment class listening to YieldStreet CEO Milind Mehere on Episode 59 of the Invest Like a Boss Podcast.
While this sounds kind of strange, these investments are sound and have an excellent track record. Investors can earn 8%-20% yields but must be accredited. YieldStreet also offers real estate crowdfunding investments.
Earn Passive Income at YieldStreet
11. Get Bumped
The Bumped app gives you free stock when shopping at stores and brands you already go to. Sounds too good to be true? Yeah, it's that good.
There's still a waiting list to join, but this app is going to explode in popularity in 2019. As of September 2019, I've earned $64 in passive income.
Read more: Bumped app review
12. Dividend ETFs
If you want to keep things simple and diverse, use your online brokerage account to buy a dividend-focused ETF. These ETFs are relatively low-cost and pay a higher dividend than a total market index ETF like VTI. Some examples include:
Charles Schwab US Dividend Equity ETF (SCHD)
Vanguard Dividend Appreciation ETF (VIG)
ProShares S&P 500 Dividend Aristocrats (NOBL)
iShares Select Dividend ETF (DVY)
SPDR S&P Dividend ETF (SDY)
You can buy these in a commission-free account such as M1 Finance or a more traditional online brokerage account like TD Ameritrade which is also now commission-free. Buy within an IRA to avoid paying taxes on your dividends.
13. Invest with a Conscience
You don't need to own oil stocks, firearms, and other vice stocks in your index funds to earn a return. Various options are out there for investing with your conscience, be that of a pacifist, vegan, or environmentalist.
The best option for socially responsible investing (SRI) is the socially responsible Cash-Enhanced Managed Portfolio at Ally Invest. Ally Invest Cash-Enhanced Managed Portfolios manage your invested money for you, leaving more time for you to earn and save.
The Socially Responsible portfolio is "shaped by companies with ethical track records, you'll only invest in businesses that actively practice sustainability, energy efficiency or other environmentally-friendly initiatives". Cash-Enhanced Managed portfolios are now free of advisory fees.
14. Sell Your Designs
Creative designers have a wide selection of places to sell their designs as merchandise. Etsy stores are a popular choice for crafty types, but selling on that platform is work intensive.
A more passive option is to utilize a platform such as CafePress to sell your designs. It's a simple model. You create and upload a design. CafePress sells your designs on t-shirts, hoodies, and a variety of other products. Then you make money from the design you create and upload once. Designs need to be good to earn. Or really funny.
Other sites for selling designs include Merch by Amazon and Teepublic.
15. Create and Sell a Digital Download on Your Website
If you have a blog or other kind of website, you can easily sell a product directly from your site using a service called Gumroad. Gumroad makes it easy to sell your product to any visitor. Or, create your own website for the purpose of selling a product. or turn your hobby into a business.
Your product can be as simple as a PDF or spreadsheet you've created that can help people. You create your product one time, then put it up for sale on your website and Gumroad handles the financial processing. Improve your product, create more, and grow a mini-business without having to rely on a larger platform such as Etsy, Amazon, or Shopify.
Gumroad charges $10 per month for the service plus 3.5% + 30¢ per charge. Utilize a blog or social media to drive sales.
16. Create an Online Course
Online courses have exploded in the past five years. Experts and creators can now create video courses to teach others their craft. A course can be about anything that people want to learn. Friends of mine have created courses and say the amount of effort is similar to writing a book. But once its done and starts to sell, it's a solid passive income stream.
An online marketplace called Udemy is the most popular platform for creating courses. Udemy has a built-in audience making selling easier. However, Udemy takes a sizable portion of the income and controls some of the pricing.
Another option for people with an online presence is Teachable. Teachable is an all-inclusive end-to-end solution to create and sell a course on your website.
Best of all, if you want to learn anything, nowadays there's a course for it on Udemy. Learn how to earn passive income via a course, or build your own course to earn passive income!
17. Peer Lending to Consumers
I've invested on the Lending Club platform for more than four years. Returns have been solid for me, averaging 6%-9% annually. 2016-2017 saw a decline in returns prompting the company to change their underwriting standards and lower investor expected returns to 4%-6% by eliminating higher-risk loans for retail investors.
On the Lending Club platform, investors make micro-loans of as little as $25 to borrowers in need of a loan. By investing small amounts in multiple loans, you spread your risk. Late last year, Lending Club eliminated the higher-risk "F" and "G" loans for individual investors, hopefully lowering investor default rates going forward.
For borrowers* in need of a loan for various uses including debt or credit card consolidation, Lending Club provides lower interest rate loans compared to credit cards. The platform is modern and easy to use and can save borrowers thousands.
Read more: Lending Club Review
18. Create a YouTube Channel
Did you know YouTube is the number two search engine behind Google? Of course, Google owns YouTube too, so we're all at their mercy. So why not join the party?
It still blows my mind that a 6-year-old boy is one of the top ten biggest YouTube stars in the world having earned $11 million last year. My kids love Ryan.
But you don't need to be a mega-star to earn money. I use YouTube to learn about DIY projects like fixing my leaf blowers and replacing my shower faucet. If you have the expertise, YouTube is a place you can showcase your advice to teach and/or entertain.
Ads displayed before, during, and after the video drive revenue. But you can also send viewers to your online store or blog to drive sales. The cost to get started on YouTube is very low and monetization funnels are plentiful.
19. Bond ETFs
Less sexy than stock ETFs, bond ETFs are the simplest way to invest in fixed income. Bonds are simply a way to loan money to an entity. In return, you receive interest payments and eventually the returned principal.
Instead of buying lots of individual bonds, you can buy a bond ETF to diversify among many bonds and leave the selection to the ETF managers. Bond ETFs come in many different varieties including government, corporate, short-term, long-term, junk, municipal, international and in variations and combinations of each type. Like most investments, higher yields mean higher risk. So choose your bond ETFs based on your risk tolerance, asset type, and liquidity.
Some of the more popular Bond ETFs include:
Vanguard Total Bond Market ETF (BND)
iShares Core U.S. Aggregate Bond ETF (AGG)
iShares iBoxx $ Investment Grade Corporate Bond ETF (LQD)
SPDR Barclays High Yield Bond ETF (JNK)
iShares iBoxx $ High Yield Corporate Bond ETF (HYG)
Bond ETFs can be purchased on the stock exchanges through a no-fee online broker.
20. Start a Blog
I'm ending with this one because a blogging side business has been my path to creating significant passive income through a massive time investment. But now that I've invested the time into my blog, much of the income I earn is completely passive. I'll explain.
When you write a blog post on your website, that article immediately goes out to your followers. But the content also remains on the website for others to find via search engines or social media. Each time somebody reads your content, there's the potential to serve them an ad, product for purchase, or affiliate link (many links in this post are affiliate links). Each set of eyeballs that read your content carry the potential for passive income.
It's harder than it sounds. You'll need lots of high-quality content and numerous eyeballs to read it to generate income. So you need to create more eyeball traffic through promotion, building an audience, and collaborating with other bloggers. Earning money takes time.
This blog took three years to generate any significant income. But now that the pieces are in place to earn an income, it arrives with very little additional work. In other words, if I completely stopped doing anything to this blog today, it would continue to generate passive income for years.
Don't start a blog unless you 1) have something valuable to offer to readers, and 2) are in it for the long haul. If you're interested in blogging, read my post How To Start An Online Business to learn how to get started.
Conclusion – Passive Income Ideas 2019
Thanks for reading through this entire post. For this year, I wanted to provide a mix of some of my favorite tried-and-true passive income ideas, plus some fresh ideas to keep this list helpful to everyone.
Let me know what you think in the comments. Next year, I'll aim to expand the list even further. If you have any additional ideas that readers could benefit from leave your idea in the comments section or contact me.
What passive income ideas are you investing in this year?
Note: Some of the links on this page are from our sponsors which may influence the list order but not the recommendation.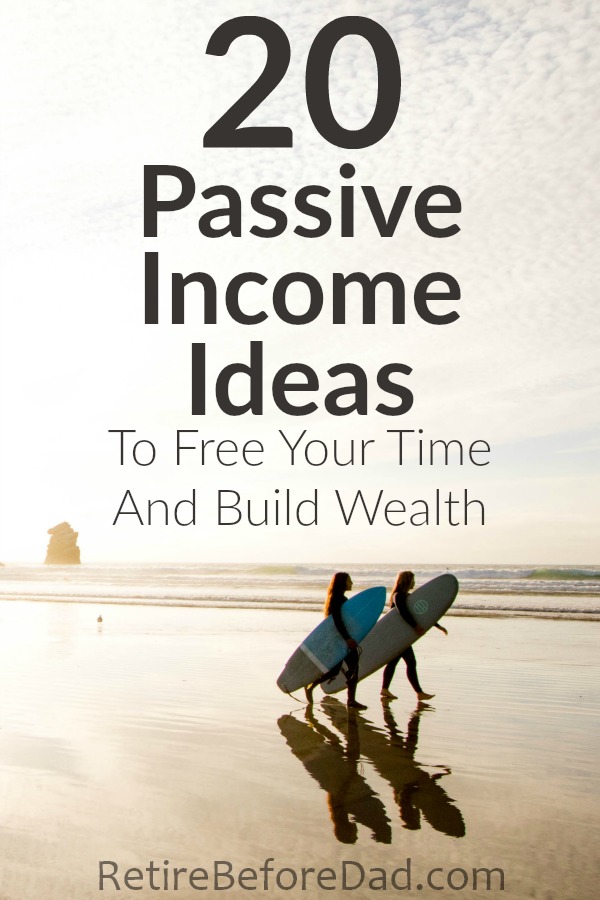 *All Lending Club loans made by WebBank, Member FDIC. Your actual rate depends upon credit score, loan amount, loan term, and credit usage & history. The APR ranges from 6.16% to 35.89%. For example, you could receive a loan of $6,000 with an interest rate of 7.99% and a 5.00% origination fee of $300 for an APR of 11.51%. In this example, you will receive $5,700 and will make 36 monthly payments of $187.99. The total amount repayable will be $6,767.64. Your APR will be determined based on your credit at the time of application. The origination fee ranges from 1% to 6% and the average origination fee is 5.49% as of Q1 2017. There is no down payment and there is never a prepayment penalty. The closing of your loan is contingent upon your agreement of all the required agreements and disclosures on the www.lendingclub.com website. All loans via LendingClub have a minimum repayment term of 36 months or longer.
** Fundrise Disclaimer: The information contained herein neither constitutes an offer for nor a solicitation of interest in any securities offering; however, if an indication of interest is provided, it may be withdrawn or revoked, without obligation or commitment of any kind prior to being accepted following the qualification or effectiveness of the applicable offering document, and any offer, solicitation or sale of any securities will be made only by means of an offering circular, private placement memorandum, or prospectus. No money or other consideration is hereby being solicited, and will not be accepted without such potential investor having been provided the applicable offering document. Joining the Fundrise Platform neither constitutes an indication of interest in any offering nor involves any obligation or commitment of any kind. The publicly filed offering circulars of the issuers sponsored by Rise Companies Corp., not all of which may be currently qualified by the Securities and Exchange Commission, may be found at www.fundrise.com/oc.
Photo credit: Jeremy Bishop via Unsplash
Subscribe to Retire Before Dad!
You'll receive my biweekly(ish) articles in your inbox and the FREE eBook 6 EASY Income Streams You Can Start Building Today!