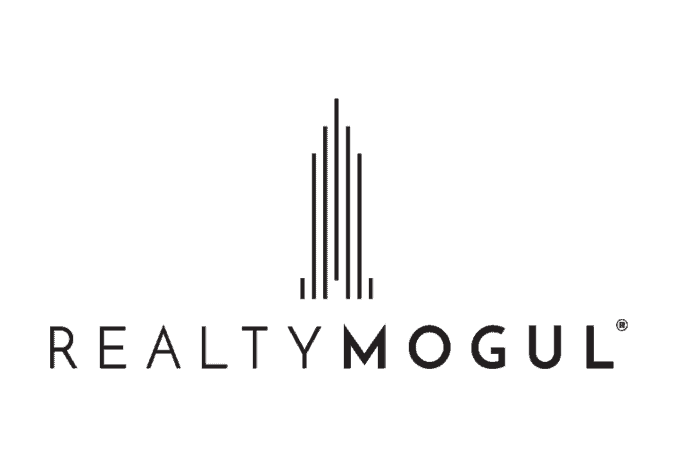 This RealtyMogul review was updated 01/07/2022.
RealtyMogul is a Los Angeles-based real estate crowdfunding platform that connects individual investors to professionally managed commercial real estate deals on a modern investment platform.
The company offers non-traded real estate investment trusts (REITs), private investment offerings, and 1031 exchanges all under one roof. It's suitable for both accredited (~millionaires) and non-accredited (assets <$1 million) investors.
It's for those who want to take a more passive investing role or seek to personally vet individual real estate deals for greater risk/reward opportunities.
More than 180,000+ investors have joined the platform as of summer 2019, funding more than $400 million worth of deals, paying over $120 million of investor disbursements since its launch.
The company was co-founded by real estate crowdfunding pioneers Jilliene Helman and Justin Hughes. Helman currently serves as the CEO. In a male-dominated industry such as real estate financing and investing, it's refreshing to see a woman entrepreneur leading this influential startup.
Why RealtyMogul?
As an early mover into the real estate crowdfunding space, RealtyMogul is a consistent name in the top echelon of investing platforms by past performance and deal volume. It's evolved from being exclusively for accredited investors to a platform upon which all US-based investors are eligible.
RealtyMogul offers non-traded REITs similar to Fundrise, and private investments like EquityMultiple and CrowdStreet, giving the investor multiple options.
Also, RealtyMogul offers 1031 exchanges where real estate investors can defer their capital gains taxes on the sale of a property by reinvesting the proceeds into a qualifying property on the platform.
Before investing on the RealtyMogul platform or any other real estate crowdfunding site, learn as much as you can to determine which platform is best for your investment objectives.
RealtyMogul is suitable for those who may want to invest in both non-traded REITs and private investments under one platform. The REITs give you broad exposure to multiple real estate properties, while thoroughly vetted individual deals can increase your overall returns.
The minimum investment to get started on RealtyMogul is $5,000. If that's too much for your pocketbook, the Fundrise Starter Portfolio is a more reachable option with similar REIT offerings at $500 for non-accredited investors. Peerstreet debt investments start at $1000 minimums for accredited investors.
Please Note
Though this and other real estate crowdfunding platforms are well-established and have solid operating histories, risks remain. Do not invest with money you cannot afford to lose, and do not invest before parsing through the offering circulars.
I have not personally invested on the platform, so this review is based on my experience investing on and reviewing other real estate crowdfunding platforms and reading through the website and offering circulars.
The RealtyMogul REIT fee structure takes some time to comprehend. The company needs to improve the way it communicates fees to potential investors. I asked my contact for clarification and will do my best to explain in the fees section below.
Full disclosure: I'm an affiliate partner with several companies that I write about on RBD, including RealtyMogul. That means if you click on a link from this website and submit information, I may receive compensation at no additional cost to you. Read the full disclosure here.
What is Real Estate Crowdfunding?
Congress passed the Jumpstart Our Business Startups Act (JOBS) in 2012, which set the foundation for equity crowdfunding.
Equity crowdfunding is similar to established crowdfunding sites such as Kickstarter but allows for the exchange of equity for early investments.
The JOBS Act has created more options for early-stage companies to raise money, including crowdfunding and mini-IPOs, also known as Reg A+ IPOs. Companies can raise up to $50,000,000 per fund via Reg A of the JOBS Act.
Real estate crowdfunding was not the primary intent of the JOBS Act. However, it has seen the most significant adoption.
Since the passing of the JOBS Act, at least 100 real estate crowdfunding sites have emerged. But the top tier companies do most of the volume. In addition to RealtyMogul, other leading platforms include Peerstreet, EquityMultiple, CrowdStreet, and Fundrise.
With each of these platforms, you're still investing in an age-old asset, real estate, but in a different way. You can now invest in commercial properties with less capital outlay and greater diversification.
These platforms are quickly taking a share of the overall real estate financing landscape. But crowdfunding is still in its relative infancy. High-quality commercial and multifamily residential real estate investments, once reserved for wealthy individuals and established companies, are now available to ordinary investors.
RealtyMogul Review 2022
Since crowdfunding is still relatively new, these kinds of platforms are just scratching the service of what is possible. Raising money through crowdfunding is efficient and spreads the risk better compared to the old school way of raising capital for real estate deals.
For these reasons, I endorse several platforms as there's room for several industry leaders. These sites are competing against the traditional real estate financing model on the deal side, yet competing with each other to build their investor base, especially accredited investors. As deal-flow grows, so must the investor base.
Let's dig right into the details of this platform.
Non-Traded REITs
Non-traded REITs are SEC-approved securities that empower individual investors to own several commercial and multifamily residential real estate properties through one investment product.
These investments do not trade on stock market exchanges like traditional REITs. Instead, they are available on real estate crowdfunding platforms. This is advantageous to the investor because the securities are non-correlated to the stock market.
The value of the real estate portfolio is based on the value of the properties, not a stock price. Non-traded REITs are typically made up of fewer properties compared to a traditional REIT, giving you sufficient diversification while maintaining the potential for excellent returns (and significant loses).
The downside of non-traded REITs is they are less liquid than traditional REITs. RealtyMogul does provide limited quarterly redemptions once you've owned the REIT for a year, but it's nowhere near as liquid as a traditional REIT.
RealtyMogul offers two non-traded REITs on its platform. These investments are suitable for all US-based investors because they are qualified by the Securities and Exchange Commission (SEC). Interested investors are encouraged to read the offering circulars before committing capital to either REIT.
Each REIT has a different investment objective. Therefore, investment compositions are unique.
The Income REIT Review
The Income REIT (offering circular) aims to pay attractive and consistent cash distributions; and to preserve, protect, and increase and return your capital contribution. It's primarily an income fund.
Investors looking to build income streams may be attracted to The Income REIT for its consistent monthly distributions as a stable and reliable passive income source.
Since its inception in late 2016, the fund has distributed cash to shareholders at an annualized rate between 7.76% and 8% net of fees. The Income REIT maintains a history of monthly distributions here.
Here's more on the fund's objectives.

Fund Composition
The Income REIT currently holds 17 properties in the fund, weighted approximately equal between office, retail, and multifamily residential properties. The fund has most of its geographic exposure in the west and south, especially California and Texas.
Properties in the fund include residential buildings with five or more units, grocery-anchored centers, shopping centers, power centers, strip malls, and mid-rise or high-rise office building.
Individual property holdings are structured as joint venture equity, senior debt, mezzanine debt, and preferred equity.
See the complete list of properties in the fund here. Below is a sample.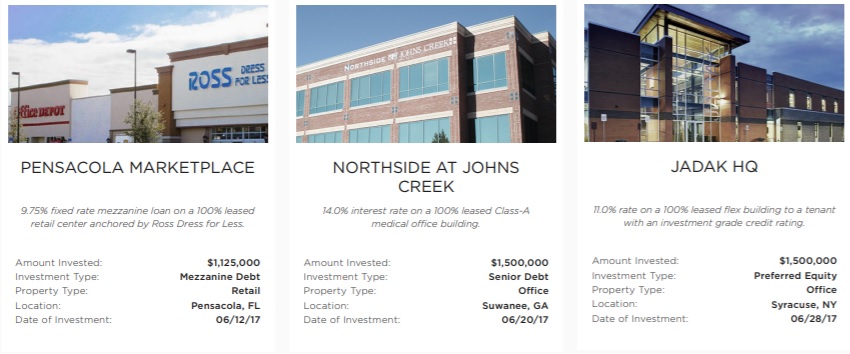 Liquidity
Successful real estate investing requires capital to take advantage of opportunities, and patience to wait for returns to mature.
Therefore, most real estate crowdfunding offerings operate under three to seven-year investment horizons, which is usually a sufficient period for gains to materialize.
The Income REIT is an illiquid investment meant for long-term investors looking to profit from real estate opportunities. It is not a short-term investment.
For the first year of ownership, shareholders cannot redeem their shares.
However, so that investors can have some liquidity on the platform, after one year of ownership, investors may request that RealtyMogul repurchase shares back from the investor at a discounted rate (to discourage redemptions).
The discounts are as follows:
| | |
| --- | --- |
| Less than one year | No Repurchase Allowed |
| One year until two years | 98% |
| Two years until three years | 99% |
| Three or more years | 100% |
In other words, if you ask to sell your shares after 15 months, you'll receive 98% of the total value of your investment. Only 25% percent of shares of your original purchase can be redeemed per quarter.
The Apartment Growth REIT Review
The Apartment Growth REIT (offering circular) aims to realize capital appreciation in the value of investments over the long-term, and to pay attractive and stable cash distributions to stockholders. It's primarily a growth fund.
Investors looking for capital appreciation may be more attracted to the The Apartment Growth REIT growth-oriented holdings, while still receiving quarterly income.
Since its inception in early 2018, the fund has distributed cash to shareholders at an annualized rate of 4.5% net of fees. The Apartment Growth REIT maintains a history of monthly distributions here.
Here's more on the fund's objectives:

Fund Composition
The Apartment Growth REIT currently holds seven properties in the fund, all of which are multifamily residential. The fund has most of its geographic exposure in the eastern and southern parts of the United States.
See the complete list of properties in the fund here. Below is a sample of properties:

Liquidity
Same as The Income REIT.
RealtyMogul Review of Private Investments
RealtyMogul launched as a platform for accredited investors to invest in individual private real estate properties. The company still offers these investment opportunities, but to a lesser degree than before now that the REIT products are available.
Private investments are only available to accredited investors because they are not qualified by the Securities and Exchange Commission (SEC), a regulating government entity. Since there is no oversight, the SEC requires that only accredited investors be eligible.
At the time of writing, no deals were available on the platform. But RealtyMogul says this about the offerings:
We offer equity investments in commercial real estate across the United States into different property types such as office, multifamily, mixed-use, industrial and flex-space. Typical investment horizons range from 3-7 years with minimum investments between $15,000 – $50,000.
Here's a sample of recent properties that were available on the platform. You can find more here.

Pay close attention to the tax consequences when investing in private real estate deals. You may be required to file additional forms and possibly out-of-state tax returns. See the RealtyMogul Taxation section below for more.
RealtyMogul Review of 1031 Exchanges
Overall, the RealtyMogul investment options are similar to its peers. However, one distinguishing investment product is the availability of 1031 exchanges.
1031 exchanges come from the Internal Revenue Code Section 1031. It states that real estate investors are allowed to defer taxes on capital gains when a property is sold if proceeds are reinvested into a qualifying, like-kind, property.
RealtyMogul lets the investor use the proceeds of a sale of a personal investment property to invest in properties on the platform to take advantage of the tax rule.
Take my recent condo sale, for example. If I had substantial capital gains (I don't), I could move those proceeds into RealtyMogul within 180 to defer taxes on those capital gains.
The new investment would be illiquid and would still be subject to real estate risk, but the exchange can provide some tax deferment, which helps to build wealth over time.
These are complicated transactions, only to be executed with the help of a RealtyMogul 1031 specialist and a tax professional.
Due Diligence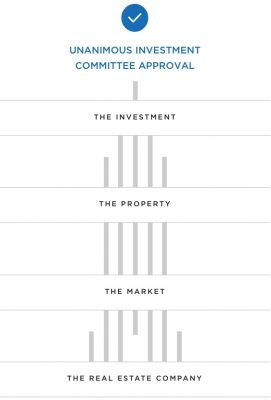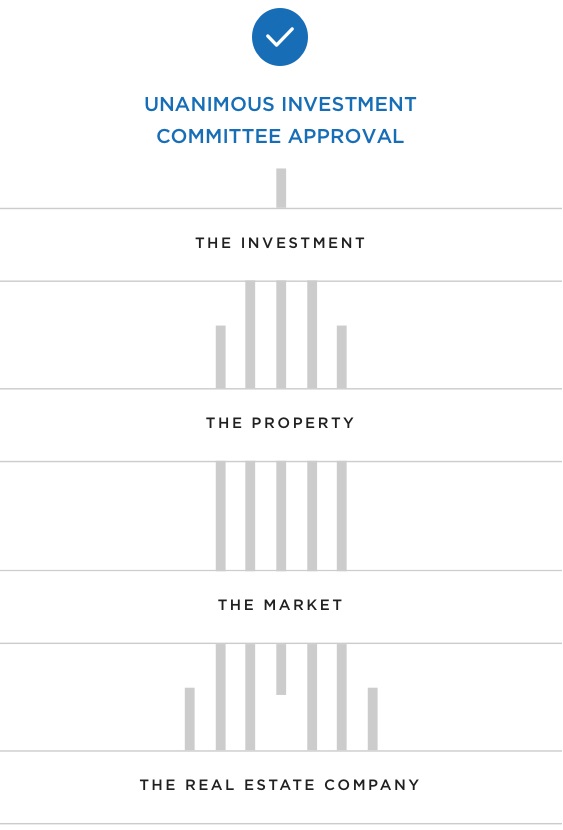 RealtyMogul performs rigorous due diligence on behalf of its investors. Only properties with unanimous investment committee approval become available on the platform.
It selects investable properties based on four core criteria.
The Real Estate Company
The Market
The Property
The Investment
The Real Estate Company
In evaluating investment partnerships, the due diligence process involves looking at the background and track record of potential partners, then checks references to verify.
The Market
Location is paramount in the selection of investable properties. The investment committee considers key demographic factors, economic trends, and comparable sales.
The Property
RealtyMogul conducts exhaustive analysis on the property, including condition, income potential, and tenant quality. All selections receive an in-person visit to the building and surrounding area.
The Investment
The investment evaluation includes the legal structure, operating agreement, and fees and expenses.
RealtyMogul Fees
Fees are a fact of life on any investing platform. Since crowdfunding platforms are heavily regulated, fees are needed to cover SEC filings, legal work, audits, and operations. 200+ page SEC filings are not cheap to produce!
The fees for each private investment opportunity on the RealtyMogul platform are disclosed in the associated documentation, usually ranging from 1%-2%. These are straightforward because it's only one property, and the costs are easier to estimate and control.
However, the fees regarding both REIT offerings are more challenging to grasp. I read through several other blogger reviews and saw that interpretations vary dramatically.
Clearly, there's plenty of room for improvement in communicating the fees to potential investors on the website. Perhaps some simplification would help (talking to you, RealtyMogul people).
Fee communication is concerning because investors must understand the fees to measure risk and return. Since it's difficult to understand, investors may feel more comfortable at Fundrise for REITs where the fees are more clearly explained.
As such, I reached out to the RealtyMogul to solidify my understanding.
Here's how the fees work.
Investors are charged a 3% organizational fee upon deposit of funds into the account. This fee covers important costs required to administer the fund. Your $5,000 investment immediately becomes worth $4,850. After one year, the investment would be worth $5,238 assuming the 8% distributions continue.
Investors then pay a 1% annual asset management fee on The Income REIT, and 1.25% on The Apartment Growth REIT. This means that instead of a 9% distribution for The Income REIT, it pays 8%. The asset management fee is how the company makes money, which, of course, is necessary to be a viable business.
There's another 0.5% service fee taking out at the portfolio level, and a potential additional 1% only taken if any debt is in special servicing (i.e., default, workout of a loan).
What's important to remember is that distributions are net of fees. So if the fund pays 8% in dividends, the fees are already taken out. You only have to worry about taxes after that.
See page 16-18 of the The Income REIT offering circular (June 28th, 2019) for this information.
I was admittedly confused and taken aback when I first started looking into the fees at RealtyMogul. However, after exhaustive research on the topic, I do not see the fees as a deterrent to investing on this platform, though its fees are at the higher end of the spectrum, compared to peers.
Fees are necessary to provide this service. Savvy investments can easily overpower the fees. There are also no performance fees, which means you can benefit more from stellar investment selections.
RealtyMogul Taxation
I'm not a CPA or tax attorney.
RealtyMogul wisely directs you to a CPA or tax attorney to understand the tax consequences of investing in the non-traded REITs and private individual properties.
The main thing to keep in mind is that the REITs will provide a 1099-DIV to the investor and the IRS during tax season. 1099-DIV report dividend income and are generally easy to report on your taxes.
But REIT distributions are different than most dividend stock 1099-DIVs and will have multiple line items that are taxed differently.
REIT distributions may be treated as ordinary income, capital gains, and/or return of capital for tax purposes, each of which may be taxed at a different rate for different investors.
Investors in the private investments will receive a Schedule K-1 for partnership income. These complicate your taxes and often come after April 15th, meaning you'll need to file an extension or amended 1040 to stay compliant. With private investments, you may also need to file returns for the states in which the investment property is located.
Consider these consequences BEFORE investing in a private offering.
Conclusion – RealtyMogul Review 2022
RealtyMogul is mid-to-top tier real estate crowdfunding platform for its ability to offer both REITs and private real estate investments. The 1031 investment service is a distinguisher from other real estate crowdfunding platforms.
But for the most part, RealtyMogul is similar to other top-tier platforms such as Fundrise, EquityMultiple, and Crowdstreet.
There's plenty of room for several players in this area. Think of the size of the U.S. commercial real estate market (~$16 trillion), and these platforms are only six years old.
Not to say all crowdfunding sites will succeed. Dozens, if not, hundreds of sites have already folded or failed to launch.
That's why it's crucial to invest with one of the leaders in the space. RealtyMogul is among the leaders.
But if you are interested in investing in real estate crowdfunding, don't just do what RBD does. Browse reviews, read the offering circulars and take your time finding the right platform for you.
If you have any questions, feel free to email me about any of the platforms I mention on this site. I'll answer your question or pass it to people at the companies who can answer it for you. Thanks for reading my RealtyMogul review.
RealtyMogul Review
Ease of Use -

10/10

Transparency -

7/10

Diversification -

8.5/10

Fees -

7/10

Investment Selection -

7/10

Liquidity -

7/10
Summary
One of the pioneering real estate crowdfunding platforms, RealtyMogul offerings REITs and private investments for accredited and non-accredited investors. Private investment volumes are slowing in favor of REITs, but the REITs are strong offerings if you understand the fees. Management should consider simplifying the fee structure, aim to reduce fees, and prioritize a more clear explanation of fees on the website.
Favorite tools and investment services right now:
Credible* - Now is an excellent time to refinance your mortgage and save. Credible makes it painless.
Personal Capital - A free tool to track your net worth and analyze investments.
M1 Finance - A top online broker for long-term investors and dividend reinvestment (review)
Fundrise - The easiest way to invest in high-quality real estate with as little as $10 (review)
*Advertising Disclosure: RBD partners with Credible which offers rate comparisons on many loan products, including mortgage refinances and student loans. This content is not provided by Credible or any of the Providers on the Credible website. Any opinions, analyses, reviews or recommendations expressed here are those of the author's alone, and have not been reviewed, approved or otherwise endorsed by Credible. RBD is compensated for customer leads. Credible Operations, Inc., NMLS Number 1681276, not available in all states. 320 Blackwell Street, Suite 200 Durham, NC 27701.