Arrived Homes Review: Invest in Rental Homes Hassle-Free
This page contains links to our partners. RBD may be compensated when a link is clicked. Read disclosures.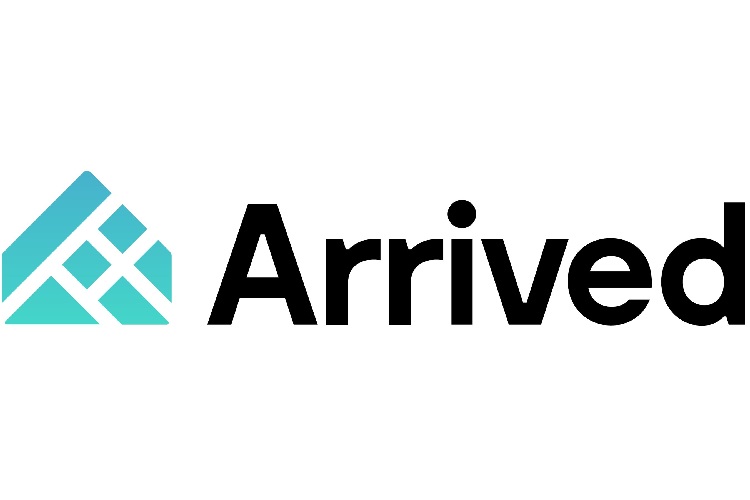 This Arrived Homes review was last updated on 11/29/2023.
---
Arrived Homes is a real estate crowdfunding platform allowing non-accredited investors (all U.S.-based investors 18 and up) to own shares of single-family and vacation rentals.
Arrived uses real estate crowdfunding laws to simplify the investor experience and broaden access to a Buffett-approved asset class with no operational hassles.
Real estate crowdfunding is a long-time RBD favorite way to invest for passive income and asset growth.
Investors receive quarterly dividends and participate in gains from property value appreciation.
Offerings by Arrived are qualified with the Securities Exchange Commission (SEC), reducing investor risk a giving non-accredited investors a chance to invest in individual properties.
Arrived boasts an impressive list of angel investors, including the venture capital entities owned by Marc Benioff (Salesforce), Jeff Bezos (Amazon), Spencer Rascoff (Zillow), and Dara Khosrowshahi (CEO of Uber).
I've invested in my first property and intend to continue small ($100 per property) and slowly build out a diversified portfolio to supplement my other income streams.
I'll make larger investments as I get more comfortable on the platform and update this Arrived Homes review as my experience matures.
Follow along as I build a real estate portfolio on Arrived. Check out my Arrived Homes returns.
A rival has emerged. The Ark7 real estate investing platform offers a similar product, but differentiates itself by offering a secondary marketplace.
Note: Conduct personalized due diligence to determine if Arrived is suitable for your objectives before investing. Arrived is a new company still in the early stages, so platform risk remains. There are valid questions about the sustainable growth and scalability of this model. RBD is an affiliate partner with Arrived. If you submit your email address to Arrived to browse properties, RBD will be compensated.
Arrived Homes Review Highlights
$100 minimum investment.
Non-accredited investors are welcome.
No operational hassles or personal liability.
Own single-family rentals and vacation rentals.
No obligation to sign up and browse property inventory.
NEW: Own the Single-Family Residential Fund (SFR Fund) for instant diversification.
Simple 1099-DIV tax reporting. Investing in states you don't live in will not trigger additional tax filing requirements. Self-directed IRA partnership available.
What is Arrived Homes?
Arrived Homes is a fintech startup allowing individual investors to invest in rental homes and vacation rentals. Buy shares of properties and earn rental income and appreciation — Arrived takes care of the rest.
Arrived is the first company offering shares of rental homes to the general public. The platform caters to people who want to invest in real estate but don't have the money for a down payment, patience, or fortitude to buy a rental home alone.
Multiple platforms exist to own portions of multimillion-dollar properties (such as EquityMultiple and Crowdstreet). But investors must be accredited to invest directly.
Fundrise allows non-accredited investors to own a pool of diversified real estate (including neighborhoods of single-family homes) through eREITs. But the funds are very large, and investors cannot choose individual properties.
Arrived Homes has enabled non-accredited investors to own individual properties by creating a new entity for each purchase and qualifying each investment with the Securities and Exchange Commission (SEC).
Government regulator approval helps to protect investors and opens the investment to millions of investors.
Arrived Homes gives investors the opportunity to pick and choose individual property investments as if they were buying real estate on their own. The minimum for each property is just $100.
With such a low minimum investment, investors can diversify around the U.S. with different kinds of single-family homes and vacation properties.
Arrived Homes is a public benefit corporation with a clearly stated stakeholder commitment.
Who is Arrived For?
Arrived Homes has a low eligibility hurdle for new investors.
They must be U.S.-based.
They must be 18 years old or above.
Should have a five-to-seven-year investing horizon.
The same qualifications will get you into Fundrise or the YieldStreet Prism Fund.
But Arrived Homes is for investors who want more control over their real estate investing. Investors can review each property to match their desired location and financial metrics to meet their investment objectives.
It's almost like buying individual stocks instead of an ETF. More control. However, once you own a property, there's no additional research.
Investors must be long-term focused. The homes purchased on the Arrived Homes platform have a five-to-seven-year investment horizon.
But as of November 2023, there's a new Single-Family Residential Fund (SFR Fund) that enables instant diversification among multiple properties and offers quarterly redemptions.
There is a quarterly liquidity option for the the SFR Fund, but no liquidity option for individual properties for now, though the company is working on a liquidity solution available in the future upon SEC qualification.
Why Single-Family Homes and Vacation Rentals?
In February 2012, just a few years after the real estate and banking crisis of 2008-2009, Warren Buffett said to reporter Becky Quick:
If I had a way to buy a couple hundred thousand single-family homes and had a way to manage it… I would load up on them. It's a very attractive asset class now. — Warren Buffett
Arrived has created a way to manage it.
That was a different time when mortgage rates were lower and home inventories more plentiful. The median sales price for homes has nearly doubled since Buffett's interview.
Since 2012, we've also seen the rise of services such as Airbnb and VRBO for vacation rentals.
Short-term rentals have traditionally yielded high returns, and the market is expanding due to shifts in domestic travel patterns and increased demand for vacation homes.
However, the costs and requirements of owning and operating a profitable rental property have typically been prohibitive for the average individual.
Arrived Homes has expanded to include vacation rentals as another income-producing asset for investors. Now, everyone who can afford to stay in a vacation rental can become an owner.
Furthermore, more institutional investors have been buying single-family homes for the last two decades. Arrived is another example of retail investors on a more level playing field, getting their shot at access to institutional-quality investments.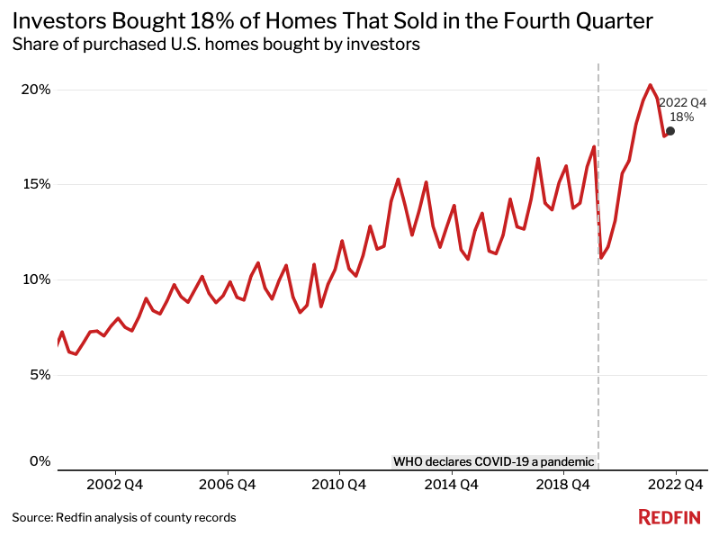 How Arrived Home Works
Here's a brief video describing how Arrived Homes works. After the video, I'll go a bit deeper.
Arrived simplifies the investor experience making real estate investing accessible to anyone.
Traditional rental home investing requires significant upfront research to find good deals, buy the home, fix it up, and rent and manage the property. There are substantial risks along the way, often dealing with flakey contractors and tenants.
I was a landlord for about eight years. Most of the time, there are no problems. But when problems arise, they can ruin a night's sleep or a weekend. I sold my rental and now invest exclusively in real estate crowdfunding.
The home-buying process at Arrived for individual investors is four steps.
Meanwhile, the company and its professional management companies deal with day-to-day operations.
The Investor Experience — The Four-Step Investment Process
Browse Homes – Browse and analyze pre-vetted homes and vacation rental properties for appreciation and income potential.
Select Shares – Choose the property and number of shares, then allocate funds to the selected properties.
Sign and Invest – Review the terms, sign an online contract, and transfer funds (via a linked bank account) to complete the investment.
Earn – Investors passively earn their share of rental income and watch the property appreciate. Dividends get deposited into the connected bank account. Arrived is not a bank and does not hold your cash, though this could make sense in the future.
I've gone through this process and the onboarding experience is clean and straightforward. When you provide your personal information, Arrived Homes explains why they need to collect your address, SSN, etc.
Each property "IPOs" at $10 per share with a 10-share minimum. The share price fluctuates as the value of the property changes, based on independent 3rd party property value estimates.
Here's a screenshot of what it looks like when you purchase shares in a property.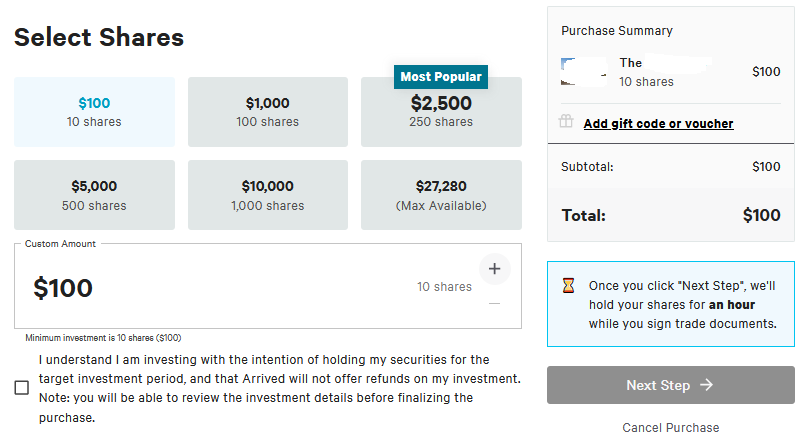 The next step requires the investor to read the purchase agreement and sign the documents.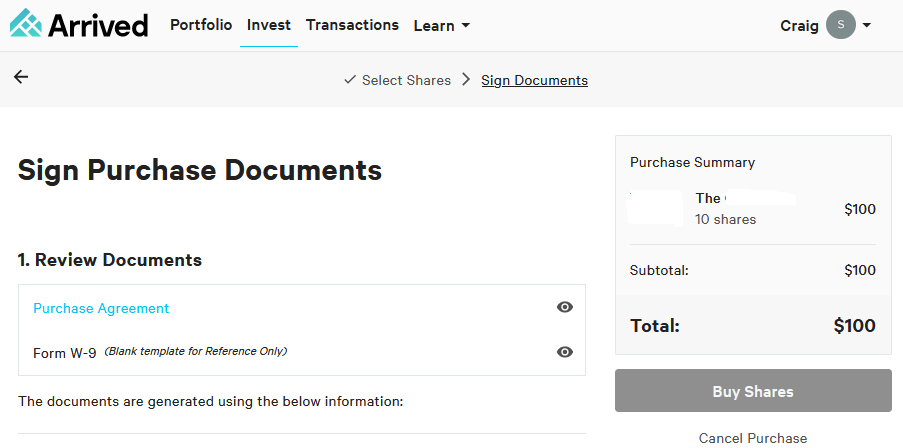 And that's it. The property appears in your Portfolio page, and Arrived performs an ACH transfer to collect the investment money.
Investors start collecting a quarterly dividend on the property a few months after the purchase closes.
After five-to-seven years, the company will decide when it's the right time to sell. Upon the sale, investors will benefit from any capital gain or loss after fees.
In the Background — Arrived's Role
Arrived has done an impressive job of simplifying the investor experience. It's the cleanest investing experience I've had on a crowdfunding platform.
Meanwhile, the company is working hard in the background:
Identifying and purchasing properties
Qualifying the investment with the SEC
Setting up legal entities for limited liability
Hiring and monitoring property managers
Identifying Properties
Arrived uses data science to identify profitable real estate markets and select properties with high returns.
They analyze multiple markets for cash flow and appreciation potential, select desirable neighborhoods and property attributes, and present each property and financial analysis to an investment committee for review.
The process ensures they only acquire properties that maximize investor returns.
For vacation homes, Arrived uses short-term rental from a tool called AirDNA which aggregates data from more than 10 million Airbnb and VRBO properties worldwide.
Here's a map of where Arrived purchases have taken place: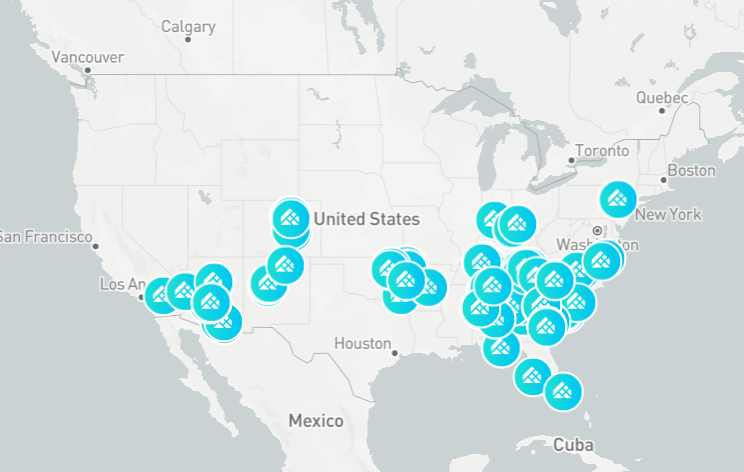 SEC Qualification
The Securities and Exchange Commission (SEC) has a three-part mission:
Protect investors
Maintain fair, orderly, and efficient markets
Facilitate capital formation
Without getting into the details, Arrived uses Regulation A to qualify each property. The process requires tedious SEC filing paperwork, but it enables more investors to participate on the platform and reduces investor risk. Arrived has prioritized SEC qualification from the beginning, systematizing the processes in their control.
Here's a diagram of the process that Arrived follows to bring an investment live on the platform.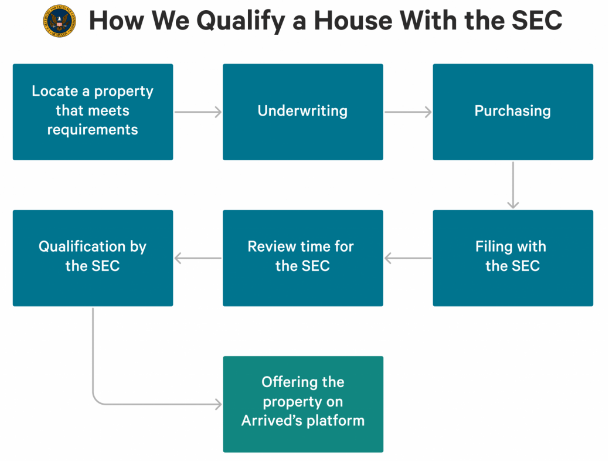 While working with the SEC can add complexity and make our process longer, we at Arrived think it's necessary. The only way to democratize access to the real estate market is to allow anyone to invest, and the best way to do it is to do it in a way that provides maximum protection for those investors.
Here's a link to the SEC filings.
TO BE CLEAR: SEC qualification doesn't guarantee a risk-free investment. Problems still happen. The SEC isn't perfect, and these filings may not get sufficient scrutiny. Invest at your own risk.
Legal Entities for Limited Liability
Arrived has followed the standard model of other crowdfunding platforms (including EquityMultiple and Masterworks) by setting up a separate limited liability corporation (LLC) legal entity for each property.
Each property is in a separate LLC, making it possible to fractionalize the properties.
When investors buy shares in a property, they are actually purchasing shares of the LLC that owns the property. Each has its own bank account and ownership structure.
The LLC protects shareholders from personal liability. It's also taxed as a REIT for optimal tax treatment.
If, for some reason, Arrived fails as a company, the LLC will continue to hold value as long as the underlying property retains its value.
In the unlikely event that Arrived ceases to operate, we would simply assign a new custodian that would make all major decisions (like what property manager to use, when to liquidate the property, etc.).
There's precedence for this scenario.
One of the first crowdfunding sites I invested on was RealtyShares. RealtyShares failed because it spent carelessly on internal operations and couldn't get new venture capital financing. When it suddenly shut down, it transferred operations to a new custodian, and the investments carried on with a new overseer.
Hiring and monitoring property managers
Arrived cannot manage hundreds of properties spread across the U.S. on its own. So it partners with local property managers to handle the day-to-day operations of finding tenants, collecting rent, and fixing maintenance issues.
Property managers specialize in long-term or short-term rentals.
Looking through previous deals, you can see that the vacation rentals have links to their Airbnb page and provide a bio of the short-term manager, or "hosts", as Airbnb calls them. These are experienced management companies that manage dozens of local properties.
Arrived Homes Fees (How Arrived Homes Makes Money)
Arrived Homes is transparent with fees. These are clearly disclosed throughout the site and FAQs and on individual properties.
Fees are required to pay employees and operate. All platforms charge fees. The more transparency and simplicity, the better.
Arrived Homes charges investors two primary fees: sourcing and AUM.
Sourcing Fee (One-time)
Arrived charges a fee for finding and preparing a property for investment, which covers any financing or holding costs. The fee is included in the raise amount and share price and is a one-time charge. Investors can find the sourcing fee for each property in the Offering Details section.
Long-term rentals: 3.5% of property purchase price
Vacation rentals: 5% property purchase price
Quarterly AUM Fee (Assets Under Management)
Arrived collects a quarterly AUM fee from rental income to cover various services. These include tax preparation for investors, dividend distribution, insurance procurement, claims filing, ensuring property taxes and loan payments are paid, financial accounting, and overseeing third-party property management.
Additionally, they conduct a competitive analysis of rental rates, review property improvements, and manage expenses.
Long-term rentals: 0.15% of the property purchase price (quarterly)
Vacation rentals: 0.125% of the property purchase price (quarterly)
Vacation rentals have an additional Gross Rents Fee of 5% of gross revenue.
Property Management Fees
The above fees are separate from property management fees, which come out of cash flow (reducing the dividend distributions). Property management fees are the cost of enabling this business model to work.
Investors don't pay the fee, but it reduces property cash flow like normal real estate investing.
The current property management fee for long-term rental properties is 8% of the gross rental income.
The property management fee for vacation properties is between 15% and 25%, depending on the market. These are specified on each property page.
In addition, property managers may levy one-time charges for services such as lease-ups, renewals, and rehab and turn support.
Arrived Homes Liquidity
Currently, investors in Arrived's individual real estate offerings cannot offload their shares until the property is sold. Arrived management decides when to hold or sell a property.
Arrived's investment period for property offerings is typically five-to-seven years. Investors should plan to hold for the entire period.
The Single-Family Residential Fund, new in November 2023, offers quarterly liquidity.
The company has filed for a broader redemption program with the SEC but is still pending review. Early redemption requests are not currently supported for individual properties, and fees may be associated with the service when available.
I'm willing to invest small amounts over time to build a portfolio of properties. I intend to refrain from withdrawing the money even if a liquidity option becomes available.
If liquidity is a concern, consider owning the Single-Family Residential Fund which offers quarterly liquidity. waiting until a liquidity solution is built into the platform.
Another option is the Ark7 real estate investing platform, which offers a similar opportunity with the addition of a secondary marketplace for liquidity.
Arrived Homes Taxes
Investors will receive a form 1099-DIV for reported quarterly dividend distributions and capital gains taxes (upon a property sale).
Single-family residential sales will be taxed as capital gains at capital gains rates. Capital gains are also reported on the 1099-DIV.
Vacation rentals' capital gains will be taxed as ordinary income rates, not capital gains rates.
Tax-Advantaged Investing
Investors can choose to invest through a checkbook IRA, a type of self-directed IRA. Arrived has partnered with Rocket Dollar for checkbook IRAs.
Only choose this option if you intend to invest high dollar amounts. Rocket Dollar charges a minimum of $15 per month for the service, quickly reducing the benefits of tax-advantaged investing.
AltoIRA has a more economical option and should work similarly.
Leverage
Investors fully fund most properties I've browsed — 0% leverage (borrowing). Arrived has enough demand for most properties to avoid the need to borrow at today's high interest rates.
Funding properties with 100% investor cash eliminates a usual cost of real estate — interest expense.
Arrived partially funds certain properties with 50% or 70% leverage to potentially increase investor returns.
Investors can choose to invest in properties that use leverage or not. Some properties are "Strategic Refinance Candidates," which start at 0% leverage, but management may choose to use leverage if rates decrease to increase returns.
The platform clearly indicates the leverage profile for investor consideration.
The Single-Family Residential Fund (SFR Fund) — New November 2023
The Arrived Single Family Residential Fund facilitates easy investment in rental properties.
Investors achieve instant diversification across various properties and markets by purchasing fund shares.
The fund continuously grows with the addition of new homes, aiming to become a transparent and broad-reaching real estate investment trust (REIT) compared to traditional single-family REITs.
Managed by the Arrived platform's expert investments team, the fund operates as a private REIT.
Note: liquidity options entail additional fees; refer to the redemption fee schedule below for details.

Read the Offering Circular here. The fund is offered via Regulation A, meaning it can raise up to $75 million during a 12-month rolling basis. The limit suggests the fund could hold between 100 and 200 properties per year.
Since the fund is specifically tailored to single-family residences, Arrived has said that a future vacation rental fund is a possibility.
Arrived Homes Benefits
Low minimum investment – $100
Diversify your investments – Invest in multiple real estate markets, properties, and asset types (SFH, vacation). Own the SFR Fund for instant diversification.
No operational responsibility – Arrived handles operations.
Passive and consistent income – Investors receive quarterly rental payments ("dividends").
Top renters – Long-term tenants have the option to become co-investors by buying shares in the rental property they are staying in.
Benefits from scale – Processes in place to systematize SEC filings and operations.
No personal liability – Zero personal liability for investors from lawsuits or personal guarantees for financing debt.
Lucrative markets – Access out-of-state markets with the highest returns. No additional state tax filing requirements.
Sample Property Screenshots
Many of the homes on Arrived are single-family properties in new suburban development. These are growing markets with affordable housing. New homes attract quality tenants and have limited maintenance issues.
The following screenshots are taken from the platform to show what data is provided before investing. Curious readers can sign up to browse properties yourself to see how it works.
Here's a typical property and the associated information provided. Notable items to highlight below include:
Property leverage profile
Dividend yield and first payment
The sourcing and AUM fees
Links to SEC documentation
---
Each property includes pictures, beds, baths, the year built, and the address. This is a zero-leverage property.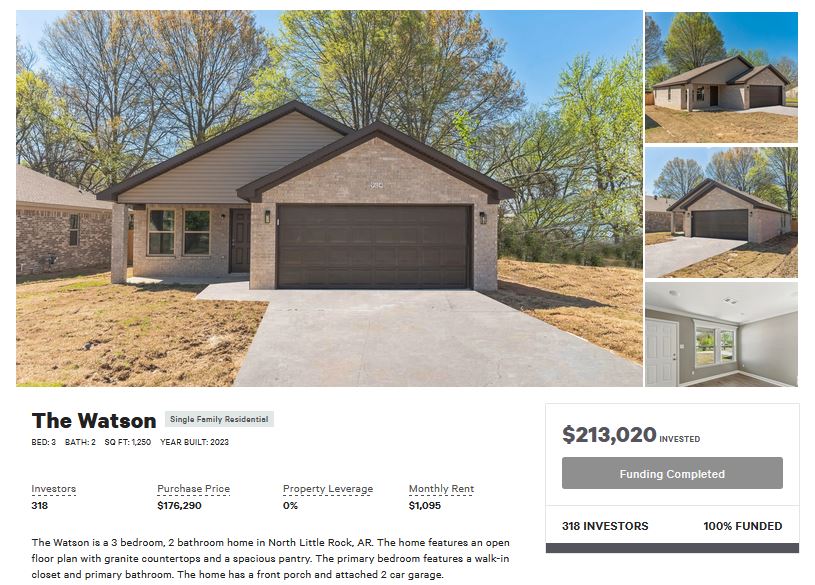 ---
Here's information about the timing of placing a tenant and paying dividends.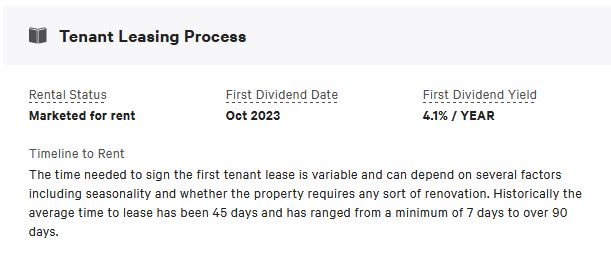 ---
Historical information about returns. Past performance is not indicative of future results.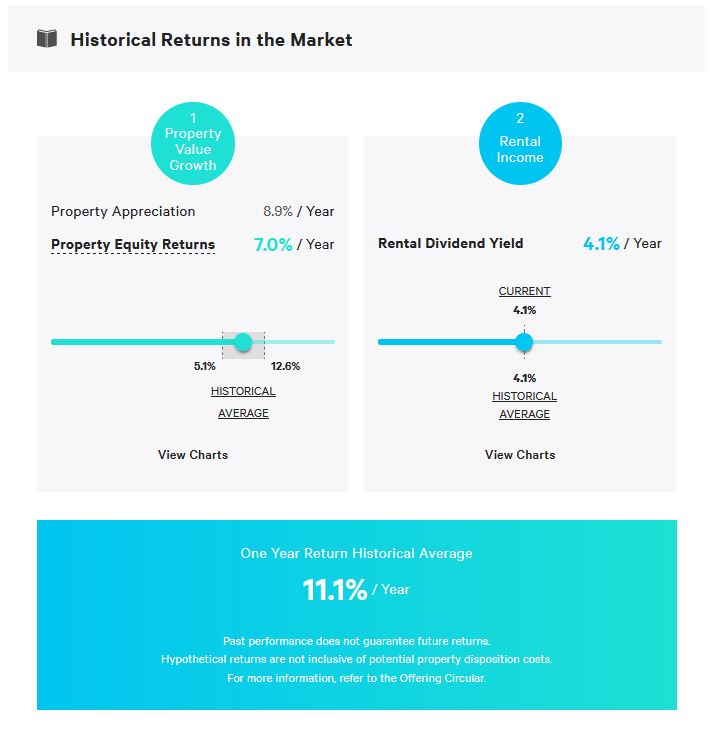 ---
This section shows additional leverage information (more useful when there is leverage).

---
Purchase price, costs to improve the property, closing costs, and the sourcing fee. This section also shows the share prices and total number of shares.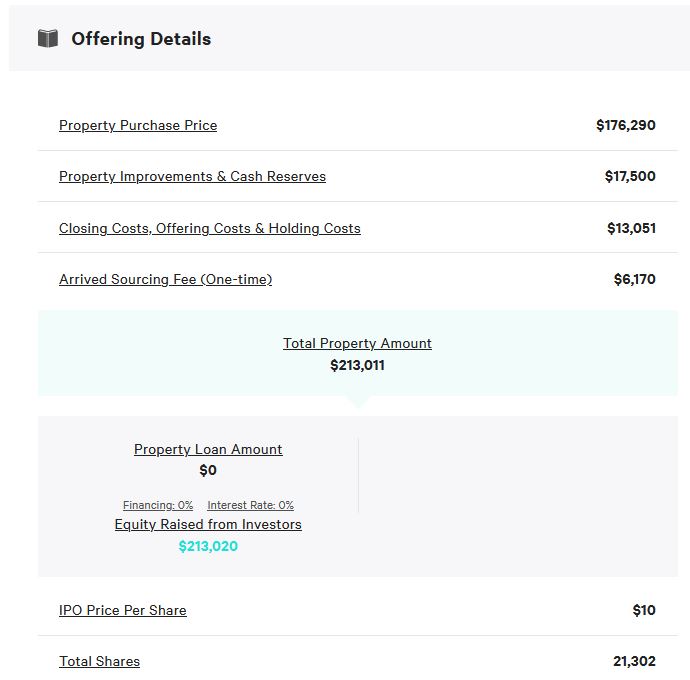 ---
Here's the AUM fee charge quarterly on the property and extremely helpful links to all SEC filings.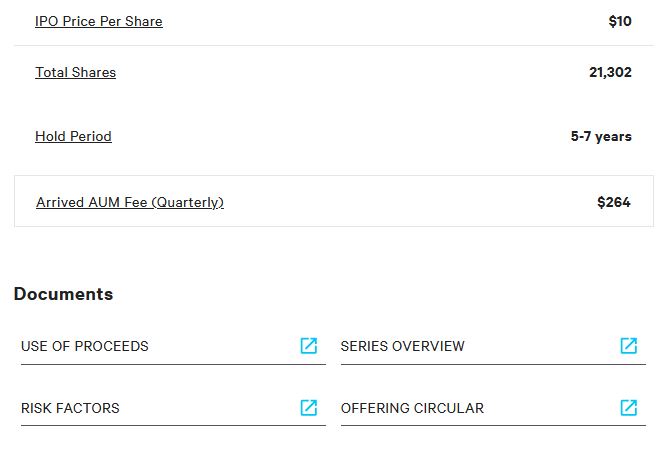 Arrived Homes Risks and Annoyances
Visit the offering circular page to review the SEC documentation for a full list of stated risks. You can also find detailed financials for the more than 250 properties active on the platform.
Significant capital loss risks in this investing endeavor is limited. Each property is professionally managed, insured, and has limited liability. LLC owners retain property ownership, which can always be sold for the asset value amount.
Many of these properties are new builds. Investors should reduce risk by diversifying into dozens of properties.
Real Estate Risk
This is real estate, so there is always the risk of:
Home prices falling after purchase
Tenants not paying rent
Building damage from tenants, fire, or natural disasters
Bad property managers
Recognize that all standard real estate risk is still involved. Invest accordingly.
These kinds of issues can delay dividend payments, skipped dividends, and reduce the asset value of your investment.
Longer investment horizons lower the risks.
Platform Risk
New platform with a novel business model — the platform may not succeed.
Inability to hire and scale — Automation and processes help, but the burden of SEC filings and property management issues will increase as they scale.

Lowering investment standards — When investor demand is high, there may be a temptation to acquire lower-quality properties.

Tax headaches — delayed tax forms, incorrect data, etc.
Annoyances
Limited inventory — Properties sell out quickly. If you miss the email, you might be shut out of new investments, cramping your ability to diversify.
Liquidity — This is a clear downside for individual properties. However, the company launched the SFR Fund which offers quarterly redemptions.
SEC delays — Some properties may get held up by the filing process. SEC qualifications are out of investor and platform control.
High maximum investment — The maximum investment per property is 10% of the equity available. For a $100,000 property, the max for one investor is $10,000. Theoretically, just 10 investors could gobble up the shares of a given property. If this is a significant problem, Arrived can lower the maximum percentage to loosen demand.
Arrived Homes Comparison
Over the years, we've explored various real estate investing opportunities. They include:
I learned about Arrived in May 2022 but didn't have the capacity to research and review the platform due to my full-time job commitments.
Arrived struck a chord with me immediately because if I were to invest in real estate properties again, I would choose single-family homes. Near me, unfortunately, properties are too expensive to buy and manage on my own.
I'm not attracted to out-of-state rentals or turnkey on my own because of the large down payment and distance. I'd also be required to find and monitor a property manager, and owning just one property increases the risk.
With Arrived, we can own small portions of out-of-state rentals from our internet browser. There's little to do besides monitor your investment portfolio and evaluate new properties as they become available.
Conclusion — Arrived Homes Review
Arrived Homes ticks several investment checkboxes:
Diversification
Passive income
Exceptional asset type
No hassle, no personal liability
Income and asset appreciation potential
Low tax reporting obligations (1099-DIV only)
Tax-advantaged options (checkbook IRA) are available
Furthermore, it's one of the friendliest user experiences I've encountered on an investing platform. I'm still a new investor, so as my investments grow and mature, I'll update this review and add Arrived to listicles where relevant. I'll also update my Portfolio page as the investment becomes more significant.
Though Arrived is a somewhat new platform (the first properties went live in February 2021), it is backed financially by some major investors such as Jezz Bezos and Marc Benioff, who believe this model is scalable. Learn more about the Arrived Homes stock ownership and company structure.
Compared to traditional real estate investing, operating Arrived and managing property costs will reduce returns compared to owning properties outright and getting the tax benefits. However, Arrived has enough investors to avoid borrowing costs. That's a differentiator in a high-interest rate environment.
Arrived eliminates the headaches of real estate investing by taking care of the acquisition and management while allowing investors to benefit from an asset class that was previously more difficult to access on crowdfunding platforms.
Arrived Homes Review
Ease of Use -

10/10

Transparency -

10/10

Diversification -

9.5/10

Fees -

9/10

Investment Selection -

7.5/10

Liquidity -

8/10
Summary
The Arrived investing platform has one of the best user experiences I've tested. Navigation is straightforward and the onboarding and purchase processes are streamlined. Fees are reasonable and risks are clearly discussed and noted where relevant. FAQs are thorough, covering most scenarios I could think of. The platform makes it easy to diversify among properties when properties are available. Investment selection can be limited when you sign up, so pay attention to when new properties become available because they may sell out fast. Investments are also limited to certain geographic locations. The company must prove it can scale purchases without reducing investment quality, but may face headwinds in tight inventory markets and volatile times.
Pros
$100 minimum investment
All U.S.-based investors eligible
Access to home and vacation rentals
Public benefit corporation
SFR Fund provides instant diversification
Cons
Limited inventory, high demand
Liquidity; better for SFR Fund
New platform; untested in volatile property markets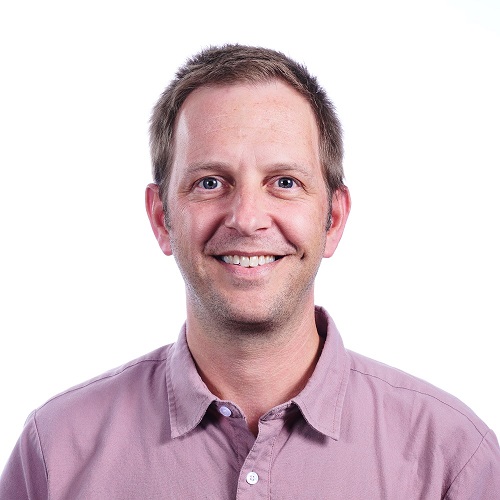 Craig is a former IT professional who left his 20-year career to be a full-time finance writer. A DIY investor since 1995, he started Retire Before Dad in 2013 as a creative outlet to share his investment portfolios. Craig studied Finance at Michigan State University and lives in Northern Virginia with his wife and three children. Read more.
---
Favorite tools and investment services right now:
Sure Dividend — A reliable stock newsletter for DIY retirement investors. (review)
Fundrise — Simple real estate and venture capital investing for as little as $10. (review)
NewRetirement — Spreadsheets are insufficient. Get serious about planning for retirement. (review)
M1 Finance — A top online broker for long-term investors and dividend reinvestment. (review)