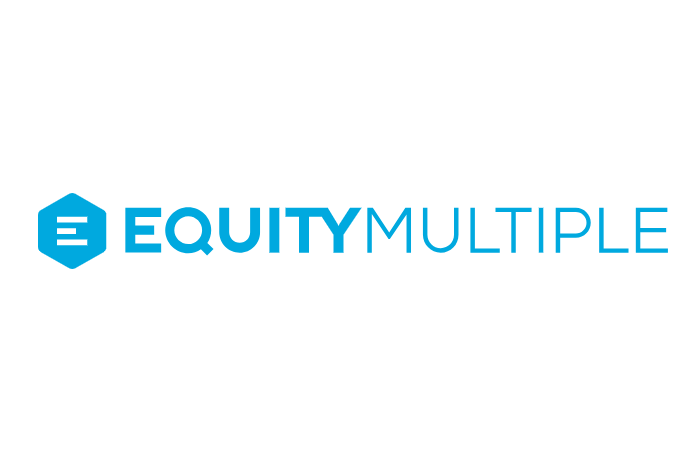 This EquityMultiple review was last updated on 12/27/2021.
---
EquityMultiple is a real estate crowdfunding platform that connects accredited investors to high-quality pre-vetted commercial real estate investment opportunities.
The company partners with experienced lenders and real estate companies operating around the United States to source deals for its platform investors.
The company thoroughly vets each sponsor and proposed market opportunity, seeking attractive risk-adjusted target returns for investors. Exhaustive due diligence is performed on each project to determine which deals are qualified for their platform investors. Less than 10% of deals analyzed are listed on the platform.
From this curated set of heavily scrutinized properties, EquityMultiple opens the investment opportunity to its investors who are given ample information to perform another layer of analysis before investing.
Target rates of return range from 6% to 17%+ over durations of 6 months to five years.
As of 11/04/2021, EquityMultiple has achieved historical returns of 17.4% (XIRR), with total capitalization of projects participated of $3.06+ billion.
Since founding, investors have invested $172 million on the platform.
Note: Investing in individual real estate properties through a crowdfunding site such as EquityMultiple carries significant risk. Do not invest money you cannot afford to lose. Please perform your own due diligence before committing any money to any investment opportunity. The EquityMultiple platform is for accredited investors only.
What is Real Estate Crowdfunding?
Congress passed the Jumpstart Our Business Startups Act (JOBS) in 2012 which set the foundation for equity crowdfunding.
Equity crowdfunding is similar to more established crowdfunding on sites such as Kickstarter but allows for the exchange of equity for early investments.
The JOBS Act has created more options for early-stage companies to raise money, including crowdfunding and mini-IPOs, also known as Reg A+ IPOs. Companies can raise up to $50,000,000 per fund via Regulation A of the JOBS Act.
Websites like SeedInvest and StartEngine now make it easy buy speculative equity stakes in very early stage companies.
Real estate crowdfunding was not the primary intent of the JOBS Act. However, it has seen the most growth.
Since the passing of the JOBS Act, at least 100 real estate crowdfunding sites have emerged because the opportunity is so big. But the top tier companies do most of the volume. In addition to EquityMultiple, other significant platforms include Realty Mogul, CrowdStreet, and Fundrise.
The potential for real estate crowdfunding is huge. These platforms are quickly taking a share of the real estate project funding landscape. But crowdfunding is still in its infancy. Now, high-quality commercial and multifamily residential real estate investments, once reserved for wealthy individuals and established companies, are available to ordinary investors.
EquityMultiple 2022 Review for Investors
The EquityMultiple platform is for accredited investors looking to increase the overall risk/return profile of their investment portfolios by investing in syndicated real estate deals.
Investors should have significant capital available for long-term investments. Syndicated real estate investment deals may have durations greater than five years with limited or no liquidity.
Commercial and large multifamily real estate carries significant advantages over single-family residential or small multifamily deals.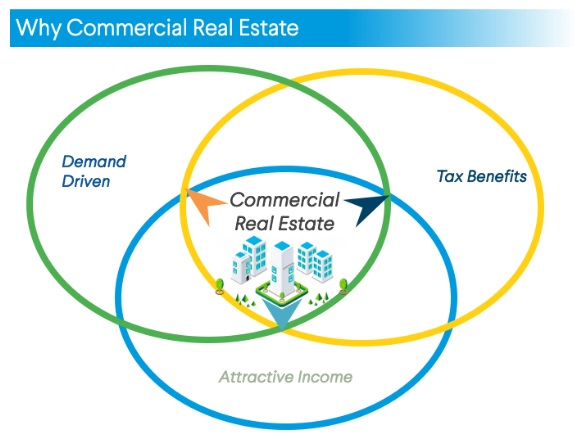 EquityMultiple deals are typically valued anywhere from a few hundred thousand dollars to a hundred million dollars or more. EquityMultiple investors typically fund a fraction of the money for a greater syndication deal.
Here's a quick video synopsis that explains it very well:
How it Works
EquityMultiple has a national network of real estate companies seeking opportunities across different property types. They evaluate each project and partially invest with their own funds, aligning their interests with EquityMultiple investors and providing a first layer of diligence.
National and regional lenders with significant experience, real estate companies operating in thriving primary markets, and sponsors a proven record of meeting and exceeding return projections. This network bolstered by a unique real estate partnership.
EquityMultiple is the only online investing platform backed by an established real estate company, Mission Capital, a leading national real estate capital markets firm.
After vetting the project Sponsor, EquityMultiple evaluates the market and key metrics. Each deal must pass a proprietary due diligence process before entering the next phase.
Key metrics include properties in strong markets with current cash flow and value-add projects with construction components and aggressive business plans.
For projects that survive initial due diligence, we stress test underwriting assumptions, review key legal documents and third party reports and consider transaction structure. A select few are presented on our platform.
What You're Investing in
EquityMultiple offers a range of property types, including multifamily, office and industrial, and a range of investment structures, including debt, preferred equity and equity.
All real estate deals are unique, but each deal is put through the same rigorous vetting process. Once the diligence is completed, the opportunity is introduced to investors on the platform.
When you invest in a particular deal, you're actually purchasing an ownership interest in the deal-specific LLC, which in turn invests into the underlying project.
As a part owner of the LLC, you're entitled to your share of any income or losses generated by its investment in the underlying deal. This structure provides an important layer of protection for investors, as it helps insulate each investment from financial issues related to other investments or the parent company.
Should EquityMultiple become insolvent as a company, the LLCs are designed to continue to exist independently even if their parent company files for bankruptcy.
Investment Structures
EquityMultiple offers three primary types of real estate investment deals.
Debt
Most debt investment offerings on EquityMultiple will be secured by the underlying real estate or by an interest in the property-owning entity. Investors do not participate in the upside of the project.
In the event of a senior loan investment, foreclosure may be available as a remedy in the event of failure to pay.
Target returns range from 7%-12% and deals last from 6 to 24 months.
Preferred Equity
Preferred equity investments off investors a fixed monthly or quarterly payment with the potential for some limited upside gains.
These types of investments are not secured but do offer priority of payment. In other words, investors will typically be entitled to receive a preferred return and return principal before the common equity investors or sponsor.
Total target preferred returns range from 11%-17% and deals last from 1 to 3 years.
Equity
Common equity investments offer the potential for uncapped upside, but a significantly higher risk of principal loss because debt holders and preferred equity holders (if any) are generally entitled to be paid before common equity holders receive payment.
Investors are on the same economic terms as the sponsors and other deal participants, aligning returns with overall deal success.
Target internal rates of return (IRR) are expected to be 14%+ and deals last from 2 to 5 years.
Due Diligence
A unique aspect of real estate crowdfunding is the multiple layers of due diligence. First, the sponsoring lending or real estate company analyzes several deals to find a lucrative opportunity.
EquityMultiple vets each partner and sponsor to evaluate past performance and track record on real estate deals. Once determined a suitable partner, EquityMultiple then performs another layer of due diligence on a proposed deal.
Each property is analyzed for market strength, comparable properties, and financials in addition to the sponsor background. EquityMultiple typically passes on 90% of deals.
A final layer of due diligence is then performed by each individual investors. Deal information is available via secure login to the EquityMultiple website. Investors also usually have the opportunity to ask direct questions to the sponsors.
Diversification
Proper diversification investing in real estate on the EquityMultiple platform requires a relatively large sum of money. The minimum deals can be as low as $5,000 to get started. However, most require a $10,000.
Therefore, to invest in five properties you'd likely need $50,000.
All on one platform, investors can diversify across markets, asset types, cash flow profiles, and debt and equity investments.
Sample Deal
The detailed information available to investors for transparency and due diligence is at the top of all real estate crowdfunding platforms that I've evaluated.
Below is a sample deal of a recently available property on the platform.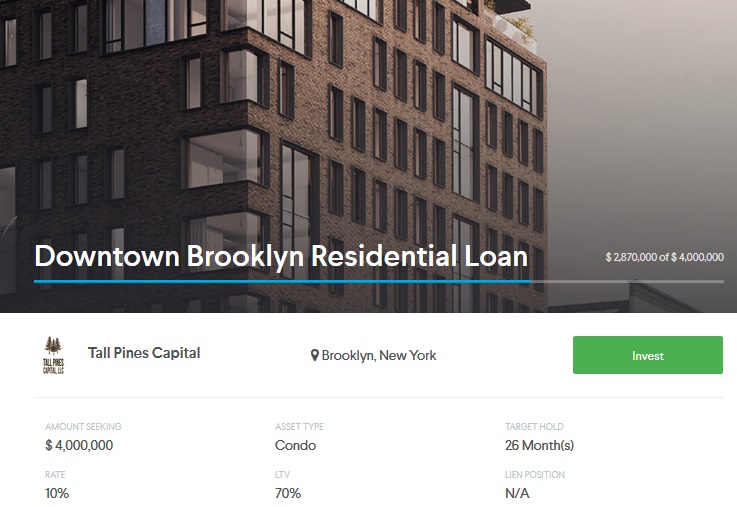 This opportunity is for a mezzanine debt loan that is supplementing a larger lender in the development of a to-be-built 63-unit luxury condominium development in Downtown Brooklyn, New York.
The borrower is an institutional real estate development company with several similar deals under its belt.

Investors will earn 10% interest with a target hold of 26 months. Interest will be paid monthly. As in all deals, distributions are paid via ACH directly into the investor's bank account.
The property is in a prime location with a strong sales market for luxury condominiums. The minimum to invest is $20,000.
Here's a video highlighting more about the deal.
Fees
Fees are charged over the course of each deal and are largely dependent on the success of the investment. Fees are structured this way to better align the interests of EquityMultiple and its investors.
Once an equity investment has been made, EquityMultiple charges investors an annual fee of 0.5% of the total investment amount. It's paid periodically to cover ongoing investor reporting, tax preparation, and communications relating to the investment. EquityMultiple also receives 10% of investor profits after investors have received all of their initial investment back.
Debt and preferred equity investments fees are structured differently. For these types of deals, EquityMultiple typically takes a servicing fee in the form of a "spread" between the interest rate paid by the sponsor and the investor. They also charge an origination fee and other charges typically associated with initiating a real estate loan or preferred equity investment.
Additional fees to investors may be assessed in the event of a default.
Account Types
Investors can invest on the EquityMultiple platform through different account types including individual accounts, self-directed IRAs, an LLC, LP, or Trust.
EquityMultiple has partnered with Millennium Trust for Self-directed IRA services.
Taxes
Investments are taxed based on the type of account used by the participant. During tax filing season, investors will receive tax forms for reporting on their tax returns.
For equity deals, investors will typically receive a form K-1. For debt and preferred equity investments, you'll be issued either a form 1099 or form K-1.
In real estate crowdfunding, debt-only deals usually require the filing of a 1099. This is the easiest form to file and does not usually require filing state taxes in the state in which the property resides.
Equity deals will typically require filing a return in the state in which the investment resides.
This is not tax advice and I am not a CPA or attorney. Consult your own for advisement. But bear in mind, these investments may trigger additional filing requirements including forms and out-of-state filings.
Handling of Defaults
All investments carry risk. Investing in individual real estate debt and equity carry a significant risk of default. Do not invest in EquityMultiple if you cannot withstand total investment losses.
In the event of a sponsor default, the remedies will vary according to the investment structure and the negotiated remedies of that particular investment.
According to the FAQs:
In general, EquityMultiple and or its affiliate will have limited cure rights and may be able to replace the manager in certain limited circumstances. EquityMultiple or its affiliate will, in its sole discretion, exercise the available remedies as it deems necessary to protect the best interests of investors.
EquityMultiple Review 2022: Comparison to Other Real Estate Crowdfunding Platforms
EquityMultiple is for accredited investors only. That means an individual or married couple must have a net worth of at least $1,000,000 (excluding the value of their primary residence). Or, have an income of at least $200,000 each year for the last two years for a single person, or $300,000 combined for a married couple.
If you are not an accredited investor, I recommend other real estate crowdfunding platforms such as Fundrise or Realty Mogul.
While EquityMultiple empowers investors to participate in higher risk, higher reward opportunities, Fundrise's investments are in eREITs and eFunds.
This means several real estate properties are lumped into each fund. Investing in eREITs gives you broader diversity, more stability, and lower long-term returns. eREITs are different than traditional REITs you find trading on the stock market because they are non-traded.
Their prices do not fluctuate based on the markets.
Read more: Fundrise review.
RealtyMogul also provides non-traded REITs to non-accredited investors. However, they also provide individual real estate opportunities along the lines of EquityMultiple.
Another popular crowdfunding platform for accredited investors is PeerStreet. PeerStreet takes a similar approach to investing as the peer to peer lending platform, LendingClub.
Platform investors fund real estate debt with several small minimum investments ($1,000 minimum). PeerStreet only offers debt investments, limiting returns. However, it does allow for shorter and more liquid investment durations, and broader diversification.
All loans are first lien, meaning in the event of default, PeerStreet should be able to recover investor principal and they've demonstrated this capability.
Conclusion – EquityMultiple Review 2022
The bottom line is that if you are an accredited investor and want to add higher risk/return investments to your portfolio, EquityMultiple is a good place to invest. It's geared toward more sophisticated investors. Participants in any deal should be capable of analyzing properties and financials before committing capital.
EquityMuliples empowers investors to invest alongside professionals and reap the rewards of broad market access and stringent due diligence.
EquityMultiple Review
Ease of Use -

9.5/10

Transparency -

10/10

Diversification -

8.5/10

Fees -

8.5/10

Investment Selection -

8/10

Liquidity -

8/10
Summary
EquityMultiple is a modern platform that puts transparency and deal quality first. You can utilize the platform to diversify among various real estate types, geographic regions, and sponsors. Due to vigorous underwriting and high demand, deals may not be readily available when your money is. Money is tied up for long-periods as is expected in real estate deals like these. Risk is higher due to investing in individual deals, but returns increase commensurately. There is no established secondary market but exits may be possible on a case-by-case basis.
Favorite tools and investment services right now:
Credible* - Now is an excellent time to refinance your mortgage and save. Credible makes it painless.
Personal Capital - A free tool to track your net worth and analyze investments.
M1 Finance - A top online broker for long-term investors and dividend reinvestment (review)
Fundrise - The easiest way to invest in high-quality real estate with as little as $10 (review)
*Advertising Disclosure: RBD partners with Credible which offers rate comparisons on many loan products, including mortgage refinances and student loans. This content is not provided by Credible or any of the Providers on the Credible website. Any opinions, analyses, reviews or recommendations expressed here are those of the author's alone, and have not been reviewed, approved or otherwise endorsed by Credible. RBD is compensated for customer leads. Credible Operations, Inc., NMLS Number 1681276, not available in all states. 320 Blackwell Street, Suite 200 Durham, NC 27701.