Updated 07/01/2019: The table is now sortable. Completely updated. Scroll down the page to find the current list of debt-free S&P 500 companies. This list is updated on regular basis.
For a list of debt-free S&P 400 mid-cap companies, click here.
The easiest way to own all the debt-free stocks is through M1 Finance. M1 Finance is a no-fee online brokerage, completely free to invest. Using M1 Finance, you can create a "Pie" which is a group of stocks to invest in all at once. Very cool way to invest for long-term investors. Read my M1 Finance review here.
---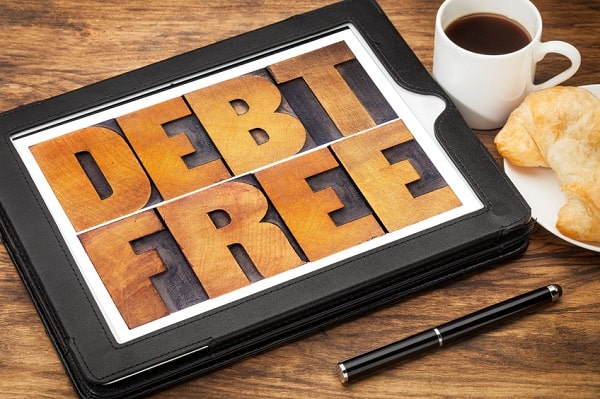 How much debt is on the balance sheet?
That's one of the first questions I answer when I'm evaluating a stock. Companies borrow money for a myriad of reasons including to launch business lines, fund acquisitions, fund operations, and sometimes to fund distributions to shareholders.
Smart MBAs sit in office suites and perform elaborate spreadsheet wizardry to try and determine what is the optimal level of debt to maximize profits. It's complicated. I took a corporate finance class in college and hated it.
But I can still look at a balance sheet and determine if I'm comfortable with the amount of debt held or not. Sometimes companies get too aggressive and think they can borrow lots to make more money. But business and market conditions can change.
Borrowing can get out of hand. When there isn't enough money to cover the debt payments, that's when bankruptcies occur.
But nobody ever went bankrupt while debt-free.
An Updated Resource for Risk-Averse Investors
Debt-free companies are some of the safest for investors because there are no debt payments hindering cash flow, and the risk of going under due to debt default is obviously zero.
However, the perception to some is that if a company doesn't borrow money, it's not taking enough risk to spur growth and is, therefore, falling behind competitors. Especially with today's low rates.
If your investment risk tolerance is low, this list may be an attractive starting point for further investment research.
There's been a lack of resources to easily identify these companies where the list is consistently updated. Most existing lists have become outdated or were never complete. My list will stay updated.
The list of companies has been shrinking. Many that were debt-free have fallen to the temptation of low-rate money. This could be a good thing.
Apple (AAPL) and Microsoft (MSFT) are two high-profile companies that were debt-free for a very long time but are no longer. Perhaps we should applaud companies for taking advantage of low rates in order to grow their businesses.
But not taking advantage of low rates doesn't mean the company is bad. Conservative, maybe. Or maybe they just have all the capital they need to grow.
Due to investor demand for a current and updated list of debt-free S&P 500 companies, I've compiled this list and plan to update it quarterly.
Of course, this list doesn't tell the whole story. Some companies have low amounts of debt and more cash on hand to cover the debt if needed. They may also be worthy of consideration. But I'm only covering completely debt-free companies for now. And I'm only covering the S&P 500 index on this page.
If you want even more stocks, I've compiled the equivalent list for the debt-free S&P 400 mid-cap companies too.
Before looking at the list, I'll explain how I identified these stocks.
Screening Criteria
To find the list of debt-free S&P 500 stocks, I played with various stock screeners and filtering tools around the internet to find tools with access to the necessary data sets. Few were sufficient. Turns out, the best screener I could find was in my own TD Ameritrade account.
My screen had two constraints:
Index = S&P 500
Debt to Capital = 0%
Once I screened the debt-free companies, I cross-checked each balance sheet to verify the companies had no long or short-term debt. Company balance sheets can change frequently, so the list may not always be precise.
Keep in mind, this list is not a recommendation to buy or sell these stocks. For investors that value conservative management or a debt-free lifestyle, this may be a starting point to add positions to your portfolio.
As always, further research should be conducted before buying or selling.
If you see any discrepancies in this list or believe another company belongs or one should be ousted, please contact me or add a note in the comments section.
Buy all the Debt-Free S&P 500 Stocks for Free
You can attempt to buy each debt-free S&P 500 company one at a time. You'll pay a lot of fees to accomplish this. I prefer a more efficient method.
I'm a big fan of the online broker M1 Finance a no-fee robo-advisor and online brokerage. With M1 Finance, you can create your own "pie" which is a customized investment plan where you can decide which stocks or ETFs to own. When you add new funds to your account, the funds are automatically allocated to your investment plan. You can choose all the debt-free stocks and make them one piece of the pie.
There are no trading or transaction fees. Period. I'm really impressed by this new platform. It's sort of a robo-adviser for active investors. You choose the allocations, M1 invests your money for you.
Read a comprehensive M1 Finance review here.
Help Selecting the Best Dividend Stocks for Income
For those looking for help in selecting the best dividend growth and retirement income stocks, I use and recommend The Sure Dividend Newsletter.
I've been a paid subscriber of this newsletter to supplement my own stock research for the past 2 years. Each month, Sure Dividend recommends its top 10 dividend stock picks, plus rankings of 450+ other dividend stocks. Highly recommended.
Anyone nearing retirement or already retired may be looking for investment ideas that yield 4%+. Sure Dividend has a specific newsletter for you called the Sure Dividend Retirement Newsletter. This service focuses on safe high-yielding MLPs, BDCs, and high-yield stock investments to help build retirement income.
Both services come with a 7-day free trial. Cancel any time.
Regular price for either service is $89. But click the links above or use the Sure Dividend coupon code "RBD10" for either newsletter to save $10.
List of Debt-Free S&P 500 Companies
---
All numbers current as of the updated date.
---
Latest updates:
Update 07/01/2019: Removed ALGN, FIVE, JKHY, MNST, TRIP. Added ANET, MKTX (from SP400)
Update 12/15/2018: Table is now sortable. Removed ICUI. NATI. Added TTWO, VAR, FTNT, JKHY
Update 10/09/2018: Added ABMD, ROL, TRIP
Update 05/25/2018: Removed: KORS, PYPL
Update 01/04/2018: Added: KORS
Update 08/25/2017: Removed: URBN Added: ALGN ANSS
Update 05/17/2017: Removed LLTC
Update 02/17/2017: No changes
Update 01/02/2017: Removed PAYX. Added URBN.
Conclusion
This post isn't meant to spur debate over whether it's smart for a company to borrow or not. Each company has different business models and capital needs in order to operate.
My college corporate finance grade was one I want to forget. But I still have a personal preference towards companies with relatively low debt levels, although not all of my holdings fit that description.
I've owned heavily indebted companies and watched the value of the stock price plummet. I've also owned heavily indebted companies that pay me dividends year after year without issue.
Some investors may value a completely debt-free company over a debt-laden stock as a matter of investment safety or even personal or religious values. Use this list of debt-free S&P 500 companies however you like.
Disclosure: The author is long AAPL, MSFT, THO, CMG, TROW
Featured photo credit: iStock.com/marekuliasz used under license
Subscribe to Retire Before Dad!
You'll receive my biweekly(ish) articles in your inbox and the FREE eBook 6 EASY Income Streams You Can Start Building Today!