Motley Fool Rule Breakers Review 2023: Is it Worth the Cost?
This page contains links to our partners. RBD may be compensated when a link is clicked. Read disclosures.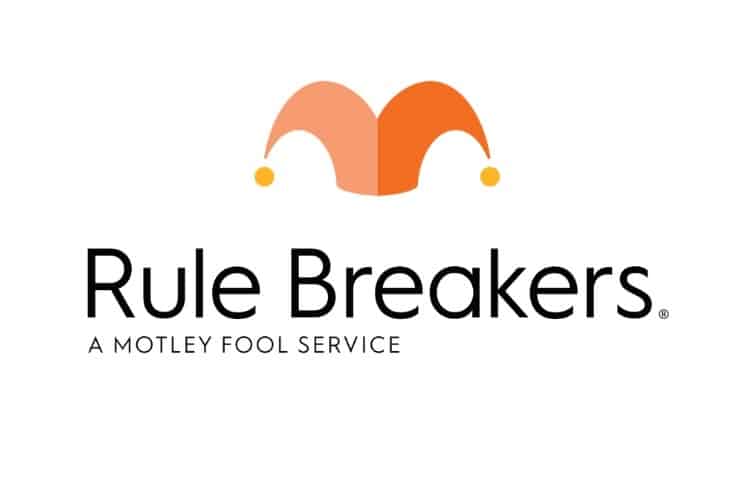 This Motley Fool Rule Breakers review was updated on 12/31/2022.
---
Motley Fool Rule Breakers is a premium stock recommendation service that helps investors pick long-term growth stocks to achieve market outperformance.
David Gardner, a co-founder of the Motley Fool, started the Motley Fool Rule Breakers and brought onboard an investment selection team. It's one of the longest-running Motley Fool newsletter services, active since 2004.
David stepped down from the stock picking service on May 6th, 2021 but still carries tremendous influence throughout the Fool communities.
When you subscribe to Rule Breakers, you become part of a community of investors who follow the Fool investing advice and engage with like-minded investors to learn to become better stock pickers.
The service recommends investments based on the six signs of a Rule Breaker. These six principles drive investment recommendations (more below).
In this Motley Fool Rule Breakers review, we'll go over the six signs of a Rule Breaker that guide the recommendations, then take a look inside the online portal the Fool uses to communicate with subscribers (jump to screenshots).
To write this review, the author purchased a one-year membership of Motley Fool Rule Breakers premium service.
I've decided to blur and withhold the names of stocks for this Motley Fool Rule Breakers review to protect the proprietary information.
However: A Motley Fool Rule Breakers one-year membership includes a 30-day membership refund period. If you decide Rule Breakers isn't for you, cancel your 1-year subscription within the first 30 days (they've made it quick and easy to cancel), and you'll get a 100% refund.
No questions asked. Just a prompt, full refund.
Join Rule Breakers for just $99 per year!. You'll start with the 30-day membership refund period so and you can see all the current stock picks for yourself. If you like the service, it costs $99 to continue for the entire year. That's more than 50% off the regular price ($299) if you use links on this page to sign up.
Note: If you use links on this page to sign up, this website will receive an affiliate commission.
Why Use Stock Picking Newsletters?
The primary purpose of subscribing to a stock newsletter is to give individual investors ideas for further research.
From the recommendations provided, investors are empowered to complete due diligence on each investment, then choose which are best for their portfolio.
Most investors, however, use newsletters as a shortcut.
When relying solely on the newsletter's recommendations to buy or sell stocks, the quality of the newsletter is paramount.
Newsletter quality is measured against its investment objective.
The investment objective of the Motley Fool Rules Breakers Newsletter is to beat the S&P 500 Index by a wide margin. Against this metric, the newsletter has been successful since its inception by more than 2x.
However, individual investors cannot expect to immediately beat the broader market indexes simply by subscribing and buying a stock or two.
To achieve returns equal to those of the newsletter, the investor must commit to the buying and selling recommendations over the long term.
Only those who commit to a long-term approach will achieve a similar performance as the baseline Rule Breakers portfolio. However, past performance gains may not repeat themselves.
Join Rule Breakers for just $99 Per Year!
About Motley Fool Rule Breakers
Motley Fool Rule Breakers is a stock-picking service that has more than doubled the market since its inception in 2004.
The service focuses on explosive growth stocks.
Like other newsletters, Rule Breakers researches for you to narrow the universe of investable growth stocks.
From there, it's up to the individual investor to complete due diligence on each recommendation.
Fool analysts scour the world for companies they believe will offer long-term growth potential for investors.
Using the research analysis, investors can build a diverse growth stock portfolio that reflects their interests, budget, and investing philosophy.
Here's is the Motley Fool Rule Breakers investing philosophy:
Buy a diverse group of stocks and hold them for the long run. In Rule Breakers, we recommend finding good companies (that's our job) and buying and holding for at least five years (that's your job). Patience is an investor's greatest asset.
Motley Fool founder and "Chief Rule Breaker," David Gardener, started the Rule Breakers service which is now run by a team of investment analysts.
The team uses the six signs of Rule Breaker, a framework for evaluating fast-growing companies, to identify and recommend stocks. We'll go over each of the six signs in this Motley Fool Rule Breakers review.
Six Signs of a Rule Breaker
Motley Fool Rule Breakers believes that buying:
Great companies early in their high-growth stages and then holding them for the long term will provide the highest possible returns.
But specifically, the Motley Fool Rule Breakers investing service looks for six attributes in companies.
Here's a video of David Gardener explaining the six signs of a Rule Breaker in his own words (starting at the 9:42 mark):
Here's more on each.
1. Top Dog and First Mover in an Emerging Industry
A top dog company typically holds a dominant position in a long-term trending industry. Think best of breed, first mover, and one step ahead of everyone else.
These companies aren't necessarily the first, but they recognize a more significant business opportunity than their predecessors.
Google wasn't the first search engine, but the company reimagined the potential of search to monetize a growing technology trend.
Rule Breakers says these types of companies are hidden in plain sight, often cultural staples.
2. Sustainable Advantage (Wide Moat)
Building a wide business moat is a common analogy in investing.
Companies that catapult ahead of the competition often build lead protection. Leads develop due to momentum, technology, efficiencies, intellectual property, inept competitors, or because visionary leaders tend to outperform their peers.
These are the kinds of companies breaking the rules.
Competitors will attempt to copy success, but genuinely disruptive companies are challenging to replicate.
3. Strong Past Price Appreciation
The Motley Fool Rule Breakers newsletter believes that a company in motion (upward) will continue to rise until an external force causes the path to change.
Strong fundamentals and growth will continue when companies continue to execute.
A history of stock price appreciation is a good sign of continued growth if the investment thesis remains intact.
4. Good Management and Smart Backing
Strong management is a trait that many investors look for, but it's subjective. Rule Breakers looks for career entrepreneurs, people with a history of growing companies, and skin in the game (substantial ownership).
Visionaries tend to see a future where their business can change industries for the better.
They set aside the desire for personal wealth and instead focus on customer impact, believing that success and money will follow if you deliver to the customer.
Rule Breakers believes:
Better a mediocre business with great management than a great business with mediocre management. Over time, those latter guys will screw up a free lunch.
5. Strong Consumer Appeal
Companies with strong brands and loyal customers can sustain pricing power and long-term revenue growth.
When a product becomes habitual or consumers enjoy the brand experience, companies maintain an edge over competitors.
For example, Tesla (TSLA) doesn't advertise. It relies on its reputation as an innovative brand that's changing the world. Their car owners love the vehicles and what they stand for and may end up being customers for life.
Because it doesn't advertise, the would-be cost is passed to improve the product and reinvest in facilities and resources.
Tesla can charge a higher price for their product because of their loyal following.
6. Grossly Overvalued According to the Financial Media
Value investors don't like Rule Breakers. That's because, according to traditional valuation measures, the stocks look to be severely overbought.
When stocks appear overvalued, many investors stay out. Once the business model matures and gains confidence, latecomers buy.
According to the Fool:
The "too expensive" label comes from underestimating how a Rule Breaker can disrupt its industry, displace competitors, and grow over a relatively short time. Investors' fears leave many on the sidelines, only to come in later and drive the stock up further as the writing on the wall becomes more apparent.
How Does Rule Breakers Work?
Once you sign up for Motley Fool Rule Breakers, you'll gain immediate access to the online portal. If you already have a Fool.com account, use the same email. Access will be available when you log in.
Otherwise, register a new account.
Here's what you get.
New Recommendations
A Motley Fool investment analyst team chooses two stocks each month as official recommendations.
Each recommendation has a complete analysis and risk assessment that provides insight for your due diligence.
Recommendations can be brand new stocks or reiterations of previous recommendations. Re-recommendations are different than "best buys now".
Typically, the first pick of the month is a re-recommendation of stocks they already like. The second pick is a new pick.
Rule Breakers has changed from emailing fresh stock picks to live-streaming the announcement. This seems to be because subscribers would get the new picks at different times, depending on email delivery variations.
Now, they email everyone earlier in the day, encouraging members to join the live stream. This makes it more equitable, especially for those immediately trading the stocks.
Best Buys Now
The investment team chooses five Best Buys Now stock every month. These are previous recommendations that represent the most timely opportunities at present.
Best buy now features may be due to a recent price pullback, impending catalyst, or new conviction that may be an opportunity for investors to jump in.
Starter Stocks
Starter Stocks are a curated set of what the Fool believes to be the ten best stocks for a new portfolio. The list is updated yearly.
The Rule Breakers team suggests new subscribers add at least three Starter Stocks to your portfolio when you join the subscription service.
Many of these companies are well-established with high market caps and strong gains in the rearview mirror.
However, they are also poised for continued performance and tend to be less volatile than some new recommendations.
Motley Fool Rule Breakers Review: Reports
If you're looking for stocks featured in Motley Fool online advertising, these reports are the answer to clickbait ads. The bonus reports highlight the past coverage of some of the service's favorite stocks and long-term investable trends.
Clickbait titles such as:
1 STOCK FOR CABLE TV'S "TICKING TIME BOMB" One company leads the way as a pioneer in the advertising industry.
The Next Amazon.com — One top e-commerce powerhouse that could change how business is done – plus four more e-commerce opportunities!
Cashing In On Cannabis
Join Rule Breakers for just $99 Per Year!
Inside Motley Fool Rule Breakers (Screenshots)
Rule Breakers integrates with the Fool.com website. If you have a Fool account (or register a new one), the service will unlock and be available under "My Services."
I've blurred out all proprietary data, but you can sign up here for the 30-day membership refund period, and you can see all the current stock picks for yourself.
Here's a view of the Motley Fool Rule Breakers homepage: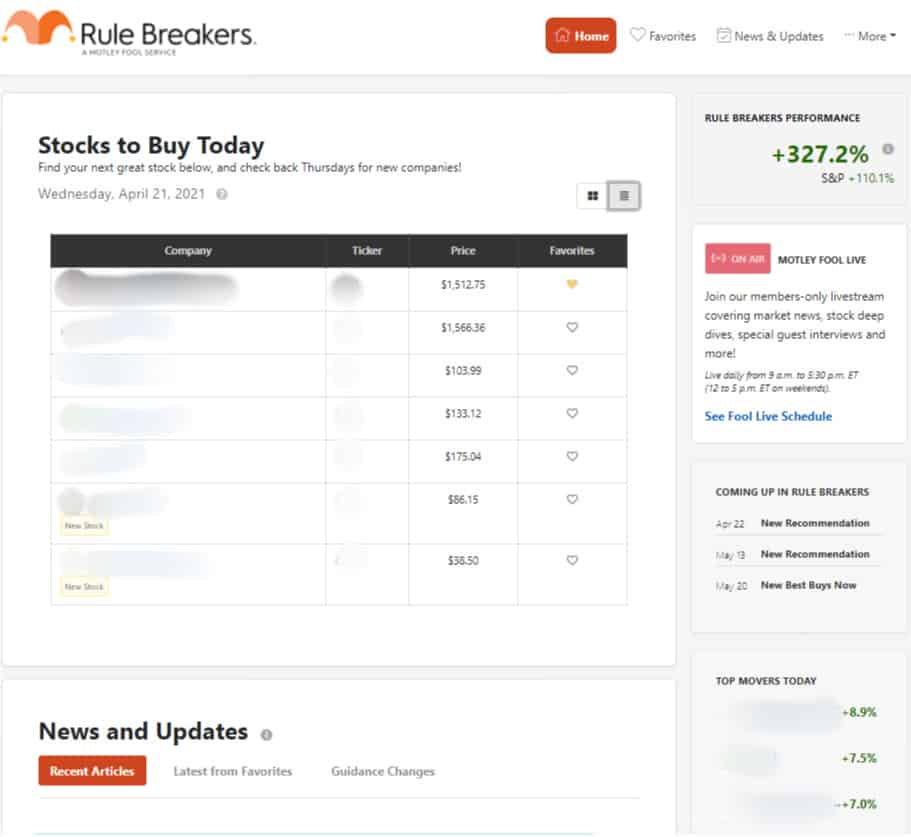 The first thing you'll see is the best stocks to buy today. These are updated once a month.
The team identifies previously recommended stocks that are attractive at current prices. The table also includes the most recent recommendations (two per month).
Below is news and updates. You'll also find these articles on a separate tab (more below).
You can see the Rule Breakers returns in the right sidebar since inception compared to the S&P 500.
There are also announcements, the upcoming recommendation schedule, and a list of top movers of the day.
The next screenshot is the most recent articles, available on the News & Updates tab. These can be filtered using the right sidebar.
There is also a list of upcoming earnings and dividend events.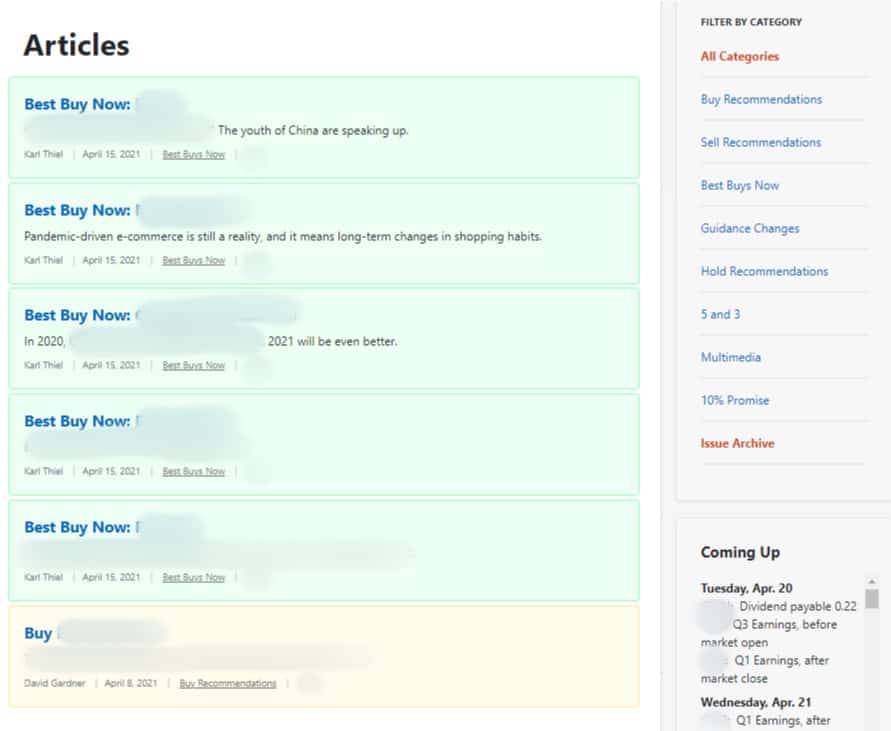 The next screenshot is my favorite — performance. This view shows every recommendation dating back to the service's inception in 2004.
The table includes the stock ticker, recommendation date, a risk score, and performance data versus the S&P 500.
I like this data because it's sortable and very clearly tracks returns. It's the justification for buying the service.
As of writing, there are 222 active recommendations and 179 closed positions.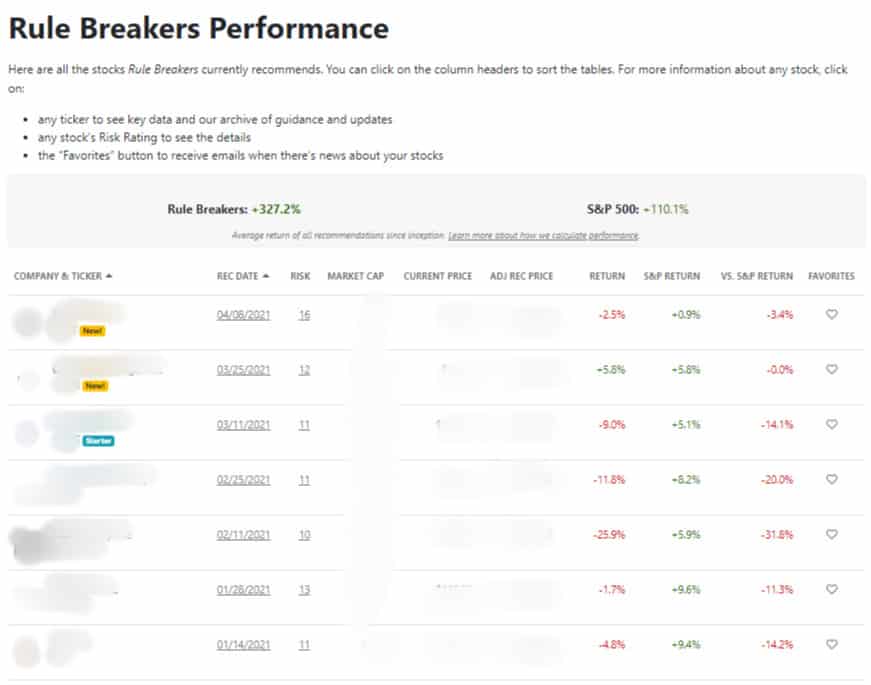 I sorted by the best total return, and here are the top two performers:

Tesla (TSLA) and MercadoLibre (MELI) are the two best-performing Rule Breakers stock picks.
The team introduced these stocks long ago. The service recommends holding all stocks for at least three to five years to make sure you participate in the biggest winners.
Keep in mind that all stocks on the list are considered active recommendations until a sell recommendation or company acquisition.
Some stocks may go into the "penalty box" before the analysts recommend a sale.
Next up is the Community forums. Membership includes access to the stock chat community forum to connect and interact with other members, who sometimes provide additional insight or food for thought to recommendations.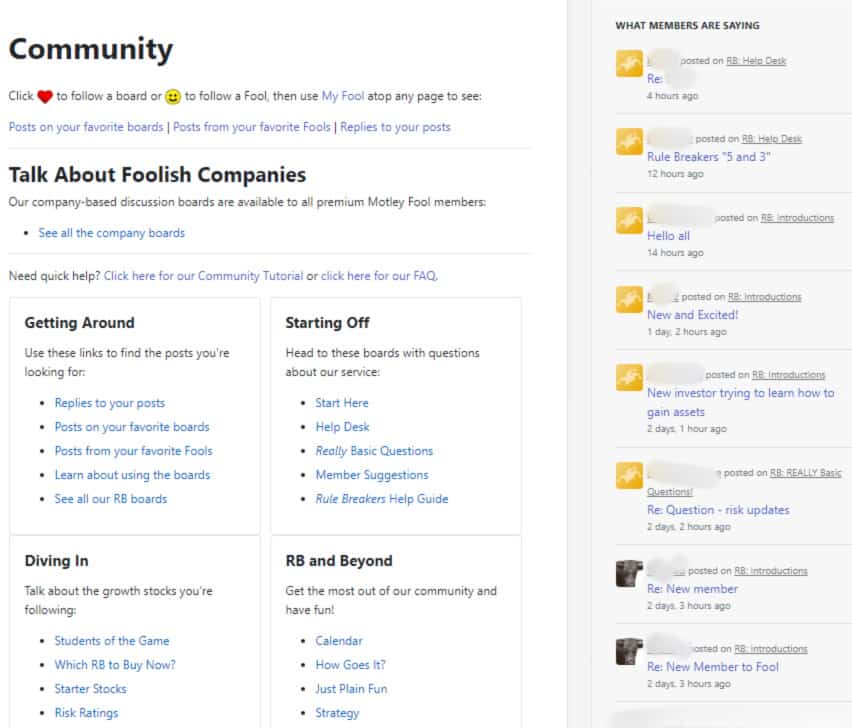 Finally, several industries and trend reports touch on some of the most important technologies and long-term growth stories in investing.
The reports often align with the online advertising campaigns you may see around the internet.
The reports tell you the stocks to buy to ride the trends.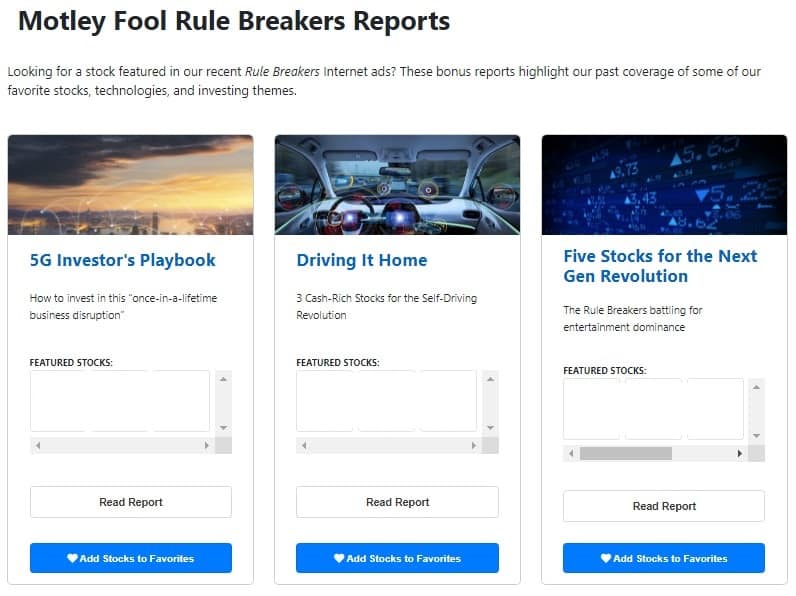 High Risk, High Reward
Who should subscribe to the Motley Fool Rule Breakers newsletter?
Investors with at least a three to five-year investment horizon looking to increase their risk/reward profile may benefit from subscribing to Rule Breakers.
Fool subscribers also tend to be somewhat experienced investors. However, they lack the time or skill to analyze a broad swath of stocks.
Therefore combining some experience and a willingness to perform additional analysis will increase the odds of success.
Rule Breaker's recommendations tend to be growth stocks rather than value or dividend stocks.
I recommend the Sure Dividend Newsletter for investors looking for dividend stocks and retirement income.
Though many subscribers tend to be older investors who have more money, younger investors should thrive with the service because of longer investment horizons.
The longer an investor subscribes to the service, the more time to benefits from long-term trends and disruptive stocks.
What is the Cost of Motley Fool Rule Breakers? Is it Worth it?
The regular price for Motley Fool Rule Breakers is $299. But sign up using any of the links on this page, and you'll get the first year for $99.
That price is backed by a 30-day 100% membership fee-back guarantee. If you don't like it, cancel, no questions asked. You'll get full access for the first 30 days.
In subsequent years the price goes up. However, they usually offer early sign-up discounts below the full price.
Is Motley Fool Rule Breakers worth it?
For me, yes. I've purchased multiple stocks that were recommendations on both Rule Breakers and Stock Advisor, and I've easily recovered the subscription cost. I've made several thousand dollars from a few individual stocks.
However, to make it worth it, you should plan to invest at least about $5,000 over the first year.
Investors putting $5,000 or more per year to work can achieve excellent returns on investment over the long term.
Motley Fool Rule Breakers Review vs. Stock Advisor
Motley Fool Stock Advisor is a similar stock-picking newsletter that recommends disruptive growth stocks to its subscribers.
The main difference is the group of stocks. Each service has different picks with not much overlap between the two services.
Tom Gardener is the primary contributor of recommendations to the Stock Advisor service, but he does not participate in Rule Breakers.
For Stock Advisor, Tom's team identifies excellent companies in beaten-down but still important industries. He looks for strong financials, a well-established business model, and an experienced management team.
A high percentage of insider ownership and sensible compensation structures are promising signs.
The team looks for obvious long-term and sustainable business trends. His picks also have an aura of "unquantifiable greatness" that keeps them a step ahead of the competition. He firmly believes in adding to winners as they rise.
Rule Breakers is more about explosive growth stocks with less focus on financial and business models.
Instead of using the six signs of a Rule Breaker as the guiding principles, Stock Advisor has its own seven investing principles.
The seven principles are:
Buy Businesses, Not Tickers
Be a Lifetime Investor
Diversify
Fish Where Others Aren't
Check Emotions at the Door
Keep Score
Be Foolish and Have Fun
Read more: Motley Fool Stock Advisor Review
Read more: The 5 Best Stock Newsletters for Buy and Hold Investors
Conclusion – Motley Fool Rule Breakers Review 2023
Having spent more than a year as a Motley Fool newsletter subscriber, I am impressed by the simplicity of the online portal.
There is so much information to digest, but Motley Fool Rule Breakers is very welcoming to new investors, offering onboarding articles and tips, including the very basics of opening a brokerage account and buying a stock.
The email communication is helpful and not overwhelming. Each recommendation or best buy update is followed the next day with more in-depth analysis via email.
Motley Fool suggests you forget about short-term price movements in favor of buying shares within a reasonable period to own a stock for the long term.
However, traders are certainly in on these recommendations, as evidenced from the immediate spikes followed by a trickle-down.
Overall, the Motley Fool Rule Breakers premium service is for people looking for stock tips. Follow the recommendations strictly for several years, and you will likely match their returns for the investment period.
However, if you decide to become a subscriber, you should perform your own research on every stock.
You do not need to buy the stock on the day of the recommendation. Consider purchasing a small amount first, the more if the stock falls below the recommended price.
That said, if you only purchase some but not all of the stocks, you may miss out on winners. The bulk of the returns typically come from two or three stocks.
Remember, the Rule Breakers 1-year membership includes a 30-day membership refund period. If you decide Rule Breakers isn't for you, cancel your 1-year subscription within the first 30 days (they've made it quick and easy to cancel), and you'll get a 100% refund of your membership fee.
No questions asked. Just a prompt, full refund.
Use the button below to sign up for the 30-day membership refund period, and you can see all the current (and historical) stock picks for yourself.
Join Rule Breakers for just $99 Per Year!
Motley Fool Rule Breakers Review
Ease of Use -

9.5/10

Transparency -

10/10

Diversification -

9/10

Cost -

9/10

Mobile Access -

9/10

Performance -

9.5/10
Summary
The Motley Fool Rule Breakers stock picking service is the second oldest Fool newsletter, founded in 2004. Past performance is excellent, though behind its sister service, Stock Advisor. The user experience and community is very strong. But keep in mind, to match newsletter performance, you'll need to invest for the long-term, meaning you should expect to pay for the service annually. The service is only for growth stocks, so you'll need to diversify your portfolio with income and value stocks elsewhere.
Thanks for reading this Motley Fool Rule Breakers review.
Disclosure: The author is long TSLA, MELI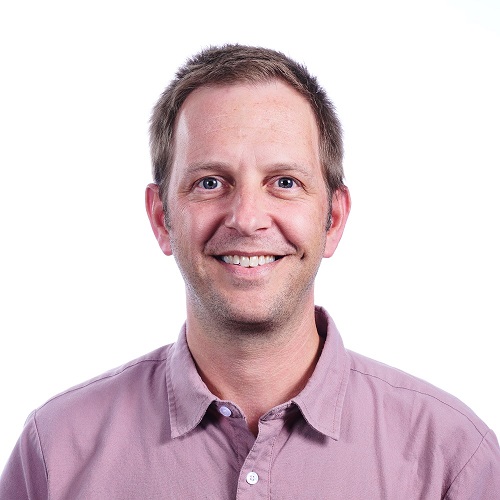 Craig is a former IT professional who left his 20-year career to be a full-time finance writer. A DIY investor since 1995, he started Retire Before Dad in 2013 as a creative outlet to share his investment portfolios. Craig studied Finance at Michigan State University and lives in Northern Virginia with his wife and three children. Read more.
---
Favorite tools and investment services right now:
Sure Dividend — A reliable stock newsletter for DIY retirement investors. (review)
Fundrise — Simple real estate and venture capital investing for as little as $10. (review)
NewRetirement — Spreadsheets are insufficient. Get serious about planning for retirement. (review)
M1 Finance — A top online broker for long-term investors and dividend reinvestment. (review)