AcreTrader Review 2023: Farmland Investing for Income and Growth
This page contains links to our partners. RBD may be compensated when a link is clicked. Read disclosures.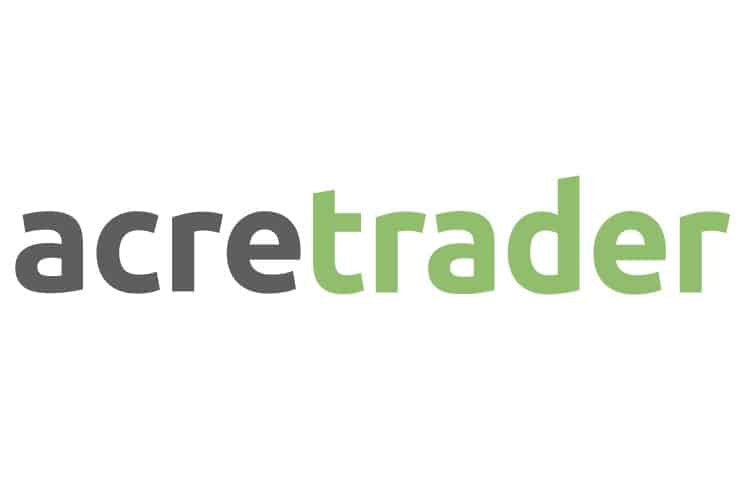 This AcreTrader review was updated on 01/02/2023.
---
About 60% of American farms are owner-operated. That leaves about 40% of farmland that's rented or leased to farmers by landowners.
The majority of farm landowners inherited the land and have either retired or have no interest in farming.
Since farmland is commonly passed down to younger generations and new ownership requires large amounts of capital, there's a significant barrier to entry for new farmland investors.
Active farmers who own land and want to expand their operation without purchasing more often rent from other landowners. This helps them to increase the utilization of their capital expenditures and increase economies of scale.
Since 2013, modified securities laws and technology innovation have opened new opportunities for investors in commercial and multifamily real estate.
Farmland is the next frontier.
One of the leading online platforms for farmland investing is AcreTrader. The company has replicated the best practices of other successful real estate crowdfunding platforms to bring an age-old asset class to a broader investing population.
AcreTrader serves as capital partners with farmers so they can expand their business.
With a few clicks on your computer, now you can be a partner and reap the benefits of farmland investing.
This AcreTrader review will explain how it works, the risks, and potential long-term rewards.
AcreTrader Review 2023: Highlights
Farmland is an age-old asset class only recently available to retail investors
Debt-free real estate investing — investors own 100% of the subject properties without banks or the risk of default
Annual rents are collected upfront — limited weather and crop risk
Pre-vetted deals make investing accessible to novice farmland investors
Benefit from annual income and long-term capital appreciation without correlation to the stock market
What is AcreTrader?
AcreTrader is an online investing platform that empowers investors to own high-quality land parcels used for farming. The platform utilizes the same crowdfunding laws as other established real estate investing platforms.
But instead of multifamily residential or commercial properties, AcreTrader specializes in farmland. It is not a lending platform.
AcreTrader applies strict vetting practices to identify premium investment opportunities for its investors. Investors team up to provide funds for the purchase, while AcreTrader handles the legal formalities and property management.
Once a property is funded and acquired, managers lease it to a farmer who produces whatever crops are best suited for the land. This is a common model in farming where farmers can focus on producing crops and avoid capital-intensive ownership.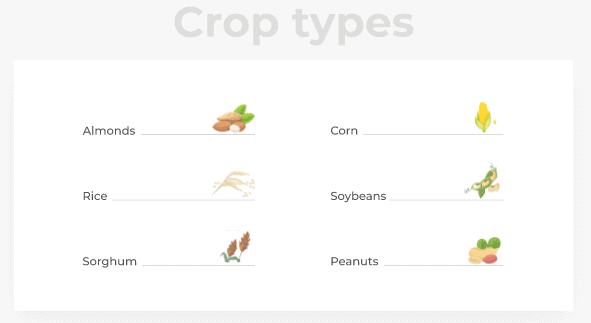 Investors collect an annual distribution ranging from 3%-5% of their investment while the property value appreciates over time. Farmland returns have been positive every year since 1990, according to AcreTrader's website.
By leveraging the crowdfunding regulations and removing barriers, AcreTrader has made it possible for investors to own a long-term growth asset with no correlation to daily stock market fluctuations.
Farmland annual returns averaged 11.5% between 1990 and 2018, with less volatility compared to stocks.

Here's a comparison to other major asset classes.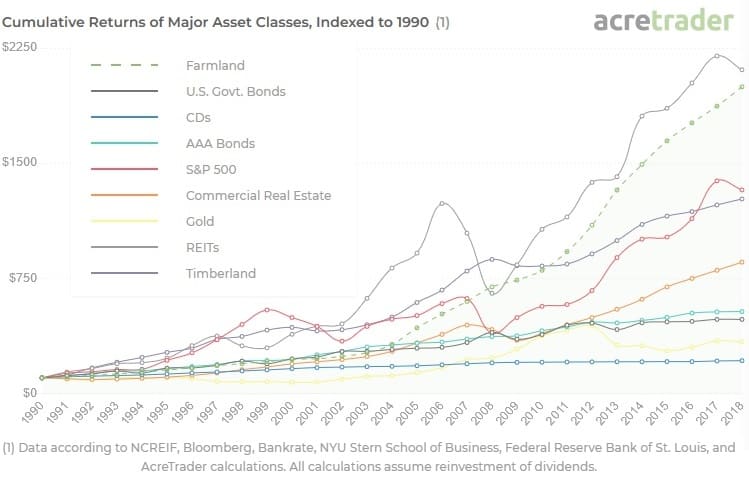 Note: AcreTrader is for accredited investors only. Investments are illiquid, so only consider investing if your investment horizon is longer than three years. Many links in this AcreTrader review are affiliate links, meaning RBD may be compensated for referrals.
Who Should Invest at AcreTrader?
For now, AcreTrader is only open to accredited investors — those with a net worth greater than $1,000,000 or income above $200,000/$300,000 (single/married).
Accreditation is required because investments with limited regulatory oversight present a higher risk to investors.
The accreditation threshold protects investors who cannot withstand a significant capital loss. Read more about accreditation at the SEC. Investors must provide proof of accreditation before investing.
But anyone can open an account or browse investments. According to the FAQs, AcreTrader is actively working to open the platform to allow investment by all U.S. investors.
AcreTrader is best suited for investors looking to diversify into long-term real estate investments that do not fluctuate with the stock market. Your investment horizon should be at least three to five years. The estimated investment duration varies by deals.
Farmland is a way to diversify your existing real estate holdings, or it could be a desirable place to try real estate crowdfunding for the first time.
The AcreTrader investment committee critically analyzes many deals, and only selects the very best for its platform. It's a managed investment platform, meaning you're putting a good deal of faith in their in-house investment team to find good deals.
But investors should still be prepared to perform due diligence on each investment opportunity. As an accredited investor, you must understand the investment.
Regulation authorities do not provide as much oversight as stocks or non-traded REITs.
Like all investments, you assume the risk when you invest at AcreTrader. However, you'll own a real asset — land, which is of limited quantity on this planet. As long as the soil is fertile, the land can produce income and help investors grow wealth.
How Does AcreTrader Work?
Instead of a family, wealthy landowner, or corporate holding company owning the land, AcreTrader harnesses the crowd to lower the entry point and spread risk across multiple individual investors.
We've seen many companies succeed in providing access to other types of real estate on crowdfunding platforms like Fundrise and EquityMultiple.
AcreTrader has carved out a nifty business model by utilizing the crowdfunding laws and optimizing for farmland investing.
Here's how it works.
Step 1: Farm Selection & Entity Creation
AcreTrader looks at several land parcels to find high-quality farmland investment opportunities at the right price. They select less than 5% of the properties that come across their desks.
For each deal, AcreTrader creates a separate legal entity and places the farm and its legal title into a unique LLC. The entity establishes a real estate contract with the current landowner and is given 30-90-days for due diligence and legal work.
At this stage, AcreTrader introduces the opportunity to its investor pool (accredited investors who open an account).
Deals available on the platform to date have averaged just under $1 million each. As investor demand grows, the company can facilitate larger deals.
Step 2: Investment
Each investment opportunity is priced per acre and divided into shares equal to 1/10 of an acre.
The minimum investment amount varies for each listing. Depending on the total size of the offering, the price per acre, and other factors, most of our offerings require a minimum initial investment of $15,000 – $40,000. The minimum investment amount will typically be the equivalent of 1-4 acres, given that most farmland sells for $3,000 to $10,000 per acre.
For example, if you buy 30 shares, your ownership represents the equivalent of 3 acres of land and the associated amount of distributions.
When you invest at AcreTrader, you own part of the LLC, which owns the land.

The online investment process takes just a few minutes, and the entire transaction is electronic.
Step 3: Farm Management
AcreTrader handles the legal entity administration and property management. Management activities include maintaining entity filings, insurance, accounting and taxes, and working with local farmers to improve soil sustainability.
The company works closely with farmers and third-party managers to optimize the farmland for healthy crop yields through farming best practices.
Farmers pay cash rent, a highly-common relationship between farmers and landowners (nearly 40% of all U.S. farmland is rented or leased).
The unique entity receives the rent in advance of the planting season, so investors take almost no crop risk or weather risk.
The rent is held by the entity in a bank account for taxes owed or capital improvements until the payout to investors in December.
AcreTrader charges a flat annual administration fee of 0.75% of the value of the farm.
Step 4: Distributions and Taxes
AcreTrader aims to deliver an annual yield of 3%-5% for lower-risk properties. The company pays distributions (not dividends) to investors once a year in December. Tax documents follow in February.
For tax purposes, the legal entities are usually classified as partnerships in the eyes of the tax authorities. Annual distributions are reported on a Schedule K-1, which must be included on the investor's individual or joint 1040 tax return.
In most cases, investors will not be required to file state tax returns for out-of-state properties. AcreTrader's management arm files an entity return for the state in which each property is located.
Contact a trusted CPA or tax attorney for advice on the tax treatment of a Schedule K-1.
From the FAQs: What is the annual depreciation on my farmland investment?
Interestingly, there is no depreciation on the land itself. It simplifies farm investing accounting for all holders and seems to be an accurate assessment. However, if a farm has improvements (e.g., a dwelling, barns, sheds, underground infrastructure), there may be annual depreciation expenses. While residential and commercial real estate often requires constant repairs, improvements, and other maintenance to preserve or increase value, farmland does not, for the most part.
Step 5: Sell Your Land
Plan to hold onto ownership until the terminal date, typically three to five years — though some properties may have holding periods of 5-10 years.
If you want to sell earlier, you may be able to sell in a private transaction. Eventually, a low-volume AcreTrader marketplace should increase liquidity.
Around the stated terminal date for each deal, the subject farm is sold, and all net proceeds distributed to investors. At that point, you'll realize additional gains (or losses) from price changes in farmland value.
The same short and long-term capital gains rates apply to sales.
The company will work towards the best outcome for investors for each property. The in-house investment management committee decides when exactly to sell the property. Investors do not have a say.
AcreTrader Sample Investment Views
AcreTrader does an excellent job of providing information to investors for analysis. I've provided a few screenshots below to provide insight into previous deals.
You can visit the site and open an account yourself to poke around and view previous deals.
Each property on the platform displays basic information such as the farm location, total price, land and map images, primary crops, investment minimums, expected yield, and estimated ownership duration.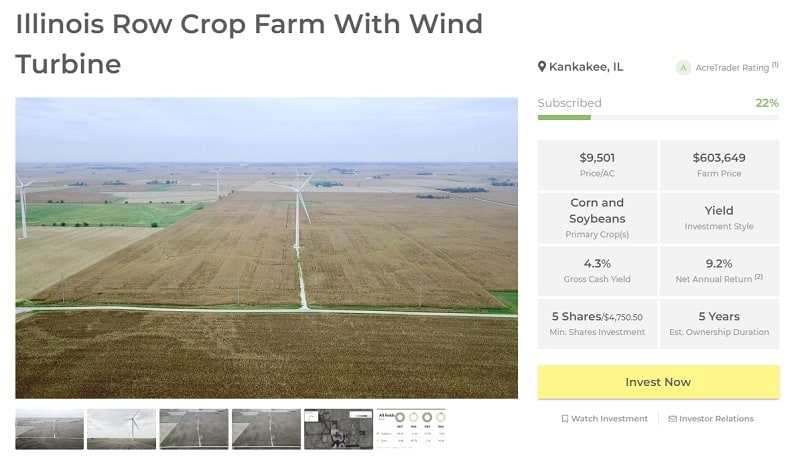 There's a description of the property and investment highlights — some properties may have exceptional soil or multiple revenue opportunities. For example, the above property has both row crops and wind energy.
Other properties I've seen have had potential mineral rights and duck hunting licensing.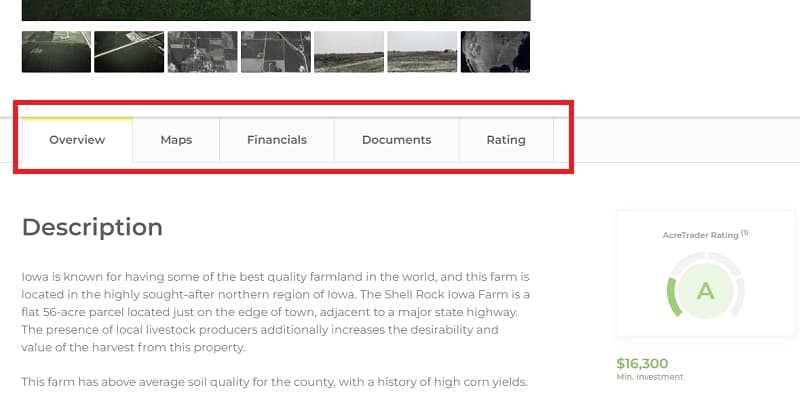 After the basics, interested investors can take a look at overhead maps, then move onto the financial assumptions, which include details about the costs and cash flow expectations.
The documents section gives access to official documents containing entity information such as the tax EIN form and articles of incorporation.
You also may find additional documents regarding land and soil surveys. A soil survey is a rather interesting analysis of the type and quality of the soil. When you're on the site, you can download the documents for perusal.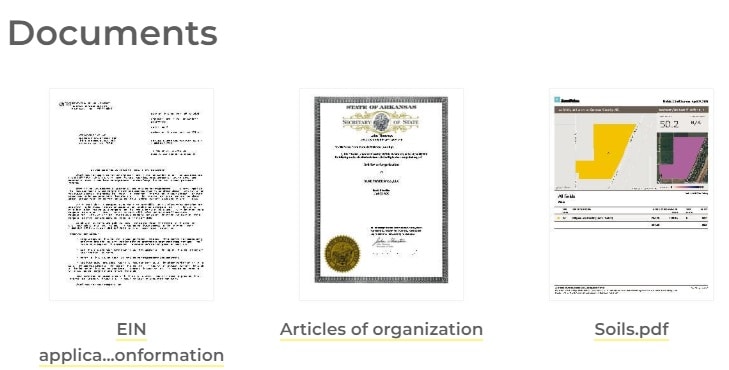 Farmland maps and soil quality are probably new to city dwellers looking to invest in farmland. To help understand the investment better, AcreTrader created a rating system based on 12 identifiable and objective criteria for each offering.
A higher score is indicative of higher risk. The only two viewable deals I could see during my review had scores of zero — low risk.
The twelve items answer potential risks such as flooding or water access problems, current tenant issues, debt structure, and non-farming leases that might be in place.
The documentation is sufficient for most investors. However, the financials are a bit thin compared to deals I've seen on other crowdfunding platforms, and I didn't see any appraisals which are common on sites like RealtyMogul.
AcreTrader Review 2023: Fees
Joining AcreTrader and browsing the marketplace is free.
Compared to other crowdfunding platforms, the fees are transparent and reasonable when you invest.
Upon investment, investors incur a 2% fee to cover pass-through closing fees for the deal. This kind of fee is common in crowdfunding. So if you make a $10,000 investment, it will be worth about $9,800 at the start.
Then there's the 0.75% annual servicing fee that goes to an affiliate, AcreTrader Management, LLC, which covers all organizational needs such as farmer relations, accounting, reporting, and communication.
AcreTrader's primary source of revenue is real estate brokerage fees, similar to how residential agents get a cut when you buy or sell a home. They charge a 5% fee to the selling landowner. There is no percentage fee for capital appreciation.
AcreTrader Review 2023: Liquidity
One of the major drawbacks of investing on the AcreTrader platform is the lack of liquidity. The estimated ownership duration of platform deals ranges from three to ten years. Only invest money that you won't need for the stated period.
Though this is a downside, investors are more likely to profit over longer durations.
As of now, pre-exit liquidity can only be obtained after one year if sold in a private transaction (e.g., friend or relative).
In the future, the company intends to increase liquidity for investors through a low-volume marketplace. But the marketplace is not yet available.
Here is an explanation from AcreTrader on liquidity:
The real estate investments found on AcreTrader are private transactions in physical properties. The investments are not traded on public stock exchanges and cannot be easily sold or traded. You may be able to resell your investment security in a private transaction subject to restrictions that are specific to each investment and in compliance with the Securities Act of 1933. Since the resale restrictions on AcreTrader can be very limiting, you should not invest with the expectation of reselling your investment.
AcreTrader Review 2023: Diversification
Investing at AcreTrader gives you access to an asset class previously unavailable to most investors over the past centuries. It's one of the least correlated assets from the stock market.
For these reasons, I consider diversification to be one of the main strengths of the AcreTrader platform.
However, as for diversifying within the platform, you'll need to invest in multiple farmland deals to reduce risk. I recommend investing in at least three properties on the platform to help spread your risk.
Combined with an adequately balanced retirement and taxable accounts, farmland is an excellent asset class for diversification.
Debt-free Real Estate Investing?
Real estate is a debt-heavy industry. Almost all large-scale residential and commercial real estate transactions involve debt, funded by investors or banks.
Debt can often amplify returns for the investor, but it introduces risk to the equation.
The story is a bit different in farming. In the 1980s, many farmers were over-leveraged with mortgage debt, and the market crashed. Farmers remember, and farmland real estate investing now relies less on debt than other types of real estate.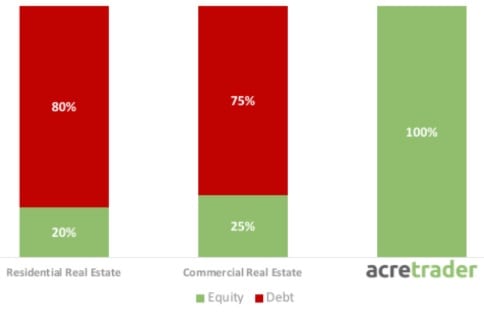 Typical AcreTrader investment properties carry no debt, meaning the investors own 100% of the subject property. There's no bank or risk of default.
Debt-free real estate investing may be especially appealing to risk-averse investors and Halal investors.
Pros of Investing in Farmland at AcreTrader
Low volatility — The land value is based on comparable sales, not stock market fluctuations

Diversification — Farmland is unlike your other investments; it's a new exposure that would broaden the footprint of your total wealth

Inflation Hedge — Like other types of real estate, farmland should outpace inflation over time and protect against hyperinflation
Finite Resource — Mark Twain is famous for saying, "Buy land, they're not making it anymore"; the world population is growing, everybody needs food
Excellent historical returns — Farmland returns are up more than 10% annually since 1990; though past performance is no guarantee of future results, that's a good track record
Rent collected upfront — Rent in the farmland industry is typically collected before planting; if a farmer doesn't pay upfront, they find a new tenant
Cons of Investing in Farmland at AcreTrader
AcreTrader is a startup — Though operating and growing since 2018, new companies have a steep hill to climb; the company will face challenges and may not succeed over the long-term
Limited liquidity — Once you invest, expect to wait several years before being able to sell; a marketplace may alleviate this problem in the future
Investment selection — AcreTrader is still in the early phases of growth; new deals hit the platform every few weeks; demand is strong, so you may not be able to participate in all deals
Platform diversification — Even though farmland investing helps you diversify outside of the stock market, you should aim to invest in at least three deals to achieve some diversification
Distributions paid in December only — Properties on AcreTrader are income-producing assets, but distributions only occur in December and are not guaranteed
Tax complications — Receiving a Schedule K-1 at tax time may complicate your tax situation; check with a CPA to understand the tax consequences
Similar Investments
AcreTrader is not the only way to invest in farmland. If you know what you're doing, head out to the rural areas of your state, and explore!
Assuming most of us aren't that knowledgeable or ambitious, you have a few other options for investing in farmland.
FarmTogether
Another platform that's very similar to AcreTrader is FarmTogether. Investments start at $10,000 with an annual liquidity window. FarmTogether offers a slightly different product, sometimes utilizing debt to leverage buying power.
They also offer Sole Ownership Bespoke Offerings, which are custom deals for super-wealthy investors looking to invest $500,000 or more.
HarvestReturns
Harvest Returns was the first platform I noticed in the agriculture space. Looking over their past investments, the company isn't targeting row crops like AcreTrader.
Harvest Returns offers a broader array of crops and farm assets to include hemp, cocoa, cattle, bamboo, and hydroponic products (indoor-grown).
They also offered one deal in Ghana.
Traded Farmland REITs
The most common question I get about real estate crowdfunding is, why not just invest in traded REITs?
Another way to own farmland is to invest in companies such as Gladestone Land Corporation (LAND) or Farmland Partners Inc. (FPI). You can buy either company as a stock trade through your online broker.
These companies are easy to access, provide good diversification, and you get a regular dividend. Owning either REIT gives you exposure to multiple farmland properties around the country.
The downside is the value of your investment is subject to market gyrations, which defeats the purpose of investing in alternative assets.
Both companies are heavily leveraged, so perform due diligence before investing.
AcreTrader Review 2022: The Company
AcreTrader is a startup based in Fayetteville, Arkansas. Its founder, Carter Malloy, grew up in a farming family and is a former investment banker and equity analyst. He was investing in farmland on the side before leaving his investment career to found AcreTrader.
The company closed a $5 million seed funding round in April 2020, enabling them to expand investment offerings and continue scaling operations to support surging platform demand.
Additional Resources
Carter Malloy interview on Yahoo Finance
Carter Malloy interview on the Meb Faber Podcast
Why Money Managers are Moving into Farmland
AcreTrader Intro on the Stacking Benjamins Show
That's all for my AcreTrader review 2022. As always, contact me or leave a thoughtful comment below if you have any questions that I didn't answer. If I don't know, I'll reach out to the company for clarification and update my review.
Disclosure: The author has no current investments with AcreTrader. The author does have investments with Fundrise. Many links in this AcreTrader review 2022 are affiliate links meaning RBD may be compensated for referrals. RBD only reviews and recommends products that he would invest in himself or recommend to family.
AcreTrader Review
Ease of Use -

10/10

Transparency -

9.5/10

Diversification -

9.5/10

Fees -

9.5/10

Investment Selection -

8/10

Liquidity -

7/10
Summary
AcreTrader is an exciting platform for boring investors. It opens a whole new asset class to the broader investment community. The company does most of the vetting for you, but I'd like to see a bit more due diligence material for each investment. Investment selection is still slow, with a new deal every 2-3 weeks. But I expect that to increase, and the deal sizes should increase as well, opening more opportunities for investors. Finally, liquidity is limited. Limited liquidity may be a good thing for some investors, because it prevents you from cashing out. However, we hope to see a low-volume marketplace in 12-18 months.
Pros
Low volatility
Diversification
Inflation Hedge
Finite Resource
Excellent historical returns
Rent collected upfront
Cons
Limited liquidity
Investment selection
Platform diversification
Distributions paid in December only
Increases tax complications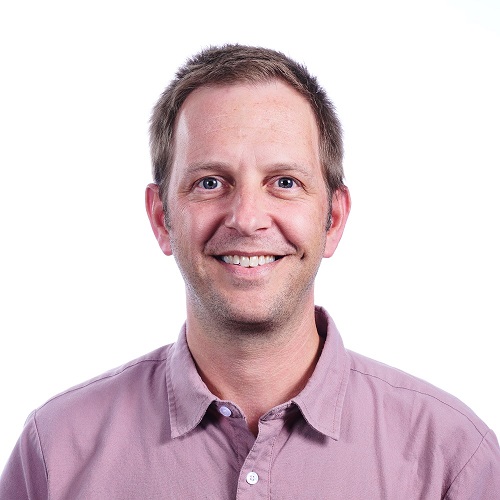 Craig is a former IT professional who left his 20-year career to be a full-time finance writer. A DIY investor since 1995, he started Retire Before Dad in 2013 as a creative outlet to share his investment portfolios. Craig studied Finance at Michigan State University and lives in Northern Virginia with his wife and three children. Read more HERE.
---
Favorite tools and investment services right now:
Fundrise — Simple real estate and venture capital investing for as little as $10 (review)
NewRetirement — Spreadsheets are insufficient. Get serious about planning for retirement. (review)
M1 Finance — A top online broker for long-term investors and dividend reinvestment (review)
High Yield Savings — Put idle cash to work. FDIC-insured savings products.