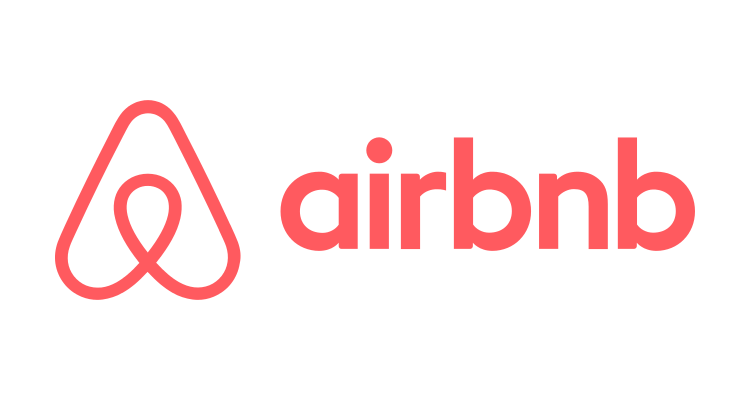 Learn how to invest in Airbnb stock when the IPO arrives on December 10th. Open an account with a broker that provides free IPO access to all customers, such as TradeStation or Webull. Or wait until trading begins.
Invest in upcoming IPOs for as little as $100.
---
Airbnb S-1 filing now available. Read it here.
---
Latest Airbnb Stock IPO News
12/01/2020: Eligible Fidelity customers may indicate interest for Airbnb IPO (see below)
12/01/2020: ClickIPO accepting interest through app (via TS) and Webull (see below)
12/01/2020: Airbnb seeks valuation of up to $35 billion in its IPO
11/30/2020: Airbnb and DoorDash plan to target higher valuations for their December IPOs
11/16/2020: Hosts may be eligible to participate via a directed share program (see below)
11/16/2020: The Airbnb S-1 filing is now available to the public.
11/10/2020: Airbnb Said to Delay IPO Filing to Distance It From Election.
11/05/2020: Reuters: Airbnb to make IPO filing (public) next week, braving COVID-19 surge
10/31/2020: How Airbnb is giving hosts a seat at the table
10/27/2020: Airbnb Stock to List on the Nasdaq Exchange
10/25/2020: Airbnb Tells Shareholder Group Board Approves Share Split
10/21/2020: Airbnb teaming up with former Apple design boss Jony Ive
10/16/2020: Here's why Airbnb is the most valuable private company in America
10/03/2020: Airbnb seeks to raise roughly $3 billion in IPO – Valuation Approximately $30 Billion
Older news…
---
What is Airbnb?
Airbnb is a marketplace that empowers homeowners and landlords to rent their properties to tourists and those in need of a night's stay. Potential visitors can find unique accommodations and avoid staying in a hotel.
Property owners become hosts and make money by letting people stay in their homes. They list the property on Airbnb with pictures, and potential visitors browse the area for a place that works for them.
The model works for a basement apartment or a mansion in the Hollywood Hills. If there's a demand for a place to stay, and the property is right for the potential visitor, the entire transaction occurs on the Airbnb platform.
Click here to browse properties on Airbnb and book your first room. You can also consider becoming a host yourself.
Is Airbnb Publicly Traded?
Not yet, the company is still privately owned. The shareholders are made up of founders, early investors (venture capital firms), and employees.
The S-1 filing was released to the public on November 16th, 2020, and an amended version on December 1st, indicating it intends to complete the IPO at the end of 2020.
You can find a current list of Airbnb private investors at Crunchbase.
When is the Airbnb IPO date?
Now that the S-1 filing is public and terms were released on December 1st (via amended S-1 filing), the estimated Airbnb IPO date is expected to be during the week of December 7th.
The IPO will likely price the evening of December 9th, and debut on Thursday, December 10th.
What is the AirBnB Stock Symbol, Airbnb Ticker??
The Airbnb stock symbol will be "ABNB".
What is the Airbnb Stock Price?
Since Airbnb is not publicly traded on a stock exchange, there is no Airbnb stock price yet.
However, now that the S-1 filing is public and terms are set, the price range is expected to be in the $44-$50 per share range.
The final Airbnb IPO price will be announced the evening before the IPO date.
It may be inside or outside of that range, depending on investor demand.
When the company starts trading publicly, the Airbnb stock price will update below:
Airbnb S-1 Filing
The Airbnb S-1 filing (amended version, Dec 1st) is now available in HTML format on the SEC website here.
Previous and amended versions of the Airbnb S-1 filing are posted here.
The company seeks to raise up to $2.6 million by issuing 51.9 million shares at a price range of $44-$50 per share.
That would value the company at ~$28 billion market capitalization at the midpoint of the range, and up to $35 billion fully diluted (read the TechCrunch interpretation here).
The following is an Airbnb S-1 PDF printed version of the original filing.
Will Airbnb Stock be a Motley Fool Stock Advisor Recommendation?
We won't know until after the IPO if Airbnb will be a Motley Fool Stock Advisor recommendation. However, Airbnb stock fits the mold of high-growth, disruptive business models that the Fool typically recommends.
When the Motley Fool recommends a company, there is usually an immediate spike in the price. Fool newsletter subscribers are notoriously long-term minded and rarely sell, meaning the stock price will continue to rise.
Airbnb may also receive a recommendation by the Motley Fool Rule Breakers newsletter, its high-growth stock recommendation service. Both services have handily beaten the broader market since the early 2000s.
Read this Motley Fool Stock Advisor review to learn about their stock selection methodologies and about how you can participate in excellent returns.
Stock Advisor is currently half-off at just $99 for an annual subscription.
Learn More about Stock Advisor
Should You Invest in the Airbnb IPO?
I don't have the answer.
This rundown at The Generalist is an excellent overview and a good place to fortify your research.
Here's another take by Scott Galloway, a Marketing professor at NYU Stern, who thinks Airbnb stock can reach a $100 billion valuation by 2022.
Can I Buy Airbnb Stock? Three Potential Ways
It is challenging to acquire shares of a stock that is not yet trading on the public markets. It is possible, but you may not be eligible, and it may not be worth the hassle.
For example, if you look at Uber stock, individual investors salivated for years, waiting for it to trade publicly.
When it finally went public, the stock price fell. So you were better off waiting to buy the stock instead of buying it before the IPO.
Now that the IPO is near, there are three ways you can potentially own the stock.
Buy Airbnb Stock in the Initial Public Offering
Buy Airbnb Stock After it Begins Trading
The Airbnb Directed Share Program for Hosts
1. Buy Stock in the Airbnb Initial Public Offering (IPO)
Ambitious investors can position themselves to invest in the Airbnb IPO. But time is running out.
IPOs have always been available to the wealthiest customers of the leading brokerage firms. That's great if you're wealthy. Certain online brokers are better for IPO investing than others.
Financial technology is changing the way ordinary investors can invest in IPO. You can now invest in select IPOs.
The top broker for accessing IPOs today is TradeStation.
TradeStation has partnered with the IPO investing app ClickIPO to give its customers seamless access to IPOs and follow-on offerings.
The company empowers ordinary investors to invest in IPOs through their existing brokerage account.
The ClickIPO app is available to all US-based investors today for research and indicating interest in IPO shares. Link your existing online brokerage at TradeStation to get started.
The minimum to invest in upcoming IPOs is $500.
Another broker for accessing IPOs today is Webull, which has also partnered with ClickIPO to bring direct IPO access through its investing app.
Webull is a smartphone-first broker similar to Robinhood but has built a significant desktop trading platform as well.
Unlike Robinhood, Webull offers free access to IPOs.
You can start buying IPOs once you deposit your first $100 to Webull. Deposit $100 or more and receive at least two free stocks (often more).
Read this Webull review for IPOs to learn more.
For a more extensive list of IPO-friendly online brokers and their eligibility, check out this page. Fidelity (see below), TD Ameritrade, and Schwab are the most likely to receive allocations for their customers.
Click here to download the free 15-page eBook, How to Invest in IPOs – A Fundamental Guide for Ordinary Investors.
Joining a broker that offers access to IPOs does not guarantee an allocation, especially high-demand IPOs such as Airbnb. You may be better off waiting for the company to start trading after the IPO.
Fidelity
Fidelity accepting indications of interest for the Airbnb IPO for eligible customers as of December 1st. Indication of interest does not guarantee an allocation.
Log into your desktop Fidelity account. Go to News & Research, then IPOs.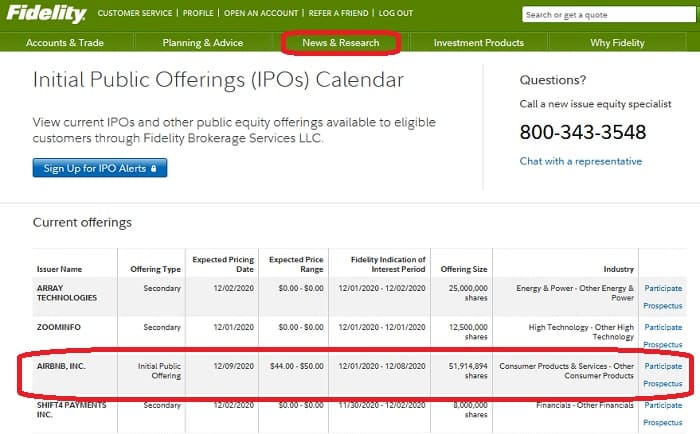 ClickIPO
ClickIPO is displaying the Airbnb IPO and letting people indicate interest. No guarantee they will receive an allocation.
Only TradeStation customers can access IPOs through the ClickIPO app at this stage. Webull customers can indicate interest in the Webull app.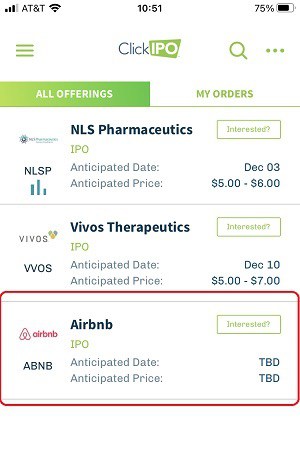 Webull
Webull is displaying both Airbnb and DoorDash, but no indication if Webull (via ClickIPO) will receive a meaningful allocation.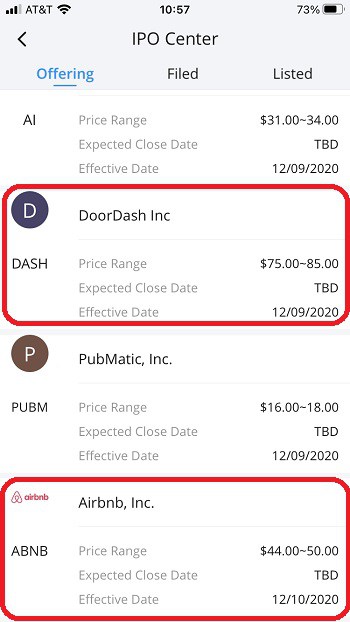 2. Buy Airbnb Stock After the Airbnb IPO
Since acquiring pre-IPO shares is usually reserved for wealthy and connected investors, the most likely way most of us will own the stock is to wait patiently for the IPO to complete.
In some cases, investors can get in at a price near or below the IPO price, as happened with Uber.
This is not always true. The Beyond Meat IPO, for example, soared and never looked back.
The moral here is that spending significant effort to own a company before the IPO may not be worth it in the end.
You may also spend time and effort to obtain shares but only receive a small allocation. Even if the stock soars, your upside gain may be limited.
Your best chance to own the stock is by waiting for the IPO and making a purchase of Airbnb stock through a no-fee online brokerage account.
You can open the account well before the IPO, then place your first trade to learn how to buy shares of a company.
I recommend starting with a company you know well. If you like Starbucks, for example, buy Starbucks stock.
So what is the best online brokerage for buying Airbnb stock?
As an individual investor, you'll want to open an account with a commission-free broker. That way, you'll invest most of your money instead of waste it on fees.
I'll go over one of my favorites below. It has very reasonable fees and will make it easy to buy Airbnb stock once it begins trading on open stock markets.
What is the Best Online Broker to Buy Airbnb Stock after the IPO?
If you're looking to participate in IPOs, TradeStation or Webull are your best bets.
On the contrary, long-term investors may prefer an online broker that's better for dollar cost averaging and dividend reinvestment.
I'm a big fan of the online brokerage M1 Finance. M1 Finance is a reliable and robust, no-fee online broker for beginner to intermediate investors. It's easy to get started.
As your investing skills and portfolio mature, M1 is one of the best platforms to scale.
Investing in stocks is 100% free on the platform. Read my complete M1 Finance review here.
M1 Finance does not offer IPO access. But it's my favorite for every day investing.
The platform is more intuitive than old school brokers because it's built on a modern technology platform. You create your ideal portfolio first, then fund it over time. Simply add Airbnb stock to your portfolio pie.
3. The Airbnb Directed Share Program for Hosts
UPDATE: If anyone receives an email offering shares to hosts, please contact me with the details so I can share it here.
BIG NEWS: The S-1 filing indicates there will be a directed share program for hosts! That means, if you're a host, you may be able to access Airbnb IPO shares.
Here's the text from the S-1 filing, updated after the amended release on December 1st:
At our request, the underwriters have reserved up to 3,500,000 shares of Class A common stock, or 7.0% of the shares offered by us in this offering, for sale at the initial public offering price through a directed share program to eligible U.S. hosts and certain individuals identified by our officers and directors. For hosts, those who reside in the United States and had by November 1, 2020 accepted a reservation that began, or was scheduled to begin, in 2019 or 2020 are potentially eligible for the program. Airbnb employees are not eligible. If demand for the program exceeds capacity, we may invite hosts to participate based on tenure, as determined by the year they first hosted on Airbnb.

The number of shares of Class A common stock available for sale to the general public will be reduced to the extent that such persons purchase such reserved shares. Any reserved shares not so purchased will be offered by the underwriters to the general public on the same basis as the other shares offered by this prospectus. Morgan Stanley & Co. LLC will administer our directed share program.
HOSTS: Watch your emails for communication from Airbnb about the directed share program. You may be able to participate in the IPO.
Airbnb Stock News Archive
09/23/2020: Airbnb CEO Brian Chesky on the company's IPO⁠— 'When the market's ready for Airbnb, it will go public'
09/17/2020: Airbnb Opponents Take Fight to SEC Ahead of IPO
09/09/2020: How Airbnb got its IPO plans back on track
09/03/2020: Airbnb spurns approach to go public through Bill Ackman's blank-check company
08/28/2020: Airbnb's IPO Opens Path To Market Dominance
08/24/2020: Airbnb IPO could be the 'steal of the century,' Jim Cramer says
08/24/2020: Airbnb is set for a blockbuster IPO – here's why (opinion piece)
08/19/2020: Airbnb has filed confidential IPO paperwork
08/11/2020: Airbnb plans to confidentially file for IPO this month
07/22/2020: Airbnb approached about blank-check company merger for public listing: CEO
07/15/2020: Airbnb Says Its I.P.O. Plans Are Back on Track
06/30/2020: Airbnb could still IPO in 2020, CEO Brian Chesky says: 'It has exceeded everything we expected'
06/09/2020: Airbnb revives internal IPO conversations
06/08/2020: Airbnb Joins Vacation-Rental Sites Seeing Surge in Demand
05/06/2020: Airbnb hosts are building their own direct booking websites in revolt
04/15/2020: Airbnb to lay off nearly 1,900 people, 25% of company
04/15/2020: Airbnb raising another $1 billion in debt as coronavirus ravages tourism business
04/06/2020: Airbnb Raises $1 Billion In New Funding. An IPO Seems Unlikely Anytime Soon
04/03/2020: Airbnb lowers internal valuation by 16% to $26bn
02/11/2020: Airbnb Swings to a Loss as Costs Climb Ahead of IPO
11/18/2019: Jim Cramer of CNBC interviews Airbnb CEO Brian Chesky
10/08/2019: Airbnb is gearing up to be the most anticipated IPO of 2020, here's why – Video about the upcoming Airbnb IPO.
10/01/2019: Airbnb Leans Toward Direct Listing Over Traditional IPO
09/19/2019:$31 billion Airbnb announces plan to go public in 2020
Conclusion
Time is running out to participate in the Airbnb IPO. If you're not positioned to participate, keep a long-term view and consider buying the stock after trading begins.
But that's not necessarily a reason to be disappointed. Google's shares rose 18% on the day of its IPO. Many people probably sold that day. Had they held for the next decade, their holdings would have been up 1,000%.
If Airbnb is a truly remarkable business, the real money will be made over the next decade, not on the IPO date.
Please perform due diligence on the SEC S-1 filing and don't buy Airbnb stock with money you can't afford to lose.
* Disclosure: The web page contains affiliate links from our partners. If a reader opens an account or buys a service from a link in this article, we may be compensated at no additional cost to the reader. Opening an account with a broker that provides access to IPOs does not guarantee the customer allocations of specific IPOs.
Favorite tools and investment services right now:
Credible - NOW is the best time ever to refinance your mortgage and save. Credible makes it painless.
Personal Capital - A free tool to track your net worth and analyze investments.
M1 Finance - A top online broker for long-term investors and dividend reinvestment (review)
Fundrise - The easiest way to invest in high-quality real estate with as little as $500 (review)