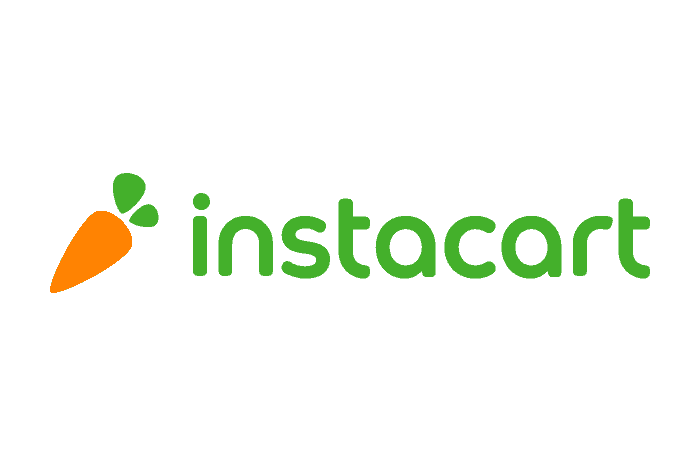 Learn how to invest in Instacart stock once the IPO arrives. Get access to select IPOs with Tradestation, which offers free IPO access to all customers. Or browse pre-IPO platforms for early equity opportunities.
---
Latest Instacart Stock IPO News
01/20/2022: Chase to launch Instacart co-branded credit card
12/10/2021: Instacart president Carolyn Everson announces departure
11/16/2021: Instacart Pushes Off Public Offering to Focus on Grocery Services Growth
08/14/2021: Can Instacart reconfigure America's grocery wars?
08/11/2021: The Information: DoorDash Recently Held Talks to Buy Instacart (Reuters)
08/04/2021: Instacart hires former Facebook exec Carolyn Everson weeks after poaching Fidji Simo as CEO
03/18/2021: Instacart Eyes Fourth-Quarter Public Listing, International Expansion
03/05/2021: Instacart mulls direct listing in snub to IPOs
03/02/2021: Instacart's valuation doubles to $39 billion
02/24/2021: Instacart adds board members, including Facebook's Fidji Simo, as it preps IPO
Older news…
---
What is Instacart?
Instacart is a grocery pick-up and delivery service headquartered in San Francisco.
The company partners with more than 25,000 grocery stores and "big box" chains to hand-pick store items and deliver them to its customers' doors.
Customers shop online using the Instacart Marketplace via desktop or handheld device.
Then Instacart hires personal shoppers who enter the stores, select and pack items, and deliver to the customers. Customers pay a delivery fee ($3.99) plus a 5% service fee. Tipping is also encouraged.
Instacart is currently hiring new shoppers to meet the recent spike in demand. Learn how to become an Instacart Shopper and earn extra cash.
Is Instacart a Publicly Traded Company?
No, the company is privately held.
The current shareholders are the founders, employees, and several venture capital firms, including Andreessen Horowitz, T.Rowe Price, Khosla Ventures, Tiger Global Management, Coatue Management, Sequoia Capital, and Kleiner Perkins.
Instacart announced a round of funding on 10/08/2020 led by Valiant Capital Management and D1 Capital. Its new valuation is $17.7 billion.
Another round of private funding was announced on 03/02/2021. Instacart raised $265 million valuing the company at $39 billion.
The company is considering a direct listing IPO instead of a traditional IPO.
You can find a current list of Instacart investors at Crunchbase.
The company is accelerating on a path to go public in early 2021, according to Reuters.
When is the Instacart IPO date?
The Instacart IPO date is currently not set.
There is speculation that the Instacart IPO date will be sometime during the first half of 2021, according to The Financial Times and Reuters. Instacart has hired Goldman Sachs as the underwriter.
The approximate Instacart IPO date won't be known until one of two things happens:
The Instacart IPO date range leaks to the financial press
The SEC releases a publicly-available Instacart S-1 filing
Even when the company and SEC publicly release the S-1 filing, we still won't know a firm IPO date.
The IPO date typically occurs a month or two after the S-1 is released to the public.
Because Instacart is a so-called unicorn and Silicon Valley darling, you can be sure that the Instacart IPO date announcement will be loudly publicized.
Instacart S-1 Filing
The Instacart S-1 filing is not available for public consumption yet.
Bookmark this page and check back when it is released. I will post the public S-1 filing in this section.
What is the Instacart Stock Price?
Since Instacart is not publicly traded on a stock exchange, there is no Instacart stock price yet.
Underwriters will determine the final IPO price the night before trading begins.
The stock will begin trading an hour or two after the morning bell of the IPO date, at which point all investors can buy the stock.
What is the Instacart Stock Symbol, Instacart Ticker?
Instacart has not yet submitted publicly viewable filings to the Securities and Exchange Commission (SEC).
Therefore, it is not yet known what the Instacart stock symbol will be. We can only speculate about the Instacart ticker.
Here are three suggestions that appear to be available in the U.S.:
Will Instacart Stock be a Motley Fool Stock Advisor Recommendation?
We won't know until after the IPO if Instacart will be a Motley Fool Stock Advisor recommendation.
However, Instacart stock fits the mold of high-growth, disruptive business models that the Fool typically recommends.
When the Motley Fool recommends a company, there is usually an immediate spike in the price.
Fool newsletter subscribers are notoriously long-term minded and rarely sell, meaning winning stock picks will continue to rise over many years.
Instacart may also receive a recommendation by the Motley Fool Rule Breakers newsletter or other premium services. Both services have handily beaten the broader market since the early 2000s.
Read this Motley Fool Stock Advisor review to learn about their stock selection methodologies and about how you can participate in excellent returns.
Stock Advisor is currently half-off at just $99 for an annual subscription. I'm a subscriber and have more than doubled my money on three past recommendations (TTD, ZM, RDFN).
Can I Buy Instacart Stock? Three Potential Ways
It is challenging to acquire shares of a stock that is not yet trading on the public markets. It is possible, but you may not be eligible, and it may not be worth the hassle.
For example, if you look at Uber stock, individual investors salivated for years, waiting for it to trade publicly.
When it finally went public, the stock price fell. So you were better off waiting to buy the stock instead of buying it before the IPO.
That said, many IPOs spike on the first day, giving those with access the opportunity for a quick profit.
There are three ways you may be able to acquire shares of a pre-IPO stock, such as Instacart.
Buy Instacart stock after it begins trading
Buy Instacart stock in the Initial Public Offering (IPO)
Buy Instacart stock in pre-IPO secondary marketplaces
1. Buy Instacart Stock After the Instacart IPO
Since acquiring IPO shares is almost always challenging for individual investors, the primary way to own Instacart stock is to wait for the IPO to complete.
Realistically, unless your brokerage account is worth more than $1 million and your broker regularly receives IPO allocations, you are unlikely to access high-demand IPOs.
In some cases, patient investors can buy the stock at or below the IPO price. This is not always true.
The Beyond Meat IPO, for example, soared and never looked back. But Uber, which many predicted to rise steeply, actually fell on the IPO date.
Spending significant effort to acquire IPO shares may not be worth it in the end. You may also spend time and effort to obtain shares but only receive a small allocation, limiting upside gain.
Though IPOs can provide one-day gains north of 20%, even up to 100% in rare cases (such as Airbnb and Doordash), the most significant gains will come during the decade following the IPO if the company is genuinely disruptive.
Take, for example, Netflix, Amazon, or Tesla. You could have bought the stock years after the IPO and still experienced gains of more than 1,000%
So what is the best online brokerage for buying Instacart stock after the IPO?
As an individual investor, you'll want to open an account with a commission-free broker.
What is the Best Online Broker to Buy Instacart Stock after the IPO?
For investors looking to participate in IPOs, TradeStation and Webull offer IPO investing to customers (more below). However, you're never guaranteed a share allocation and most high-demand IPO will not be available.
Long-term investors may prefer an online broker that's better for dollar cost averaging and dividend reinvestment.
I'm a big fan of the online brokerage M1 Finance. M1 Finance is a reliable and robust, commission-free online broker for beginner to intermediate investors. It's easy to get started.
As your investing skills and portfolio mature, M1 is one of the best platforms to scale.
Investing in stocks is 100% free on the platform. They also offer an integrated checking account and low borrowing rates. Read my complete M1 Finance review here.
M1 Finance does not offer IPO access. But it's my favorite for every day investing.
The platform is more intuitive than old school brokers because it's built on a modern technology platform. You create portfolio "pies" that contains all the stocks and ETFs you want to own and in what percentages. Simply add Instacart stock to your portfolio pie.
2. Buy Instacart Stock in the Initial Public Offering (IPO)
Ambitious investors may attempt to position themselves to invest in the Instacart IPO once it arrives. Most retail investors will not get access.
The wealthiest clients at the top investment banks will get IPO shares in the hottest deals.
Your chances of getting IPO shares depends on four factors:
IPO demand
Your broker and eligibility
Your assets under management at the broker
Propensity to flip shares
As IPO demand increases, the chances of receiving IPO shares decreases. Therefore, the IPOs that are most interesting to the masses are the hardest to access.
Lower-demand IPOs may be available to retail investors who are customers at participating brokers.
What are the Best Online Brokers for IPO Investing?
For an extensive list of IPO-friendly online brokers and their eligibility, check out this page.
Wealthy customers ($1 million+ accounts) at Fidelity, TD Ameritrade, and Schwab may have a shot at some IPOs, depending on demand.
TradeStation and Webull are the best options for investors with less than $250,000. Both give limited access to lower-demand IPOs and secondary offerings through a partnership with ClickIPO, an IPO investing app.
Joining a broker that offers access to IPOs does not guarantee a share allocation, especially in high-demand IPOs. You are probably better off waiting for the company to start trading after the IPO.
Click here to download the free 15-page eBook, How to Invest in IPOs – A Fundamental Guide for Ordinary Investors.
3. Buy Instacart Stock in Pre-IPO Secondary Marketplaces
Founders, early employees, and investors often find themselves in a difficult predicament. They own valuable shares of a company that doesn't trade publicly.
These shareholders might have multi-million dollar net worth's because of their stock holdings, but the stock is not liquid because it doesn't trade on an exchange.
A few platforms have evolved to gives these individuals a way to liquidate their holdings before the IPO.
Some of the most prominent include Linqto, EquityZen and Forge.
These sites bring liquidity to an otherwise illiquid asset. Accredited investors may join these sites and attempt to buy shares of these companies when they become available.
The shares are only offered to accredited investors because the company's financials are not publicly filed with regulators yet, increasing investors' risk.
For High-profile companies, demand is high, lowering your chances of acquiring shares, if you're accredited.
Bonus!
One last possibility is a directed share program. Sometimes when companies file their S-1 SEC filing (to begin the IPO process), they include a directed share program for executives, affiliates, and other people who helped the company grow.
Since Instacart is made possible because of its customers and dedicated personal shoppers, it's possible for the company to offer them IPO shares.
This has happened before. Most notably, Uber offered shares to drivers that completed a certain number of trips. So did GoPro.
Since Instacart has regular customers and valued employees, I believe there's a chance there will be an Instacart directed share program for personal shoppers and or customers.
Pay attention to the news, this page, and your email in case it happens.
Instacart News Archives
01/07/2021: Instacart Announces Industry Veteran Nick Giovanni is Joining the Company as CFO
12/18/2020: Dick's teams with Instacart for same-day delivery at 150 stores amid holidays
11/12/2020: Reuters: Instacart taps Goldman Sachs to lead IPO at $30 billion valuation
11/05/2020: DoorDash and Instacart face brighter IPO prospects after ballot victory in California
10/08/2020: Instacart Valuation Jumps to $17.7 Billion in Grocery Investment
10/08/2020: Instacart consults with banks ahead of potential IPO
07/16/2020: Instacart is suing Uber's grocery delivery service Cornershop
06/11/2020: Now Valued at $13.7 Billion, Why Instacart's Next Investment Round Needs to Be an IPO
Conclusion
For ordinary investors, it will be challenging to acquire pre-IPO Instacart shares. If you're determined, follow the pre-IPO marketplaces and pay attention to any offerings. You must be accredited to invest this way.
Otherwise, you'll need to wait for the IPO date to buy shares.
But that's not necessarily a reason to be disappointed. Google's shares rose 18% on the day of its IPO. Many people probably sold that day. Had they held for the next decade, their holdings would have been up 1,000%.
When the Instacart IPO is near, please perform due diligence and read the SEC S-1 filing and don't buy Instacart stock with money you can't afford to lose.
Check out this list of the most anticipated upcoming IPOs for more investment ideas.
Disclosure: The web page contains affiliate links from our partners. If a reader opens an account or buys a service from a link in this article, we may be compensated at no additional cost to the reader. Opening an account with a broker that provides access to IPOs does not guarantee the customer allocations of specific IPOs.
Favorite tools and investment services right now:
Credible* - Now is an excellent time to refinance your mortgage and save. Credible makes it painless.
Personal Capital - A free tool to track your net worth and analyze investments.
M1 Finance - A top online broker for long-term investors and dividend reinvestment (review)
Fundrise - The easiest way to invest in high-quality real estate with as little as $10 (review)
*Advertising Disclosure: RBD partners with Credible which offers rate comparisons on many loan products, including mortgage refinances and student loans. This content is not provided by Credible or any of the Providers on the Credible website. Any opinions, analyses, reviews or recommendations expressed here are those of the author's alone, and have not been reviewed, approved or otherwise endorsed by Credible. RBD is compensated for customer leads. Credible Operations, Inc., NMLS Number 1681276, not available in all states. 320 Blackwell Street, Suite 200 Durham, NC 27701.