PeerStreet Review 2023: Real Estate Debt Investing
This page contains links to our partners. RBD may be compensated when a link is clicked. Read disclosures.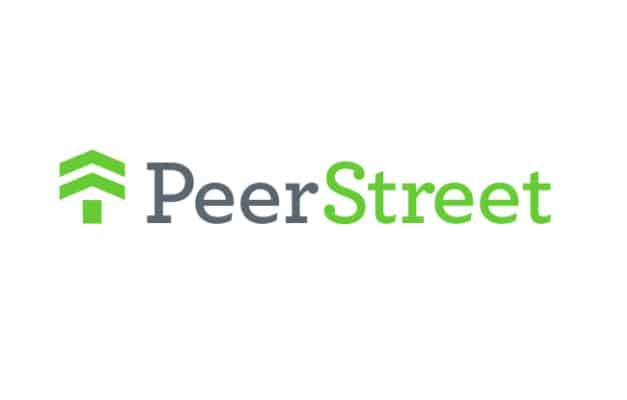 PeerStreet filed for Chapter 11 bankruptcy on June 26, 2023. More information here. The bankruptcy marks the end of PeerStreet as a viable investment platform.
---
PeerStreet is a Los Angeles-based real estate crowdfunding company enabling accredited investors to invest in high-quality real estate from their computer or smartphone.
I've personally invested on the platform since July 2017, which gives you a more direct inside look compared to non-investor PeerStreet reviews.
Jump to the PeerStreet review starting point.
PeerStreet is perhaps my favorite of all the real estate crowdfunding sites because of its simplicity. Investments are easy to analyze and purchase with just a few clicks.
Though a wave of defaults scared some investor off, diversified investors have still done OK.
For easier diversification for non-accredited investors, I prefer Fundrise and have directed more money there in the last two years.
New account holders are welcomed with a phone call from the investor relations team to get you up to speed and answer any questions.
The platform contains everything you need to make investments and monitor your account and leaves out the unnecessary fluff and fancy visualizations.
The team behind PeerStreet has carefully designed an elegant "less is more" website that is a pleasure to navigate.
PeerStreet offers the opportunity to invest in solid, asset-backed loans, and the user experience is top notch. This PeerStreet review will look a the real estate crowdfunding platform from top to bottom from the view of an actual investor.
PeerStreet is growing tremendously fast. In October 2019, PeerStreet raised $60 million in series C venture capital.
As of November 2022, the company has transacted more than $5.0 billion in investment loans on the platform.
Please note: Since the start of June 2017, I've invested $12,000 of my own money into several loans at PeerStreet and intend to continue investing on the platform. I'm also a PeerStreet affiliate which means I may be compensated at no cost to you if you open an account using any of the links on this PeerStreet review page.
What is Real Estate Crowdfunding?
Congress passed the Jumpstart Our Business Startups Act (JOBS) in 2012 which set the foundation for equity crowdfunding. Equity crowdfunding is similar to more established crowdfunding on sites such as Kickstarter but allows for the exchange of equity for early investments.
The JOBS Act has created more options for early-stage companies to raise money, including crowdfunding and mini-IPOs, also known as Reg A+ IPOs. Companies can raise up to $50,000,000 per fund via Regulation A of the JOBS Act.
Real estate crowdfunding was not the primary intent of the JOBS Act. However, it has seen the most growth. Since the passing of the JOBS Act, at least 100 real estate crowdfunding sites have emerged because the opportunity is so big. But the top tier companies do most of the volume. In addition to PeerStreet, other significant platforms include Realty Mogul, Crowdstreet, Fundrise, and EquityMultiple.
I'm currently investing on two different platforms. Fundrise and PeerStreet. Toward the end of this post, I compare them and help you determine which one is right for you.
The potential for real estate crowdfunding is huge. These platforms are quickly taking a share of the real estate project funding landscape. But crowdfunding is still in its infancy.
Now, high-quality commercial and residential real estate investments, once reserved for wealthy individuals and established companies, are available to ordinary investors.
PeerStreet Review 2023
My goal for this PeerStreet review is to show you what it's like to be an investor on the platform. I'll share screenshots from my own account and step you through what to expect when you invest.
Keep in mind, PeerStreet is for accredited investors only. Being accredited means you either have a net worth greater than $1,000,000 (not including your primary residence), or your annual income is greater than $200,000 (single) or $300,000 (joint).
How it Works
PeerStreet teams with regional loan originators who make loans to borrowers who are often real estate developers and investors. PeerStreet vets each originator for quality and track record and due diligence is performed by both parties. A team of in-house real estate experts at PeerStreet underwrites each loan using proprietary analytics and manual processes to select the highest quality loans.
The originators and loans which pass the vetting process are then listed on PeerStreet for investor participation. PeerStreet investors join with the originators to make the loans to the borrowers. This structure lowers risk for the loan originators and provides access to more funds for more deals.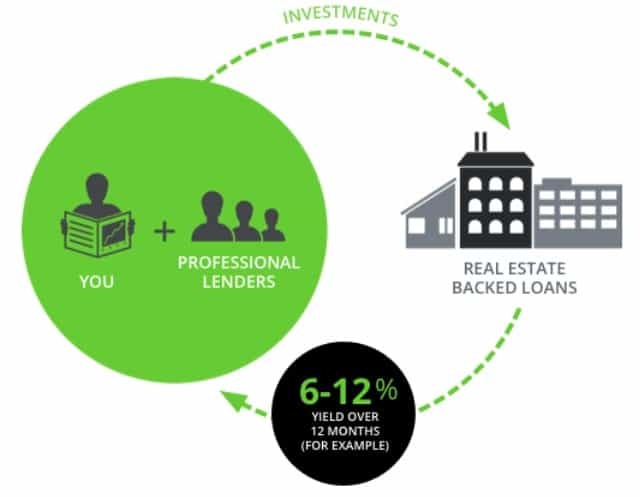 Most of the loans are 6-24 months in duration with loan-to-values below 75%.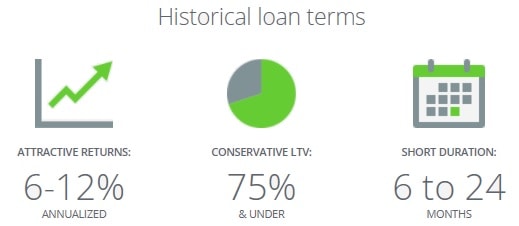 After a loan is completely funded, it typically takes 1-3 days to close. The loan will then begin paying the investor interest.
Interest is paid on the loan on a monthly basis. Payments to investors go into their "Available Cash" fund. This differs compared to the Fundrise and RealtyShares platforms which direct payments into your bank account (both RealtyShares and Fundrise) or reinvest back into eFunds (Fundrise only).
At PeerStreet, funds can easily be reinvested into new loans once the cash balance reaches the minimum investment threshold of $100.
What You're Investing in
PeerStreet is a real estate peer lending platform that allows you to invest in real estate loans historically reserved for professionals.
The loans you invest in are secured by first liens on real estate properties. That means that PeerStreet is first in line to get paid. And if the borrower defaults, PeerStreet would be first in line to take ownership of the property along with its partners.
PeerStreet loans are typically used as short-term financing for fix and flips, cash-out refinancing, and acquisitions. In exchange for your money, investors receive a stated interest rate that is net of fees.
The Dashboard
Below is a view of the Dashboard when you log into your account. You'll immediately see a summary of your account including the account type and number (not shown), total account value, interest to date, and an interest chart.
Overview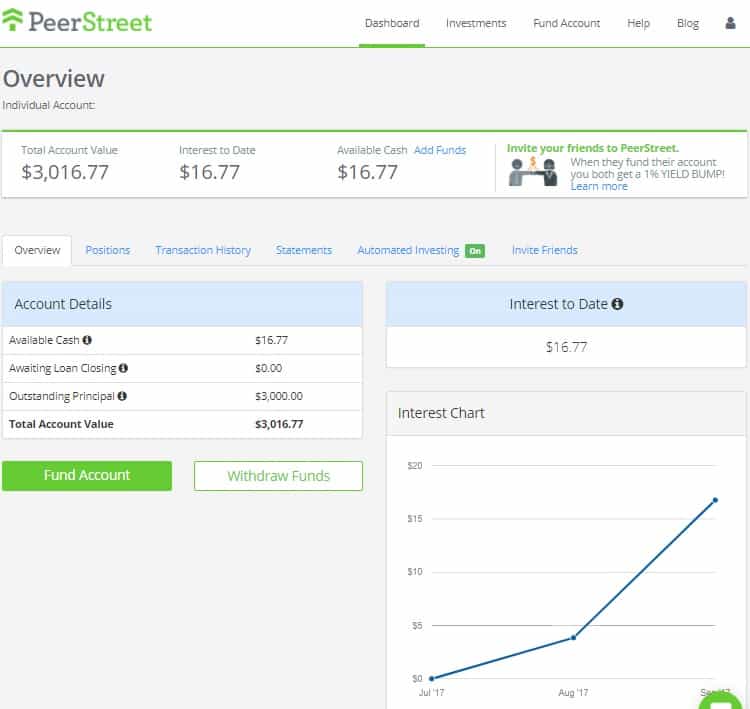 Positions
Click over to the positions tab and you'll see all the Active Loan Positions, Loan Positions Awaiting Closing (automated investments show up here), and Paid Off Loan Positions. My investments are all Active at the time of this screenshot.
Here's you'll see the loan name, notices if any, status, investment amount, interest rate, start and maturity dates, and interest received.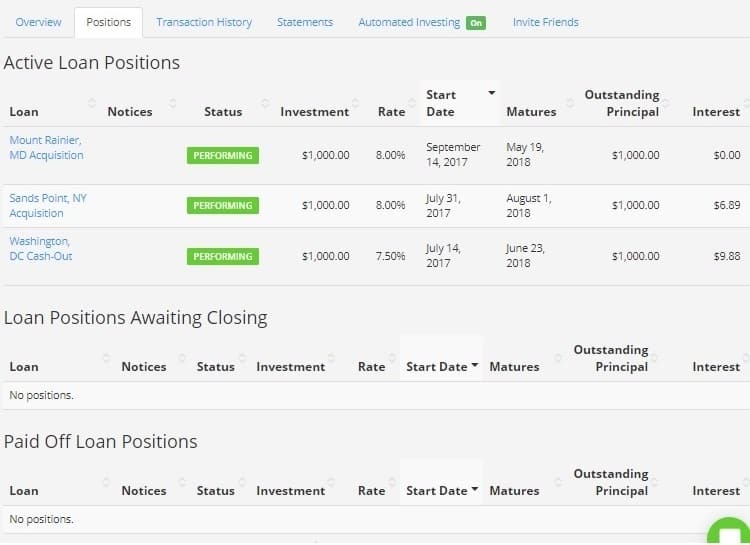 Transaction History
The Transaction History tab records each event that takes place on your account. On the screenshot below, you can see account deposits, investments, and interest payments.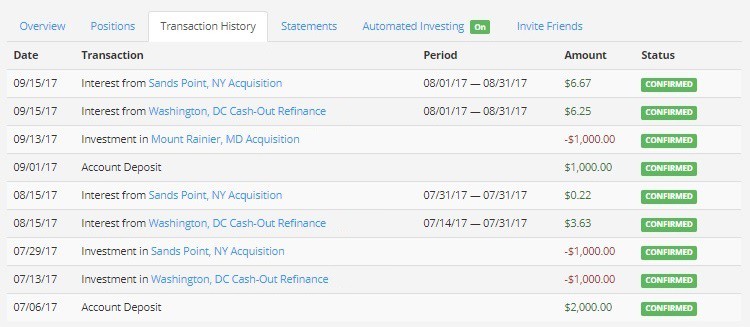 Statements
The Statements page has a simple list of monthly account and tax statements that are currently available. Click on one of the statements and you receive a combined view of the Overview, Positions, and Transaction History. Statements are in HTML format rather than PDF. From a Chrome browser, you can easily print the view to a PDF if desired.

Opening and Funding Your Account
Opening an account is a simple process on PeerStreet. You'll enter your basic information and choose which type of account you wish to open. Investors can invest through a regular taxable account or create a self-directed traditional IRA or Roth IRA.
Self-directed IRA accounts are administered by Self Directed IRA Services, a subsidiary of Horizon Bank. PeerStreet will reimburse some of the costs of opening an account with a balance greater than $5,000.
Personal Attention
A day or two after opening an account, I was contacted by a human from the Investor Relations team. The PeerStreet employee made himself available to answer any questions I had about the platform. He specifically made a point to recommend setting up Automated Investing to get me into my first loans.
The team member followed up with some helpful links via email, then offered to have another conversation once my account was funded.
In a digital world, this personal contact from a human was a welcome surprise. It goes to show that PeerStreet wants to make connections with its investors to develop a long-term relationship. As I build my account, I know that I can reach out to my assigned Investor Relations contact at any time for any questions.
Funding Your Account
Accounts are funded by either wire transfer or ACH bank transfer. Cash holdings on the PeerStreet platform are held by City National Bank.
One standout feature at PeerStreet is that when you initialize an ACH transfer, your funds are instantly available. That means you can transfer money and invest with no delay. This is a welcome feature compared to many other investing platforms.
The Investment Process
Investors can invest a few different ways on the PeerStreet platform. Start by clicking on the Investments tab on the main menu. This will bring you to a page which displays all currently available investments (if any are available). Also accessible from this page are lists of all current active investments (already closed to new investors) and paid off investments.
Below is a sample view of the top of the Investments page.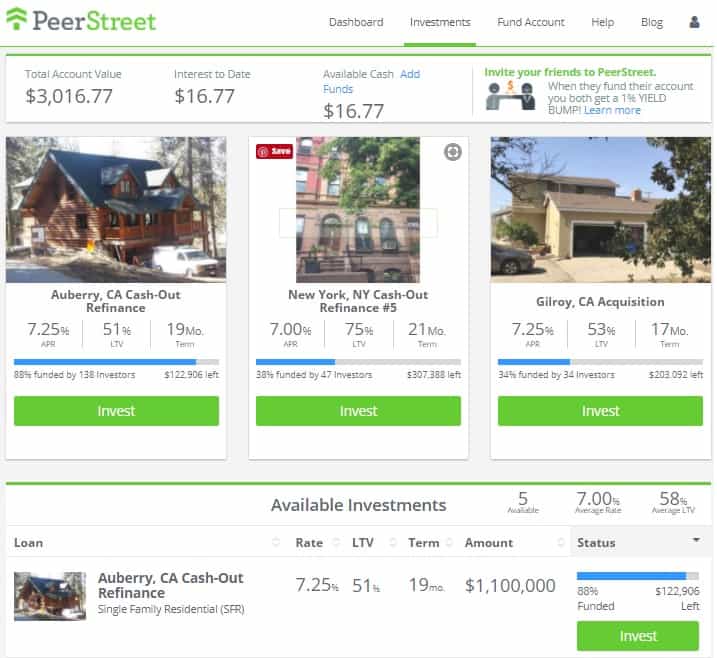 At the time of writing this, five deals were available at an average interest rate of 7% and loan-to-value (LTV) of 58%. If the loan matches the criteria of the investor, these are immediately available for investment via automation. You can click on the property photo to learn more (for due diligence documents, explained later on this page), or click on the Invest button to initiate your investment.
The best loans are rarely available during the hours after initial release. Higher demand loans go in minutes after automation and manual investing. To invest in the highest demand loans, investors will need to participate through automation or timely manual investing.
The sequence below is the investment process when new loans are released.
Email Alert
New loans become available for investment a few times per week. When a group of new loans is available, PeerStreet sends an email to investors the day before with the subject Loan Publishing Schedule for the given date. The email provides the time of the day that new loans will be available for investing.
The normal time is a weekday at 12 noon PST, or 3 pm EST, following automated investing. Automated investing seems to occur in the hour leading up to the release time. PeerStreet leaves some investment slots in each loan for manual investing. If you do not invest automatically, you can choose to invest in specific loans on your own.
Automated Investing
Demand for loans, especially the higher yielding loans, is high and investment opportunities can fill up quickly. This makes automated investing an attractive and stand-out component to the PeerStreet platform.
PeerStreet offers automated reinvestment for a $100 minimum investment.
Automated investing takes place for each loan in the hour leading up to public release for manual investing. This option is ideal for anyone not available at 3 pm EST to invest.
To set up automated investing in your account, simply click on the Automated Investing tab. Then choose the minimum investment thresholds you want to invest in.
The tool asks you to set the interest rate, loan-to-value (LTV), loan term, and investment amount per loan.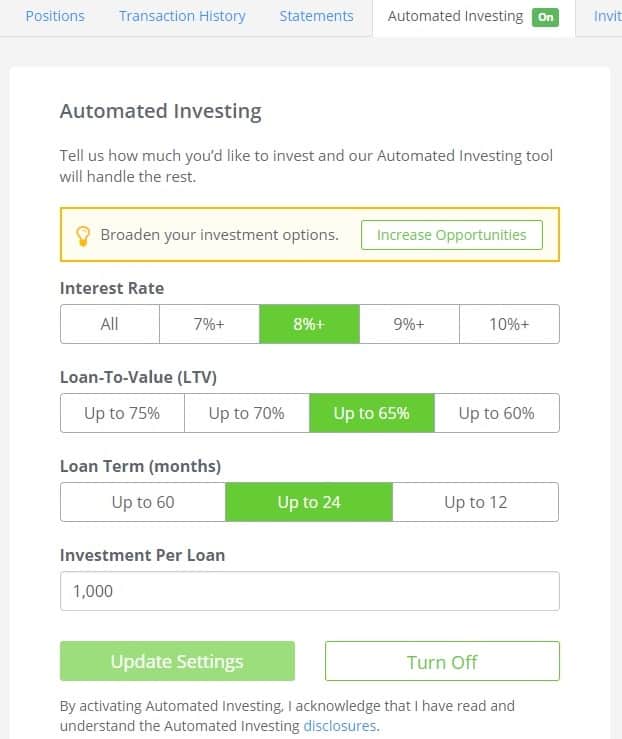 When a loan goes live on the platform, the automated investing tool then matches loans to investor criteria. When an investor has enough available cash in their accounts, and a loan matches his/her criteria, a pending purchase is made.
If the demand for a given loan is oversubscribed, a queue is formed in the system. This is the case for higher interest rate and lower risk loans. When the investor reaches the front of the queue, the investment is made.
The investor then has 24 hours to accept or decline the investment loan for their portfolio. This is an important note because automated investing allows you to get into high demand loans, but you can still perform your own due diligence BEFORE committing money to the investment.
The automated selection will display in the Loan Positions Awaiting Closing section of the Positions tab. From here you can back out within the 24-hour window if you wish.
Manual Investing
Manually investing is preferred by some investors. I've invested via both the manual and automated methods and prefer the automation tool followed by due diligence.
To successfully invest in loans manually, you'll need to closely monitor the email alerts to prepare for investment. When the loans are available, you must be logged in and ready to quickly perform due diligence and invest. A high percentage of each investment opportunity is allocated in the automated process. For high-interest rate loans (typically >8%), you'll need to be very nimble to invest manually.
Some lower interest rate loans are sometimes available on the platform well after the initial release. These loans are typically in the 6.50%-7.50% range.
Documents for Due Diligence and a Sample Deal
PeerStreet provides documentation about each deal for due diligence. If you choose the manual investment approach at the release of new loans, you may have extremely limited time for analysis.
A better approach is to set up automated investing, then perform due diligence during the 24-hour period after the loan is selected for you. If you decide to invest, do nothing and the investment will go through. If the deal is not to your liking, cancel before the 24-hour period is over.
The following four screenshots are a sample of what to expect what you click on a deal to learn more.
The first view is a picture of the property. It includes the location, type, loan strategy, and basic terms of the loan, along with a return projection chart.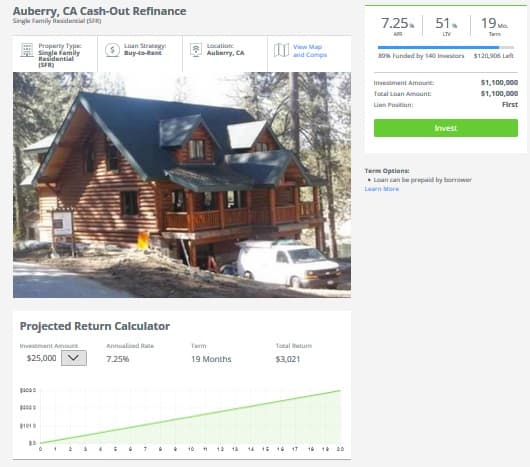 Next is the Capital Stock which determines the LTV. The Rate Details spell out the exact fee that PeerStreet will take out of the deal. More on fees later, but transparency is built into the platform.
The Originator is then identified (omitted in this view), and the amount of capital it has in play, indicated as "Skin in the Game".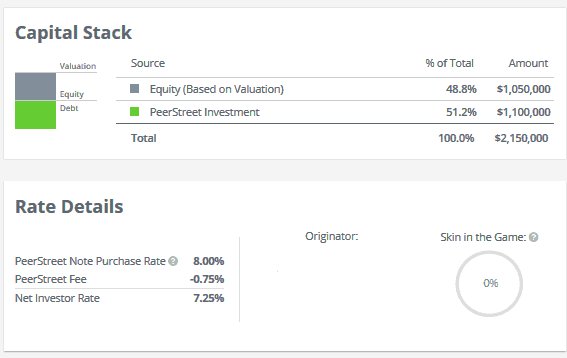 The Investment Overview section again lists the details of the deal. From here you can click on the name of the originator and be taken to the specific Originator page for information on its past deals. PeerStreet uses the same originators over and over, so there's a deep history for many of them.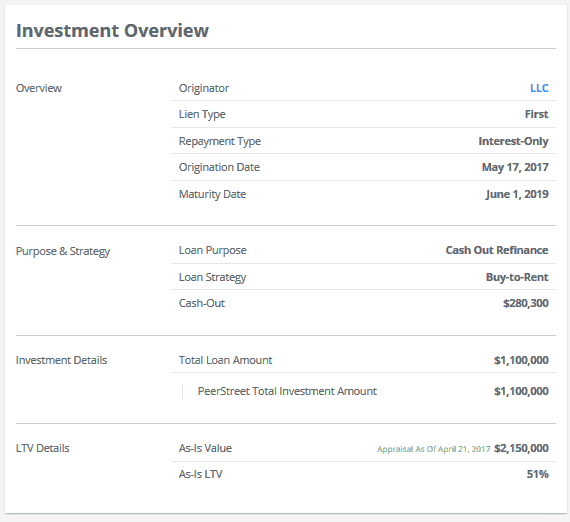 Finally, I've included a screenshot of the Map & Comps view which identifies similar sales in the region and compares them to the property at hand.
A full appraisal is always available for each property. For this sample property, the appraisal PDF is 44 pages long.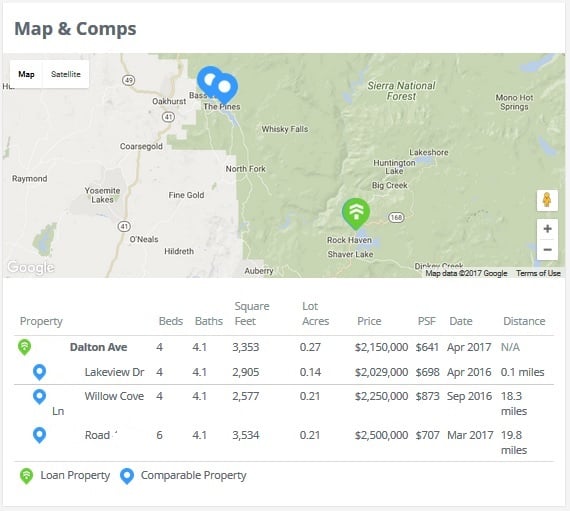 Not shown here but also included is the borrower (guarantor) credit score and additional property details including, bedrooms/baths, square footage, home price index, and downside scenario.
Fees
PeerStreet applies a serving fee to each loan of 0.25% to 1.00%. This is a spread between the interest rate paid on the loan and the interest rate paid to the investor.
The fees are clearly marked for each deal on the Rate Details section for each property, just under the Capital Stack. The published rate when evaluating each deal manually or in the automation tool is listed net of fees. The rate you see is what you get.
Taxes
According to the FAQs, investors are issued a consolidated Form 1099 for the income distributed from their investment positions. Investors may receive one or more of the following types of 1099 form:
1099-OID for notes with terms longer than one year (at the time of issue)
1099-INT for notes with terms less than one year (at the time of issue)
1099-MISC for incentives, late fees or other income, if more than $600
The 1099 form is the simplest tax form to receive. Since PeerStreet does not offer equity investments (unlike Equity Multiple), no Schedule K-1s are ever issued.
PeerStreet strongly urges you to consult with a tax adviser for more information about tax treatment related to specific investments.
Handling of Defaults
If loans are at risk of default, PeerStreet's experienced team of real estate professions is equipped to acquire the property and maximize the proceeds on behalf of investors.
If a borrower is late with payments, PeerStreet may charge default interest to the borrow until they are current. PeerStreet keeps 50% of default interest and distributes the rest to investors.
When a borrower defaults, Peerstreet will foreclose on the property, take ownership, and remarket and sell the property.
This occurred with one of the properties that I invested in (out of about 30 total investments). It was a commercial property in Texas where the borrower bailed out of the deal. Peerstreet currently owns the property and is trying to sell it. I'll update this post when I know how much of my initial capital is returned.
As of 12/27/2021, I'm still waiting for a resolution. My $1,000 initial investment hasn't collected any interest in more than two years.
PeerStreet Cash Offer Loans
Cash Offer Loans provide additional investment durations available on our platform. Investors can now find terms that range from as short as 30 days to as long as 36 months.
Cash Offer Loans are made to a service provider who helps homeowners buy their next home with an all-cash offer so they can be more competitive in the home buying process. The loans give them a chance to get into their new home before selling their current residence while passing along the yield of the loan to investors.
Yields are typically lower than other loans, around 3%-5%, depending on the deal. But shorter durations give your portfolio more flexibility, liquidity, and risk reduction.
PeerStreet Review 2023: Cons and Risks
The most obvious downside to investing in PeerStreet is that non-accredited investors cannot open an account. This is a response to SEC regulations about unregulated investments.
The rules for accredited investors is subject to change in the future, but for now, you must have a net worth of over $1,000,000 (excluding primary home equity) or annual income above $200,000 (single tax filer) or $300,000 (joint tax filers).
As with any fintech, there is always platform risk. New platforms must prove themselves to be capable of various growth stages and market environments.
Another downside to the platform is if an investor wants to manually invest. Manual investment usually requires that the investor be ready and at a computer or smartphone at the exact moment loans are released. Since automation orders are filled first, the remaining loans are very close to being fully invested by the time they are released.
Due diligence is nearly impossible to complete in earnest through manually investing for high demand loans. The time window is too short. To get around this, I suggest investors partake in automated investing and vet each deal once it's been assigned to you. Apply stringent automation metrics to ensure you're getting properties that appeal to your investment objectives.
Each investment made carries the risk of default. That means some instances, the notes in which you invest may become late or default. I've had several loan go 30 and 60 days late. All but one have recovered.
That particular note became an REO, or real estate owned. PeerStreet now owns the property and is working on a resolution.
Fortunately, investments made on PeerStreet are first lien, so when there's a default, PeerStreet acquires the property, then attempts to sell it to attempt to make investors whole.
Investors heavily exposed to real estate could suffer significant losses in the event of a recession or real estate market turbulence.
PeerStreet, the Company
Leadership
PeerStreet was founded in 2012 by real estate attorney Brew Johnson who was inspired by LendingClub and Prosper. Early on, he pitched his college friend and long-time Google manager and tech entrepreneur Brett Crosby, who founded Urchin Software. Urchin was bought by Google in 2005 and is the basis for what is now Google Analytics. Crosby invested and eventually left Google to focus on building PeerStreet.
Venture Capital Funding
PeerStreet is backed by a slew of influential angel investors and venture capital firms. Notable investors and advisers include Michael Burry, famed short of credit default swaps, depicted by Christian Bale in the movie The Big Short, Adam Nash, CEO of Wealthfront, and Barry Ritholtz, Founder and CIO of Ritholtz Wealth Management.
As of October 2017, PeerStreet has raised $21.1 million in a seed round and Series A financing round. Notable venture capital investors include Andreessen Horowitz, Toba Capital, Guggenheim Partners, Rembrandt Venture Partners, and Felicis Ventures.
In October 2019, PeerStreet raised another $60 million in series C venture capital. Colchis Capital led the round existing investors Andreessen Horowitz, World Innovation Lab, and Thomvest Ventures participating as well.
Best Place to Work
PeerStreet is based in Manhattan Beach, CA. Zippia ranked it #4 in the 10 Best Startups to Work or in Los Angeles. It has won several awards in fintech and best employers.
PeerStreet Review 2023 vs. Fundrise
In addition my recommendation in this PeerStreet review, I also recommend and invest in Fundrise. Both are backed by serious venture capital money and are doing dozens of real estate deals per month.
The difference between the platforms is that on the PeerStreet platform, you invest in individual real estate deals instead of eREITs. Data is provided to the investors for due diligence. This includes appraisals, comps, financials, and past successful deals of the sponsor. Fundrise does not provide the details of each deal so you're putting more faith into the investment team.
Read my Fundrise review here.
PeerStreet requires $1,000 per deal, or $100 for reinvestment.
A drawback of PeerStreet is that only accredited investors can invest. Accredited means either 1) the investors must have a demonstrated annual income of $200,000 (single) or $300,000 joint for the past two years, or 2) must have a net worth of more than $1 million, single or joint, excluding primary home equity.
That leaves out many investors making Fundrise the most accessible platform.
Here's a summary of the platforms:

I'm currently recommending both platforms.
If you are non-accredited, go with Fundrise.
If you are accredited, you can still choose Fundrise for the ease of investing and diversification. But if you want more control over your investments, consider the other two.
To invest strictly in shorter-term debt deals, PeerStreet is the way to go. The $1,000 minimum per deal is a good way to diversify quickly. Returns between the two depending on your selection criteria of the investments in each.
One downside I've seen on PeerStreet is ease of finding deals. The best deals go fast.
PeerStreet has an automated investing service so you can set that up and let the platform choose loans to fund for you. You have 24 hours to perform due diligence. Loans on the platform fill very quickly. So if you're investing manually, you must be nimble.
Additional PeerStreet Review Resources
Below are links to three podcasts in which the founders of PeerStreet are interviewed extensively.
Brew Johnson – LendAcademy Podcast #58
Brett Crosby – Invest Like A Boss Podcast #13
Brew Johnson – Invest Like A Boss Podcast #41
Thanks for reading this PeerStreet review for 2023.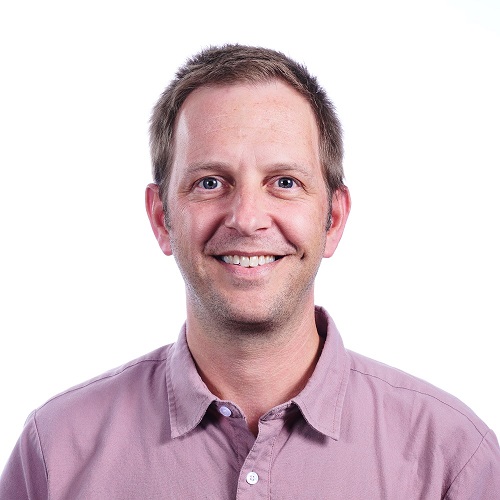 Craig is a former IT professional who left his 20-year career to be a full-time finance writer. A DIY investor since 1995, he started Retire Before Dad in 2013 as a creative outlet to share his investment portfolios. Craig studied Finance at Michigan State University and lives in Northern Virginia with his wife and three children. Read more HERE.
---
Favorite tools and investment services right now:
Fundrise — Simple real estate and venture capital investing for as little as $10 (review)
NewRetirement — Spreadsheets are insufficient. Get serious about planning for retirement. (review)
M1 Finance — A top online broker for long-term investors and dividend reinvestment (review)
High Yield Savings — Put idle cash to work. FDIC-insured savings products.