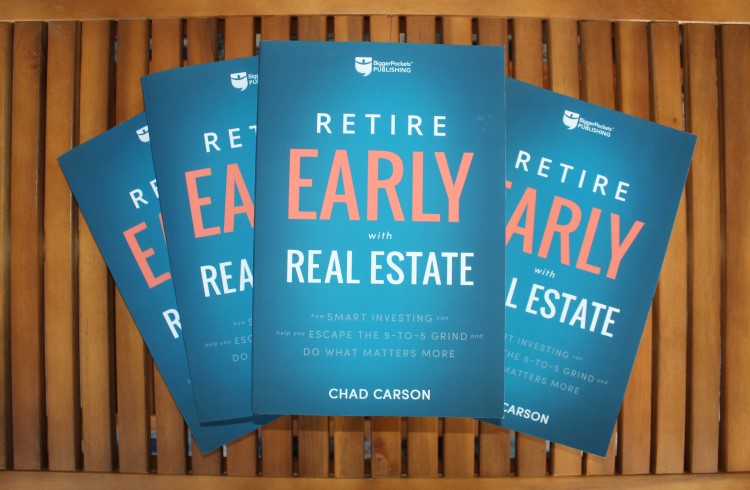 Update: Four winners have been chosen. Thanks for all your responses!
I'm super excited about today's post because it's my first book giveaway after more than five years of blogging.
The book is a sterling piece of work by my friend Chad Carson of the blog Coach Carson, that is already helping thousands of people build financial independence through real estate.
You might remember Chad from a guest post he did here last summer about moving to Ecuador with his family for a mini-retirement. He also interviewed me for a real estate investing series on his site.
During the time in Ecuador, he managed his real estate empire of 90 properties remotely. He systematized his real estate business so efficiently that he could spend a good portion of his time in Ecuador writing a book about real estate investing.
The book is called Retire Early with Real Estate: How to Invest in Real Estate to Work Less and do What Matters More.
It's published by the trusted online real estate community, BiggerPockets.
Chad is already my favorite real estate blogger. Like his blog, this book delivers in a big way. If you have any inclination of getting into real estate investing, or if you're looking to acquire more properties, this book is the perfect place to start.
And I'm giving away FOUR COPIES of the book to RBD readers (plus a special BONUS). Read on to find out how to put your name in the hat. UPDATE: No longer accepting submissions!
Retire Early with Real Estate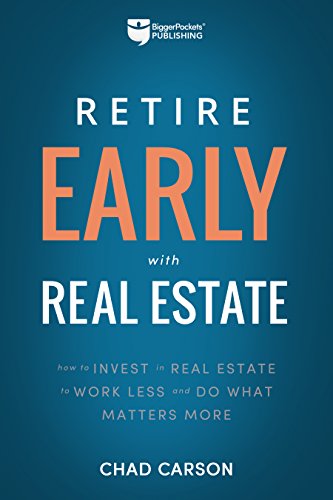 This topic is way too dense too fit into one blog post. While Chad's blog covers many of the topics in the book, the book is an organized and comprehensive guide.
Retire Early with Real Estate is not just about real estate investing. There's a ton of good advice about life, success, and happiness.
The book starts off with the 'why' of financial independence. We all have our own personal 'why', and Chad shares his which can be summed up with a phrase he often uses on his blog, to do what matters.
It then goes into why real estate is the I.D.E.A.L. vehicle for early retirement investing, and how building wealth is like climbing a mountain.
The second half of the book is tactical, delivering specific instructions on how to execute several real estate investing strategies.
You'll learn:
Step-by-step methods to use rental properties to retire in 10-15 years
Detailed case studies of ordinary investors who used real estate to retire early
How to produce rental income to pay all your bills (and never run out)
4 practical, easy-to-follow strategies especially for brand new investor
Creative backup plans to stay flexible and help you sleep well at night
A 5-step process to create your customized real estate early retirement plan
Investors have many choices for investing in real estate. Part of becoming a successful investor is finding the niche that works for you. Chad's book covers all of these niches.
Even better, and what makes this book really stand out, he highlights several real-life examples of successful real estate investors executing the various strategies throughout the book.
It's a masterpiece. I'm not exaggerating.
The Prize
OK, here's the deal. I've got four paperback copies of the book to giveaway. The winners will receive a physical copy of the book sent from me via snail mail (U.S. shipping only).
But that's not all!
As an added BONUS, I'm throwing in a free beverage coozy!
The winners will receive one of four blogger/podcaster beverage coozies that I collected at FinCon, a financial bloggers conference.
The four coozies are:
Here they are!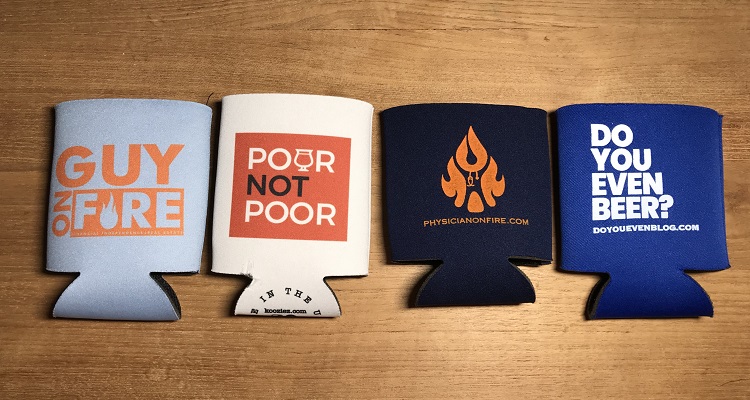 Here's How to Win the Book
Simply fill in the form below. In three to five sentences, tell me a little bit about yourself, (where you're from, career, family etc), and most importantly, what about this book is intriguing to you.
Be creative (but not long-winded)!
The four most interesting, compelling, and concise responses will win.
If your response is the best (and you live in the U.S.), I'll send you an email to let you know and ask for your mailing address. Then expect to receive the book in about a week.
Please submit your response by Saturday, October 27th at noon (EST) to be eligible.
Don't feel like waiting? Buy the book at Amazon or BiggerPockets.com right now to guarantee yourself a copy.
UPDATE: No longer accepting submissions. I received 52 submissions! Winners will be chosen over the weekend and shipped next week. Thanks for the amazing response!
After the final selections are made, all emails and responses will be deleted.
Don't have the patience for books but still want to learn about real estate? Head over to Chad's blog for a ton a free and extremely useful information.
If you enjoy what you've read here on RBD and you haven't yet subscribed, please consider subscribing to my email list here or below.
Hopefully, there's a good response to this giveaway (who doesn't love free books?). If so, I'll be sure to line up some others in the future.
Who's ready to learn how to Retire Early with Real Estate?
Subscribe to Retire Before Dad!
You'll receive my weekly articles in your inbox and the FREE eBook 6 EASY Income Streams You Can Start Building Today!