How Our Family is Saving for College
This page contains links to our partners. RBD may be compensated when a link is clicked. Read disclosures.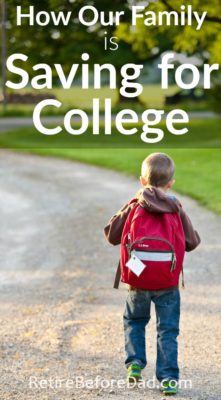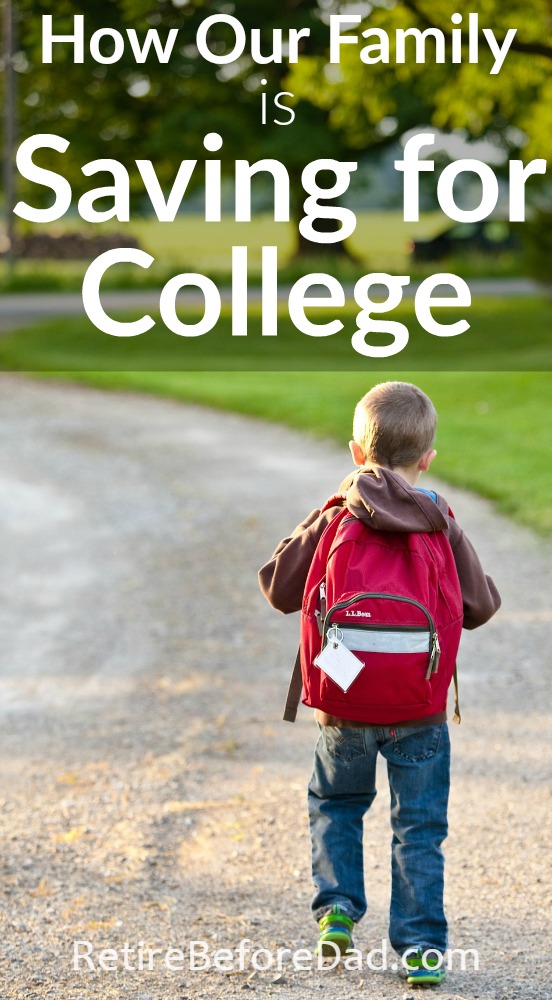 Saving for college is no easy task. If parents decide to pay for their kids' undergrad education, it's potentially a 22-year commitment from birth until graduation. Yet, saving for college is often a minor component of an overall financial plan.
Not in our family.
For our three kids to each attend four years of in-state undergrad university, I estimate the total cost will be about $716,000. That's an average of about $60,000 per student per year.
I really hope that isn't accurate. But that's my current estimate.
I've already laid out the reasons why I believe our commitment to pay for our kids' college education is the greatest risk to not achieving my goal to retire at age 55. So we make saving for college a high priority.
Note: We've decided to use our in-state plan, but not all states have top-ranked programs like ours. A new modern platform called CollegeBacker is now available for those not satisfied with their state plans, and who want to make it easy for friends and families to contribute to the plan. You still get the tax-free savings, but not the tax deduction.
Learn More about CollegeBacker
Saving for College is a Family Affair
I stressed family in the title of this post because even though I'm the only member currently working, all five of us are saving for college. How's that?
The money we put into tax-advantaged Virginia 529 accounts each month is cash we're not using to buy things or have fun with. This cash could fund some cool stuff…
…like a lease on this 2014 Maserati. Boss.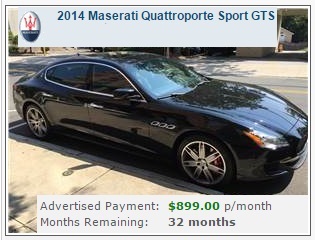 …or every six months we could take a Disney cruise. That's 29 family Disney cruises between today and when my son is "supposed" to start college.

The thought of 29 Disney cruises gives me nightmares with It's a Small World After All playing on repeat. I'm sure the kids would like it, though.
As a family, we're making some serious sacrifices.
Every month we prioritize saving for college first. This has led to some procrastination in other areas of our lives. For example, Mrs. RBD and I don't have a headboard for our bed or any grown-up bedroom furniture for that matter. I'm still using my bachelor pad Ikea dresser and bedside tables, and she is using her 1950's hand me down dresser.
We want, and I would argue we need, decent adult bedroom furniture. We could just stop saving for college for a couple months and use that money to buy furniture, but we don't.
It's frustrating because we've been married for five years and plan to be married at least another 50 years or so. You would think we would buy ourselves some decent bedroom furniture that we'll use every night of our lives for the next 50 years.
Remodeling projects in our house have also been put on the back-burner. I've been talking about redoing our ugly laundry/mud room to be more usable and space-efficient. But the offensive light purple walls and grotesque laminate floor remains.
Estimating Tuition for the Class of 2037
Estimating college tuition is a necessary evil for planning purposes. The easy way is to find an online calculator. Google "college savings calculator" and this site comes up. It's super easy and gives you something to work from.
I just did a quickie using my son's age and it says I should be saving $322 per month. We save $300 per month per kid.
But if you're like me, a simple online calculator won't cut it. Instead, I built a semi-elaborate spreadsheet to try to give myself more control over the variables.
Basically, I average the total cost of education (tuition + books/housing etc) today at five of the largest in-state schools. Then I add in inflation rates of 3% (lowest expected) and 7% (highest expected) to calculate the future costs.
By building these numbers out to 2037, I can estimate a range of what four years of undergrad college for each of my kids will cost. The average between the high and low estimates was a heart-stopping $716,000.
When I ran the simulation through the basic online calculator, the number was a more manageable $582,000.
I'd rather over-estimate.
Either way, at our current pace of savings, I estimate a savings shortfall. But I'm not worried.
Our Monthly Savings Strategy vs. Front-Loading
On the day each of our kids got their Social Security Number in the mail, we opened a new 529 savings account. From the Maserati picture above you can see we save $900 per month. That's $300 per kid per month and $3,600 each per year for a total annual savings of $10,800.
We use the Virginia 529 plan because we live in Virginia and get a decent tax benefit (5.75% of contributions).
Our strategy is still to dollar cost average consistently into each child's accounts for up to 18 years. We also typically receive some monetary gifts for the kids that we add in (usually bringing us to the state maximum of $4,000* per child).
Starting early is a way to front-load the accounts to maximize the compounding effect on savings. The $4,000 saved in the first year will compound for all total 18 years. The $4,000 in year two is added to the first year contributions and returns and grows for the next 17 years, and so on.
When a child is born, time is on your side. Get started immediately.
Don't let time work against you.
Front-loading is a term in retirement savings that refers to maxing out retirement accounts early in the year. Take a Roth IRA, for example. An investor can dollar cost average $458 into the account every month to reach the max for each year. Other investors may wait until April 15th the following year (i.e. 2016), tax day, to add eligible funds to a Roth IRA for the previous year (2015). Both strategies are fine, as long as investing the max is the goal.
With true front-loading, however, you'd invest the full $5,500 in the month of January every year. That allows for 11 months more for funds to compound as compared to contributing in December. Over an 18-year period, that extra compounding will add up.
I would front-load our 529 college savings if we could afford it. But we don't have $12,000 sitting around January 1st every year.
Dollar cost averaging, on the other hand, isn't a bad strategy. We automatically buy more when market prices are low and less when they are high.
Early in our kids' lives, contributing the maximum amount is paramount to taking full advantage of the compounding effect of time.
A Rule of Thumb I Don't Use
There's a simple rule of thumb for saving for college that a friend once told me. Plan to pay for a third of college expenses via 529 savings. Pay another third through salary cash flow (i.e. working while they're in school). Lastly, pay the final third either via cash-on-hand (non-529 savings) or by borrowing.
Read more about this three-pronged strategy here.
Logically it makes sense because this strategy builds in flexibility. For example, what if your kid earns a full-ride? Then all the 529 savings could be left useless.
In reality, few people save too much for college and only a small percentage of kids earn a full-ride.
The way I see it, if one of our kids earns a scholarship or doesn't need as much money for education, one of the others will. I also think it's likely that at least one of our three kids will attend graduate level school. 529 plans allow for transferring funds between family members and funds are eligible to pay for graduate level courses.
The money will be spent one way or another.
Unfortunately, following my friend's rule of thumb doesn't fit into my retirement strategy because I plan to retire at age 55. That's the same year our oldest, our son, will start college. Paying through salary cash flow won't work. Borrowing isn't ideal either because I'll want to keep our recurring expenses at a minimum.
So do I expect to pay for college completely out of 529 savings? Probably not. A majority? Yes, hopefully.
I do expect to cash flow some tuition, not from a salary but from investment income. Or I may sell some taxable assets during their college years as long as the tax consequences aren't too bad.
Borrowing is always an option if needed. The intent is to have our mortgage completely paid off by age 55. That would open up some home equity for tuition. If borrowing is only meant to supplement 529 savings and investment income cash flow, it wouldn't be the end of the world.
Since this is all a family ordeal, a big part of our plan is to stress return on investment (ROI) to our kids. We'll encourage high paying degrees at in-state schools for a good return on our education capital.
If our kids are interested in a career they are passionate about, but one that doesn't pay well, we won't discourage that path. But we'll still stress ROI. For example, if one of our kids wants to be an artist, we'll encourage them to attend art school, not Pepperdine.
Ideally, instead of this rule of thumb where funds are equally drawn from three sources, my goal is to pay for college this way:
80% from 529 savings
20% from cash flow or asset sales
0% from borrowing
This builds in some flexibility too, and we always have the option to borrow if needed. On our current path, we are saving enough every month which should not put my retirement goal of age 55 at risk.
Specific Investments
529 plans don't always have a full selection of investment options. One of the nice features of the Virginia 529 inVest plan is their commitment to low-fee investment choices. That's not to say it's a perfect plan. All funds and actively managed portfolios have expense ratios well below 1%. Passively managed index funds have expense ratios in the 0.30% and below range.
For our strategy, we've decided to stay mostly with simple low-cost equity index funds from Vanguard. The funds we use are as follows:
Vanguard Total Stock Market Index (VITSX)
Vanguard Total International Stock Index Fund – (VTSNX)
Vanguard REIT Index Fund – (VGSNX)
Parnassus Core Equity Institutional "The Socially Responsible" fund – (PRILX)
James River Age-Based Portfolio
We invest $100 in both the VITSX and VTSNX each month for each of our kids. Our goal is equity market returns over the next 10-15 years. Then for the third fund, I've mixed it up a little, adding to the VGSNX REIT fund for two of kids, and one managed mutual fund, PRILX, for our one daughter.
As for the actively managed fund, I originally invested in this for my daughter when I opened her account. It was outperforming all the other funds even after the fees were taken into account (currently 0.82%). I don't like that fee, but it continues to outperform. So, for now, I'm sticking with it.
When I first opened my son's account, I used an age-based revolving portfolio called the James River. At the tender age of three, they've already moved this fund to only 80% equities and 20% fixed income. For that reason, I've ended those contributions in favor of the REIT fund.
I expect to keep all the portfolios heavily weight toward equities until each child reaches the age of 12-14. At that point, I'll likely cut back on equities for each of them as their start dates approach, lowering risk.
By the pre-teen years, college cost estimates should be in a more narrow range and savings rates and expected returns can be adjusted.
The Virginia 529 plan website looks good from the home page. But the administration side of things is not the most user-friendly. To track my 529 savings I rely more on Empower than the Virginia 529 site. I'm already tracking my net worth there, and the numbers are loaded right in. It also keeps a close eye on fees, so I can confirm I'm not losing out to active managers. Best of all it's a free tool.
Commencement
Here are the main takeaways I hope you find useful from this post:
Saving for college takes sacrifices. Don't lease a Maserati.
If you intend to pay or help pay for college, start saving today. For future kids, start the day they receive their Social Security Number. Why wait?
Use a simple calculator to get a ballpark estimate for future college costs. Construct an elaborate spreadsheet if you're into that kind of thing.
Don't worry about over-saving for college. Save aggressively early, you can always cut back.
Invest aggressively in equities while your kids are young. Start to back off the equity risk in the pre-teen years.
Don't pay high fees.
* Note: The Virginia state minimum for 529 college law is somewhat confusing and misleading. Read the Virginia 529 Simplified page to learn more on this topic.
Wall photo Credit: Karen Blaha via Flickr/Wikipedia UVA (CC BY-SA 2.0)
Child photo via Pexels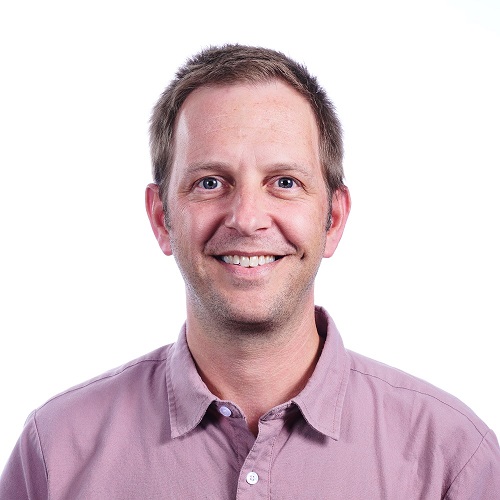 Craig is a former IT professional who left his 20-year career to be a full-time finance writer. A DIY investor since 1995, he started Retire Before Dad in 2013 as a creative outlet to share his investment portfolios. Craig studied Finance at Michigan State University and lives in Northern Virginia with his wife and three children. Read more.
---
Favorite tools and investment services right now:
Sure Dividend — A reliable stock newsletter for DIY retirement investors. (review)
Fundrise — Simple real estate and venture capital investing for as little as $10. (review)
NewRetirement — Spreadsheets are insufficient. Get serious about planning for retirement. (review)
M1 Finance — A top online broker for long-term investors and dividend reinvestment. (review)