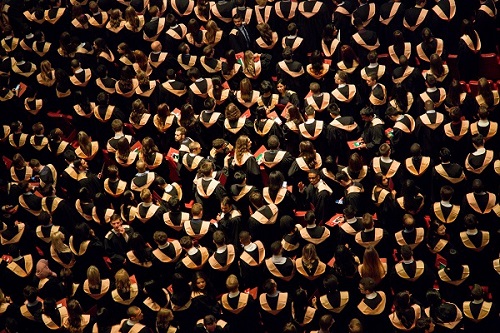 About twelve years ago before starting a family, I met up with an old college friend for happy hour at a bar in Washington D.C. called The Big Hunt. I remember the booth, nachos, and the conversation like it was not so long ago.
My friend was a new Dad. He told me about the college savings strategy he was deploying for his girl. It was based on an article he read and a few conversations he had with a coworker.
At the time, I was reading a lot about investment strategies. But saving for a child's college education was not on my radar because I was childless and hopelessly single.
But conversations about investing and the power of compound interest are always intriguing, so I was happy to discuss whatever strategy he was using.
What he said stuck with me, but I've never come across an article outlining this particular strategy.
Before I get into the details, please note that I am not following this exact strategy. Not because it's no good, but because it's not right for our family given my early retirement goal.
But it may be a good approach for many of you. Particularly for those who intend to work while their kids are in college and who expect they can't save for the entire cost of tuition.
Parents considering paying for all or some of their child's college education should secure their retirement first.
My parents paid for my undergraduate education and I'm eternally grateful. Mrs. RBD and I are committed to funding our kids' college educations to pay it forward. My Dad says college for me and my sister was the best investment he ever made.
This article is written from that perspective.
A Basic Three-Pronged Approach to Funding Your Child's College Education
There's a simple premise behind why this three-pronged college funding approach is valid.
When you start saving for your child's college education, many unknowns lie ahead.
You don't know what school will be best for your child. You can only estimate college tuition, and it's highly dependent upon the college of choice. Your child may earn scholarships. College may not be right for your child at all. This list goes on.
Each of these variables impacts how much you'll need to save.
Instead of planning to entirely fund your child's college education from a single source, take a diversified and flexible approach. To do this, plan to fund your child's college education from three sources:
Tax-advantaged savings (529 accounts)
Salary/cash flow
Non-529 savings or borrowing
As the approach was described to me, evenly split the cost of college between the three sources.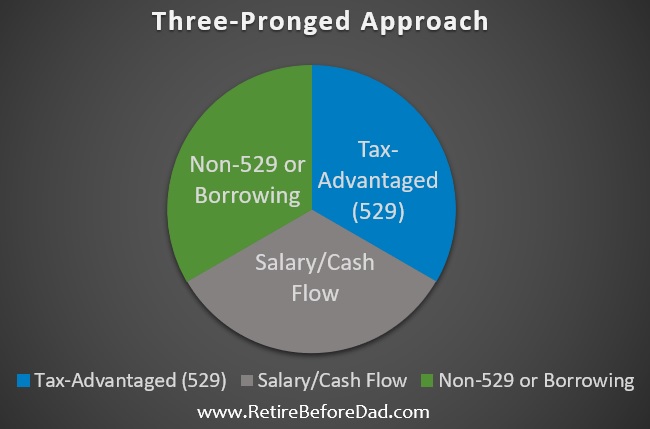 Tax-advantaged (529 Savings)
College 529 savings plans are the best vehicle we have to save for our children's college educations. Plans and tax advantages vary by state, so read up on the best savings plan for your situation.
To fully utilize the 529 college savings plan, start saving early and invest in low-cost growth stock mutual funds or stock index funds early on. The amount put aside lowers your taxable income for your state taxes (if your state allows for it) and grows tax-free (both state and federal).
In our state, Virginia, we can save up to $4,000 per year per child and receive a tax deduction. This saves our family about $230 in state taxes per kid every year (the VA tax rate is 5.75%). Not huge at first glance. But if we save the max for each kid for 18 years, that's $12,420 in tax savings.
Gains on contributions and withdrawals are not taxed as long as we follow the rules.
As your kids approach college age, gradually reduce portfolio risk by moving assets from stocks to bonds and cash. This is a best practice when using the three-pronged approach or not.
However, if you're following the three-pronged approach, instead of trying to save and invest to match the total estimated costs of your child's college education, invest a fraction of what is needed. That way, more of your paycheck is available for retirement savings (which should be your priority), regular savings, and investing.
You'll intentionally come up short. But hopefully, you'll be able to fund at least 33% of your child's college education costs from 529 accounts.
This will be the first chunk of money that goes toward paying for your child's college education.
Salary/cash flow
The second source of funding using this approach is to pay for tuition from your working salary. This assumes, first and foremost, you're still working or have substantial passive income while your kids are in school.
If you are still employed, you'll presumably be in your prime working years. After so many years of saving for college out of your paycheck, that savings will go directly to tuition.
For example, our family is currently saving $300 per child per month into 529 accounts. That $300 would instead go directly to tuition, plus whatever extra monthly cash flow we could afford to put toward tuition.
That's a baseline of $3,600 per child per year in today's dollars. When you're in your prime working years, and your salary is the highest it's ever been, and you've been preparing for this by lowering living expenses, more money should be available out of cash flow to pay for school.
Aim to pay for the second 33% of college costs out of your paycheck.
Non-529 savings or borrowing
The last third, or whatever balance is leftover, can be paid for by using non-529 savings and investments. This could be in the form of cash savings, from selling investments, or from selling a rental property or other assets.
Avoid using savings from your retirement accounts. Save that for yourself.
If you can't afford to tap into other savings, the last option is to borrow the money.
Borrowing is the choice that many parents and students end up making because there simply isn't enough to pay for college.
You have a few options for borrowing for college. Federal and private student loans are low-rate options for many students. Aim to borrow the bare minimum needed for tuition. If you or your child needs to borrow large amounts, make sure the degree being pursued leads to a well-paying career.
Some parents choose home equity loans to borrow because the rates are low and the equity is readily available. This is, in part, how my parents funded my college tuition.
Staggering Numbers
When I last took a stab at estimating the total cost of in-state tuition for all three of my three kids through 2037, I came up with an expected cost range of $582,000 to $716,000.
So using this three-pronged approach is not just about flexibility.
It's about magnitude.
That estimate sure seems high, and I certainly hope it's way less. But our kids are six, four, and two, and I'm pricing this out over the next 20 years.
College is expensive today. Twelve years from now when my son starts college, it's going to be more expensive and it will keep going up for my girls. Saving the total estimated cost of college tuition before they start would be a staggering feat.
It may very well be impossible to save everything you need for your kids' college education. This three-pronged strategy is cognizant of the raw numbers and helps to approach the challenge with realistic expectations.
The RBD Family Funding Approach
Evenly splitting the cost of college between the three sources is one way to approach this. But you can certainly play with the percentages. Everyone's situation is different, so the exact proportions can be whatever you want and you can adjust them over time.
Our family's situation is influenced by my plan to retire at age 55. My son will begin college the year I turn 56.
I don't plan to work while our kids are in school. Yet we'll be paying college tuition for the subsequent eight years.
Since that is our plan today, I've placed heavy emphasis on tax-advantaged savings as the primary funding source for our kids. We've been saving for each of our kids' college since their birthdays.
Our current goal is to save about 80% of the total cost of our kids' college educations in tax-advantaged accounts. The remaining 20% shortfall will be paid for out of our non-529 savings (cash, taxable investments, real estate), investment income, and borrowing as a last resort.
Ideally, I do not want the responsibility to fall on my kids since my parents lifted that burden for me and it provided tremendous advantages and opportunities in my life.
But in a worst-case scenario, the kids could chip in either through working during school or by helping to pay off the student loans.
I believe if I would have carried some of the burdens of tuition cost, perhaps I would have studied harder. So the idea of leaving a small amount, say 5%-10%, as the responsibility of our children has crossed my mind.
In the unlikely case we're on track to over-save for college, this would come to light in the years prior to freshman year. We can easily make adjustments before the numbers are too large. Alternatively, we can use excess 529 savings for graduate degrees.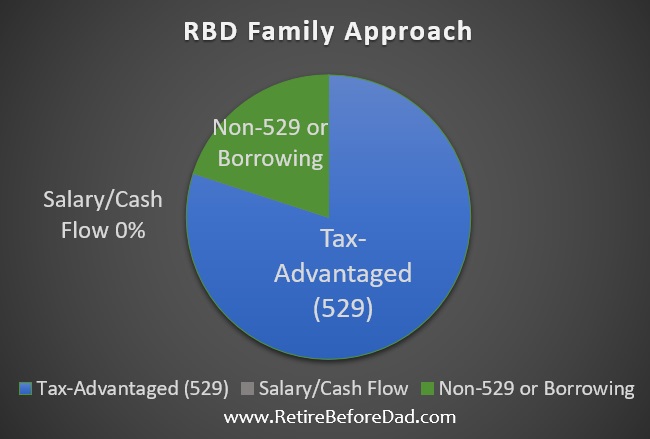 Conclusion
I haven't spoken to my friend about saving for college since that conversation twelve years ago. I'll ask about his progress next time I see him.
As tuition costs continue to rise, the best plan for all parents is to start aggressively savings in tax-advantaged accounts as early as possible. Not everyone does this making it harder to be able to cover the total cost of tuition.
This three-pronged approach is an option for those who may be late to the college savings game. It's a diversified method of funding your child's college education that gives the parents flexibility to come up with the money.
Parents don't have to go at it alone. Student loans and home equity are common options for paying for college. And parents and students can team up to pay for school or to pay off the loans once the student enters the workforce.
For as long as a college education provides a lifetime of increased earnings, parents and students will find a way to pay for it.
---
This article was written in coordination with #FinHealthMatters Day, April 25th, 2018, an awareness campaign spearheaded by the Center for Financial Services Innovation (CFSI).
CFSI is a 501(c)(3) non-profit whose mission is to improve the financial health of Americans, especially the under-served, by shaping a robust and innovative financial services marketplace with increased access to higher quality products and practices. See the CFSI funding organizations here.
This blog post will be entered into a friendly competition regarding student financial health. If you feel compelled to share this article on social media, please use the hashtag #FinHealthMatters to help draw attention to the campaign.
Photo by Faustin Tuyambaze on Unsplash
Favorite tools and investment services right now:
Credible* - Now is an excellent time to refinance your mortgage and save. Credible makes it painless.
Personal Capital - A free tool to track your net worth and analyze investments.
M1 Finance - A top online broker for long-term investors and dividend reinvestment (review)
Fundrise - The easiest way to invest in high-quality real estate with as little as $10 (review)
*Advertising Disclosure: RBD partners with Credible which offers rate comparisons on many loan products, including mortgage refinances and student loans. This content is not provided by Credible or any of the Providers on the Credible website. Any opinions, analyses, reviews or recommendations expressed here are those of the author's alone, and have not been reviewed, approved or otherwise endorsed by Credible. RBD is compensated for customer leads. Credible Operations, Inc., NMLS Number 1681276, not available in all states. 320 Blackwell Street, Suite 200 Durham, NC 27701.