How Our Family of 5 Flew Cross-Country for Free
This page contains links to our partners. RBD may be compensated when a link is clicked. Read disclosures.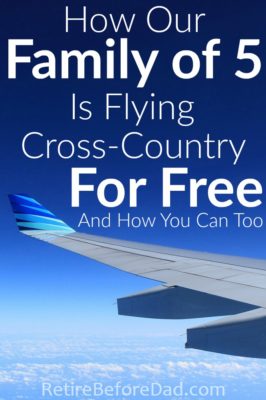 Mrs. RBD's brother proposed to his long-time girlfriend in 2016. Shortly after the jubilant celebration, my one-track mind started thinking How much is this wedding going to cost me? The answer: A lot.
Other people's weddings can be expensive, travel required or not. As a couple, traveling for a wedding is a nice getaway. As a family of five with three kids five-years-old and under, it's not so pleasant.
The first chance we had to speak, we started casually prodding info out of him. You know, How did the engagement go? Was she surprised? Oh, and when and where is this wedding?
From the onset, the most likely venue would be in California. We live in the Washington D.C. area. That, of course, meant five expensive round-trip tickets and five hours on a plane with three fidgety kids. Yikes!
Luckily, I had a plan in my back pocket… we saved enough travel rewards from credit card spending to cover the cost of our flights.
How to Start Acquiring Points for Free Travel
Travel rewards has been an interest of mine since I used frequent flyer miles from my old US Airways card to fly to Ecuador in 2002.
If you're unfamiliar with reward miles, here's how it works.
A credit card company offers a welcome bonus when you sign up for a credit card. If you spend over a certain dollar amount on the card within a few months, you receive the welcome bonus in the form of frequent flyer miles or travel points for various airlines or hotels.
Then you earn points for any additional spending. As the points pile up, you can eventually earn enough airline or hotel points to travel for free.
I don't travel like I used to now that we have three kids. In the coming years, I'm excited to travel as a family. Today, however, the kids are extremely difficult to travel with. So we avoid travel when possible.
But a trip to California to see family was long overdue.
Nine Steps That Allowed Us To Fly Cross-Country For (almost) Free
Below, I'll go over the nine specific steps that worked for us for this particular trip. I was able to book five round-trip tickets from Dulles International Airport (IAD) to San Francisco (SFO) for free… well almost free. Each passenger was charged $11.20 in taxes and fees.
So all five flights actually cost us $56.
After I booked, I checked the going rate for what we would have paid. The total price was $2,647. Our price was a 98% discount… which is free in my book!
A slew of other costs hit us including checked baggage fees, airport parking, and a rental car. But saving $2,600 is a huge weight off our checkbook.
Before I go on, I want to stress that the numbers below are what worked for us. These deals are always changing, so the same deals and terms may not be available today.
We acquired our points between June and September of 2016. The frequent changes are why it's helpful to be part of a community of like-minded travelers.
With that, here are the nine steps we took to book our cross-country flights for free.
Step 1: Research flights, airports, and airlines that service our destination
The first rule of travel rewards booking is to remain flexible with time and airports. This will help you find the best deals.
The Washington D.C. area has three sizable airports. We looked at each local airport and various airlines including Southwest, Spirit Airlines, and Alaska Air, to see which ones had direct flights to northern California.
Any of our three local airports work for us, but D.C. Washington National (DCA) is the closest. Unfortunately, a suitable flight wasn't available.
So we switched our focus to Dulles International. We found that United Airlines has multiple flights to San Francisco, many of them direct. But our desired destination airport Oakland (OAK). Oakland had limited direct options. With three kids, direct flights were a strong preference for us.
United Airlines from IAD to SFO became our best flight option, so we targeted United bonuses from then on.
Step 2: Target cards and rewards that award points to the corresponding airline
Through the information and resources I had access to the course, I was able to find travel rewards bonuses for United Airlines. Some were directly related to the United MilagePlus program. Others were transferable rewards (rewards that work for multiple airlines and hotels). These cards became my top priority.
Step 3: Watch for deals
Credit card companies are always changing reward bonus amounts. Many bonuses only last a limited time. As we were planning out our strategy, chatter about the United MilagePlus Visa card started hitting the Travel Miles 101 Facebook group.
Around the same time, I received two postcards from United promoting a deal.
Mrs. RBD and I already had United MilagePlus accounts from prior travel. The company pushed out incentives to existing frequent flyer members to sign up for credit cards.
The second card I targeted was the Chase Sapphire Preferred. This card is one of those transferable rewards cards.
Step 4: Open credit card and add an authorized user
The next step was actually applying for the cards. I chose to apply for the Chase Sapphire Preferred first on the recommendation of some Facebook group members. This is because that card has a higher standard of approval. At this point, I had only applied for one other card in recent history. If you apply for too many cards in a short period of time, the Chase Sapphire Preferred is more likely to reject your application.
With strong credit, I was approved immediately online.
And I added Mrs. RBD when applying for the card, so right away we qualified for 55,000 in bonus points as long as we spent the $4,000 in three months.
About a month later, I opened the United MilagePlus Card and added Mrs. RBD to qualify for anther 55,000 points.
Step 5: Meet minimum spending requirement
To meet the $4,000 spending requirement for the Chase Sapphire card, we'd needed to average $1,300 spending per month. That is below our normal monthly credit card spending. We always put our spending on the same card to keep things simple. We bought a car seat one month and it also helped that Costco started accepting Visa around that time.
Once we spent over the $4,000 limit on the Chase Sapphire, we switched to use the United MilagePlus card.
Spending $2,000 on the United MilagePlus in three months was easy.
Keep in mind, this was regular spending. We didn't splurge on dinners or extravagant vacations. This was mostly groceries, diapers, and gas.
We continued to use both cards after we earned both bonuses.
Step 6: Collect points
We immediately received the authorized user bonuses of 5,000 points each once the cards were used.
The minimum spending counts as points too. So that's another $6,000 between the two cards. For the Chase Sapphire Card, you also get a bonus point for every dollar spent on travel (i.e. gas) and restaurants.
When we hit the first threshold, the Chase Sapphire card 50,000 bonus didn't show up in our account until a month or two later. This was a little nerve-racking because there's no indication the bonus is on the way or confirmation that you've reached the required limit. It just shows up eventually. I called to confirm it would because I didn't want to miss the bonus for some careless mistake.
For the United MilagePlus Card, 50,000 the bonus showed up within a month.
Step 7: Find flights and points eligibility for flights
At this stage with the bonuses in hand plus some extra spending points, we had almost 60,000 United MilagePlus points and more than 60,000 Chase Ultimate Rewards points. We knew we'd need to combine the two to get our flights. But at some point, I read in the Facebook group that you should always plan out your flights before transferring any points.
The wedding planning went slowly, so no date was set for a while. That gave us a few extra months to build points.
Once they booked their venue, we were ready to reserve our flight.
Finding the right flights was difficult. Even though we were booking seven months ahead of our trip, the amount of rewards flights on United were limited.
The available flights cost either 12,500 or 25,000 points one way. That meant for some flight combinations, it could cost us as low as 125,000 points to fly cross-country. However, those opportunities were scarce for five seats. It took a lot of searching to find reasonable dates and times that cost us 12,500 each person each way.
After extensive searching, we finally concluded that our trip would last 17 days. The flights dictated this to us. I preferred to come home earlier, but the flights weren't available. Once we solidified our itinerary, it was time to transfer points.
Step 8: Transfer Points (if needed)
More than half of our rewards points we're in a Chase Ultimate Rewards account. These points are worth a lot because they can be redeemed at a discount there, or transferred to a number of partners.
The transfer was easy. I simply directed my points to United, and Chase sent them there. It happened almost immediately, which was quite a surprise considering banks like to build an extra day or two into most transfers.
I flipped over to my United MilagePlus account and confirmed the points had transferred. My balance was 125,090.
Step 9: Book Flight
Once the points were available, the United website recognized my points and the flight I had already extensively searched for was ready to be booked. I went through the basic steps of booking a flight and confirmed. We selected five seats in the same row for our family.
As we checked out, the taxes and fees came to light. $56 is nothing compared to what I would have spent on this trip. I happily paid and our flight was confirmed.
Additional Travel Rewards Credit Cards Resources
Our 17-day vacation in California should be a lot of fun. We arrive six days before the wedding, so the kids' jet lag will hopefully be long gone. The return flight leaves in the late afternoon, so we'll arrive in D.C. very late in the evening. That sucks with kids. Big time. But it was that or pay money for the flights.
Though I wanted to return earlier, we haven't visited our family out there in more than four years. So we might as well spend quality time there. We'll also visit the northern wine country for some tranquility away from the kids.
We depart in late May.
If you're looking to accumulate miles for free travel but don't know where to start, definitely check out the Travel Miles 101 course.
I also recommend another great site called Bald Thoughts run by a guy named Lee who is really into this stuff. The blog has frequent updates and tips on maximizing your rewards. "Learn How to Travel More. Spend Less. Live Better!"
Another awesome resource is a web application designed by the Mad Fientist. At the top right of the site, click the "Travel Cards" link. It takes you to a page that allows you to filter cards based on points value, minimum spend, airline, hotel, fees etc. This is great for helping to identify which cards are best for your itinerary.
What about you? Have you dabbled in travel rewards credit cards? Share your success stories!
* I highly recommend the free Travel Miles 101 course as an excellent resource for travel rewards credit cards. I am not being compensated for this post. The course helped me save more than $2,600 which is plenty compensation for me. While the course is free, Travel Miles 101 and other similar websites do receive referral compensation when provided affiliate links are used to open credit cards.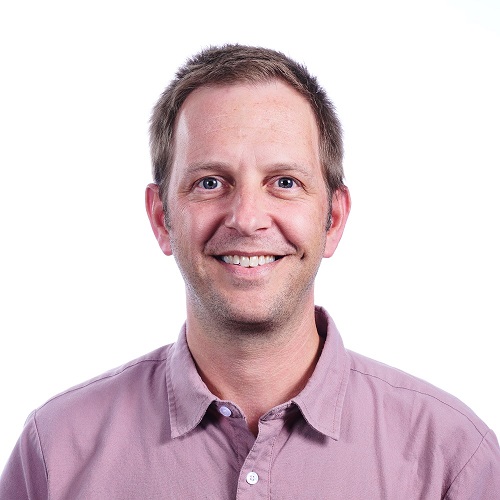 Craig is a former IT professional who left his 20-year career to be a full-time finance writer. A DIY investor since 1995, he started Retire Before Dad in 2013 as a creative outlet to share his investment portfolios. Craig studied Finance at Michigan State University and lives in Northern Virginia with his wife and three children. Read more.
---
Favorite tools and investment services right now:
Sure Dividend — A reliable stock newsletter for DIY retirement investors. (review)
Fundrise — Simple real estate and venture capital investing for as little as $10. (review)
NewRetirement — Spreadsheets are insufficient. Get serious about planning for retirement. (review)
M1 Finance — A top online broker for long-term investors and dividend reinvestment. (review)