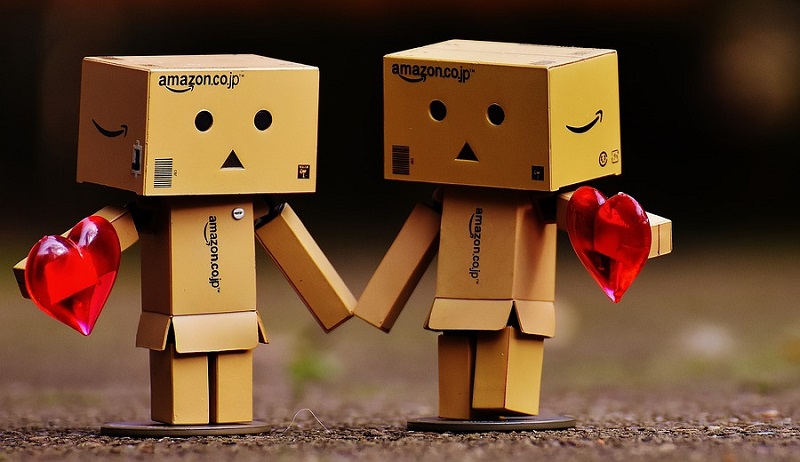 Update 11/12/2018: Wall Street Journal now reporting it's official. Amazon HQ2 coming to Crystal City! Bezos confirms.
Read on to learn five potential ways to invest based on the Crystal City selection. #1 is Fundrise, a D.C.-based real estate investing platform. Own high-quality D.C.-area real estate assets for a $500 minimum investment.
---
Amazon ignited a rush of excitement with its September 2017 announcement that's it was planning a second corporate headquarters. The proposed new headquarters, known as "Amazon HQ2", is expected to be an equal to the company's sprawling presence in Seattle.
Since the Amazon HQ2 selection will be a boon for economic growth for the winning city, long-term investment opportunities may come to light after the announcement is made.
Not long ago, the Washington Post fueled speculation that Crystal City in Arlington County, Virginia, just outside of Washington D.C., is a clear front-runner. This echoes previous reporting.
Then the next day, the WSJ reported that Amazon was considering splitting the prize between two cities "driven by the need to recruit enough tech talent and to support Amazon's growth".
Sure enough, later in the evening, the New York Times reported that Crystal City and Long Island City in Queens, NY, will split the award, 25,000 employees each.
All of this is interesting to me because my rental property is just three miles from Crystal City. Our primary residence is less than twelve miles away.
If I hold onto the property, employees could live in my condo and ride a bike path to work. All of this changes my thinking about selling the condo when my current tenants move out.
I expect few, if any, get-rich-quick opportunities from the final selection of Crystal City. But I do believe this unique situation may present opportunities for long-term real estate-related investments.
5 Ways to Profit from the Amazon HQ2 Selection
I'm heavily biased toward Crystal City winning the Amazon HQ2 selection thanks to my nearby properties and stake in the local economy. So the investment ideas below are obviously bent toward the Crystal City selection rather than New York.
This is also skewed toward real estate investments. Housing is already tight, though prices have flattened thanks to higher mortgage rates.
Other tech companies may benefit from the increase in talent in the area, but that's harder to predict.
Long-term real estate is the play. Marketwatch reported extensively about what it will do to housing.
Oh, and one other announcement that wasn't as heavily reported on. Apple is looking to hire 20,000 people in Northern VA too. That would tighten things even further.
The following list is meant to highlight long-term ideas and spur conversation about other impacts I'm not thinking about. Please do your own research before investing any money. These investments may be speculative and you can lose money.
#1 Buy eREITs and eFunds with D.C.-Area Exposure
The real estate crowdfunding site Fundrise is on of my favorite passive income streams. I've personally invested more than $10,000 on the platform.
Since the Fundrise headquarters is located in downtown Washington D.C. they've focused much of their investment attention in the area over the years.
This makes Fundrise an easy way to invest in D.C.-area real estate without a lot of money.
Fundrise has a few investment products with significant Washington D.C. metro region exposure. These funds are made up of multiple properties making them relatively diversified, though less so than traditional REITs. Meaning they carry real estate risk, but are non-correlated to stock market fluctuations since they aren't traded (you own the funds through the Fundrise platform).
For a little as $500 (but up to much more), you can own a piece of real estate in the area and participate in the growth.
The first fund is the Washington D.C. eFund. This fund invests exclusively in Washington D.C., which is just a few Metro stops from Crystal City.
D.C is a short drive across the 14th Street bridge by car.
The properties in the Washington D.C. eFund are mostly single and multi-family fix and flips.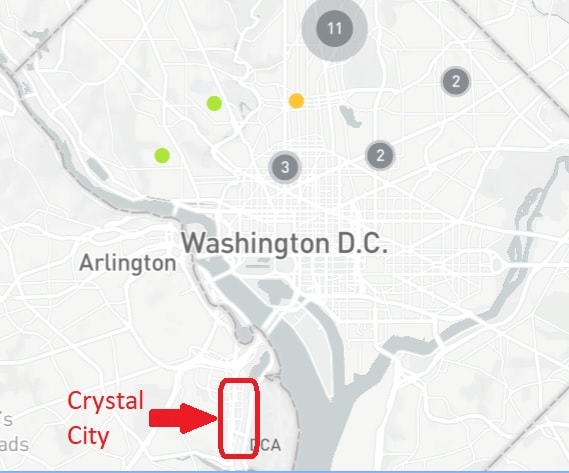 Another fund with exposure to the area is the Fundrise Growth eREIT. As of writing this article, three of the 12 active investments are in Northern Virginia.
The three assets are stabilized apartment buildings. The closest of these is a $14 million apartment building about 12 miles away. In total, Fundrise has committed more than $25 million to the three properties.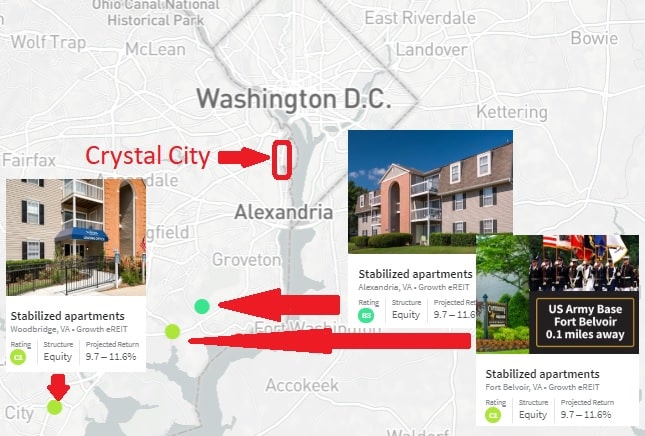 A third fund, the East Coast eREIT, has three investments in the area. The three combined make up another $17 million of investments in the region.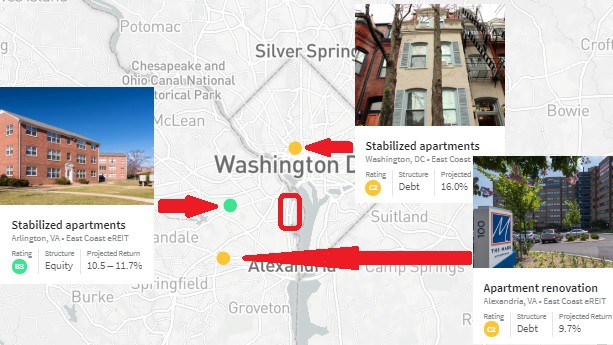 All numbers are as of November 3rd, 2018.
Check out this interactive historical performance map and top metro market analysis indicating the locations of all the Fundrise investments. 48 are in and around Washington D.C. while 13 properties are in and around New York City.
You can gain exposure to many of these sites for a $500 minimum investment with the Starter Portfolio which is the most popular with new investors. Or select a strategy that best fits your risk tolerance.
Learn more: Fundrise Review: Passive Income via Real Estate Crowdfunding
#2 Consider Buying Amazon Stock
Since Amazon is straight-up telling us they're going to hire 50,000 more people, they'll need the business growth to support that. This is one reason why Amazon stock is highly-valued already. At least by the numbers.
Factor in growth potential, and it may still be a great opportunity at a great price. Amazon stock has been an incredible performer for two decades now.
Moving to the D.C. area should also help them shape policy in their favor. The U.S. government is already a large AWS customer, and Amazon is favored to win a $10 billion cloud contract from the Department of Defense (JEDI). The Pentagon is a mile away to the north.
Amazon Web Services (AWS) computing centers are already a staple in the Northern Virginia suburbs.
I don't know if Amazon stock is a good buy today or tomorrow or next week. But I do believe that 10-20 years from now, Amazon will be worth more than it is today.
I recommend buying individual stocks in a no-fee online broker such as M1 Finance. Read my M1 Finance review here.
#3 Consider Regional Commercial REITs
Another potential play is to invest in D.C. area commercial real estate investment trusts (REITs). The most obvious candidate is JBG Smith (JBGS). It stands to benefit the most from the announcement.
Check out the cluster of properties owned by JBG Smith in Crystal City.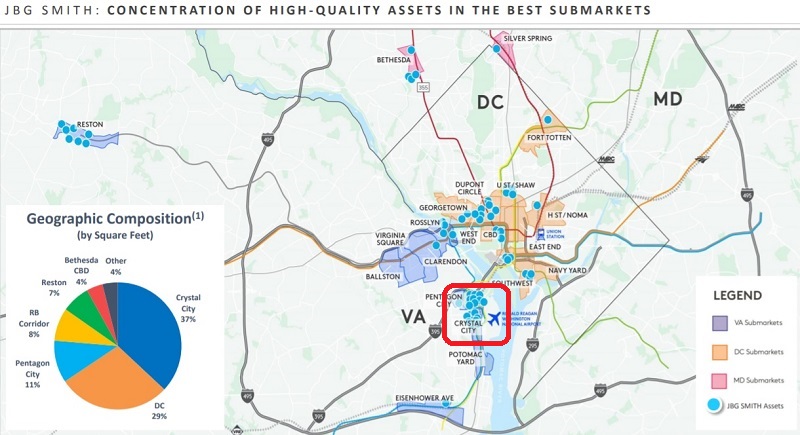 Source: JBG Smith June 2018 Investor Presentation
Other REITs in the D.C. region that could benefit from Amazon's presence include Federal Realty Investment Trust (FRT), Washington Real Estate Investment Trust (WRE), Corporate Office Properties Trust (OFC).
While this is exciting, especially for JBG Smith, the stock market has already priced in the news. The stock has already risen on speculation. This would be a long-term story, not a short-term gain.
You can buy these stocks individually or in an M1 Finance pie with several REITs or local companies that may benefit.
#4 Buy Local Properties
The Amazon HQ2 announcement will likely kick off at least a decade of local economic growth. Another way to profit is to buy rental properties in the surrounding areas.
I don't recommend buying properties in Northern VA unless you live in the area or know it well. There are better real estate deals elsewhere in the nation.
Because of Amazon's Midas touch for investment returns, I do expect speculators to buy nearby properties and initially drive up prices. This is good news for many. But it will, ultimately, lead to higher taxes and cost of living.
Do not buy properties on speculation. Wait for the announcement and choose a rental using traditional investment metrics. Stay within a small radius (five miles) to provide a short-commute option for potential tenants.
Use a real estate app such as Redfin or Zillow to find properties in proximity to the proposed site.
You won't find steals in the area because there's a ton of investment activity and thousands of investors and flippers. But if you pay a fair price for a property in a good location, the ten-year timeline should be in your favor.
#5 Consider Regional Homebuilders for Further Research
The D.C. area already needs new housing, according to The Washington Post article:
Even without Amazon, the Metropolitan Washington Council of Governments has estimated that the region needs to add 235,000 housing units by 2025 to keep pace with expected job growth. Amazon's arrival could push the goal to around 267,000 by 2026, according to a recent analysis by the Urban Institute. Right now the region is on pace to add only about 170,000 new units by then, and the shortage threatens to exacerbate inequality.
This means that home builders could experience a boom in the area. A quick google search led me to this page which lists the D.C. area's five largest home builders. Three are publicly traded. They are:
NVR Inc. (NVR)
Toll Brothers (TOL)
K. Hovnanian Homes (HOV)
Another homebuilder, PulteGroup (PHM), played a large roll in constructing the Potomac Yards neighborhood adjacent to Crystal City. It seems they've all sold out, but the company has other projects in Northern VA.
Again, I'm not saying these stocks will spike on the Amazon announcement. But over the next ten years, the environment should be favorable to any home builder in the area. These are ideas to spur further research, not direct recommendations.
Background on Amazon HQ2 (and HQ3)
The announcement of a second Amazon headquarters led to hundreds of cities and municipalities to propose land parcels, tax benefits, and other goodies to entice the internet retail behemoth to come to their cities.
Amazon expects to create 50,000 jobs for the winning city (or split between two), bringing enviable population growth to whatever locality wins. They'll invest up to $5 billion.
Since the initial submission of proposals, Amazon whittled its original list of more than 200 proposed cities down to 20.
Reputable sources such as the New York Times and CNBC did analyses on the proposed cities based on the criteria that Amazon set forth at the onset of the competition.
Whatever localities wins the competition, property values should increase over the following decade or two because of job growth, the economic boost, and housing shortages. However, I don't think there will be a quick spike in real estate prices.
But I do expect that real estate prices in the winning city will rise above the national average rate over the following decade. This is usually true for bigger cities anyways, but out-sized gains are likely considering the population growth that will accompany the company's decision.
Speculation or Hard-to-Keep Secret?
Amazon clearly wanted to keep the decision under wraps until a big announcement. According to the article in The Post (which is owned by Amazon CEO, Jeff Bezos), much of the focus is on a commercial real estate company called JBG Smith (JBGS), who owns a large portion of the real estate in Crystal City.
JBG Smith has pulled some of its buildings off the leasing market and officials in the area have discussed how to make an announcement to the public this month, following the midterm elections…
This rang a bell with me because a friend in the commercial real estate industry told me the same thing last month.
It's known that Amazon wants to move people into the area immediately instead of building a campus from scratch over the next five years.
Imagine the legal paperwork and negotiations required to get this all in place. It seems like a very difficult secret to keep among so many participants, even with NDAs.
I certainly hope The Washington Post and New York Times reporting is on target. It seems at this stage, with the top local newspapers on the beat, this could be a done deal.
An official announcement is expected before the end of the year. The Wall Street Journal suggested it could come this week.
Why Crystal City is an Excellent Choice for Amazon HQ2
My kids like to go for joyrides on the D.C. Metro trains. We usually head to Crystal City because it's close and there's a pizza place we like.
When Amazon initially announced the HQ2 competition, I immediately thought that Crystal City was an ideal site. But I was biased and never thought it would actually be selected.
Several impressive locations were proposed in the area, including D.C., most of which got more initial attention.
But Crystal City has everything that Amazon wanted as declared in the Request for Proposals (RFP). On top of that, it suffered commercial vacancies as a result of the 2008 real estate crisis, the BRAC (Base Realignment & Closure), and the exit of the U.S. Patent Office headquarters several years ago.
It's well known Crystal City has empty office space.
Here's a good view of all the buildings that JBG Smith owns. You can also see the orientation to downtown D.C., the airport, and the Pentagon.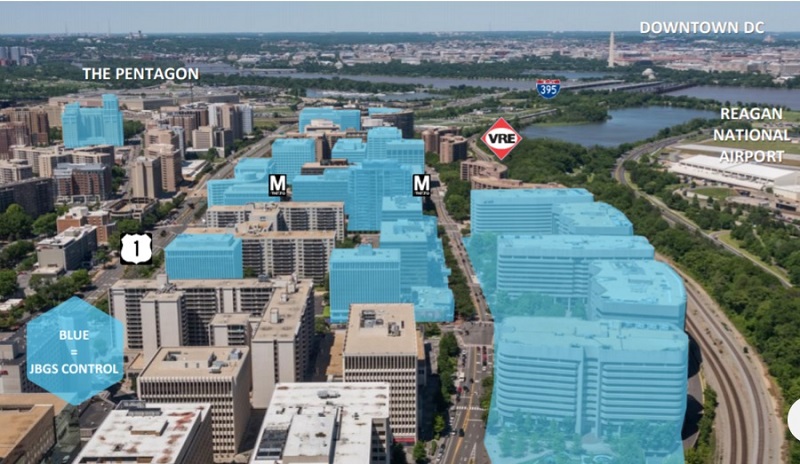 Source: JBG Smith June 2018 Investor Presentation
Crystal City is directly next to Reagan National Airport (DCA). The area has an urban feel with high-rise offices and apartments, restaurants, hotels, an underground shopping mall, and green spaces. Some apartments in the area have balcony views of the Washington Monument and 4th of July fireworks.
It's a pleasant enclave set in a business-friendly state, easily accessible by D.C. urbanites or suburban Virginia parents. There's a convenient Metro station and it's close to other popular neighborhoods including Pentagon City, Old Town Alexandria, Potomac Yards, Arlington Ridge, Rosemont, Shirlington, and Del Ray.
I'd love to work there.
There's a lot of character in Crystal City, with several art projects and murals around the city blocks. Four entire buildings are wrapped in mesh artwork.
Turns out, this is the work of JBG Smith. The company commissioned artists to liven up the town with the building wraps.
The image below is 1851 S. Bell St, Arlington, VA., one of the potential office buildings mentioned in The Post article.
Here's another one right down the street. This may be 1770 Crystal Drive, also mentioned in the article. Though the building number on Google Maps says 1750. This building is also owned by JBG Smith.
The article suggests these would be the buildings that Amazon would move into first. They are dated and need updating. But the article says the renovations would take about nine months. Amazon could move in next year.
As for downsides, Crystal City isn't perfectly walkable. There are some odd intersections that could be re-engineered. It's also adjacent to a road called Route 1 which is unpleasant and prone to traffic.
That said, the reporting indicates that Amazon is negotiating some funding to help with local transportation issues.
Conclusion
A few weeks ago upon hearing the buzz about Crystal City, I started looking into buying another rental property nearby. Our family is not in the right place to do so now unless we use a self-directed IRA. But I believe there are good opportunities in a few neighborhoods nearby.
Unfortunately, the condo I attempted to purchase a few years ago that fell through was in an ideal location just a mile from Crystal City. Oh well.
So at least for now, I'm eagerly watching for the announcement in hopes that it will finally bring long-awaited appreciation to my ill-timed condo purchase. The condo and my primary residence should benefit from the Amazon HQ2 announcement and the strong population growth already present in the D.C. metro region.
All is not rosy, however. As other cities have seen, strong growth can lead to over-crowded schools, unaffordable housing, inequality, population density, traffic, and stress on the local infrastructure. Local residents have already protested.
Hopefully, the local municipalities of Arlington and Alexandria will make the necessary infrastructure investments required without taxing us to death.
But all-in-all, winning the Amazon HQ2 selection would be a win-win for Amazon and Northern Virginia. It's an exciting time to be a resident here. Stay tuned for the big announcement.
What do you think? Are there any short or long-term profit opportunities regarding the Amazon HQ2 announcement? Do you live nearby? Are you supportive of the Amazon's infiltration of Northern VA?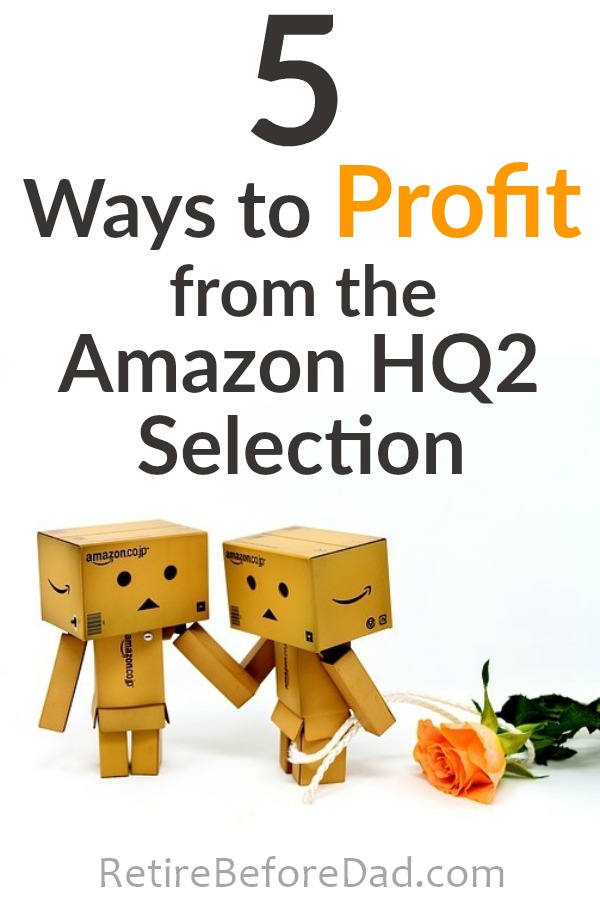 Disclosures: I do not own Amazon stock or any of the commercial REITs or home builders mentioned in this article. I am long RDFN and AAPL stock, and long Fundrise eREIT. I'm also a Fundrise affiliate, meaning if you sign up for an account using a link in this article, I may be compensated at not additional cost to you.
Fundrise Disclaimer: The information contained herein neither constitutes an offer for nor a solicitation of interest in any securities offering; however, if an indication of interest is provided, it may be withdrawn or revoked, without obligation or commitment of any kind prior to being accepted following the qualification or effectiveness of the applicable offering document, and any offer, solicitation or sale of any securities will be made only by means of an offering circular, private placement memorandum, or prospectus. No money or other consideration is hereby being solicited, and will not be accepted without such potential investor having been provided the applicable offering document. Joining the Fundrise Platform neither constitutes an indication of interest in any offering nor involves any obligation or commitment of any kind. The publicly filed offering circulars of the issuers sponsored by Rise Companies Corp., not all of which may be currently qualified by the Securities and Exchange Commission, may be found at www.fundrise.com/oc.
Photo credit: Alexas_Fotos via Pixabay
Subscribe to Retire Before Dad!
You'll receive my weekly articles in your inbox and the FREE eBook 6 EASY Income Streams You Can Start Building Today!