The Best Summer Job Ever (And Why Lifeguarding Is For Suckers)
This page contains links to our partners. RBD may be compensated when a link is clicked. Read disclosures.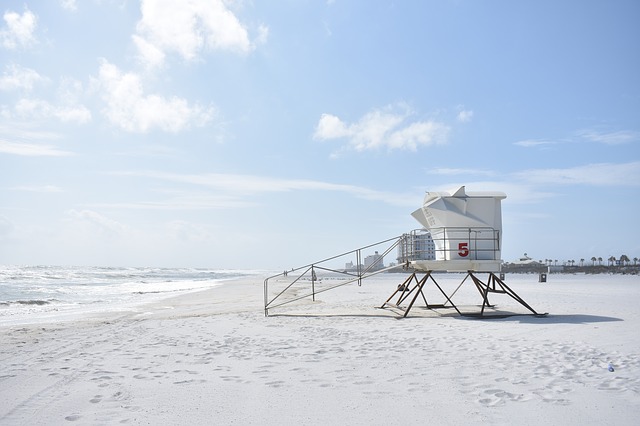 A few months before the summer of 1996, I committed to a lifeguarding job at a local pool. It was supposed to be my fifth consecutive summer as a guard. Lifeguarding was an easy and stable summer job in my youth, but it never paid well.
This new gig was at a private club with a full-length pool and tennis courts, a step up from the smaller apartment complex pools I worked at previously.
A bigger pool meant more maintenance responsibilities and a higher likelihood of having to save someone.
Moreover, this lifeguarding gig was at the pool my family was members at since I was four-years-old. This meant I'd be enforcing the same rules I regularly broke for the previous decade.
That job was the plan until one evening while still at college, an old high school friend called. He asked if I wanted to live at the beach that summer.
That night I called the pool manager to back out of my agreement. I retired from lifeguarding.
Three of us decided to move to Ocean City, MD for the summer. We had no connections there, no place to live, and no jobs.
One Block from the Beach
Once the semester was finished, the three of us drove to the beach for a day to find work and a place to live.
The third place we looked at was a one-bedroom apartment one block from the beach. One bedroom meant we all had to share a room. It was pricey at $1,500 per month, but the location was perfect.
The landlord pointed us to an Italian restaurant six blocks away and suggested we look for jobs there.
Everyone at the beach applies for waiter jobs whether they have experience or not because it pays the best. Only one of us had any restaurant experience.
Being to naive to lie, the two of us with no experience said we'd be bus boys. Since restaurants had trouble finding decent bus boys and we appeared somewhat clean cut and responsible, the manager offered all three of us jobs on the spot, including the third guy as a waiter.
Within a few hours, we had jobs and a place to live a block from the beach. We headed back to our hometown that evening and returned about a week later in a fully-packed Chevy Beretta with broken power steering.
Busing Tables
Early in the summer, restaurant traffic was slow so we'd pass the time talking to the manager.
Ron was a former beach bum who previously owned his own restaurant. He managed this place for the summer now that he was semi-retired.
He'd slyly plant a box of freshly baked bread from the kitchen in the lobby before guests started arriving. The aroma was an enticing welcome for hungry beach-goers.
We'd tell Ron about our late-night antics and he'd always respond with a "been there done that".
By late June, the restaurant was full all night, every night. We busted our asses busing tables non-stop.
At the end of each shift, they always fed us. Since the bus boys were paid less and generally shit upon by the wait staff and kitchen help, the owner kept us happy with special meals. Instead of spaghetti and red sauce, the bus boys might get a custom clam sauce or extra meatball.
That summer was the only time I worked in a restaurant. Busing tables was difficult work and didn't pay well. But I didn't mind it and learned how a restaurant operates.
It was the hardest I've ever worked at a job.
Everyone who's ever worked in a restaurant says "everyone should work in a restaurant" at some point in their lives. I agree with that. Former restaurant workers have a higher tolerance for bad service and tip better. But busing tables was not the best summer job ever.
The Best Summer Job Ever
Ron had a longtime local friend named Paul who ran a beach stand business. He needed help getting his storage containers onto the beach for the season. Ron said if we showed up on time and worked hard, we might be offered a job working the beach stands.
So the three of us showed up on time and worked hard all morning for Paul, lifting giant blue wooden boxes over the boardwalk and onto the sand and loaded them with umbrellas, chairs, and bodyboards. Afterward, Paul took us and few stoner surfer guys out to lunch and offered us beach stand attendant jobs for the summer.
Between the three of us, we accepted two beach stands and planned to rotate.
As luck would have it, we drew two stands that were a 12-block bike ride down the boardwalk from our apartment.
The job required being on the beach for nine hours a day, seven days a week. It was a commission-based job, so the more umbrellas, chairs, and bodyboards we rented, the more money we made.
But we were also selling convenience. We'd help the customer find a premium spot on the beach, carry the chairs, and properly set up the umbrella.
On hot days, umbrellas were an easy sale. But sales increased with a better merchandise display, good customer service, and hustle. Most beach-goers were there for seven days. So I'd hustle extra on Sundays to gain regulars for the week which led to tips.
I loved the morning bike ride to the beach stand, people watching, the boardwalk, the crazy birds, the ocean, and the bookstore right there. Best summer job ever.
Two Jobs = Less Partying
We didn't move to the beach to work our asses off. The plan was to party most of the time. But now we all had two jobs keeping us busy 7 days a week, sometimes 14 hours a day. It was exhausting.
The only saving grace was having only two beach stands. It allowed one of us to sleep in every day. That morning was glorious. The sleeper would relieve the other two for lunch around noon.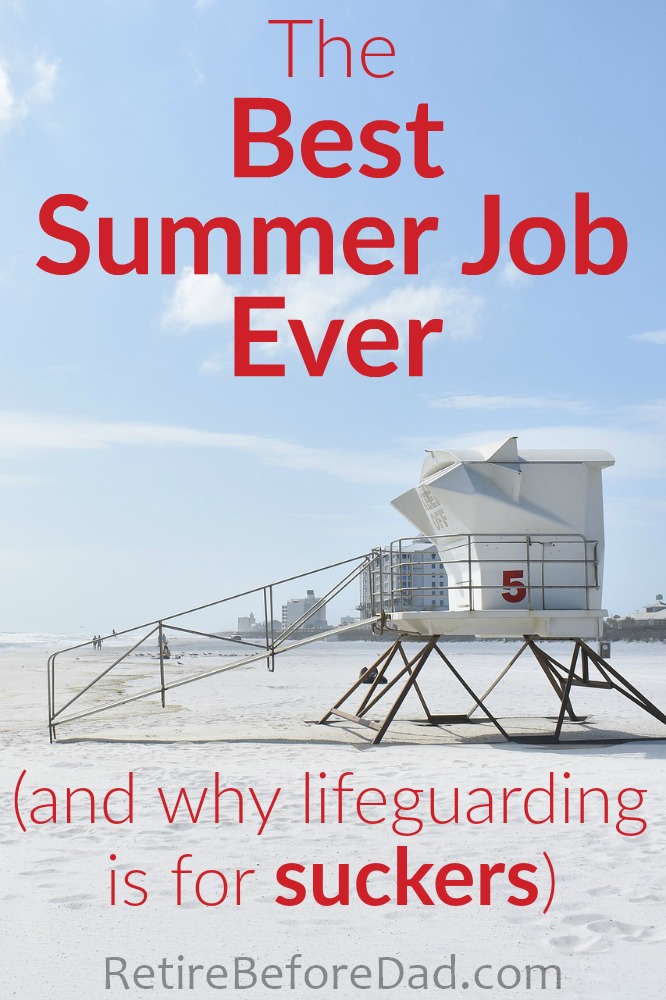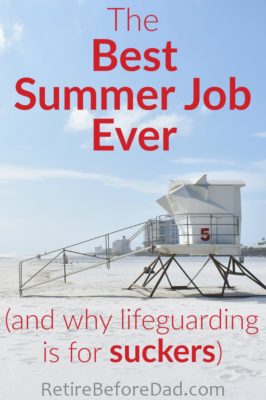 Most days went like this:
8:35 am: Wake up.
8:37 am: Ride bike to the beach stand.
8:45 am: Arrive at beach stand (15 minutes late).
9:00 am: Configure sales area and put up umbrellas for seasonal and weekly customers.
9:00 am-12:00 pm: Sell and put up umbrellas.
12:00 pm: Lunch break.
1:00 pm-5:00 pm: Take a nap, make a few sales, and read.
5:00 pm: Collect umbrellas and chairs.
5:15 pm: Close up beach stand (15 minutes early)
5:16 pm: Ride back to the apartment.
5:25 pm: Shower.
5:30 pm: Walk to the restaurant.
5:37 pm: Punch the clock (7 minutes late).
5:38 pm-10:30 pm Work ass off.
10:30 pm: Eat spaghetti and bread and drink 7-Up.
10:40 pm: Leave work.
10:40 pm-2:00 am: Party.
8:35 am: Wake up and start again.
Since we had such a tight and busy schedule most days, we made tons of money and didn't spend much at all. The work was demanding and we rarely had any nights off.
I saved about $6,000 that summer which paid for my college living expenses and a ski trip to Quebec over Christmas break.
Why Lifeguarding is for Suckers
While I was hustling chairs and umbrellas near the boardwalk, the lifeguards were up in the guard chairs frying in the sun. On bad weather days, they still had to sit up there in the rain and cold and deal with the crappy visibility.
Beach lifeguarding is no joke. Swimmers get hit by waves, sucked into riptides, and drown way more frequently than the apartment pools I worked at. I had the skills to lifeguard at the beach but was far too lazy. My idea of a summer at the beach didn't involve saving lives and exercise breaks.
On my lunch break at the beach stand, the big challenge was finishing a giant meatball sub. Lifeguards were required to go jogging on their breaks, in part to stay in shape, but also to remind beach goers they were capable and serious.
The lifeguards were paid just $7.77 an hour that summer. $62.16 per day before tax. I earned more renting umbrellas while sitting in the shade and reading for most of the day. And I still had energy left over for a night shift.
The smarter I worked to make sales, the more money I was paid. And I wasn't required to take exercise breaks, or perform CPR, or fry in the sun.
Beach lifeguarding was miserable work even without a hangover. The buff lifeguards never seemed jealous of us, even though they knew we earned more. They probably thought we were lazy.
But isn't lazy the best way to earn money? That's what I strive for today, lazy income streams that earn me money with little work.
The lifeguards didn't work in restaurants at night. Too tired from the exercise breaks.
The Hustle is on
I've noticed this summer, 21 years later, a similar dynamic at our summer pool. The teen aged lifeguards are there to protect us and I am thankful for that. I wouldn't call them suckers to their faces.
But they're still on that chair trading their time for an hourly wage, maybe $10-$12 per hour, daydreaming of the summer they might skip this gig and move to the beach.
The real hustlers are a small group of teenage girls teaching private swim lessons for $15 per half-hour lesson. Demand for teaching kids to swim is through the roof. The lifeguards aren't teaching them, it's high school girls from the swim team.
I see the same faces there every day, hustling, giving lessons to one kid after the other, scheduling followup classes the next week. $30 bucks an hour for a high school kid is awesome summer money.
Instead of sitting in the heat, they're in the cool of the pool,
teaching one-on-one lessons to cute kids. Parents refer them to other parents. The best ones are booked solid all week. More lessons, more money.
Summer's Over
Living at home and working as a lifeguard was the safe and conventional move. That phone call flipped my thinking in an instant. Suddenly, not moving to the beach would be the biggest regret of my life to that point.
Sometimes it's worth backing out of a commitment you've made. Summer at the pool went on without me.
I was fortunate that my friend devised the beach idea and called when he did. That summer was my only chance.
The next summer Merrill Lynch hired me as a part-time intern and I spent much of the summer working in a record shop. After graduation, I went to Europe with one of the beach friends before starting my real career. That trip set the stage for my travels to Asia and Latin America.
I've been working in an office building full-time since.
Don't hesitate when a brilliant opportunity comes your way. Better yet, make opportunity happen.
Photo credit: PublicCo via Pixabay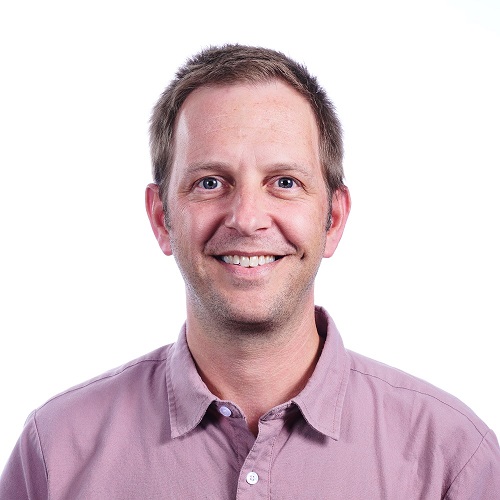 Craig is a former IT professional who left his 20-year career to be a full-time finance writer. A DIY investor since 1995, he started Retire Before Dad in 2013 as a creative outlet to share his investment portfolios. Craig studied Finance at Michigan State University and lives in Northern Virginia with his wife and three children. Read more HERE.
---
Favorite tools and investment services right now:
Fundrise — Simple real estate and venture capital investing for as little as $10 (review)
NewRetirement — Spreadsheets are insufficient. Get serious about planning for retirement. (review)
M1 Finance — A top online broker for long-term investors and dividend reinvestment (review)
High Yield Savings — Put idle cash to work. FDIC-insured savings products.