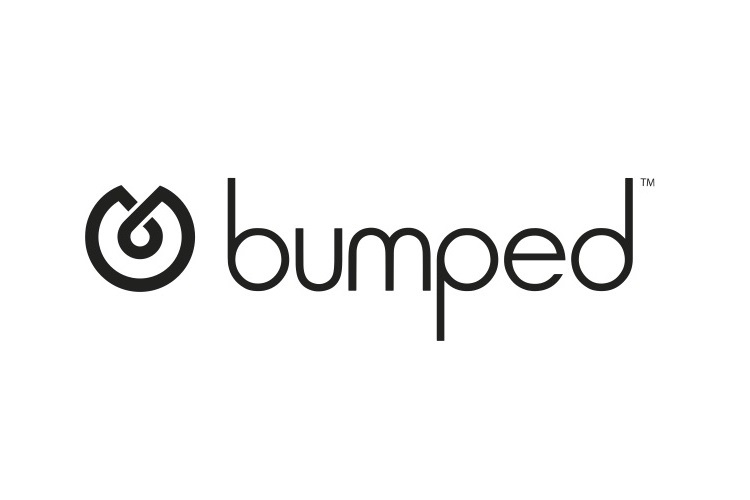 ---
UPDATE 03/04/2021: Bump heard you — Loyalty rewards are back. The initial 10 categories are Apparel, Club Warehouse, Coffee, Entertainment, Meal Kits, Personal Care, Pet Supplies, Quick Eats, Sportswear, Transport (i.e. gas or ridesharing).
There is no waiting list. New users can sign up and participate now.
All loyalty partners stock rewards are set to 1%.
UPDATE 11/03/2020: Upon review of the new Bumped App, it is nothing like the previous version reviewed below (I'm leaving it as is for reference).
The new version of the app is disappointing. So much so, that I won't be using it or completing a full review here.
I sold all of my holdings from the original app, about $150. I'll be cashing out and deleting the app once my 2020 taxes are settled (dividends, capital gains/losses).
Most disappointing, the brands that participated in the pilot, are not participating anymore (03/04/21 Note: some brands are back, and Bumped is trying to get more).
Many of my biggest holdings, Target, Home Depot, At&T, Chipotle, CVS, Netflix, McDonald's, Domino's, are all not participating anymore.
The new app partners with several 'mall brands', I'll call them. Stores you'd seen in a shopping mall. To receive rewards for most, you must shop online through the app. Then you're directed to the online stores.
It's like when you log into your credit card account, and find partners there and shop through the credit card site to get discounts. But now you can't do both.
The problem for me is, I don't shop online for these stores (Macy's, H&M, World Market). I shop in person. I only shop online at big stores (Target, Amazon), and I shop in person everywhere else (usually Costco, which only rewards a Membership purchase in the new app).
One of the downsides of the old app, was that rewards were small. I don't think there's enough rewards in this app to make a significant foundation from which to start investing. And you can't invest through the app with cash deposits.
The hope with the old app was that enough public brands would jump on board and 'bump' the percentage of rewards. But that never happened. Now, it's just another rewards app (like Swagbucks, or Rakutan) that gives you stock instead of cash.
The idea of a loyalty premium, to help build ownership and loyalty in brands, proved not to be a worthwhile investments for the companies.
The section below represents to old "Loyalty App".
Update 09/30/2020: On Tuesday, September 29th, Bumped CEO David Nelson sent an email to it's customers and waiting list to describe an update coming to the Bumped App. Expect to see a BRAND NEW Bumped app on October 29th, that is very different from the first release, but still free. I'll update this Bumped App review once I get the new app and test it out.
Read this article to understand more about the upcoming changes. Most significantly, the waiting list is going away. All potential customers will be able to join.
---
THIS ARTICLE WAS ORIGINALLY PUBLISHED ON NOVEMBER 22, 2018.
I'm excited to share my experience with a brand new investing app on the scene. It's called Bumped, a Portland Oregon-based startup. This app is like nothing you've seen before.
Bumped gives you free stock for shopping at the stores you normally shop at. There's no catch.
Ripe for disruption, customer loyalty programs have changed very little over the past decades. Loyalty cards, discounts, cash back, and free stuff is fine.
But what if you could own stock rewards on top of all of that?
Studies have found that when customers own the stock of a company, they are more loyal to the brand. So this rewards program is long overdue.
Bumped has nailed it. This app rocks.
I've been using the app for a month now. So far I've earned nine stock rewards worth $4.95 for shopping I would have done anyways.
Screenshots of my personal account are included in this comprehensive Bumped app review below.
Free stock. Seriously. No fees. No strings attached.
I'm excited about this smartphone app and convinced it will explode in popularity. I see no downside to using Bumped (unless you don't like sharing financial information with third parties).
That's why I'm issuing my first ever all-in recommendation for both active investors and people who have never invested a penny in their lives.
Every U.S.-based consumer with a credit or debit card over the age of 18 should sign up for Bumped.
With that all-in recommendation, I'll add that I am NOT being compensated for this review or endorsement in any way.
I simply love this app and want you all to experience its benefit. It's right for everyone.
If you're a brand and reading this, please partner with Bumped. We love it.
Think of Bumped as a loyalty program administrator. Companies hire Bumped to reward loyal customers with stock when they make a purchase.
To do this, Bumped had to create a broker-dealer and navigate securities laws. So you're actually opening a brokerage account when you sign up for Bumped.
But it's not meant for trading. It's meant to provide stock rewards.
You simply sign up and link the credit or debit cards you use every day. Bumped then determines when you shop at one of its partner brands.
When you do, you'll receive fractional shares of stock in your account a day or two later. The number of shares is based on how much you spend (including tax) and the reward percentage offering of the brand.
This has no impact on other discounts, coupons, or rewards that you already earn.
Sign up for the Waiting List
The Bumped app is one of the most elegantly designed financial apps I've ever used. Sign up was smooth and simple.
Navigation is fluid, intuitive, and uncluttered.
This startup is well-funded and clearly has the right people working on it.
Before I go on with the review, know that as of today (02/07/2020), there's still a waiting list to start using the app. Current wait time is estimated to be at least one month (more on the controlled release and beta testing below).
But you can get bumped up the waiting list if you refer your friends. You'll be given a referral link when you join the waiting list. Email it to your friends.
The links I provide in this post are referral links, but since I'm already using the app, I won't be getting anything in return. It'll just let them know that RBD sent you.
If you sign up today, please take note of the date and let me know in the comments how long it takes to get full access.
Update on Waiting List (04/16/2020)
Bumped sent an email to users on April 16th with the following update:
Our team is preparing a major update to the Bumped platform that will help make stock rewards more available — namely, reducing the waitlist and creating access to stock rewards from even more brands. Bumped is preparing to launch to the general public. As we continue to grow, we will implement additional changes to how the platform works; this is just the first of more forthcoming changes. No spoilers, but we're really excited about what these shifts will set the stage for — delivering more opportunities to get stock rewards from even more brands, banks, and businesses. We'll announce and explain further updates as they come, but don't worry, our aim remains the same. We are committed to rewarding loyal customers—like you—with free fractional shares of stock, and look forward to expanding the ways to do this. Thank you so much for your patience and support as we work to fine-tune our platform through the Bumped pilot. –The Bumped Team
How it Works
The app keeps things simple every step of the way. After you sign up for the waiting list and receive an invitation, you'll download the app to your smartphone.
Again, if you refer friends with your personalized referral code, you'll move up the waiting list.
Follow the steps below as stated on their website to get started:

Signing up for Bumped involves opening a brokerage account. Brokerage accounts at Bumped are serviced by Bumped Financial LLC, member FINRA/SIPC and held at APEX Clearing Inc. Bumped Financial LLC is a wholly owned subsidiary of Bumped Inc.
So you need to be at least 18-years-old and provide personal information such as name, address, SSN, etc. In my case, I needed to provide a photo of my driver's license to verify my identity. This was done effortlessly through the app.
You may link more than one credit or debit card after the initial signup is complete.
There's an additional step between 1 and 2 that is important. Of the several existing partners, some are in the same category. You are required to select one participating partner per category.
For example, both Starbucks and Dunkin' Donuts are available on my account. I picked Dunkin'.
This selection can be switched but there are limitations. You can change brand loyalty in each category once per 30 days, up to three times per year. The stock is yours to keep if you switch.
Once your cards are linked, simply go shopping at participating partner stores and websites. Once the credit card transaction posts to the account, you'll receive a notification that the fractional shares have been awarded.
The award is based on the total amount of the sale and the reward percentage with the associated brand.
Returns are monitored and transactions can be reversed.
Beta Testing
This app is still in beta testing and the company is adding customers in a controlled rollout. The technology is working very well from my experience. But when I reach out to the company to learn more, a representative indicated that the beta testing is required for the brands they work with.
Since this is a completely new kind of reward, the brands are piloting the program first.
Brand partners want to know if their investment in the loyalty program is working. The waiting list is a result of a slow rollout so the brands can see if the program is working.
Bumped is also collecting data to strengthen their ability to sell the product to the brands.
I was told that a thousand or so customers receive an invitation to join the app each week. Each group invited gets exposure to a different blend of brands.
I'll share the brands available in my account below. The earlier customers have greater access to newer brands.
Loyalty Selections
Once your brokerage account is activated, you must make your loyalty selections in order to start receiving rewards.
Selections are broken into categories. Then choose one brand per category.
As of 2/07/2020, the current categories in my account are:
Burgers
Coffee
Drug Stores
Family Dining
Grocery
Home Improvement
Meal Kits
Mexican Food
Music Subscriptions
Pizza
Ride Sharing
Superstores
Telecommunications
Video Subscriptions
Vineyards
You may only select one in each category. This is to show the brands that you are truly loyal, and will select them over the others when choosing to spend your money.
A percentage of sales number is associated with each loyalty selection. This percentage is between 1% and 5%, depending on the brand. Some brands give more back in stock than others which can influence your selections.
This app is DEFINITELY influencing my purchases so far. I've been excited to get stock and sought out the brands I selected so I could test the app and earn stock.
Other categories available to earlier beta testing groups include airlines, hotels and resorts, online retailers, department stores, movies, apparel, and ice cream.
Once the beta testing is complete, all available brands and categories should be available to all Bumped users.
Interesting to note, HelloFresh was added to the list in early February 2020. There is no stock for the company, but you earn shares of the Vanguard Total Stock Market ETF (Symbol: VTI).
What Brands are Currently on the Bumped App?
Alright, so what brands are currently available on the app? I can only speak to the companies available to me at this stage.
When more brands and categories are available in my account, I'll add them here.
My loyal selections are in bold.
Bumped App Review Screenshots
Now that my account has been active for more than a month, I can share my experience and a bunch of live screenshots of the app.
The value of my account has fallen as a result of the stock market decline.
Home Screen and Menu
The home screen shows your account balance and recent transactions. The menu accordion at the top takes you to the menu.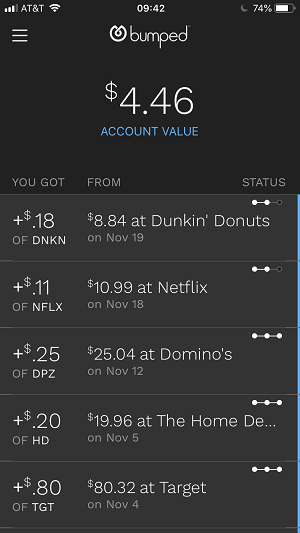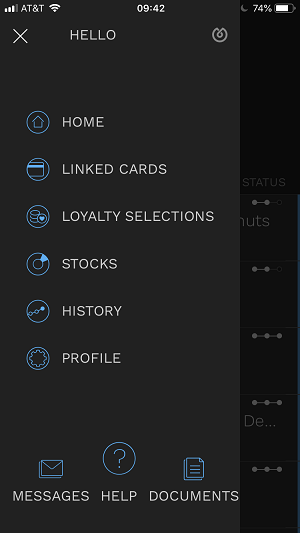 Linked Cards
The first thing to do when your account is activated is to link your credit and debit cards to the Bumped app. My Chase card linked immediately, there was a minor hiccup with Capital One. Bumped was aware of the problem and seemed to fix it quickly.
You'll link just one card when you initiate your account, but you can add more from this screen.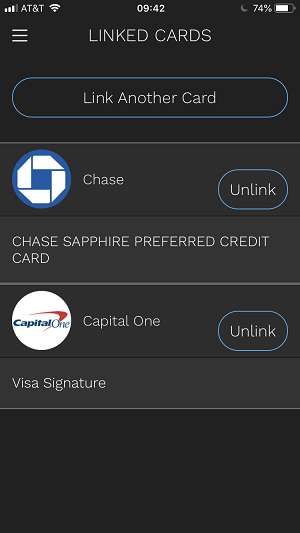 Loyalty Selections
The Loyalty Selections page is where you choose brands. You must choose one brand for each category.
The first view shows my current selections. The second shows how you must choose one.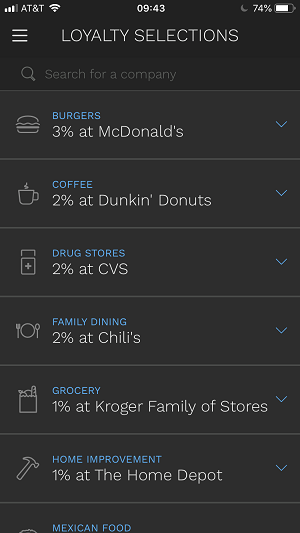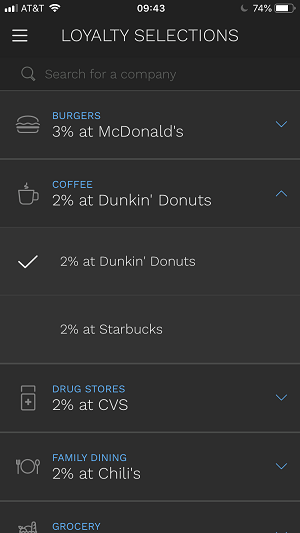 Stocks
The Stocks page shows your total portfolio as a pie chart and lists the total value and shares of each stock. You can also see the Cash Balance here. When you tap Cash Balance, you have the option to transfer the balance to a bank account.
Cash is accumulated from stock sales. Dividends are reinvested into the same stock if possible.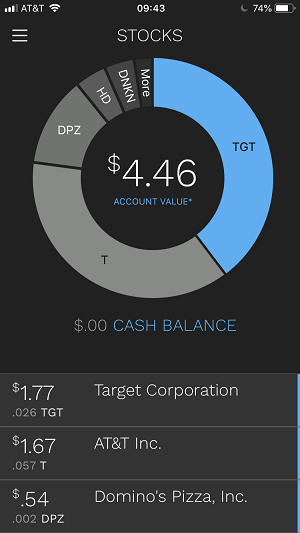 History
Next is the History page. This is a list of all your stock reward transactions including the number of shares, how much you spent, the date, and status.
At the top right there's a circle. Tap the circle to see all of your credit card transactions. If for some reason Bumped misses a transaction, you can let them know from this view by clicking Did you anticipate a reward for this? (not shown).
The three-dotted line to the right of each item tells you if the stock is ordered or settled. Trades take a few days to completely settle which is normal for brokers.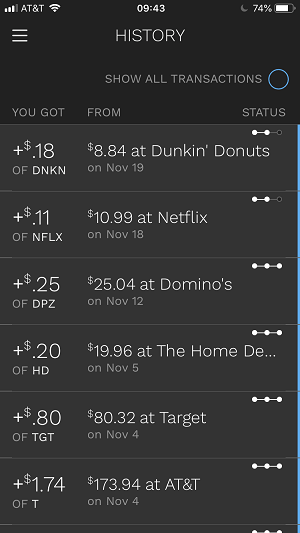 Sell Stocks
Finally, you can sell your stocks on the Bumped app. Just tap the holding and you get this screen with the option to initiate a sale.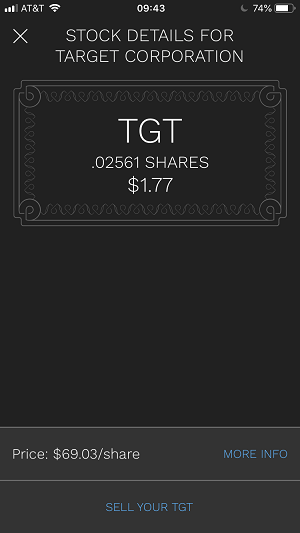 How are Dividends Paid in the Bumped App?
During my conversation with the representative at Bumped, I specifically asked about how dividends are handled.
Dividends are paid into your cash account with the brokerage as normal. They pay fractional dividends, based on how many shares you own. The cash received in your account can be withdrawn at any time.
However, the FAQs says this.
Whenever possible, Bumped will reinvest dividends into additional stock of the same holding. This means that rather than receiving cash, you will receive additional stock in the amount of the market value of the stock at the time of the dividend payment. You will see them in your History labeled as a "Dividend." Any dividends that cannot be reinvested will be processed as a cash payment to your brokerage account. This cash balance can be transferred via ACH to your linked savings or checking account.
My recommendation to Bumped is to provide the option to reinvest or not per each stock.
From my experience with the app (after one year), dividends are always reinvested into the stock which pays the dividend.
Downsides of the Bumped App
As much as I love this app, there are some minor issues and annoyances.
Long Beta Test
The beta test period may last a while as the brands become comfortable with this program. If this app were to suddenly go viral with millions of downloads, the brands would be on the hook for a lot of money.
So they want to make sure that it's worthwhile and creating loyal customers before going all in.
Brands may come and go.
As of December 2019, the beta test is ongoing.
Not Many Shares (but hey, it's free)
You will not get rich using the Bumped app. Just like any other reward program, this is a nice perk for being a loyal customer. Over time, and especially once more brands are added to the app, there's the potential to build a nice dividend portfolio.
This is passive income. Your investments will compound over time as the stocks grow, pay dividends, and as you spend more with your favorite brands.
$4.95 isn't much for one month. But that's more income than I'd have without the app. Over years, this will add up.
Some companies offer a higher percentage than others. Papa John's is 5% vs. 1% for Domino's. This may influence your choices.
Variable percentage rewards could also open the possibility of short-term incentives. Target, for example, could do a Black Friday sale or offer double points for the month of December.
Cannot Buy Stock with Cash
You cannot add money to your account and buy stocks with your Bumped account. At this stage, the company is focusing solely on rewards stock.
Aside from dividend reinvestment, becoming a full-fledged broker does not appear to be in scope.
I agree with this approach. There are enough brokers. This is a unique model that I believe should stand on its own. We don't need all the brokers of the world adding this functionality.
For a full-service broker that doesn't charge fees, I recommend M1 Finance. Read my M1 Finance review here.
Can Only Choose One Brand Per Category
If you shop at both Dunkin' Donuts and Starbucks, you can only choose one to receive stock rewards. This is to truly test your loyalty! I'd love to see access to all brands at any time, but it's currently set to only one for each category.
You can switch brands as mentioned above.
Not all Brands are on Bumped
If you're a brand and not currently on Bumped, please get on Bumped!
Here are a few brands I'd absolutely love to see join the program. Note: some of these may already be on Bumped, but I can't access them yet.
Safeway (SWY)
Costco (COST)
Amazon/Whole Foods (AMZN)
TJ Maxx (TJX)
The Gap (GPS)
Exxon Mobile (XOM)
Apple (AAPL)
Disney (DIS)
And lets not forget that airlines, hotels, banks, and gasoline would be perfect for this app.
These are off the top of my head. If there are others you'd like to see, please add them in the comments section. Also, if you're currently using the app and have access to other brands in your app, please let us know in the comments section.
Who is Bumped? (2 Videos)
Bumped is a Portland Oregon-based startup founded by David Nelson. He's a seasoned entrepreneur who started an online gift card company called Giftango in 2005. It was sold in 2013.
Bumped has raised $16.6 million in 2018, according to Crunchbase. Here's a video to learn more about Bumped and its leadership.
Here's another branding video:
David Nelson spoke at the Finovate conference in the Fall of 2018. In his 6-minute presentation, he demoed the product and ended with this quote…
Wall Street, there is a new shareholder in the stock market… the customer.
How does Bumped Make Money?
Bumped is a fairly straightforward business model. Bumped calculates the amount of stock given to loyal customers for each brand, then bills the company for the amount distributed. They add a percentage-based fee on top.
What if Bumped Goes out of Business?
Bumped is a small business startup. Startups often don't survive. Even though I think this app has legs, it may not last forever.
When you earn stock rewards, they are yours to keep. You own a small piece of each company.
If Bumped doesn't survive, customer accounts will most likely be sold or auctioned to another broker. Customers may also be given the option to liquidate or transfer shares out before the account is moved (that's what happened with LOYAL3).
In the event the situation goes very sour, the Securities Investor Protection Corporation (SIPC) would take over. Bumped is a SIPC member which serves as insurance similar to the way FDIC insurance protects checking and savings accounts.
I fully expect this company will survive. For now, it's very well-funded and the buzz is growing. It will fail if partner brands do not see a correlation between stock ownership and customer loyalty.
How the Bumped App has Changed my Spending Behavior
This past month, I did go out of my way a few times to test the app. There's an extra trip to both Dunkin' Donuts and Domino's. But we go to both regularly anyways.
Most significantly, I changed the way I pay for my AT&T bill because of the app. Instead of using my bank's bill pay service, I went directly to my AT&T account and set up automatic credit card payments.
AT&T is a big one because 1) our bill is high due to iPhone payments and 2) the company pays a big dividend. At this rate, I expect to own one whole share of AT&T in 17 months. That one share will pay me $2.00 per year ever after.
As more brands come online to my account, I fully expect to change behavior by choosing my Loyalty Selection brands over competitors and paying with credit rather than cash or bill pay.
Conclusion and Bumped App Review 2021 Rating
A no-fee online broker called LOYAL3 discovered the correlation between stock ownership and brand loyalty and tried to build a similar service, but never got there.
I first saw Facebook ads for Bumped app back in May and I immediately put myself on the waiting list. Bumped reminded me of LOYAL3.
But it's focused on providing customer rewards and not building out a full-service broker. This focus, I believe, will lead them to widespread success, partnering with hundreds of brands.
For us, it means free stock for the companies and brands we already love.
My Bumped app review ratings below are based on the intended functionality. Since this is not a full-service brokerage, it is not comparable to others. If there are additional review categories you'd think would be beneficial to add, please note in the comments.
Thanks for reading this Bumped app review 2021.
Bumped App Review
Ease of Use -

10/10

Fees -

10/10

Investment Selection -

8/10

Mobile Access -

10/10

Innovation -

10/10

Transparency -

8/10
Summary
Easy to use and free. This innovative app gives free stock to loyal customers of partner brands. This is a mobile-only app for now. Limited company partners are currently available. More should be in the pipeline. But I'd like to see the company be more transparent with its available partner brands and wait list policies.
Disclosure: The author is long COST, DIS, GPS, AAPL, SBUX, HD, MCD, DNKN, CMG, TGT, WBA, DPZ, T, VZ, UBER
Favorite tools and investment services right now:
Credible* - Refinancing makes sense if you can lower your mortgage payment amount by a significnt amount. Credible makes it painless.
Personal Capital - A free tool to track your net worth and analyze investments.
M1 Finance - A top online broker for long-term investors and dividend reinvestment (review)
Fundrise - The easiest way to invest in high-quality real estate with as little as $10 (review)
*Advertising Disclosure: RBD partners with Credible which offers rate comparisons on many loan products, including mortgage refinances and student loans. This content is not provided by Credible or any of the Providers on the Credible website. Any opinions, analyses, reviews or recommendations expressed here are those of the author's alone, and have not been reviewed, approved or otherwise endorsed by Credible. RBD is compensated for customer leads. Credible Operations, Inc., NMLS Number 1681276, not available in all states. 320 Blackwell Street, Suite 200 Durham, NC 27701.