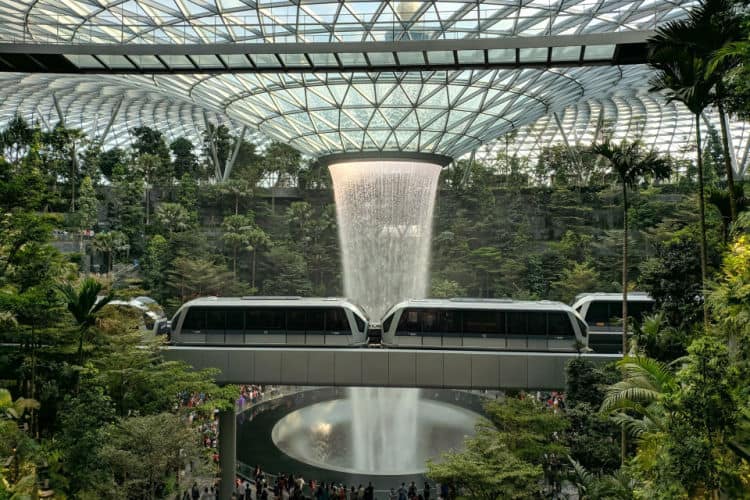 Over the winter, I had a large maple tree cut down in my backyard to make room for a shed.
The cleanup required several multi-hour sessions of chopping and stacking firewood.
Podcasts helped to pass the time.
I've listened to the Rule Breaker Investing podcast for a few years, but not as often since the pandemic eliminated my commute.
The most recent episode on my playlist was called The 6 Principles of a Rule Breaker Portfolio *, so I gave it a listen.
If you're not familiar, the Rule Breakers Investing is hosted by David Gardner, co-founder of the Motley Fool, and the Rule Breakers and Stock Advisor stock recommendation newsletters.
I'm a paying subscriber to both since deciding to expand my portfolio beyond index funds and dividend stocks to include long-term growth stocks.
David's first principle of a Rule Breaker portfolio is this:
Make your portfolio reflect your best vision for our future.
Listen to him explain it in this video:
This wasn't the first time he's said this. Here's an extended quote that I found researching for this article:
Always be thinking ahead. Be optimistic. Think about the world that you want to create because sure enough, your dollars and mine, our capital, is helping shape the world. Truly we are shaping the world every day with our financial decisions. And the future matters so very deeply.
As an owner of dozens of individual stocks and thousands of more companies through mutual funds and ETFs, I had rarely thought of my portfolio this way before.
I'm proud to be a shareowner of many companies, but aligning my portfolio to my best vision of our future is another level of thinking.
It's not about financial ratios, quarterly earnings, or charts — it's emotional.
Why This Matters
How you spend and invest is a reflection of your values, whether you mean it or not.
When we choose to spend at a particular restaurant or retailer, we endorse their products and corporate practices, how they treat employees, and play a role in communities.
And when you invest in a stock, you own a small piece of the corporation.
You're giving a thumbs up to management, products, mission, and the company values.
When they make money, you make money.
If they screw up, you are partly to blame.
With investing, you're entrusting a portion of your wealth with the companies you own. These companies are helping you fund your retirement and pass wealth on to heirs.
It's important.
Owners have voting rights and the right to elevate concerns to management. If a shareholder doesn't like a corporate practice, they have a duty to raise the matter to the Board of Directions and other shareholders and demand action if not addressed.
Very few people do this. But it happens.
An activist hedge fund called Engine No. 1 recently unseated three Exxon Mobile (XOM) Board members by raising the importance of environmental, social, and governmental issues (ESG).
Most ESG-focused investment funds exclude large fossil fuel companies out of environmental concerns.
Engine No. 1, however, aims to build ownership and influence within the companies that have the potential to be better global corporate citizens.
With their Engine No. 1 Transform 500 ETF (symbol: VOTE), you can invest alongside them.
Companies can be both good at making money and good corporate citizens.
For us, investing doesn't have to be all about the money.
You should be proud and excited to own each company in your portfolio.
As we each build individual wealth, our dollars have more influence and impact on the world, for better or worse.
Then It Gets Complicated
This might sound like happy talk. In an ideal portfolio, every company would reflect your best vision for our future and beat the market.
No company and its employees can align perfectly with your personal beliefs.
But when you invest in individual companies, there are resources to help evaluate what kind of corporate citizen each is.
For example, Institutional Shareholder Services (ISS) has a corporate governance rating available for free on the Yahoo Finance company profile tab for all public companies.
You can also read the annual report or research leadership backgrounds (previous employment, political contributions, etc.) to see what kind of people they are.
However, that's impossible when you own broad market mutual funds and ETFs.
When you own index funds, you own every stock in the index, even if they test products on animals or operate sweatshops.
Your piece of ownership is tiny, but you still own it.
One way to clean up your portfolio is to own ESG mutual funds and ETFs.
They eliminate some commonly undesirable industries and favor those with strong corporate governance ratings.
Most mutual fund and ETF providers have ESG funds now.
Vanguard's ESG U.S. Stock ETF (ESGV) is popular. It holds about 1,500 of the largest U.S. stocks but excludes companies that engage in "adult entertainment, alcohol, tobacco, weapons, fossil fuels, gambling, and nuclear power."
Maybe you like beer and flying to Las Vegas in airplanes (like me). Is that so bad?
ESG funds may not own mining companies, but they do own Apple and Tesla, who are driving demand for cobalt and rare earth minerals (dirty businesses).
So no ESG strategy is perfect.
Investing in ESG funds instead of straight index funds might make you feel better.
But the best way to invest in your best vision of our future is to own individual stocks.
Dilemmas and Contradictions
My investment portfolio has grown to more than 60 stocks, ETFs, and mutual funds in various taxable and tax-advantaged accounts.
Does my portfolio reflect my best vision for our future?
Most companies I own make me proud to be a long-term shareholder.
But if I were to research corporate governance more, there may be a handful that I wouldn't be so enthusiastic about owning.
Then again, I don't necessarily consume to reflect my values every time I go shopping either.
I'd love to see cars be electric in ten years to reduce pollution and long-term climate risk.
However, I'm not willing to spend $50,000 on a new Tesla today.
But I will spend $2,000 to buy Tesla (TSLA) stock and benefit from earnings and the collective belief that Tesla is changing the world for the better.
At the same time, I still own Chevron (CVX) stock, fly in airplanes, and drive a gasoline engine car.
Cigarettes are addictive products that kill more than seven million people every year.
But I own Phillip Morris (PM) and Altria (M), two of the largest cigarette producers in the world. They are great long-term stocks.
Many smokers enjoy smoking despite the risks and their increased burden on the health system.
I own industrial stocks, some of which probably aren't so great regarding environmental and societal stewardship. But I enjoy their 'wide moats' and quarterly dividends.
Sometimes I question if those stocks are aligned with my best vision for our future — and weigh that against the implications of selling (taxable event).
It's easy to own stocks that are contradictory to your values.
David Gardner's words remind us to pay closer attention.
Our Future
The part of Gardner's quote that stands out to me most is the phrase "our future."
We are not in this world alone, and we all benefit when people are healthier and the air is cleaner.
Investing under this philosophy is about supporting the companies and entrepreneurs improving the world and the lives of others. If companies are innovative and transformative to the status quo, big profits may follow.
No one person has a perfect vision of what the best future should look like. Some investors may have a distorted opinion of what's right and wrong, good and bad.
But if enough people invest and spend to reflect their individual vision of our ideal future, we'll continue in the right direction.
* Not to be confused with the six signs of a Rule Breaker stock, which is the basis for selecting stocks in the Rule Breakers newsletter. Read about them and watch a video in this Rule Breakers Review.
Photo by Peerapon Chantharainthron via Unsplash
The author is long CVX, TSLA, MO, PM
Favorite tools and investment services right now:
Credible* - Now is an excellent time to refinance your mortgage and save. Credible makes it painless.
Personal Capital - A free tool to track your net worth and analyze investments.
M1 Finance - A top online broker for long-term investors and dividend reinvestment (review)
Fundrise - The easiest way to invest in high-quality real estate with as little as $10 (review)
*Advertising Disclosure: RBD partners with Credible which offers rate comparisons on many loan products, including mortgage refinances and student loans. This content is not provided by Credible or any of the Providers on the Credible website. Any opinions, analyses, reviews or recommendations expressed here are those of the author's alone, and have not been reviewed, approved or otherwise endorsed by Credible. RBD is compensated for customer leads. Credible Operations, Inc., NMLS Number 1681276, not available in all states. 320 Blackwell Street, Suite 200 Durham, NC 27701.