A Lending Club Filter For Solid Returns
This page contains links to our partners. RBD may be compensated when a link is clicked. Read disclosures.
After using LendingRobot for automated purchases for a while instead of this Lending Club Filter, I'm back to selecting notes manually and this filter again. Read about my latest Lending Club investing returns here.
---
On May 2nd, 2013, Google bought a stake in Lending Club at a $1.55 billion valuation. This headline was the first time I ever heard of Lending Club. OK, so maybe I am not much of an early adopter. I had heard of a peer-to-peer (P2P) lending web site that was operating, but the idea was never clarified to me until I read that news story and went to the Lending Club website.
The website itself was very impressive; easy to navigate, attractive, and clear instructions on what to do if you need a loan or want to invest. The company allows you to lend money to qualified borrowers in fractions of a loan as small as $25, and receive monthly interest and principal payments that can be invested back into new notes.
The concept fit into my strategy of finding income producing investments outside of just stocks and real estate, so I decided to give it a try. For anyone that has been using Lending Club, I think we can all agree that the founder, Renaud Laplanche, is a brilliant entrepreneur. Lending like this is a game changer. Here is an excellent interview with the founder by Simon Cunningham of Lending Memo.
The First $1000
The Google investment upped the exposure to peer-to-peer lending and the loan selection for Lending Club quickly diminished. But that did not stop me from depositing $1000 to start an account. When I first started investing, I chose low risk, low interest rate loans because I was still learning my way around and was a little skeptical.
All of the initial loans I chose were 36 months rather than 60 months in duration. I figured this gave the borrower less time to default. Lending Club also gives you the option to automatically choose the loans for you based on their ranking system, but this was not for me.
I liked the idea of looking at each borrower and trying to determine if I thought they were a good person to lend to. In time however, I learned what peer-to-peer lending is really about… statistics.
After I completed my initial portfolio of $1000, 40 notes at $25 each, I started reading more about strategies for choosing loans. I also implemented automated deposits into my account in the amount of $200 per month. I deposit the money in $100 increments at different times of the month to spread out my purchases.
This amounts to eight $25 new notes every month, in addition to whatever notes I can buy from the interest and principal I receive from my outstanding principal.
My Original Lending Club Filter
When learning new strategies for choosing notes, Lend Academy is a great place to start. That web site gave me the basics and also pointed me in the direction of Nickel Steamroller, now NSR Invest. NSR Invest downloads the historical data from the Lending Club web site which is freely available to anyone in Excel spreadsheet form, and they format it so that you can view it on their web site.
You can also upload your portfolio and it will give you guidance on it. After discovering Nickel Steamroller, I developed a filter that I have been using to select nearly all of my notes. Below is the filter I have been using since the initial 40 notes. I developed this filter based on my risk tolerance and desired minimum return. My goal is to return about 12% annually. According to the filter below, the return on investment (ROI) is 14.33% with a default rate of 1.377%.
| | |
| --- | --- |
| Loan Grade | B, C, D, E, F |
| Loan Length | 60 |
| Loan Purpose | Credit Card, Debt Consol, Buy House, Wedding |
| Home Ownership | Own, Mortgage |
| Employment Length | 2, 3, 4, 5, 6, 7, 8, 9, 10+ |
| State | All but CA and FL |
| Amount Funded | >15000 |
| Inquires in the Last 6 Months | 0 |
| Delinquent in Last 2 Years | 0 |
| Annual Income | >$48,000 ($4000/month) |
| Public Files on Record | 0 |
| Months Since Last Delinquency | >60 |
Here is a snapshot of the filter from the NSR Invest:

This is a fairly tight filter, meaning that on a daily basis, not a lot of loans are available to invest in that fits this criteria. So when investing your money, you need to look for new loans when they are released. If you run a filter at these times, or a few minutes after, you are more likely to have available loans to invest in. More desirable loans may quickly appear and disappear before you even see them. So you need to be nimble if you have a tight filter.
There are plenty of ways to tweak this filter, or you can create your own. For example, the filter above does not include notes of 36 month duration. If I include them, the ROI changes to 12.77% and more loans are shown.

Fees
If you are not familiar with the fee structure, Lending Club takes about $.01, a penny, every time you receive a monthly payment on a $25 note. So over the course of a 60 month loan, you will pay $.60 total in fees. Fees are clearly marked on your account statement.
This fee does not sound like much, but so far I have received $70.10 in interest and charged $3.13 in fees. To put in perspective, the weighted average of all of my loans is 13.17%, but my Net Annualized Return (NAR) is 12.39%. Here is a detailed explanation of the NAR on the Lending Club web site. Lending Club needs to make money on this gig, so I am not complaining. They also charge the borrowers an origination fee.
Tracking your Investments
NAR is the standard for tracking your investment returns. Some people are not satisfied with this calculation, especially when loans begin to go late and default. I have my own complicated spreadsheet that I update by importing data from the web site.
This spreadsheet of mine is getting a little out of control with many macros and nearly 100 worksheets, and I am not sure it gives me any better analysis than what Lending Club tells me. It's becoming a time suck, but I like that I can manipulate the data as I wish. That said, I still use the NAR to estimate forward 12-month income on my Lending Club investment. I simply take the NAR multiplied by my outstanding principal.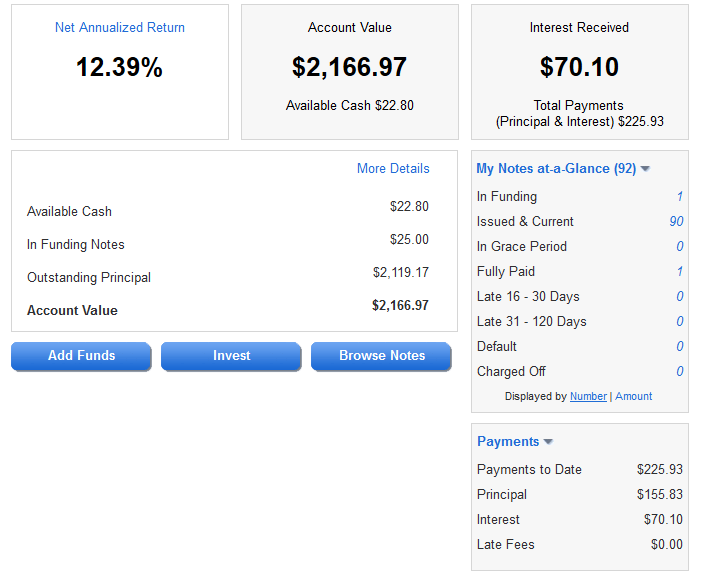 At this point none of my notes have gone into default. I fully expect that some of them will in the future. A few of my notes have gone into the grace period and I did not sell them. So far they have all caught up on their payments. I am in the process of learning about what to do when the notes do go late, and preparing myself to sell when the time comes. Lending Club links to a marketplace called FolioFN where you can buy or sell notes, but I am have not yet explored it.
Resources
Here are some resources I use for reading up on Lending Club basics and strategies:
While Lending Club has been around since 2007, peer-to-peer lending is still in its infancy. As discussed in the interview with Lending Club's founder, the market for lending is unlimited. The growth of this form of lending is now a matter of regulation, scaling the business and loan options, and public perception and awareness.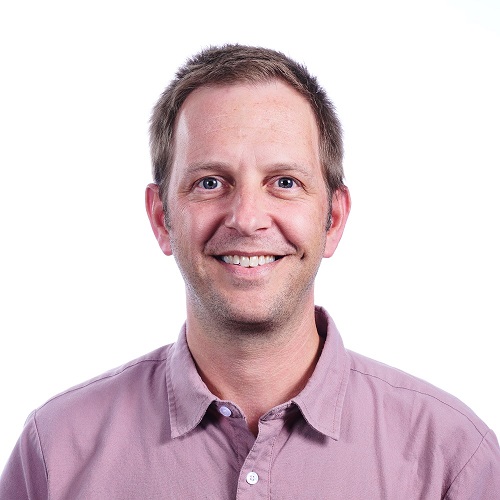 Craig is a former IT professional who left his 20-year career to be a full-time finance writer. A DIY investor since 1995, he started Retire Before Dad in 2013 as a creative outlet to share his investment portfolios. Craig studied Finance at Michigan State University and lives in Northern Virginia with his wife and three children. Read more HERE.
---
Favorite tools and investment services right now:
Fundrise — Simple real estate and venture capital investing for as little as $10 (review)
NewRetirement — Spreadsheets are insufficient. Get serious about planning for retirement. (review)
M1 Finance — A top online broker for long-term investors and dividend reinvestment (review)
High Yield Savings — Put idle cash to work. FDIC-insured savings products.