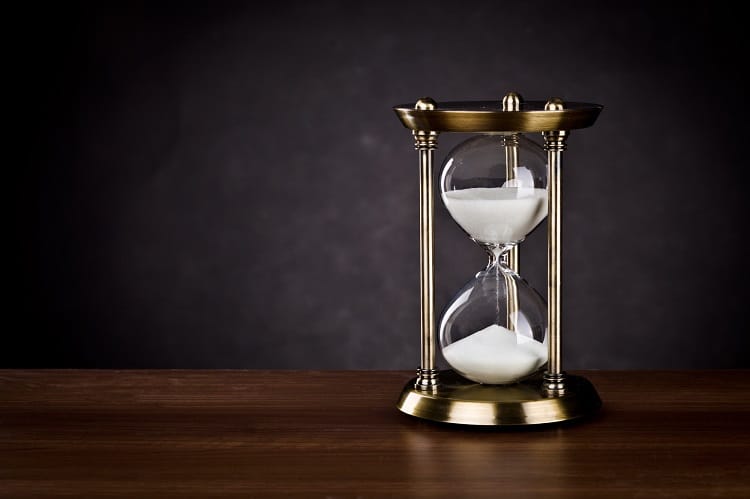 Someone on Facebook with a very dry sense of humor commented:
You misspelled dead. — Facebook Reader
It took me a while — then, the epiphany.
After seven years of blogging, I realized my blog name is one letter away from Retire Before Dead.
And wow, far more people are probably striving for that goal than mine.
Death Before Retirement
I can describe my ideal retirement in three words: long and healthy.
Beyond that, everything else is icing on the cake.
The greater risk to a long and healthy retirement is death, not work. So what good is an early retirement date if you aren't around very long afterward?
Worse, what if you don't retire before death, and die?
Early in my career, a coworker dropped dead in his cubicle one Tuesday morning. He was 60.
That event changed the way I think about office work. He was good at his job, and he seemed to enjoy his role.
But it certainly wasn't his life's passion.
His death got me asking myself, what if I die before I can travel the world full-time again?
Retirement suddenly became more urgent, even though I was only in my early thirties.
We're all told we're supposed to find the work we love, so we don't want to retire.
But truth be told, most middle-aged workers don't love their jobs or careers. A career is often just a convenient way to pay for one's desired lifestyle.
Given a $2 million-dollar buyout, I bet 80%+ of workers over age 50 would leave their office job without hesitation.
But maybe a good chunk of those would go on to find more meaningful and enjoyable work.
Blue Retirement
A viral tweet introduced me to the show Down to Earth on Netflix.
In Episode 4, celebrity host Zac Efron and his co-host explore Sardinia to discover its fountain of youth.
He's nearly moved to tears over the taste of homemade pasta:
When I shot Baywatch, I didn't have a carb for… like, six months. I almost lost my mind. — Zac Efron
Their visit was inspired by the book The Blue Zones, 9 Lessons for Living Longer From the People Who've Lived the Longest, by Dan Buettner.
The book is about small corners of the world with a higher percentage of centenarians than everywhere else. The list of Blue Zones include:
Sardinia, Italy
Okinawa, Japan
Loma Linda, California
Nicoya, Costa Rica
Ikaria, Greece
Using science, the author and contributors to the Blue Zones research investigate the lifestyles and diets of those who live to 100, to extrapolate everyday habits to help us all live longer.
In my quest to retire at 50 and live to 100, I figured I'd have a much better chance of retiring at 50 than living to 100.
But in my lazy and unscientific research, I discovered a calculator that gives me a one in four chance of living to 96 and a 12.4% chance of living to 100.
Better than expected odds!
If I'm going to make it to 100, I can't rely only on luck. It's best to adopt habits and make lifestyle choices that will increase my chances of living that long.
I won't spoil the book, but eating fruits and vegetables, moderate exercise/activity, community/family, and religion all play a role.
But one of the most interesting indicators of longevity across the regions was meaningful work and a sense of purpose.
Plan de Vida
One of the main takeaways from Blue Zones is that most of the centenarians worked or provided for others well into their old age. Buettner highlights the stories of:
Sardinian shepherds who walk five to six miles per day into their 70's and 80's
A 91-year-old heart surgeon in California still assisting in surgeries two to three times per week
A 101-year-old in Costa Rican man who rides a bus to a market every Sunday to pick up groceries for his weekly family soup recipe
Several centenarians that still grow their food and tend to livestock
What nearly all of the centenarians showcased in the book had in common was a daily sense of purpose and feeling of importance in their community.
In Okinawa, they call it ikigai, translated as the reason for which you wake up in the morning.
The word retirement doesn't exist in the Okinawan dialect, according to Buettner.
In Nicoya, Costa Rica, they say plan de vida, loosely translated as a lifelong sense of purpose.
Even people who left full-time careers still had meaningful tasks to do every day, which usually aligned with their healthy lifestyles (farming, gardening, or reasons to take daily walks).
Which begs the question, if meaningful work helps to extend longevity, why retire early?
Retirement used to be considered the twilight of one's life.
But with the increase in life expectancy over the past decades and the trend away from traditional careers (40 years → gold watch) toward more active lifestyles later in life, retirement has been redefined for many.
Movements and Change
The F.I.R.E. movement (and its close relative, F.I.B.E.R.) has tried to change the narrative. Early retirement often means leaving a demanding career to pursue more meaningful work (that still pays, in many cases).
In "retirement," early retirees who don't need any more income are liberated to do the best work of their lives, which can lead to higher income. It's a paradox.
Therefore, finding meaningful lifelong work from which you don't want to retire could lead to more income, a longer lifespan, and death before retirement — but in a good way — dying while doing the work you love.
When I set the goal to retire at age 55, one year before my Dad retired, I wanted to retire and travel for six to eight months of the year.
That was before I had a wife and family.
When we reach financial independence, our kids will still be in grade school, so we won't be able to travel six months out of the year right away.
Our family will still need health insurance. My employer provides premium health insurance and benefits, but the cost to keep it is my continued employment.
In America, our healthcare is tied to employment like a boa constrictor on the Rod of Asclepius. However, the Blue Zones research and other scientific data suggest it's good for us, but only if the work feels important and significant.
For much of my 20+ year career, I haven't felt that way. I've only recently started to find job satisfaction in my profession, and I hope that continues.
On the other hand, retiring early from my career would give me the freedom to focus on what I deem to be more purposeful work.
More purpose could mean better longevity — which is extra motivation to earn and invest for financial security and independence.
Photo via DepositPhotos used under license
Favorite tools and investment services right now:
Credible* - Now is an excellent time to refinance your mortgage and save. Credible makes it painless.
Personal Capital - A free tool to track your net worth and analyze investments.
M1 Finance - A top online broker for long-term investors and dividend reinvestment (review)
Fundrise - The easiest way to invest in high-quality real estate with as little as $10 (review)
*Advertising Disclosure: RBD partners with Credible which offers rate comparisons on many loan products, including mortgage refinances and student loans. This content is not provided by Credible or any of the Providers on the Credible website. Any opinions, analyses, reviews or recommendations expressed here are those of the author's alone, and have not been reviewed, approved or otherwise endorsed by Credible. RBD is compensated for customer leads. Credible Operations, Inc., NMLS Number 1681276, not available in all states. 320 Blackwell Street, Suite 200 Durham, NC 27701.