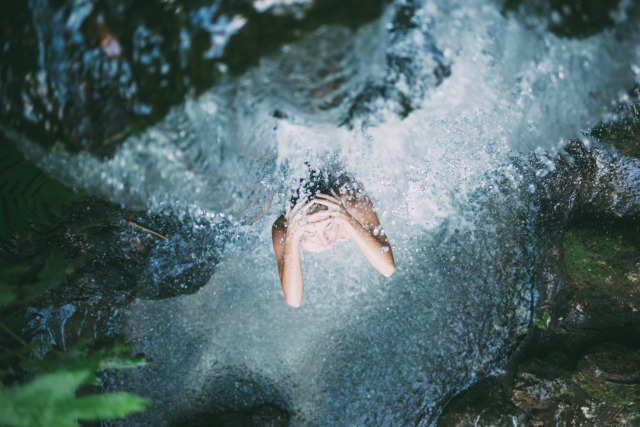 My rental property was a curse for many years. I bought it in late 2006 after the local real estate bubble popped but before the major financial crisis. Its value has remained below what I paid for it since then.
Real estate always go up! That's what I believed in 2006.
Harsh reality, it doesn't.
But through sacrifice, cash infusion, and strategic refinancing, it became cash flow positive rental five years ago and now earns me a profit of about $108 every month.
Accounting for mortgage pay down and tax benefits, the rental increases my net worth by about $5,000 annually, not counting any (non-existent) appreciation.
The water pressure from this shower is a little weak, but it's a consistent stream with few stoppages.
The condo became bloated with equity from cash infusions from refinancing it to fix the original cash flow problem. More than $100,000 of equity is tied up in it, conservatively.
I call the condo my banana stand because there's always money in it. In a pinch, we can always sell or pull equity out.
But we've designed our financial lives so that we don't have many money pinches. We have a healthy emergency fund, a rainy day cash buffer, sufficient insurance coverage, and other liquid investments at our fingertips if we need cash.
You may remember I was nearly set on selling the rental property to free up the equity for more profitable investments in another property or real estate crowdfunding platforms such as Fundrise.
Well, a sale didn't happen. Earlier this year, my tenants of five years decided to move. Instead of selling, I secured a new tenant. I'm still an accidental landlord and plan to be for the foreseeable future.
Not Because I Didn't Try
When my long-term tenants informed me they'd be moving out, I immediately reached out to a few real estate agents to get estimates on the property value. Dealing with agents is a drag because they're sales people.
Each gave me colorful folders with page after page of printed paper overloaded with sales jargon and comps that were perfectly accessible online.
All I wanted was a price estimate of what the unit could sell for as is, and after a modest cash investment for improvements.
Two estimates were sadly low. Another was too high. And the fourth, all she cared about was paint color.
Everything white! They'll love it!
My unit is unique (see pictures here) and difficult to compare to other sold units. But the estimates they came up with were underwhelming and still below what I paid. Which sucks considering I bought the property more than 10 years ago.
One intangible factor affecting the low listing price estimates of my unit was the tax assessment value. A poorly timed assessment actually LOWERED the valued of my unit by $15,000. This lowered the agents' sales estimates and likely the true value.
The whole of our jurisdiction saw the assessed values of their properties go up, and thus their taxes went up. But for me, the one year I want to sell the property, the value decreased. Bummer.
Unfortunately, the authorities really cranked up the tax rate so my annual taxes remained flat.
After four trips to the unit with different agents and various paint color and kitchen improvement suggestions, I elected to put the unit back up for rent.
Setting the Rent Amount
A vacancy is an excellent time to raise the rent. When I was showing the unit to real estate agents, they were all eager to share rental comps in addition to the sales comps. It was good to receive some legit data. I usually just use Craigslist.org to price out rental comps.
I asked my old tenants what rent I should be charging and they believed it was worth at least another $100 per month. They felt they were getting a deal.
Then coincidentally, a young couple saw me in the parking area as I was leaving the unit after some painting, and asked where the rental office was. There is no rental office for the building, it's a condo. But I invited them up to check out my unit in case they were interested.
They gushed over how nice it was (despite the ugly kitchen) and said it was easily worth $2,000, out of their range.
After a bit more research, I thought that was too high. So I added $100 to the old rent value listing it at $1,875.
Then, crickets.
Turns out, my former tenants didn't have a good grasp on the rental market and the young couple wasn't all that tuned in either. After a week at the higher price, I lowered price point by $85 and finally got some interest at $1,790. A few other units were priced at $1,800, so I dropped my rent price a bit more to stand out.
Two Resources for Listing and Managing a Rental Property
Technology has changed since the last time I listed the unit for rent. Craigslist is always an option, but I learned about two other awesome resources for listing and managing a rental property.
Cozy.co
The first is a website called Cozy.co. Cozy.co is a website where you can:
Create and display a rental listing
Syndicate that listing to bigger sites including Realtor.com and Doorsteps
Accept rental applications online
Run credit and background checks on potential tenants online
Automate electronic rent collection
This website service is free for landlords. It's an incredible value. Cozy makes its money by charging potential tenants for the background and credit checks during the application process.
For listing the property, the online application, and the credit and background checks, I give Cozy.co a 10 out of 10. Awesome service.
The next step is to set up the automated payments. From all the reviews I've read, this is easy too, though perhaps a little slow for the money to transfer. I'll be doing that next month. No fees for automated electronic payments.
HotPads
HotPads is another free resource for both listing and finding apartments for rent. The site was founded in Washington DC in 2006 and bought by Zillow in 2012.
I learned about it from a neighbor who used HotPads to rent their property. They found a renter within an hour.
My response was not as fast, but it still sent me some leads.
Since Hotpads is owned by Zillow, rental listings are syndicated to both Zillow and Trulia. Those attract a lot of eyeballs.
Setting the Tenant Acceptance Standards
For the listing on Cozy, I set tenant acceptance standards as explained in this article. Landlords can use metrics such as FICO score, rent to income ratio, and debt repayment history to help weed out unqualified applicants. The key is to add the acceptance standards to the actual listing.
My high standards probably scared some tenants away. But setting standards and making them clear in the listing can help fend off bad apples and potential accusations of discrimination. Plus, it's good business practice to only accept high-quality tenants.
I had two potential tenants apply online. The process was secure, thorough, and super easy.
The first applicant had bad credit. Having the standards in place made the decline easy. Sorry, you do not meet the tenant acceptance standards as indicated in the listing.
The second potential tenant did not have a soaring credit score, but it was above my threshold and he had very little debt, a decent income, and a solid history of making payments on the debt. His former landlord gave a glowing reference. Everything checked out so I offered him the place.
Two Mistakes
I made two mistakes with my original listing. The lack of initial response made it obvious that changes were needed.
Not Awesome Photographs
After most of the painting was complete, I hurried to take the listing photographs so I could post it before the weekend. I used my iPhone 5 to take pictures. They weren't terrible, but the iPhone 5 camera sucks compared to iPhone 6's and 7's. The lighting wasn't great either.
My wife was quick to point out the sad looking shots. So a week later, I used a much higher quality SLR camera and tripod to snap a second round of photos using natural light and a flash.
The photo change had an immediate effect on interest in the unit.
The Rent was too Damn High
The second mistake I made was listing the rent too high. $100 added to the last tenant's rate seemed reasonable, especially since the tenant and another apartment searcher said it was probably worth about $2000 per month.
However, at $1875, the interest was minimal. When I spent more time researching rents, I found two similar units in my complex that were also overpriced and had to cut the price to $1,800 a week earlier.
To generate more listing views, I lowered the rent to $1790. Combined with the better pictures, leads started trickling in.
The Dreaded Vacancy
Every month I put aside 1/12th of one month's rent for maintenance and vacancies. Having the previous good fortune of a reliable long-term tenant for five years, I managed to stash away more than $10,000 in a separate account to help ease the impact of a vacancy or major repair.
After the old tenants moved out, the walls needed patching and painting. I also hired a crew to deep clean the entire unit including the kitchen appliances, cabinets, and the windows.
The painting was done myself but had some drywall repaired due to some minor water damage from a few years ago (paid by the owners association).
I couldn't show the unit to prospective tenants while the old tenants were there because they had so much stuff everywhere. So I waited until they were out. That meant I had to absorb some vacancy costs.
In the end, the unit was vacant for 45 days, so I lost out on $2,685 in rent.
On top of that, I had quite a few expenses to get it back into rental shape.
| | |
| --- | --- |
| Expense | Cost |
| Pro Cleaning | $199 |
| Paint and Supplies | $106 |
| HVAC Service | $150 |
| Toilet Repair | $10 |
| HVAC Filters | $20 |
| Steam Vacuum | $179 |
| Electric Bill | $33 |
| Total | $697 |
All told, my vacancy and repair costs totaled $3,382. Ouch, that's higher than I expected now that I've calculated it. Goes to show how costly a vacancy can be. Most of the expenses were necessary except the steam vacuum which is a long-term asset that I can use elsewhere.
The bigger cost was the loss of rent. Had my previous tenants been neater, I could have shown the property to potential tenants earlier. But the unit was a mess. On top of that, the overpricing and bad pictures delayed filling the unit by at least two weeks. Some other stuff was going on that required my attention too.
Since I had the big cash buffer, I wasn't in as much of a hurry to get it rented. In hindsight, I should have operated with more urgency. Might have saved me $1,000 or two.
Conclusion
The new tenant signed the lease about a month before moving in. He seems to have a multi-year time frame in mind. I'm hoping he stays for two years or longer. That should give me time to replenish my cash cushion and reap the benefits of healthy cash flow.
One of these days, the unit should start to appreciate. It's in a premium location and the surrounding area is seeing significant investment. However, some premium apartments have gone up nearby. I can't tell if that affected my ability to get applicants. They are priced higher and don't have the character that my place has. It seemed easier last time around.
Any significant appreciation will surely drive me to sell. But if rents continue to increase and value does not, I may hold onto this unit for much longer.
The $15 rent increase raises my forward annual passive income by $180. This will be reflected in the next quarterly income update.
Photo Credit: Seth Doyle via Unsplash
Title inspiration by Kula Shaker:
Favorite tools and investment services right now:
Fundrise - The easiest way to invest in high-quality real estate with as little as $10 (review)
Empower (Personal Capital is now Empower) - A free tool to track your net worth and analyze investments.
M1 Finance - A top online broker for long-term investors and dividend reinvestment (review)
SaveBetter - SaveBetter is a simpler way to access high-yield, FDIC-insured savings products.