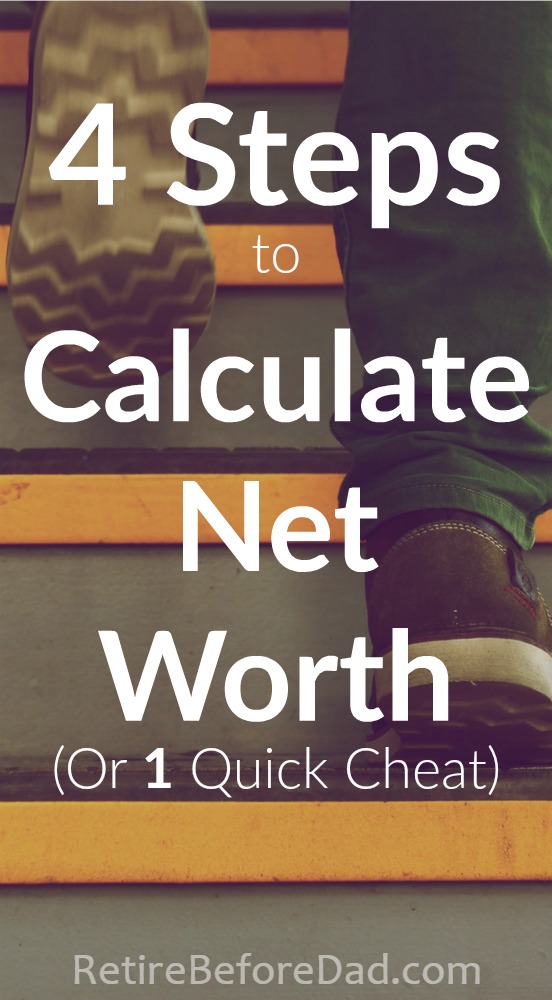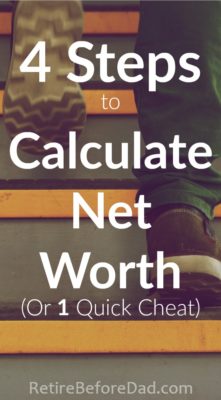 One of the most beneficial financial moves you can make is to calculate net worth. Net worth is a simple math formula that's gives snapshot of your financial well-being and serves as a helpful measuring stick for retirement planning. Here's the formula:

Not rocket science right? Though the math is simple, organizing all the numbers can be cumbersome. In today's world, our money is spread out over many bank accounts, brokerages, phone apps, and credit facilities. Some call that sophistication. Others call it disorganization!
If you are disorganized by nature (or lazy like me!), you may want to just skip down to "the cheat", because I assure you it's the fastest and easiest way to calculate net worth!
But even the most disorganized money person in the household should understand how to calculate net worth.
To make this easy for everyone, I've broken up how to calculate net worth into four easy steps! Following these steps will help you understand why net worth is so important. After that, I'll reveal the super-easy cheat (that I personally use every single day!).
1. Get Organized
OK, I know you're probably busy with family, hobbies, social life and everything else. But the first step is to set aside some time to get organized with your financial self!
Find everything in your life that is finance related. Write them all down in one place or create a simple spreadsheet with your logins and passwords. Do this once and you'll never need to organize again!
If you open a new account in the future, make sure to add it to your list.
2. Calculate Your Assets
Start with your assets (what you own). Locate all of your bank accounts, brokerage statements, retirement accounts, the value of your car (Kelley Blue Book is an easy place to check), the value of your home (I use Zillow.com), and any significant items of value (engagement right, side business assets, significant collectibles etc).
Write down the value of each, or put them into a sweet spreadsheet (I take a lot of pride in mine!). Add them up, and that's what you own. Save this number for Step 4.
3. Calculate Your Liabilities
Next, assemble all the numbers to calculate liabilities (what you owe). Don't be ashamed! Most of us have debt. What's important is to acknowledge it and be aware of all the interest rates. Part of calculating net worth is understanding exactly what your finances look like.
Gather all of your credit card accounts, debt products (mortgages, home equity lines etc), car loans, student loans and any outstanding personal loans (bank of Mom & Dad included!). Add the balances of each debt and to come up with your total liabilities. This is what you owe to others.
4. Calculate Net Worth!
Simply follow the net worth formula. Here it is again:

Subtract your total liabilities (Step 3) from your total assets (Step 2), and that equals your net worth.
But what about that other super-easy way I promised?
Now For The Cheat!
So now that you understand how the whole net worth thingy works, I'll let you in on a little secret. There's this free tool that calculates your net worth for you. This isn't an online calculator, where you have to input all of your numbers each time.
This one updates every second, every day, and you only have to set it up once. Best of all, it's 100% FREE. Yes, no-cost, quick, easy, and for you it's totally math-free!
The tool is called Personal Capital. Personal Capital allows you to link all of your online accounts into their platform. Both assets and liabilities. Personal Capital then analyzes each and every account calculates your net worth on the fly. So any time you check in from either your computer or phone app, your net worth is calculated in real-time.
I used to calculate my family's net worth every month on a spreadsheet. Logging into each account took forever! I did this every single month all the way back to 2003!
Now I just log into my Personal Capital account and it's done for me. That frees up a ton of time that I can now spend with my kids.
Personal Capital also tracks spending to identify places you can improve on your budgeting skills. And it analyzes your investing strategy to see if it can be improved by pointing out high fees on mutual funds and other investments. So cool how it does it automatically!
I'm a huge fan of Personal Capital and recommend it to my family, friends, and followers of my blog (they love it too!). It has really simplified my financial life and helps me see the big picture. If you're lazy like me 😉 and want to check out Personal Capital, just click the banner below and sign up. So helpful and totally free! Calculate net worth the easy way.

Favorite tools and investment services right now:
Credible - NOW is the best time ever to refinance your mortgage and save. Credible makes it painless.
Personal Capital - A free tool to track your net worth and analyze investments.
M1 Finance - A top online broker for long-term investors and dividend reinvestment (review)
Fundrise - The easiest way to invest in high-quality real estate with as little as $500 (review)