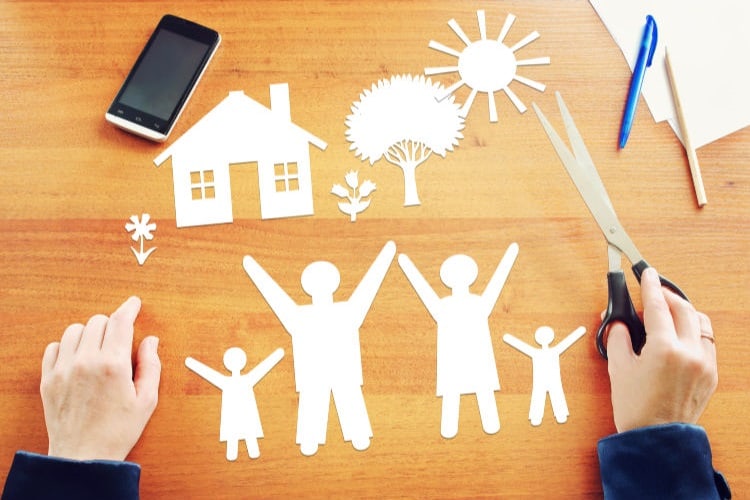 One of my biggest failures as a parent and personal finance aficionado was waiting seven years after our first child was born to finish our estate plan.
It seems that doing an estate plan is more prone to procrastination than most other grown-up checklist items, even vasectomies. (Be sure to answer the two survey questions at the end and check out the results!)
Why is completing an estate plan so hard?
For us, it was the part about if we both die simultaneously (double-decker bus crashes into us, 10-ton truck, etc.), what happens to our kids? This question was hard to answer and easy to put off for another day.
It was also challenging to understand and remember all the necessary components of an estate plan. I had a few conversations with attorneys who explained everything perfectly. But a month later, I was confused again, which made it easy to delay even more.
Then there's the cost. Estate plans usually cost at least $1,000, and all you get is a lousy white folder full of legalese (and peace of mind).
We initially met with an attorney who specializes in estate plans for suburban parents, and we were ready to move forward. The cost was $1,250. But life happened, and we never got back to her.
My employer offers a legal plan, sort like a health insurance plan for legal stuff. I pay about $7 per paycheck for access to the legal plan. In return, get many basic legal services for no additional cost, as long as we use a network attorney. The plan includes comprehensive estate planning services. Since we needed one pronto, the legal plan was a good deal for us.
Unfortunately, we still procrastinated for another 15 months. We were finally motivated to move forward when a family friend faced an unthinkable health situation that required power of attorney and advance medical directives.
We were not prepared for that kind of crisis.
Once we finally completed and signed our paperwork, I felt like a superhero. Estate plans are a critical component of your overall financial plan. Start the process and follow through if you haven't yet.
Vasectomies cost about the same as an estate plan, but health insurance usually covers them. They can potentially save you about $233,000 over the long run — no need to explain why Dads procrastinate.
What You Should Have Before Doing an Estate Plan
You may not need an estate plan yet. Here are some things you probably need before an estate plan.
An Estate
If you're broke, there's no pressing need to draft a comprehensive estate plan. But once you've built some personal assets, or have significant financial obligations, you may want to start thinking about a Will.
A Spouse or Family
I've never known a single 30-something with an estate plan. It was the furthest thing from my mind back then, even when I had a few hundred thousand dollars to my name.
Marriage and kids change the situation big time. If you have a family but not an estate plan, don't feel ashamed.
But set a timeline today to get it done. You owe it to your family. Married couples without kids should consider a plan as well, especially as assets grow.
Life Insurance
Get life insurance before doing your estate plan.
If anyone depends on your income, you should have a term life insurance policy in place. Try to acquire the policy just after marriage or before conception. Waiting until you have your first child is too late.
Mrs. RBD and I each purchased a 20-year life insurance policy when we were 33 and 35, not long after our wedding. We completed fairly comprehensive health evaluations at the time. It was more involved than I anticipated.
The policies are meant to protect the living spouse in the event of an early exit. We bought about 8-times my income at the time, and less for her since she was planning to be a stay-at-home Mom.
My employer benefits package now includes an additional one-year of my salary in coverage. I added another two years on top of that, paid for out of my paycheck.
Life insurance is easier to attain online nowadays, often without a medical exam. Below are three modern life insurance websites that partner with long-established insurance companies to make the process far less painful than it used to be.
Get a quote and apply today if you don't have a policy in place. Easy applications. Affordable.
These are affiliate partners, so if you follow these links, RBD may get a small referral bonus.
Your Financial Stuff Organized
Getting organized involves consolidating accounts, simplifying finances, and listing all your assets and online passwords in one place, so your family is informed. I used to own several financial accounts all over the place, but have simplified over the past two years, specifically for estate planning purposes.
Make sure to list your spouse as the beneficiary of your retirement accounts. My attorney told me that retirement account beneficiaries supersede what the Will says. And convert individual brokerage and banking accounts to joint accounts to avoid complications later on.
The simplest thing you can do today is to write down all of your assets and passwords in one place. It also helps to use free software to have a consolidated real-time view of your assets.
What are the Components of a Basic Estate Plan?
Before I get into this, remember that I am not an attorney. What I write may not be correct for your situation. Estate attorneys are some of the most common and easiest to find. If you have a family or complicated situation, speak to someone to step you through the process.
There are several online estate planning websites and services that can create legally binding documents for you. These may work for simple situations but are not substitutes for sound legal advice in your state of residence.
Your estate planning attorney will explain the components of the estate plan that's right for you and your family. Here's what we got, which seems to be fairly standard for a couple with three kids and no significant complications:
Will
Living Trust Agreement
Durable Power of Attorney
Advance Medical Directive
The Will
Mrs. RBD and I each have a Will. A Will doesn't kick in until you kick the bucket.
The document directs how you want your assets to be handled when you die, written while you're alive. It helps to avoid probate, which is the default court-supervised distribution of assets based on the laws in place.
My Will is five pages long. It directs that everything I own should go to my spouse in the event of my death. It appoints an Executor (spouse) and alternate Executor (sibling), who is responsible for settling my affairs, including my online business.
Most importantly, it establishes guardianship for our minor children if we both die before they turn 18. We designated a Guardian and two alternates, in case one is unwilling or unable to take on the responsibility.
Heavy stuff! This is why it sucks to do an estate plan. Worse than two snips?
If we both die before our kids become adults, our life insurance proceeds and remaining assets will be placed into a Trust.
The Trust
Upon completion of our estate plan, we established a Living Trust for the benefit of our children. The Trust does nothing until we both die.
It defines how our assets should be distributed to our children. We appointed a Trustee and alternate Trustee to manage the Trust on behalf of our children.
The document states that our children will receive our assets evenly when they reach certain ages. They would receive a small amount upon high school graduation, 50% at age 25, and the remaining 50% at age 30.
It accounts for current and future children evenly.
Our Trust includes an additional provision to provide money to the Guardian for upgrades to housing since our three kids would take up a lot of space.
The Trust is designed to stay in place until our youngest child turns 30 when she would receive the final portion of the assets. We can keep this Trust in place as is, modify it over the years, or the surviving spouse can make changes upon an untimely death.
Durable Power of Attorney
A durable power of attorney allows a designated Agent to make financial and other types of decisions on your behalf if you become incapacitated for some reason. Banking powers, safe deposit box access, the power to borrow money, manage investments, and file taxes, etc., are all established in the legal document.
Ours was standard with nothing fancy. I designated my spouse as the Agent and my sister as an alternate.
Advance Medical Directive
The advance medical directive gives my spouse the legal authority to receive health information and make health decisions on my behalf if I am incapable. Our friend was in this situation which is the primary reason we were finally motivated to complete our estate plan.
We each had to select specific wording in the document that would give our surrogate (each other) instructions on how to handle certain situations. Essentially, the go-ahead to pull the plug or not.
As far as I could tell, our plan contained standard template language for our state. Nothing fancy.
Estate Plan vs. Vasectomy (Survey)
According to my very unscientific research prior to writing this, the average number of years people procrastinate before finishing an estate plan is seven years.
The average number of years a typical Dad puts off a getting vasectomy after acknowledging he should probably get one, is about 2.8 years (n=1).
Let's have some fun! Please answer the two questions below. Women can participate too! (POLL CLOSED)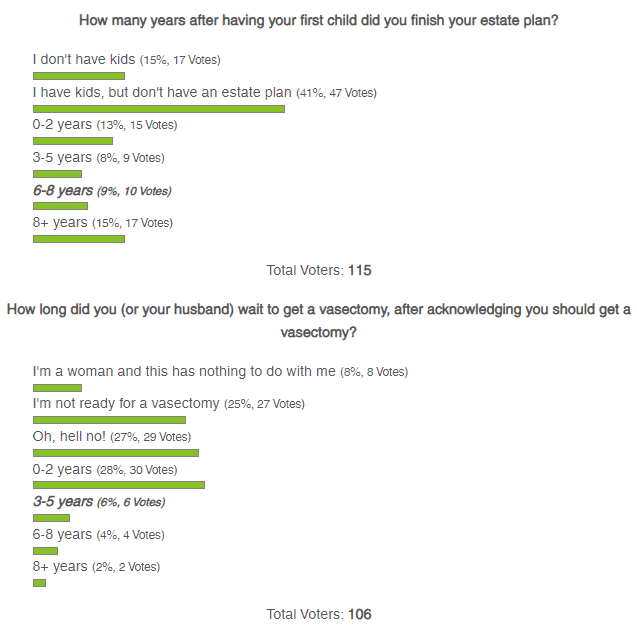 Thanks for participating! If you have anything else to add to the conversation, especially reasons why you haven't completed your estate plan (or vasectomy) yet, please leave your comments below.
Lastly, if you live in the Northern VA area and are looking for an attorney, contact me, and I can send you two local recommendations.
Photo via DepositPhotos used under license.
* The compliance department of RBD's affiliate partner, Bestow, would like you to know the following: the opinions and ideas expressed in the article are those of the author(s) and are not promoted or endorsed by Bestow or North American.
Favorite tools and investment services right now:
Credible* - Now is an excellent time to refinance your mortgage and save. Credible makes it painless.
Personal Capital - A free tool to track your net worth and analyze investments.
M1 Finance - A top online broker for long-term investors and dividend reinvestment (review)
Fundrise - The easiest way to invest in high-quality real estate with as little as $10 (review)
*Advertising Disclosure: RBD partners with Credible which offers rate comparisons on many loan products, including mortgage refinances and student loans. This content is not provided by Credible or any of the Providers on the Credible website. Any opinions, analyses, reviews or recommendations expressed here are those of the author's alone, and have not been reviewed, approved or otherwise endorsed by Credible. RBD is compensated for customer leads. Credible Operations, Inc., NMLS Number 1681276, not available in all states. 320 Blackwell Street, Suite 200 Durham, NC 27701.