12 Diabetes Stocks Improving Lives and Investor Returns
This page contains links to our partners. RBD may be compensated when a link is clicked. Read disclosures.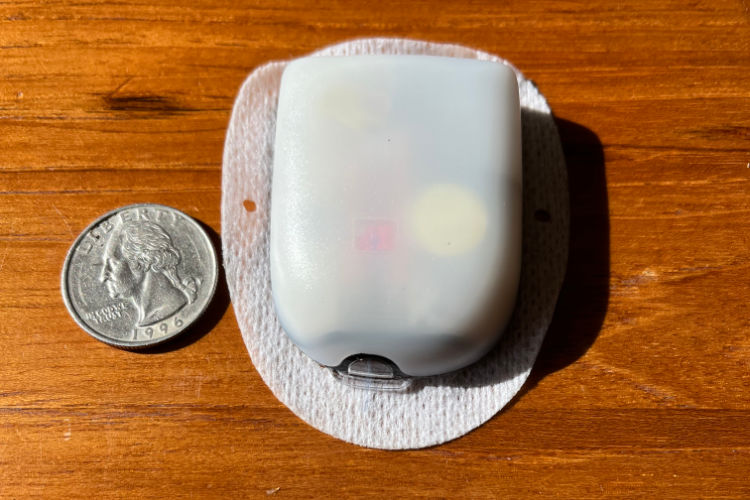 November is American Diabetes Awareness Month. To raise awareness, I'm highlighting 12 diabetes stocks helping to make the lives of people with diabetes more normal.
Parents of kids with Type 1 Diabetes laugh that it starts the day after Halloween.
My 10-year-old son was diagnosed in September 2021.
Type 1 Diabetes is an autoimmune disorder that typically presents before age 25. It's also called Juvenile Diabetes, but a Type 1 diagnosis can happen at any age.
It occurs when the body's immune system attacks and kills the beta cells in the pancreas that produce insulin.
Insulin "unlocks" the body's cells, enabling them to absorb glucose and turn it into energy.
Without insulin, Type 1 Diabetics are at risk for diabetic ketoacidosis (DKA), a condition where the body burns fat cells for energy, creating acidic ketones in the bloodstream. DKA is deadly.
The cause of Type 1 Diabetes is unknown, but family history is a significant risk factor.
Type 1 Diabetes:
is not preventable
is not reversible
requires insulin dependency for life
diagnosis has nothing to do with diet or lifestyle
The JDRF Type 1 Diabetes Index estimates that the disease affects 1.4 million Americans and 8.7 million people worldwide.
People with Type 1 Diabetes must estimate carbs and calculate insulin doses for every meal for the rest of their lives.
Type 2 Diabetes usually affects people over age 45. Risk factors include older age, excess weight, physical inactivity, and poor diet.
The CDC estimates that 33-35 million Americans have Type 2 Diabetes. The disease is managed with improved diet and lifestyle choices, weight loss, medication, and insulin.
Diabetes is manageable, enabling kids with Type 1 to live long and healthy lives.
Several investable companies create live-sustaining supplies, technologies, and medicines to help normalize the lives of people with diabetes.
Diabetes Stocks Overview
My son's Type 1 Diabetes has consumed my life and brainpower for the past year. Thankfully, we've improved at managing his blood sugar using a continuous glucose monitor (CGM) and insulin pumps.
But it takes work, especially as he quickly grows and exits the honeymoon phase (when the pancreas still produces some insulin).
I've accompanied my son through diagnosis, countless finger-pricks, daily shots, CGMs, pumps, and device data, and navigated the costs and insurance trickery through it all.
This experience has given me insight into companies and technologies enabling people with diabetes to live somewhat normal lives.
As an investor, this gives me some unique insight.
The list of # diabetes stocks is not a recommendation to buy or sell any of them.
The purpose of this article is to raise awareness for Type 1 Diabetes.
I'm grateful for these companies that empower us to manage his condition. We're excited about new technologies and breakthroughs and hopeful for an eventual cure.
I've divided the list of diabetes stocks into three categories:
Device and Supply Makers
Insulin Manufacturers
Cure Seekers
Diabetes Stocks: Device and Supply Makers
People with diabetes rely on several devices and disposable supplies to get through each day.
When my son left the hospital, we carried a bag full of about $2,000 worth of medicine and supplies.
Getting comfortable with insulin pens, needles, blood glucose meters, types of insulin, and how to reorder everything took a few weeks and caused a lot of anxiety.
And that was before he got any wearable devices. Now we're almost experts on this stuff.
Here are the companies.
1. Dexcom (DXCM)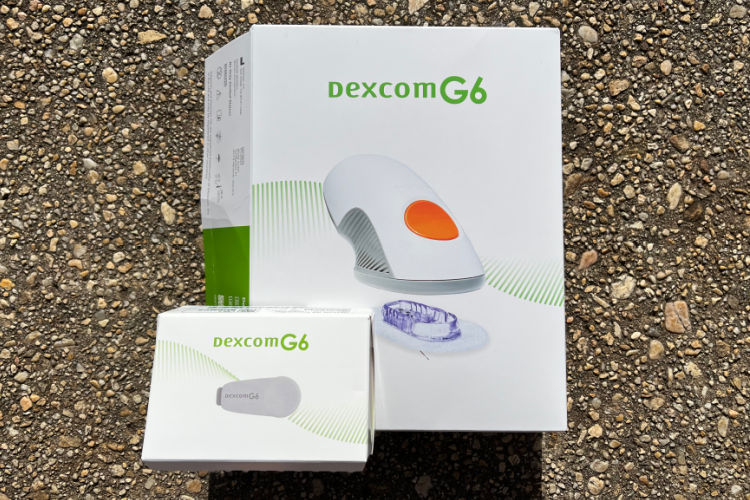 Dexcom is a diabetes management company that manufactures continuous glucose monitors (CGMs).
CGMs provide blood glucose readings to users every five minutes.
Before CGMs, people with diabetes needed to finger prick before every meal and when not feeling well. Four or five finger pricks a day tells a very abbreviated story.
The Dexcom G6 CGM provides 288 blood glucose daily readings, telling a complete story of blood glucose levels.
CGMs are also predictive, giving users warnings for low or high blood glucose levels.
Hypoglycemia (low blood sugar caused by too much insulin) can be an emergency.
Hyperglycemia (not enough insulin) causes long-term health issues.
Dexcoms have nearly become standard care for children with Type 1 Diabetes because parents can monitor blood sugar remotely and at night.
Users insert a sensor into the interstitial fluid under the skin. The sensor calculates a surprisingly accurate blood glucose reading.
An attached transmitter then relays each reading to a receiving device (usually a smartphone), and the Dexcom smartphone app displays the reading and shares it with followers.
Here's a snapshot from my phone. The big number is the latest blood glucose reading. The arrow indicates the trend, which helps to predict highs and lows.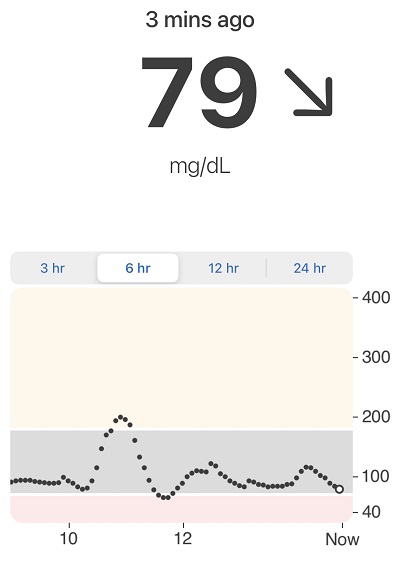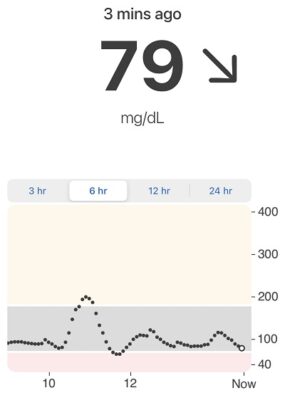 Patients share the data with their endocrinologists and diabetes nurses. Data sharing is a powerful tool for managing the disease.
Our son will likely wear this or a similar device nearly 24/7 for the rest of his life. Over time, they'll get cheaper, smaller, and more accurate.
CGMs require a prescription in the U.S., but in some countries, you can buy CGMs over the counter. Health nuts are interested in the data.
Dexcoms are not cheap. The device lasts ten days, so that's about 36 devices per year, and they cost about $100 a piece, plus four transmitters per year. Insurance covers most of this cost for us, but millions worldwide do not have access to CGMs.
Musician Nick Jonas is a Dexcom spokesperson.
This is my Dexcom G6 – it helps me stay on top of my diabetes by giving me a heads up when my glucose levels are heading too high or too low. If you live with diabetes, you know the ups and downs. But other people don't necessarily see that. pic.twitter.com/I0jusOFKVX

— Nick Jonas (@nickjonas) October 28, 2022
Here's an Instagram post by Australian model Bambi Northwood-Blyth inserting her Dexcom G6 sensor. We do this every ten days, usually on my son's upper butt (more to the right than hers).
Dexcom received FDA approval for the G7 on December 8th, 2022. The device is 60% smaller, easier to insert, and cheaper to manufacture.
The Dexcom G7 is already available in the U.K. and elsewhere. Its U.S. release is expected to be a catalyst for the stock.
My son likes a YouTuber called Nerdabetic, who is all over the new device.
2. Insulet (PODD)
Insulin pumps make the lives of diabetics easier.
Instead of taking multiple daily insulin injections, insulin pumps do the job with a few taps.
Pumps give you much better control over insulin delivery and enable kids to eat like growing kids eat — frequently.
The Omnipod by Insulet is an incredible device.
It's the only FDA-approved "tubeless" insulin pump. The device sticks to the skin and inserts a little tube under the skin, which delivers the insulin.
Tubeless delivery works nicely for our son. He is a swimmer, and the Omnipod goes in the water with him and keeps working.
The user applies a brand new device every 2-3 days, changing body location each time to ensure the insulin is delivered properly.
Omnipods are disposable.
Model Lila Grace Moss proudly sports her Omnipod on the runway (left hip area).
Here's a closeup of one used by my son. It's about the size of an Apple AirPod case. On the underside, you can see the cannula (little tube) that inserts under his skin.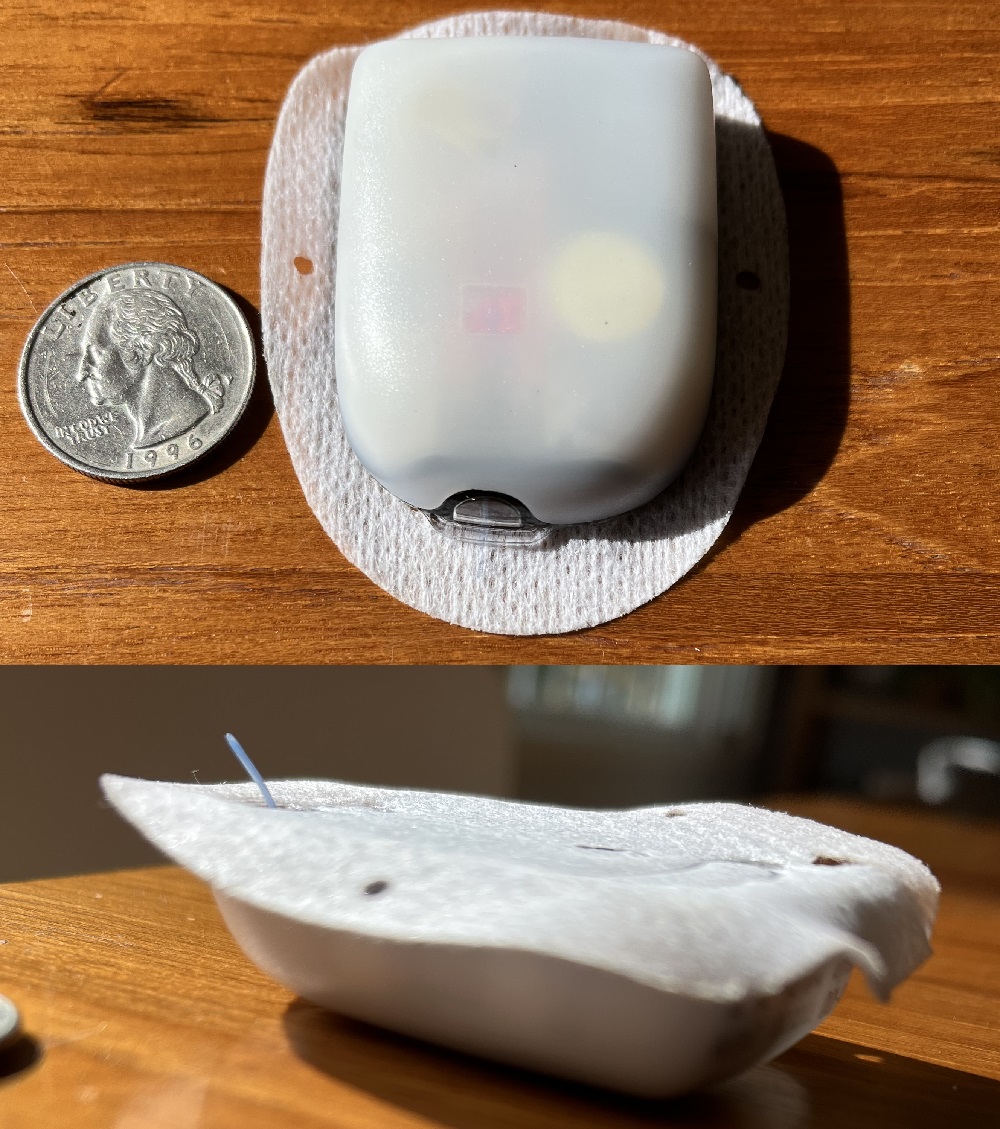 There's a cool YouTube video of an engineer who disassembles the Omnipod to see how it works inside. Extraordinary.
This 16-year-old Ninja Warrior, Kate Boone, shows off her Dexcom and Omnipod as she plows through this insane obstacle course. You can see both devices on the back of her arms.
The latest version, the Omnipod 5, communicates with the Dexcom and can deliver insulin based on the CGM readings, predictively avoiding highs and lows.
The combination of CGMs and insulin pumps is getting us close to having an "artificial external pancreas". However, the insulin pumps can't tell how many carbs you eat. You have to type that into the device.
Insurance companies like the Omnipod because of the lower upfront cost and disposability. Other pumps require a high upfront cost for the device, which is expensive to replace if it breaks.
Representatives from Insulet will ring the closing bell on the Nasdaq on November 14th, World Diabetes Day.
3. Tandem Diabetes Care (TNDM)
Tandem is another pure-play diabetes company that makes a popular insulin pump called the t:slim.
The t:slim line of pumps was the first to integrate with CGM data, informing an algorithm to help control blood glucose levels.
All the users I've spoken to love the t:slim. Especially how it automatically adjusts basal insulin (baseline) for highs and lows.
The image below shows the t:slim device connected via tubing to an infusion set that inserts a cannula under the skin. The device hangs on a belt or goes in a pocket.
On the right is a Dexcom G6.
Having a powerful device always connected gives the user excellent control of their insulin delivery.
However, the device is not waterproof, so insulin delivery must be disconnected during swimming and showering.
Disconnection stops the flow of basal (baseline) insulin and can cause blood sugar highs.
The t:slim has a higher upfront cost compared to the Omnipod. The little device in the picture above is several thousand dollars. Most insurance only covers that cost once every four or so.
Omnipod's control device is a small modified smartphone. It only needs to be nearby when sending the pump instructions.
Users tell me the t:slim is a great device, and the tube rarely gets in the way. But a child user I know struggled with it while playing sports and swimming and has since transitioned to the Omnipod 5.
Tandem has its own "tubeless" insulin pump called the Mobi: Tubeless in the product pipeline.
4. Abbott Labs (ABT)
Abbott Labs is a Dividend Aristocrat stock, having paid and raised its dividend for more than 25 years. It's also a member of the elite Dividend Kings list, having increased its dividend for 50 years.
Abbott has a line of blood glucose monitors under the FreeStyle moniker.
The FreeStyle Libre is the primary U.S. competitor to Dexcom. It started as a "flash" monitoring system where you'd hold a reader device near the skin-attached device to get a reading. It wasn't continuous.
However, the FreeStyle Libre 3 was approved by the FDA in May 2022. It performs similarly to the Dexcom with continuous monitoring and Bluetooth transmittal to a smartphone.
The FreeStyle Libre is smaller than the Dexcom G6 and generally costs less for insurers. Dexcom's G7 should be more competitive in size and cost.
Healthy competition and innovation between the two U.S. leaders should help to drive long-term costs down.
New entrants catering to non-diabetics and international manufacturers could also come into play if they can navigate the FDA approval process.
5. Embecta (EMBC)
Embecta is a "pure play" diabetes stock. The company "offers time-trusted products now with a singular focus on diabetes care."
Its products include insulin pen needles, insulin syringes, a diabetes care app, and diabetes accessories.
Embecta is a recent spinoff from Becton Dickinson (BD), another Dividend Aristocrat. Becton Dickinson is a more than 100-year-old company and was an early manufacturer of diabetes supplies, including syringes.
As a spinoff paying a dividend, Embecta may join the Dividend Aristocrats list in January as long as it continues to pay and increase its dividend.
People with diabetes who do not use a pump (most) do multiple daily injections (MDI) of insulin. And every time, they need a new syringe or needle.
BD is the most well-known maker of these needles. And once you start using a brand for this purpose, there's little incentive to change.
Considering the strong brand recognition and stable customer base (users for life), Embecta will likely be a steady and boring business for years to come.
Lots of investors like boring companies.
Here's a sample of what we brought home from the hospital.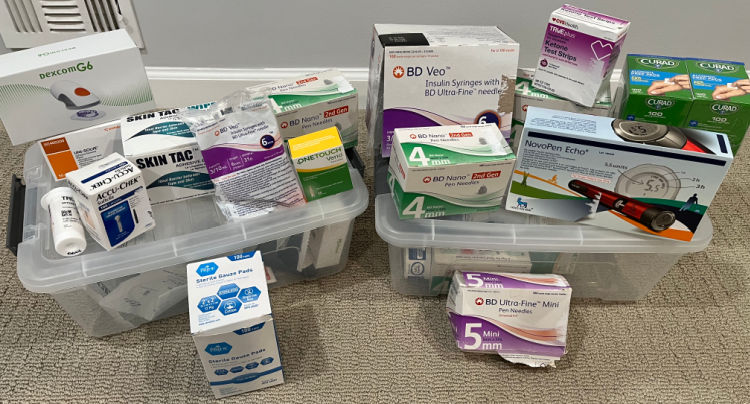 6. Medtronic (MDT)
Medtronic is a Dividend Aristocrat that has been a stable holding for dividend investors over the years. The company has several products in the diabetes space, including a line of insulin pumps and a CGM.
Their pumps and CGM are less popular among Type 1 kids than the brands I've discussed above.
However, Medtronic's Smart Insulin Pen is among the best in the marketplace.
Diabetics not on an insulin pump often use "pens" for injections. Pens are easier to use than standard insulin syringes.
The user inserts an insulin cartridge into the pen, then attaches a fresh BD needle for each injection. The pen has a small dial to set a precise dose which is injected with the press of a button.
Medtronic's InPen sends data to a smartphone app that helps to calculate doses, track history, and display information.
We used a similar pen called the NovoPen Echo for the first seven months of diabetes management.
Diabetes Stocks: Insulin Manufacturers
If you follow the news, you have heard about the high costs of insulin. Legislators tried to pass a law to cap insulin costs for all Americans at $35 per month (out of pocket) via the Inflation Reduction Act (IRA).
Half of Congress rejected that provision and only passed the cost limit for insulin users on Medicare.
Our family has only paid a $20 copay for our son's monthly supply. We have plenty, and the cost barely scratches our budget.
We have great health insurance thanks to my generous employer. I'm grateful for our reliable supply.
But for those without insurance, it can be costly, causing people to ration insulin or use expired, less effective medicine.
The high costs are perplexing since insulin has been around for 100 years.
Insulin was discovered in the early 1920s by a team at the University of Toronto. The inventors licensed their patents and allowed other companies to patent improvements.
Patents on the major insulin types finally expired in 2014, but the formulas are difficult to replicate and need FDA approval, according to Johns Hopkins.
Three manufacturers dominate the market, giving them negotiation advantages with the insurance companies and letting them charge what they want to anyone else that needs insulin.
Here are the three diabetes stocks and their popular insulin brands:
---
7. Novo Nordisk (NVO)
Insulin brands: Novalog, Novalin, Fiasp, Tresiba
8. Sanofi SA (SNY)
Insulin brand: Lantus
9. Eli Lilly (LLY)
Insulin brands: Humalog, Basaglar
---
Our son's Endocrinologist prescribed Novalog (bolus, short-acting) by Novo Nordisk and Basaglar (long-acting) made by Eli Lilly.
The insurance company "preferred" these drugs, which makes me shudder knowing that insurance executives influenced my son's treatment.
Generics are on the horizon. A non-profit called Civica Rx is building a generic insulin facility in Petersburg, Virginia, that should produce insulin at $30 for a month-long supply by 2024.
Mark Cuban and his Cost Plus Drugs may also help lower the cost. The company has recently moved into the diabetes space, partnering with Roche to provide Accu-Chek blood glucose meters and test strips.
Search "Mark Cuban Insulin" or "Mark Cuban CGM" on Twitter, and you'll see how desperate people are for lower-cost insulin and devices.
Diabetes Stocks: Cure Seekers
We met my son's Endocrinologist the morning after his diagnosis. The first thing she said to us was she is certain that a cure for Type 1 Diabetes will become available in his lifetime.
But there's a saying in the Type 1 Diabetes community that a cure is always five years away.
A family member works in biotechnology and says that companies prefer treatments over cures.
The largest companies focus on treatments because life-long diseases and drugs to manage them create excellent cash flow.
As an investor, that's great.
But as a T1D Dad, I like seeing research and commercialization of potential cures.
With advancements in medicine, genetics, and healthcare over the past 100 years, scientists might be near a cure.
Cures are always tricky and require research grants, experimentation, and expensive clinical trials before approval.
A Type 1 Diabetes cure would likely require two steps:
Repair or replace the cells killed by the immune system
Suppress the immune response to prevent the body from attacking the new cells
Innovation over the past 20 years may make this possible. However, doctors, parents, and patients must consider the risks and costs before getting it done.
A few companies I know of are working on different long-term treatments and maybe even a cure.
10. Vertex Pharmaceuticals (VRTX)
Vertex Pharmaceuticals is a $75 billion pharmaceutical company and leader in treatments for cystic fibrosis.
The company has made two bold acquisitions in the Type 1 Diabetes space in the past few years.
The first was Semma Therapeutics in September 2019.
Semma was a venture-backed startup funded by the JDRF T1D Fund. Semma pioneered a beta cell replacement technique using stem cells.
In October 2021, Vertex announced better-than-expected results in a Phase 1/2 trial of its VX-880, a stem cell-derived pancreatic islet cell replacement therapy for Type 1 Patients.
The treatment cured a 64-year-old man diagnosed with Type 1 Diabetes 40 years earlier.
The New York Times profiled the man's story (or read this version if you hit a paywall).
Vertex dove deeper into finding a cure for Type 1 Diabetes in July 2022 when it acquired its primary Type 1 Diabetes stem cell therapy rival, ViaCyte.
ViaCyte has a clinical trial of its own underway with the FDA.
Acquiring ViaCyte's expertise, test facilities, and intellectual property should help Vertex move closer to a commercialized cure for Type 1 Diabetes.
There's still a lot of work, trials, and FDA hurdles before treatments become commonplace. But seeing positive clinical trials is a positive sign that one day my son may receive treatment to cure him of this condition.
A new film was released last week called The Human Trial about chasing the cure for Type 1 Diabetes.
Here's a trailer.
11. CRISPR Therapeutics (CRSP)
The stem cell treatments have shown efficacy and the potential to replace the beta cells that create insulin in the pancreas. However, if the cells have the same genetic markup as the original cells, the immune system will attack and kill them again.
Patients need to take immunosuppressant drugs to prevent this from happening. These drugs have significant side effects that may deter Type 1 Diabetics from getting the treatment.
The Nobel Prize-winning CRISPR technology empowers researchers to change cell DNA. The technology may be applicable to a variety of disease categories.
In a potential Type 1 Diabetes cure, the technology may help to alter the genetic code of the replacement beta cells to avoid the body's immune response, thus, eliminating the need for immunosuppressant drugs and enabling a full cure.
CRISPR Therapeutics, though public, has little revenue at this point. But patient growth stock investors may see its potential. It may be one of multiple diabetes stocks that contribute to an eventual cure.
12. Genprex (GNPX)
One final company on the diabetes stocks list that's also working on a cure is Genprex.
Genprex has an exclusive licensing agreement with the University of Pittsburgh for the gene therapy work being done by Dr. George Gittes. Gittes is a pediatric surgeon who became interested in how pancreas cells grow and develop.
He and his team have developed a way to deliver gene therapy to the pancreas via viruses. He and his team have developed a way to deliver gene therapy to the pancreas via viruses.
The treatment modifies some of the non-insulin-producing cells in the pancreas to start making them produce insulin.
In trials with mice, the procedure worked. But even more exciting, the immune system didn't notice the cells for a long time.
The Gittes Lab at the University of Pittsburgh is now trying this therapy in monkeys. Most of his work has been funded by grants from the National Institutes of Health (NIH).
When sufficient preclinical data is generated from these trials, the team will partner with Genprex to design and begin a Phase 1 clinical trial in diabetic patients. Genprex is experienced in clinical trials and navigating FDA red tape.
Here is a video of Dr. Gittes describing the gene therapy procedure.
Genprex is a pre-revenue microcap company, making it an extremely risky and speculative investment not suitable for most investors.
Diabetes Stocks Summary
As a reminder, this article isn't about recommending stocks. It's about raising awareness for Type 1 Diabetes and highlighting the companies making the lives of people with diabetes easier.
Please perform due diligence before investing in any of the stocks mentioned.
Here's a summary of the 12 diabetes stocks mentioned in this article.
Photos by RBD unless marked otherwise. The author is long DXCM, PODD, ABT, VRTX, CRSP, and GNPX.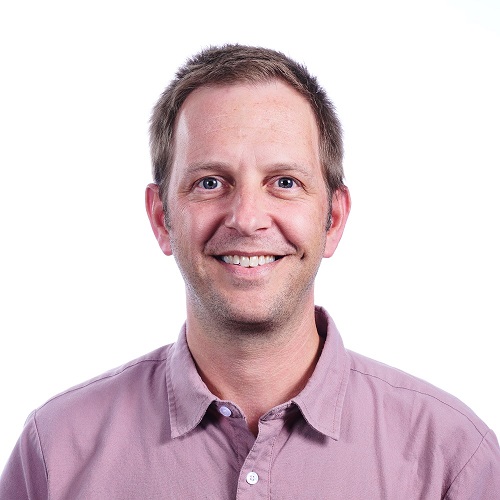 Craig is a former IT professional who left his 20-year career to be a full-time finance writer. A DIY investor since 1995, he started Retire Before Dad in 2013 as a creative outlet to share his investment portfolios. Craig studied Finance at Michigan State University and lives in Northern Virginia with his wife and three children. Read more HERE.
---
Favorite tools and investment services right now:
Fundrise — Simple real estate and venture capital investing for as little as $10 (review)
NewRetirement — Spreadsheets are insufficient. Get serious about planning for retirement. (review)
M1 Finance — A top online broker for long-term investors and dividend reinvestment (review)
High Yield Savings — Put idle cash to work. FDIC-insured savings products.