The Disney DRIP, or dividend reinvestment plan, is administered by a stock transfer agent called Broadridge. Broadridge enables investors to buy shares of Disney stock directly, through a direct stock purchase plan (DSPP).
DRIPs and DSPPs (often used interchangeably) are an outdated way to invest. They were fine for making small investments into individual stocks BEFORE online brokerages existed.
But today, they are an inefficient way to invest due to antiquated technology, lack of investment options, and the extra tax form burden.
Two much better options exist today. I'll compare these to Broadridge and show why they make a better platform to invest in Disney stock.
The two alternatives to the Disney DRIP that I recommend are M1 Finance and Stockpile.
Both are also ideal for gifting Disney stock for the holidays or any time of the year.
Stockpile is built specifically for gifting individual stocks. While M1 Finance is a better choice if your ultimate goal is to begin building wealth by owning stocks.
Here's a quick pricing overview: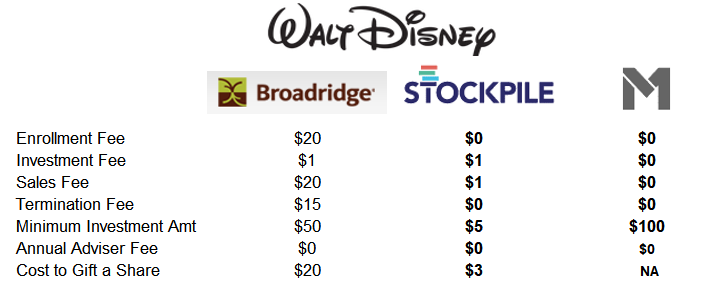 Alternatives to the Disney DRIP
I used to be an avid DRIP investor. The ability to dollar cost average into stocks is a great way to build wealth and passive income over time.
I started investing in two DRIPs, namely Coca-Cola and Chevron, back in 1995. DRIPs were the only way I could invest because I only had $50-$100 to invest per month. Those two plans lasted for more than 20 years.
However, I've recently transferred shares out of the DRIPs because I've found a similar but smarter way to invest.
Instead of DRIPs, it's better to begin investing through a commission-free brokerage that allows you to invest in multiple stocks. This is so you can diversify into many stocks, not just Disney.
M1 Finance
Stockpile is good for gifting a share of stock and adding to that position or buying other stocks.
However, it lacks the robust functionality and simplicity of M1 Finance. M1 Finance is full-service online brokerage.
With M1 Finance, you can create a "pie" of stocks you like and buy them all at once.
So you could all some toy stocks, or media stocks to your Disney holding and buy them all at once with no trading fee.
M1 Finance has eliminated all fees for all customers. It's a commision-free online brokerage. Read my comprehensive M1 Finance review here.
Click or tap here to check out M1 Finance.
Stockpile
If you're looking to buy Disney stock as a gift, real certificates are no longer issued. Only a "collectible certificate" is available today. Gifting a share through Broadridge is too involved compared to other options today.
The best way to gift a share of stock is through Stockpile. It's their specialty. For just $3, you can send the gift of stock to a loved one. Better yet, that loved one will have the option to diversify into other stocks with their Stockpile account. The minimum purchase price is just $5 too, and there's no enrollment fee like Broadridge. Buying or selling additional shares is just $1.
Click or tap here to check out Stockpile.
A major downside of investing in the Disney DRIP through Broadridge is the complicated fee structure and investment minimums. Below is a comparison between the Disney DRIP at Broadridge and investing in Disney at both Stockpile and M1 Finance. The difference is clear.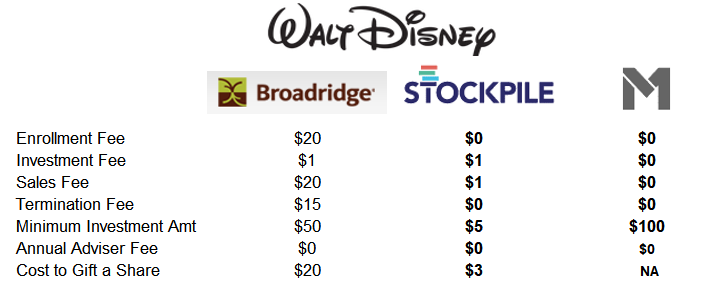 Before signing up for the Disney DRIP *, consider the long-term investment goals of your or the someone you are considering gifting shares too. Will they own only Disney stock for the rest of their lives? Or do you want them to diversify their investments and grow wealth?
Two options will allow you or your loved one to build wealth in a safe and diversified manner with few maintenance issues. While the Disney DRIP will be just one stock and you'll be required to open many additional accounts elsewhere to reach your objectives.
Advantages of DRIPS
Let's take a closer look at DRIPs.
DRIPs, also known as direct stock purchase plans (DSPP), or direct investment plans, are a way to buy the stock directly through the transfer agent instead of a traditional brokerage (i.e. TD Ameritrade, ETrade, Fidelity etc).
Direct investment plans have some nice features to them. Specifically, they allow for small investments to be made over time, letting the investor dollar cost average into stocks over time. This tried and true strategy is great for novice and intermediate level investors.
Usually included in these plans is a dividend reinvestment options. This option gives the investor the choice to either receive the dividend in cash or reinvest it to buy more stock. If the investor goal is long-term wealth building or income growth, dividend reinvestment is a hands-free way to accomplish this.
Another nice feature is the ability to automate your investments. You can set up automation and continue investing on a monthly basis without any manual work.
Some of the biggest stock transfer agents include Computershare, Wells Fargo Shareowner Services, and Amstock, in addition to the Disney DRIP administrator, Broadridge.
Disadvantages of DRIPs
DRIPs have a few major downside. Complicated fees is a big one. Another is that you'll need to open multiple DRIP accounts elsewhere to diversify your investments.
That's why I recommend M1 Finance over the Disney DRIP and prefer it over Stockpile.
All of the stock transfer agents I mention above charge fees of widely varying degrees. Some DRIPs are free to investors while the company eats the cost. Most others charge the investor a marginal fee to invest new cash and to reinvest the dividend.
The broad complexity of fees in DRIPs (as demonstrated in the Disney DRIP graphic above) is the most frustrating aspect of DRIP investing, second only to the decrease in returns that come with fees.
Another disadvantage of DRIPs is that they invest on a set schedule, and you don't get to chose when your money will buy the stock. They use a batch process, meaning they pool all investor money and make one big market buy to acquire shares. You get whatever price they give you, and you have no say what day of the month your money is invested.
Conclusion
DRIP investing is becoming a dinosaur in today's fast-moving financial tech world. Companies like Stockpile and M1 Finance are using better data and website design to simplify the investment process, and doing it at a lower cost, passing the savings onto investors. In addition, these companies make investing beginners easy, eliminating the intimidation factor that comes with traditional investing channels.
Instead of investing in the Disney DRIP program, consider M1 Finance as a better choice. It's a smarter, lower fee options, providing a better platform to invest and grow your wealth. Using their platforms allow you to invest in multiple companies, diversify your portfolio, and keep costs low.
You can buy any other company you know and love on M1 Finance. Diversify your portfolio to reduce your overall investment risk.
* Disclosure: The author is long Disney stock. This is not a recommendation to buy or sell the stock. Click here to see the Broadridge plan prospectus from which the fee information was updated in May 2016. A new version may be available with updated fees at any time. Please read the Disney DRIP prospectus for the latest fees.
Favorite tools and investment services right now:
Credible* - Now is an excellent time to refinance your mortgage and save. Credible makes it painless.
Personal Capital - A free tool to track your net worth and analyze investments.
M1 Finance - A top online broker for long-term investors and dividend reinvestment (review)
Fundrise - The easiest way to invest in high-quality real estate with as little as $10 (review)
*Advertising Disclosure: RBD partners with Credible which offers rate comparisons on many loan products, including mortgage refinances and student loans. This content is not provided by Credible or any of the Providers on the Credible website. Any opinions, analyses, reviews or recommendations expressed here are those of the author's alone, and have not been reviewed, approved or otherwise endorsed by Credible. RBD is compensated for customer leads. Credible Operations, Inc., NMLS Number 1681276, not available in all states. 320 Blackwell Street, Suite 200 Durham, NC 27701.