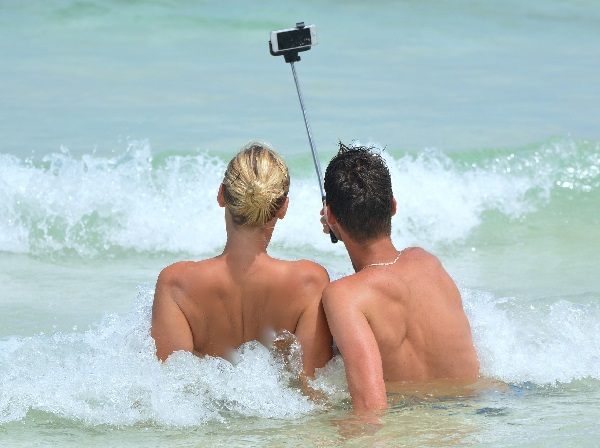 The signs in the gym locker room are clear: Picture taking in the men's room is strictly prohibited. Please inform the front desk of violations.
Yet every once in a while, some beefcake dude will stand there in front of the locker room mirror, whip out his phone, and snap a selfie.
I sort of get it. Taking pictures en route to a goal is a useful way to track progress. In body building that makes sense, chronicling the pursuit of ripped abs and big muscles.
For Mrs. RBD's first pregnancy, we took a weekly belly picture. For each of our three kids, we photographed them next to a stuffed animal every month to track their amazing growth over the first year. We did this in the privacy of our own home.
Not these guys… they're smack dab in the middle of the locker room, prime time Monday evening. I guess the camera can't wait to capture chiseled muscles after an intense workout and fresh tan. Who needs privacy?
But, come on, a nude selfie in the locker room? Maybe these selfies are about more than fitness. Maybe they're posting these online… Oh no, I just googled it, that was a bad idea. It's definitely a thing. DO NOT google it.
Net Worth – The Nude Selfie of Personal Finance
My interests and goals revolve around family, travel, and building wealth.
For chronicling our lives we have a sweet SLR camera
to take pictures and videos of our rapidly growing kids. Our travel photo albums contain shots from 45 countries around the world (here're a few pictures).
And we use a free tool called Personal Capital to take a snapshot of our net worth every day.
Tracking your net worth is like taking a nude selfie because it's a snapshot of your financial life, in the buff. It's full frontal exposure. Nothing is hidden.
The process of calculating it involves gathering all of your assets and debts in one place. Subtract one from the other and that's your net worth. But the number isn't the key.
The key is understanding and controlling all of the components. Taking a regular net worth selfie helps you take control of your financial life. That is what's empowering about tracking net worth.
For a quick guide to calculating your own net worth, read 4 Steps to Calculate Net Worth.
Sharing Net Worth Online?
I'm proud of our family and the kids are ridiculously cute and photogenic. So on occasion, we share a few pictures with our friends on Facebook.
But I am far too bashful to post our net worth on the internet. I feel naked and vulnerable enough sharing my stock portfolio and some of the good and not-so-stellar financial calls I make from time to time. Sharing our net worth online would feel like posting a nude selfie to Facebook.
Our family's net worth is nothing to be ashamed of. In fact, I consider it my life's work. Jobs and careers come and go. Net worth is a constant wealth measuring stick.
Think of net worth as a carefully crafted machine running on compound interest, gaining speed as you navigate the rolling hills of life.
For now, at least, our family's net worth remains hidden behind pasties.
But not everyone is so bashful. Did you know there's a group of 200+ financial bloggers who share their net worth on the internet?
The ultimate nudist colony of net worth sharers can be found on the Rockstar Finance blogger net worth page. Bloggers from all walks of life, the fit and the financially flabby, fully expose their financial physiques to the world.
Regardless of financial girth, these are proud people who share their progress because they've chosen a better future through financial responsibility. And they aren't afraid to show the washboard abs of success and stretch marks of poor decision making.
Sharing helps to keep them motivated and accountable while pursuing their financial goals. And their nude selfies inspire others to improve their own financial lives.
Some are spreadsheet wizards. Many others use Personal Capital to track progress and share the various charts and elaborate forecasting models.
But not all net worth exposure on the internet is consensual.
Magazine Probes the Lives of Wealthy Americans
You've all heard of the Forbes 400 Wealthiest Americans list. Each year, the reporters at Forbes Magazine dig deep into the lives of the richest Americans to estimate their net worths and publish the rankings.
The magazine says some billionaires open up their financial lives to the editors to help with the process. Others are less cooperative.
Presumably, most of these billionaires prefer financial privacy. Instead, they cope with the magazine prying into their financial lives every year in the name of selling magazines and internet ads.
Kind of intrusive, don't you think?
Reminds me of some other people who pry into the lives of the rich and famous.
Remember the massive iPhone hack that netted nude selfies of dozens of celebrities? Hackers found their way into the iCloud photo accounts of targeted women celebrities and published private photos online. The celebrity victims certainly didn't want those shared with the world.
Granted, plenty of celebrities (and probably a few billionaires) have willingly shared nude pictures when they want to. It comes down to personal choice and control over the decision to share.
And that's what must be frustrating to the billionaires about Forbes conducting this annual exercise. Even though the information is sourced from the public domain (i.e. public real estate, court records, SEC filings etc) with journalistic integrity, the results may not be accurate and are not endorsed by all the ranked billionaires. Yet the estimated net worths are published for the world to read.
You could defend Forbes by saying, "I have little sympathy for billionaires. And If I were that rich, I'd want the world to know!"
But that's like saying, "Hey, that actress is hot. So she should be proud to show it off."
Wrong as both may be, the masses still want to look. So as long as there's an audience, somebody will find a way to provide the goods and profit from it.
The Rear End
I'm scrawny. So it makes zero sense to report selfie-taking body builders to the front desk and risk my well-being. Maybe these guys are just so focused on their fitness goals that they're oblivious to how inappropriate they are.
I can relate I suppose. I check my net worth at inappropriate moments of the day and don't think twice about it. It's easy, right from my smartphone. So I'll whip it out and take a look while waiting at the doctor's office, watching cartoons with the kids, or even at the gym.
But I certainly don't share it in the locker room or post it on the internet. That takes balls.
Are you a part of the net worth nudist colony? What's it like sharing your financial nude selfie for the world to see?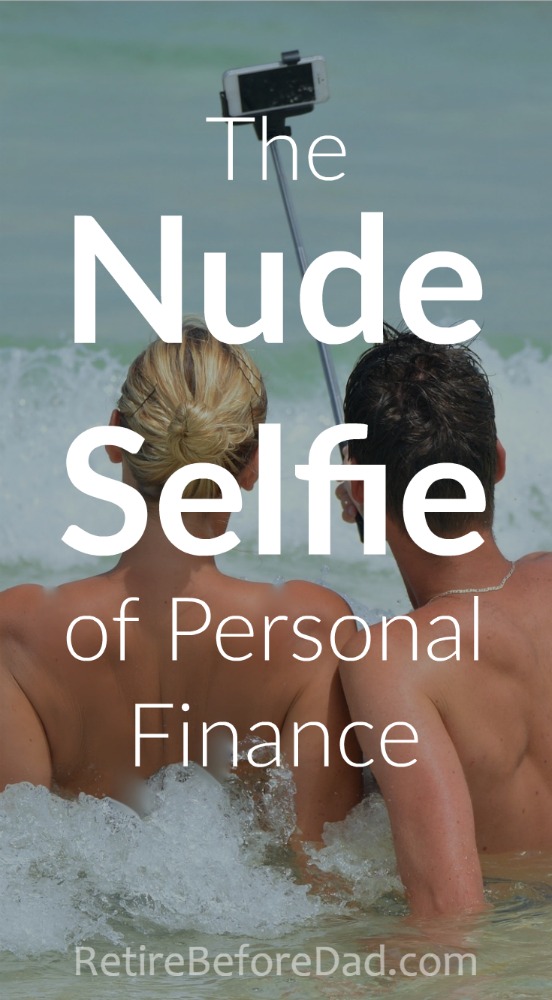 Featured photo via Pixabay CC0 Public Domain. Bad alteration by RBD.
Favorite tools and investment services right now:
Credible* - Now is an excellent time to refinance your mortgage and save. Credible makes it painless.
Personal Capital - A free tool to track your net worth and analyze investments.
M1 Finance - A top online broker for long-term investors and dividend reinvestment (review)
Fundrise - The easiest way to invest in high-quality real estate with as little as $10 (review)
*Advertising Disclosure: RBD partners with Credible which offers rate comparisons on many loan products, including mortgage refinances and student loans. This content is not provided by Credible or any of the Providers on the Credible website. Any opinions, analyses, reviews or recommendations expressed here are those of the author's alone, and have not been reviewed, approved or otherwise endorsed by Credible. RBD is compensated for customer leads. Credible Operations, Inc., NMLS Number 1681276, not available in all states. 320 Blackwell Street, Suite 200 Durham, NC 27701.