Is Moving Worth it to Achieve Financial Independence?
This page contains links to our partners. RBD may be compensated when a link is clicked. Read disclosures.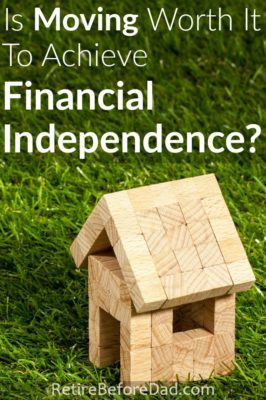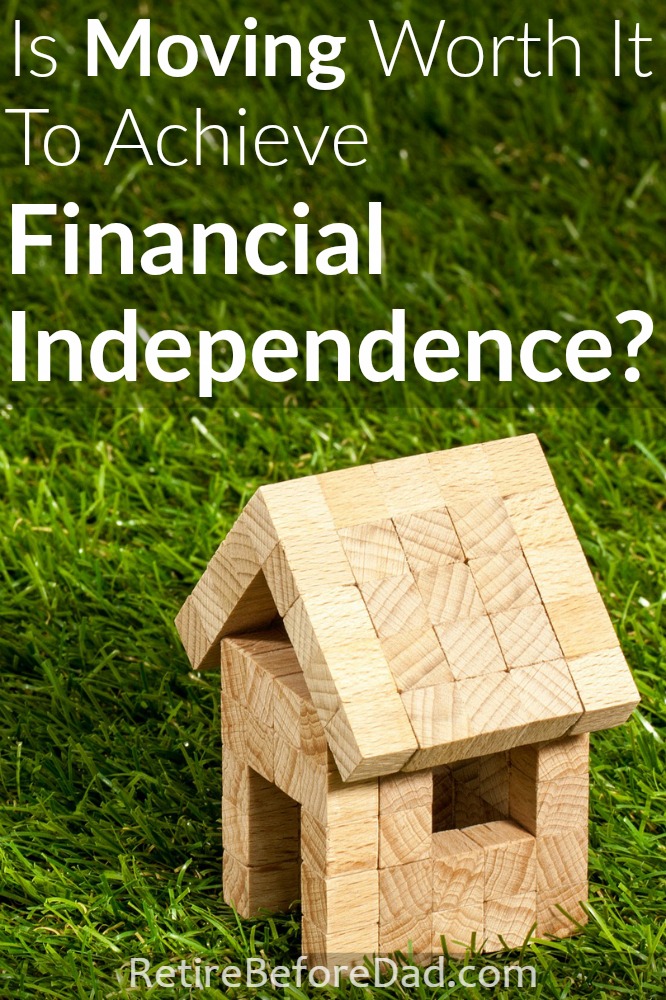 Does it make sense to move somewhere cheap to achieve financial independence sooner? It's a topic we talk about sometimes in our household. If we could lower our housing costs by moving, we could retire much sooner than our plan.
We're in a middle stage of life with three young kids, a minivan, and a mortgage and in the suburbs. Moving somewhere cheaper would be difficult now, but it's not out of the question.
Younger people who haven't settled down yet but still aspire to retire early should pay close attention to their living situation and the forthcoming decisions around permanent residences. Cost of living has serious implications on the financial independence equation.
Pick Up Your Life and Move
After traveling to nearly 50 countries and various small and large towns across the globe, only a handful stand out as places I'd want to live permanently.
My hometown is one place I'd consider. I don't live there anymore, but that's where my parents are, and most of my childhood friends are still there.
Carmel, CA, Switzerland, and London, are a few other compelling places. But they're expensive and not practical.
Another place is San Diego. The first few times I visited I thought, what would it take to pick up my life and move here?
When I was a kid, my family visited my Aunt and Uncle there. They took us to Coronado Beach and we had breakfast at the cool hotel. They introduced us to fish tacos from street vendors. I loved it.
Then early in my career, I had a week of software training in Carlsbad. I stayed at a hotel in La Jolla. So nice.
And after backpacking for 14 months and enduring a brutal 48-hour bus ride from Mexico City, I reentered the U.S. from Tijuana into San Diego.
I stayed with an old friend. His roommates would walk down to Pacific Beach at 4pm to play horseshoes and drink beer a few times a week. That's my kind of happy hour.
If there was ever a time to move to San Diego, it was in 2002 after traveling. But I was passing through and planning to settle down in my hometown.
The climate is perfectly comfortable in San Diego. Beach towns ping the coast headed north of an economically thriving and cultural city. San Diego has it all… except one thing.
Low cost of living.
Fast forward to when I was in San Diego again for FinCon. FinCon is a conference primarily for financial bloggers, media, and companies. This was the second year I attended. It's a place to meet "online friends", learn to run a better blog and network with companies who partner with sites like RBD to grow their businesses.
Being my fourth visit to San Diego, I expected to have a similar what would it take to pick up my life and move here moment. But I didn't. My life has changed quite a bit since 2002. This time around, I was quite happy to leave and return home to my family.
Our Little Corner of the World
Our family lives in a Virginia suburb of Washington, D.C. The metro area is expensive, though not as bad as New York or San Francisco. We've thought about moving away to settle somewhere with a lower cost of living. But we haven't.
Because we like it here.
The D.C. area has a lot to offer. The city itself is mostly awesome from a lifestyle perspective. Public transportation is abundant (though not always reliable). It's broken into manageable neighborhoods. The museums are world-class and free. Good paying jobs are plentiful. Area residents are well-educated, diverse, and from all parts of the country and world.
Our suburb is very pleasant. It's not sprawling or congested. The state of Virginia is far more laissez-faire and business-friendly compared to D.C., making the state a great place to settle down. Pockets are walkable, historic, modern, and cultural all at the same time. People from around the world visit our suburb and think…
What would it take to pick up my life and move here?
Living Free in Guatemala
Among the dozens of extraordinary people I met in San Diego was Pauline from Reach Financial Independence. She owns a guesthouse in Guatemala and spends part of the year there. She is location independent due to the nature of her businesses.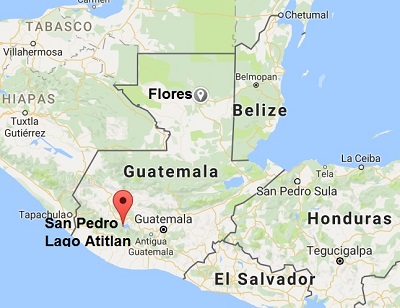 She's crafted a life where she is in complete control of her time and location. Her passive and business incomes are plenty to sustain her lifestyle.
I felt nostalgic speaking to her about her property in Flores in the north on Lago Petén Itzá. Flores is the base town for visiting the ancient ruins of Tikal (of Star Wars fame). I visited during my big trip and then again with my Dad a few years later on an excursion from Belize.
As a budget backpacker traveling on a tight budget, I always prided myself on finding the cheapest beds everywhere I went. Flores was cheap.
But the two cheapest non-free rooms I ever stayed in were in Vang Vien, Laos and San Pedro la Laguna Atitlan in southern Guatemala. I paid $1.25 US per night in each place for a decent room of my own. The San Pedro room was bigger. Vang Vien, fewer mosquitoes.
Despite having my life threatened and getting robbed by four machete-wielding miscreants while hiking around Lake Atitlan, I was fond of San Pedro. Everything I needed was a short walk or boat ride away. The lake is stunning.
Considering that the cost of living in a place like San Pedro is so low, our family could move there TODAY and be financially independent for the rest of our lives.
If we stay in the Washington D.C. area, we're many years away.
Shortage of Assets vs. Cost of Living
From one perspective, we do not have enough assets to be financially independent.
Alternatively, we have plenty of money to retire early, we just aren't living in the right place.
To become financially independent, we need to either move or build our assets. We've chosen to keep building assets.
But every time I peek at our net worth, I'm reminded that we could achieve financial independence sooner (even immediately) rather than wait until I turn 55. If only we'd move where the cost of living is lower.
I highlight Guatemala as an extreme end of a spectrum. Compared to Washington D.C., San Pedro is dirt cheap!
Though Guatemala is extreme, there are undoubtedly affordable cities and towns closer to home. We could move to a city or town where the cost of living is low, schools are good, and we'd have everything we need and still be able to achieve financial independence earlier. So why not move there?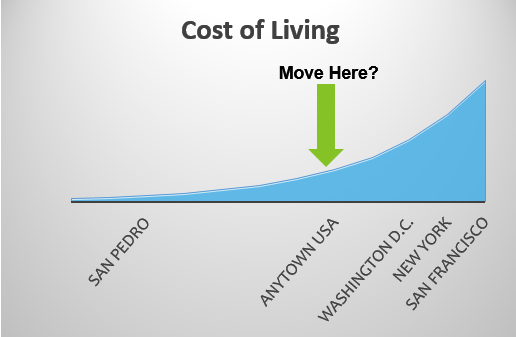 Why Not Move to Achieve Financial Independence?
As adventurous and blog-worthy as it sounds, our family is not moving to Guatemala. Maybe someday we'll visit together and take Spanish lessons in Xela (aka Quetzaltenango). Or volunteer at the school at Casa Guatemala. Or we'll explore the unique natural pools and waterfalls at Semuc Champey or the insanely cool river cave near Finca Ixobel.
Our area has far better schools and infrastructure. It's safe and convenient to family, airports, recreation, and everything we need and want. Our friends are here. Our kids are making friends here.
But the conversation still comes up with Mrs. RBD every once in a while. We ask ourselves: Why don't we move to be in an even better financial position?
The answer is usually: Where to?
My hometown doesn't appeal to her because it's colder than D.C. and she only knows my friends and family. I'm not sure it appeals to me all that much either.
Her parents no longer live where she grew up. So not much there is drawing her back.
We met in the D.C. area. It's where we dated, lived in our first place together, married, bought a house, and started a family together. The D.C. area is part of who we are as a family.
So leaving is a big deal.
And there's that lack of affordable places where we want to move. I suppose we could go exploring to find somewhere else to live. But after 13 years of living and building relationships, it's difficult to justify leaving, aside from the cost of living.
So we either stay put, or start from scratch to find a new place to settle down. After already settling down here.
The thought of that is unsettling. For us today, moving isn't worth it.
You can, therefore, deduce that our desire to stay where we are outweighs our desire to achieve financial independence earlier.
Location in the Financial Independence Equation
Location is the key component to the financial independence equation. Because location determines cost of living, in terms of housing, transportation costs, food, and available services.
Backpacking in parts of Asia and Latin America is cheap for food and accommodations. But we don't want that now. We want a stable home for our kids to grow up in, where they can build the intellectual foundations to go and find their own adventures someday. We live in an ideal place for that, surrounded by like-minded families… like-minded in terms of raising kids, not in terms of pursuing financial independence.
The suburban lifestyle has its pitfalls. Namely, a reliance on cars and a mortgage.
Even with its pitfalls, the expensive city suburban lifestyle is the one we've chosen. We realize that the longer we stay, the more challenging a move to somewhere cheaper gets. As the children age, they'll have a say in it as well. I'm guessing they won't want to leave their friends and for something new because the other place is cheaper.
Conclusion
When I was 27, I was broke, unemployed and living with my parents. From that restarting point, I had the option to live and find a mate in a less expensive place. Had I been more informed about what it takes to become financially independent, I may not have moved to D.C.
Today, I consider moving here one of the best decisions I ever made.
But for the singles or young couples out there who aspired to retire early, a critical decision point may be near. If you chose an expensive city, expect to work a while longer. That's not to say early retirement cannot be achieved in an expensive place. You'll have a steeper mountain to climb.
Declaring that we're going to maintain our current lifestyle instead of pursuing more immediate financial freedom is somewhat liberating.
We've built our nest and our household size is (probably) complete. We can now take the lifestyle we know and love and estimate what it's going to take to reach our goal. College planning has become clearer. Our housing costs, while high, are affordable and predictable. My current career trajectory is steadily moving upwards.
Knowing that we'll likely stay where we are makes planning for our retirement easier. Through working hard to achieve financial independence in an expensive city, we should have more money and options to relocate and/or travel extensively when we retire.
Do you struggle with the decision to stay or leave an expensive city? Could you achieve financial independence sooner by moving?
Photo by image4you via Pixabay CC0 Public Domain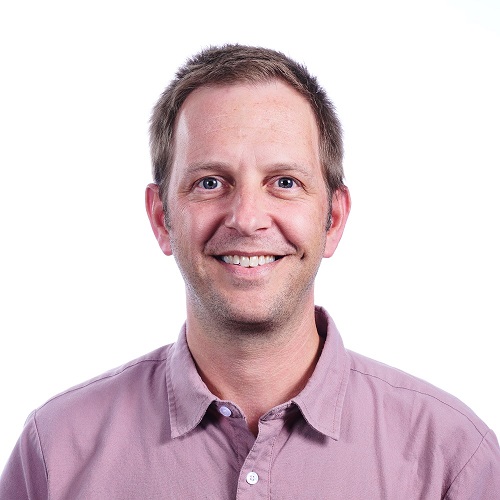 Craig is a former IT professional who left his 20-year career to be a full-time finance writer. A DIY investor since 1995, he started Retire Before Dad in 2013 as a creative outlet to share his investment portfolios. Craig studied Finance at Michigan State University and lives in Northern Virginia with his wife and three children. Read more.
---
Favorite tools and investment services right now:
Sure Dividend — A reliable stock newsletter for DIY retirement investors. (review)
Fundrise — Simple real estate and venture capital investing for as little as $10. (review)
NewRetirement — Spreadsheets are insufficient. Get serious about planning for retirement. (review)
M1 Finance — A top online broker for long-term investors and dividend reinvestment. (review)