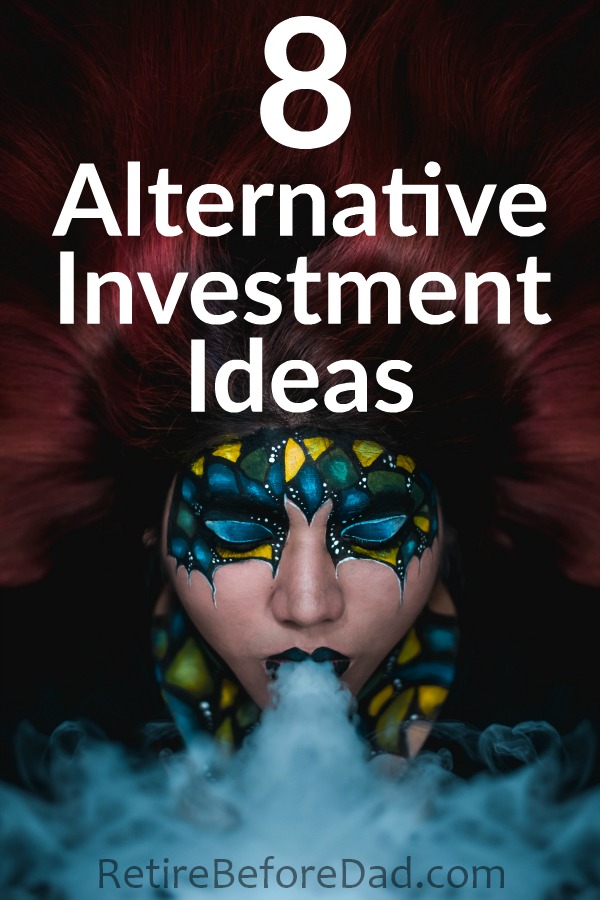 Diversification is said to be the only free lunch in the investment world. If your portfolio is heavily weighted toward one asset class, you may benefit from exploring other places to put your money. The alternative investment ideas in this post may be a good starting point for your search.
Conventional investments include stocks, bonds, and high-yield cash savings. Alternative investments can include a wide variety of assets including private equity, real estate and other physical assets, commodities, and derivatives.
Alternative investments were traditionally more common for high net worth investors because they used to require large sums of capital for entry-level investments.
But technology and new laws have opened up exciting alternative opportunities for ordinary investors, beyond peer lending and real estate investing favorites Fundrise and PeerStreet.
I've highlighted some alternative investment ideas in the passive income ideas post published in January.
But today's list contains fresh investment ideas that don't necessarily produce passive income but still may help you diversify away from stocks. Most of all, some of these ideas may indicate where the future of financial technology is headed.
A few important notes about these 8 alternative investment ideas:
Mentions in this article are not recommendations to invest your money in these assets or platforms
I have not personally tried any of these alternative investment ideas
If you are interested, please do your own research and vetting before investing
Many of these ideas are high-risk; don't invest your money unless you understand the asset; you may lose all of your invested capital
Some of these are startup businesses which may or may not succeed over the long-term
With that, here are 8 alternative investment ideas to inspire your wealth portfolio.
1. Small Business Startups
The JOBS Act of 2012 helped to make it easier for startup businesses to raise capital. Since the passing of the law, companies can raise capital through equity crowdfunding. It's like Kickstarter, but for partial ownership in a company.
Companies looking to raise capital share their business idea to attract investors on equity crowdfunding platforms or through a Reg A+ IPO. The platforms list pre-vetted startups and handle the investment transaction.
Non-accredited (non-millionaires) investors can invest as little as a few hundred dollars in a company. In return, the investor receives equity in the startup.
Three popular platforms in the space are:
Check those out to get a sense of what kind of deals are available and how they're structured.
Each of these platforms enables ordinary investors to invest like a venture capitalist. That's cool because you could be an early investor in the next big success. But realistically, most of these startups will fail and you'll lose money.
If you commit to opportunities on these platforms, keep your investments small and diversified.
2. Crowdfunded Art
I've recently come across an online platform called Masterworks that has emerged to enable ordinary investors to invest in fine works of art. According to the company, masterpiece art has outperformed the S&P 500 and gold since 1997.
It works like this. Masterworks identifies fine works of art with the potential for value appreciation, then makes a purchase. Next, they create a Delaware 'special purpose vehicle' and file paperwork with the Securities and Exchange Commission (SEC).
Upon SEC qualification, they plan to 'tokenize' the offering on the Ethereum blockchain and sell shares to investors.
Masterworks has already acquired an Andy Warhol painting of Marilyn Monroe for about $2,000,000 and is awaiting SEC qualification. Crazy idea, but in the works!
The company is currently testing the waters under Regulation A under the Securities Act of 1933. Who knows if this will actually work. But it will be interesting to watch.
3. Farmland and Agriculture
An online platform called Harvest Returns is now making it possible for individual investors to invest in agriculture. Think real estate crowdfunding for farming.
For a minimum of $5,000, accredited investors can invest in row crops, timber, livestock, and even fish farming. Harvest Returns helps farmers and agricultural businesses raise money for projects while investors reap the long-term financial benefits.
I wasn't able to view the details of any deals because the site requires a lot of personal information to do so. But I'm told these are primarily equity deals, with some debt deals available as well. Each deal type requires specific tax reporting, so be sure to consider the tax consequences before investing.
4. Commodity ETFs
Probably the most 'traditional alternative' on this list is commodity ETFs. Commodities have been traded on exchanges for eons, but only in the past two decades have they become easily accessible to ordinary investors via ETFs.
Investors can invest in gold, silver, oil, corn natural gas and many other commodities by simply buying placing an ETF order, just like buying a stock.
The largest commodity ETF is the Invesco DB Commodity Index Tracking Fund (DBC) which tracks the performance of 14 different commodities. Fees are a bit high for the fund at 0.85%, but in return, you'll immediately diversify your portfolio into a different asset class.
Alternatively, you can choose which specific commodity you want to invest in. For metal exposure, the SPDR Gold Trust (GLD), the iShares Silver Trust (SLV) and the ETFS Physical Palladium Shares (PALL) are all popular choices.
If you're planning to buy commodity ETFs, I recommend using a commission-free online broker such as M1 Finance to keep fees to a minimum. Read my M1 Finance review here.
5. Music Royalties
Royalties are payments made to an owner of an asset from another party for the right to make use of the asset. For example, if you're musically inclined and write a hit song, you would receive royalties if the song is ever purchased, played on Spotify, or used in a commercial.
The music industry is based on royalties.
Music rights that generate royalties represent a future stream of income. Like any future stream of income, there's a present value to the asset.
A company called Royalty Exchange has created an online auction platform for artists to sell their royalties to investors.
This activity of buying and selling royalties has traditionally happened in private transactions. Royalty Exchange makes the transactions easier and exposes the auctions to a wider audience. This enables more artists to sell their royalties.
From what I've seen, the prices of the royalties listed are greater than $10,000. So this asset class is likely for high net worth individuals or companies that do this for a living. You may recall, Royalty Exchanged (operating as Royalty Flow) attempted to crowdfund a royalty deal (#20 here) for a portion of Eminem's catalog. But the deal failed.
This may be a space to keep an eye on for lower entry points or other ways to crowdfund purchases. Or, try to create your own music royalty income stream by writing music (good luck with that!).
6. Crypto-Currencies
2017 was the year of Bitcoin. The original crypto-currency based on blockchain technology increased 1,369% last year, only to fall below $7,000 as of writing this article. Other popular coins include Litcoin, Ethereum, XRP, and Bitcoin Cash.
Bitcoin has inspired a whole new industry where just about anyone can create a coin or token to be traded on an exchange. This technology and asset class is still in its infancy and central banks and regulators will certainly have their say. But if enthusiasts get their way, crypto-currencies will replace central banks someday making financial transactions more secure (allegedly) and anonymous.
For investors interested in participating in what could be the future of money, CoinBase is the place to buy and sell digital currencies. I'll be on the sidelines for now.
7. Websites
The internet age is already a quarter of a century old. Property on the web changes hands fairly regularly these days. Popular words and easy-to-remember URLs have certainly gained in value since the early days of the internet, especially the ".coms".
Those interested in investing in website URLs can look to any domain name registry or website host company to buy a domain and squat on it for a few years before reselling it. Make an offer on a high-value domain to better your chances of profit.
A more ambitious option is to buy an online business. Two popular websites for buying online business are Flippa and EmpireFlippers. These marketplaces make it secure to search for an acquire existing profitable online businesses.
But don't be mistaken, buying an online business takes a lot of work or requires hiring someone to do it for you. You may be better off starting your own online business from scratch to learn how it's done from the ground up.
8. Invest in Stuff?
Usually, I'm in favor of getting rid of stuff.
But I recently came across an interesting platform that enables people to earn money from the stuff they own.
Fat Llama lets you post your items online and rent them to people in your area. Think AirBnB for gadgets.
You could even purchase a commonly needed item for the purpose of renting it out, thereby investing in stuff to create an income stream. How's that for an alternative?
This platform matches those with a short-term need for a gadget or tool with someone who is willing to rent them theirs.
Popular items on the platform include cameras, drones, sporting equipment, and projectors.
Listings are insured for up to $30,000. Fat Llama lists the items and you communicate with the borrower a pickup time.
Fat Llama is a startup and not available everywhere. Most current listings appear to be in New York and San Francisco. Sign up and check your local listings to see what is available.
Conclusion – 8 Alternative Investment Ideas
If any of these alternative investment ideas are interesting to you, please proceed with further due diligence before committing any money. Good luck.
Some on this list may become more palatable as the platforms mature, while others, like commodity ETFs and websites, are very investable now.
If you're still only comfortable sticking with more traditional investments, these ideas are still interesting to look at. Especially the investment opportunities on the crowdfunding platforms, because new startup investment opportunities are always flowing. The next big success story may be a few clicks away.
Photo by Claudia Ramírez on Unsplash
Subscribe to Retire Before Dad!
You'll receive my weekly articles in your inbox and the FREE eBook 6 EASY Income Streams You Can Start Building Today!