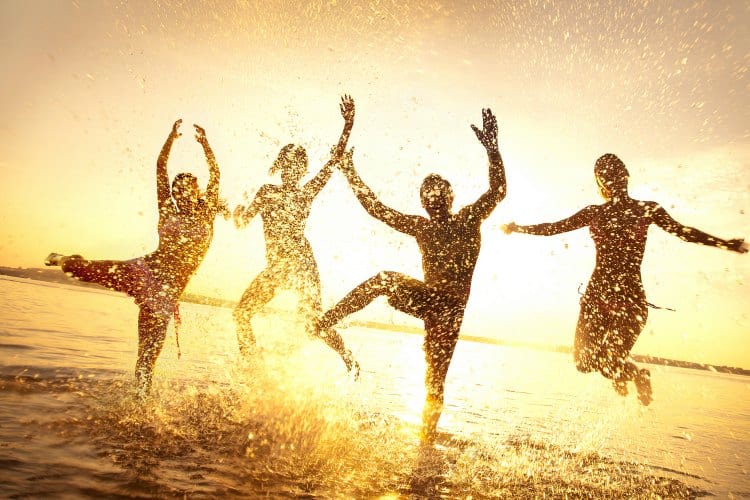 I've been thinking a lot about happiness recently. Not so much about what makes me happy, but about the mechanics of creating sustained happiness in life.
Over and over again, I read about successful people I admire who have all the money they need but still don't feel fulfilled with their lives.
The actor Jim Carrey famously said:
I think everybody should get rich and famous and do everything they ever dreamed of so they can see that it's not the answer.
Money doesn't guarantee happiness. We all know that. But having some money is better than having no money.
A study done at Purdue University found that the ideal income point for life satisfaction is $95,000. That's a global average for individuals. For families and those in more expensive countries and cities, it's higher. In the U.S., the average is $105,000.
According to the study, "once the threshold was reached, further increases in income tended to be associated with reduced life satisfaction and a lower level of well-being."
Why This Matters
We already know that 78% of U.S. workers live paycheck to paycheck, and 40% of U.S. adults can't cover a $400 expense without selling something or borrowing money. So it's no surprise that the life satisfaction income level is significantly higher than the median household income level (~$60,000).
Income is great, especially income that takes little effort to earn. But income isn't wealth.
Americans believe it takes an average of $2.3 million in personal net worth to be considered wealthy. – 2019 Schwab Modern Wealth Index Survey.
A study at Harvard found that increased wealth does increase the rate of life satisfaction, but not until net worth climbs above $8 million!
Millionaires with a net worth of $1.5 to $3 million, were just as happy as millionaires worth $3 to $8 million.
So if you're worth $1.5 million today, then don't expect to be any happier when you accumulate the next $6 million.
Why does all this matter?
We spend so much time and mental energy on earning higher salaries, growing businesses, and investing to build wealth. So why bother if it's not going to increase our happiness?
I've spent most of my adult life pushing toward the goals of financial independence and early retirement.
The assumption has always been that once I reach those goals, I'll likely be happier about my life situation than I am today.
I've read several stories about people who have achieved momentous financial and professional goals but aren't any happier for it. Happiness doesn't automatically follow once there's enough money or success. You have to actively pursue happiness, choose to be happy, and do more things that make you happy.
Happiness is not the last stop on the train track. It's the ride.
An Unhappy Place
The title for this blog post came from the HBO miniseries Chernobyl.
Episode 4 is called The Happiness of All Mankind. The phrase (based on eyewitness accounts) decorates a propaganda banner in the show.
I'm in a writing group at work. The same week I was binge-watching Chernobyl, a group member sent an email to everyone asking to critique a paragraph he wrote about technology and artificial intelligence (AI).
He used the word mankind three times.
Instead of giving him my opinion of the sentence, I ran it through my online grammar checker (ironically, a sort of AI tool) and gave him the feedback. Grammarly took issue with the word mankind, suggesting this:
Some readers may find mankind dated or non-inclusive in this context. To avoid distraction, consider replacing it with a neutral term (humanity, humankind). – Grammarly
And a blog post was born.
I traveled to Ukraine in 2004 to chaperone a group of 60 high school exchange students on their way home after a school year in the States.
I didn't get to Pripyat to Visit Sunny Chernobyl, but I did check out the Chernobyl National Museum in Kiev.
I can't say that Ukraine was among the happiest places I've been, but I still enjoyed the visit.

Days I spent traveling were some of the happiest of my life. But I don't travel much these days. Which begs the question, if traveling makes me happy, why don't I travel more? The answer might seem obvious (job, young family).
Or, maybe I'm not optimizing for happiness, blinded by the perceived importance of long-term financial goals and an unremarkable suburban lifestyle.
How to Optimize for Happiness
I'll start by saying I don't know the definitive answer. Your answer is probably different than mine. But here are a few thoughts about happiness on my mind.
Do More, Do Less
To start optimizing for happiness, one should do more activities that make you happy and fewer that make you unhappy.
Recently, I've started to ask myself if I'm happy doing what I'm doing at a given time.
For example, at my day job, I'm usually happy. But while commuting to work, I'm often unhappy.
When I'm at our community pool in the summer, I'm always happy (even in a thunderstorm). But when I'm on the couch at home reading Twitter or Facebook on my phone, it frequently makes me unhappy (negativity, learn someone died).
So more work and pool time = happiness.
More driving and social media = unhappiness.
Sometimes a small tweak can make a difference, like deleting Facebook and Twitter from my phone (done, inspired, in part, by the book Deep Work).
Other times it's difficult. I've been waking up at 5:10 am to swim two days a week. It's hard to wake up, but very satisfying to ride my bike to the pool and swim 2000 meters before 6:30 am.
Reducing my driving is a bit trickier. If I increase the number of days I work from home, I'll reduce the benefits and enjoyment I get from being in the office.
I'm still trying to find the right comfort level with work and commuting.
Fortunately, I also have a side business that I work on most evenings, which gives me tremendous life satisfaction.
Own Less
I learned to value experiences over material objects as a nomadic backpacker in my 20's.
Today, our family lives in a modest suburban house. Since the day we moved in, a constant flow of stuff has entered our doors. There are days that all I see is clutter that used to be my hard-earned money. I wish I had the money again, not the stuff.
I've shared my struggles with trying to live a lifestyle with fewer possessions. But as a family of five, four others have a say.
The problem with too much stuff is it requires maintenance (finding, cleaning, organizing), and distracts us from what's most important.
I'm convinced that owning fewer possessions is a pillar of achieving optimal happiness.
Progress
Motivational speaker Tony Robbins, says the secret to happiness boils down to one word: progress.
There are levels of making it in life and whatever you think 'making it' is, when you get there, you'll see there's another level. That never ends, because if you stop growing, you're going to be unhappy.
Which sounds a bit like the hedonic treadmill:
The observed tendency of humans to quickly return to a relatively stable level of happiness despite major positive or negative events or life changes. According to this theory, as a person makes more money, expectations and desires rise in tandem, which results in no permanent gain in happiness. – Wikipedia definition
I don't want to feel like I'm on a treadmill, though it's safe to say that Tony has thought about this more than me.
Doing enjoyable hard work, accomplishing difficult tasks (and reaping the rewards), and always striving to improve yourself seem to be ways to increase life satisfaction. But going overboard could make you obsessively unhappy.
Say yes to a real-life ambition, say yes to our hopes and our plans. Forget about your indecision, let's get the beast off our land. – Progress by Midnight Oil.
Toxicity-less
I've worked with a few toxic people. When I look back at the worst periods of my career, those people immediately come to mind.
Avoiding those kinds of people (at work or otherwise), and spending more time with people you have fun with and love is an obvious way to increase happiness.
Toxicity on social media is rampant, which is why I'm limiting my usage to mostly blog-related interactions.
Without social media on my phone, I'm now less inclined to scroll through toxic nonsense. Instead, I play more games with my kids and take them to the pool.
Seems like a no-brainer, but the apps on our phones are dangerously addictive.
Happiness for All Humankind
This is a financial blog, after all, and I don't need social science studies to convince me there is a deeply rooted correlation between money and happiness.
There's a financial goal that most of us who pay attention to our money pursue, whether we have a specific number to chase or not. You may not know even know it's your primary financial goal, but I bet it is.
It's financial security.
Financial security is more of a feeling than a metric. It's the point at which you have enough money to live your ideal life, enabling you to reach your optimal happiness.
It still doesn't guarantee happiness. And if you're struggling financially, that should not deter you from pursuing happiness.
But over the long-term, and certainly in the second half of your life, financial security provides a solid foundation from which to build a happy life.
We've reached the point where our family is confidently financially secure, so perhaps it's time to shift focus.
Photo via DepositPhotos used under license
Favorite tools and investment services right now:
Credible* - Now is an excellent time to refinance your mortgage and save. Credible makes it painless.
Personal Capital - A free tool to track your net worth and analyze investments.
M1 Finance - A top online broker for long-term investors and dividend reinvestment (review)
Fundrise - The easiest way to invest in high-quality real estate with as little as $10 (review)
*Advertising Disclosure: RBD partners with Credible which offers rate comparisons on many loan products, including mortgage refinances and student loans. This content is not provided by Credible or any of the Providers on the Credible website. Any opinions, analyses, reviews or recommendations expressed here are those of the author's alone, and have not been reviewed, approved or otherwise endorsed by Credible. RBD is compensated for customer leads. Credible Operations, Inc., NMLS Number 1681276, not available in all states. 320 Blackwell Street, Suite 200 Durham, NC 27701.