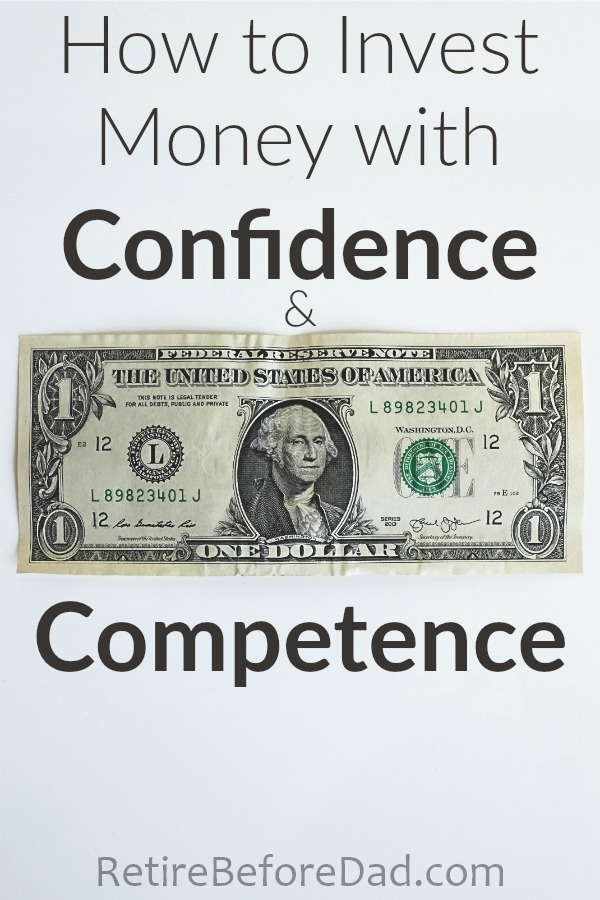 A few readers recently expressed a lack of confidence in their investing. They are uncomfortable with where their money is and unsure how to make changes. I sensed some fear because of the recent downturn, maybe for good reason. So today's post is about how to invest money more confidently by increasing your financial security and your investing competence.
Lack of confidence is a common ailment for investors. When everything you read says to start investing as early as possible, many people jump into the investment world before they are knowledgeable.
This is OK early on, especially with a company-sponsored 401(k) or other tax-advantaged accounts. Mistakes on small amounts of money early on won't hugely impact your long-term returns.
But if you're going to manage your own investments as your assets grow, you must put some effort into understanding basic asset allocation and types of investments.
There's also a fear of missing out when it comes to investing. When everyone else is making money in the markets, people feel the need to get invested too, sometimes following the lemmings.
Hastily entering the markets combined with not fully understanding the basics of investing can unsurprisingly lead to a lack of confidence.
Low confidence is not healthy for your investment portfolio. Because it can lead to panic when market uncertainty presents itself. It's also a symptom of insecurity and not truly understanding where your money is. That's not good.
So how do you overcome lack of confidence in your investing? It starts with personal financial security.
What is Financial Security?
Financial security is the state of well-being that is the result of making smart financial decisions over time.
It's more than a feeling. Financial security is about sacrificing short-term wants to create actual comfort and stability using money as a utility.
Many factors affect financial security, but it varies based on age and life situation.
For example, I felt financially secure with $10,000 in the bank while backpacking the world. That was plenty for my life situation at the time.
But today as a dad of three, homeowner, and sole breadwinner, financial security is far more complex.
If an emergency strikes an aspect of your life, do you have plenty of money to take care of the problem (and then some)? Do you have proper insurance coverage for you and your family? Are your estate planning documents in place?
How secure is your job or primary income source? Do you have alternate income sources if you lose your job?
Financial security is built by creating a lifestyle where your monthly income consistently exceeds your monthly living expenses and the surplus is used to solidify your financial footing.
Then invest.
Another way to think about financial security is answering the simple questions Do you have your financial shit together? and Do you have control over your money?
Is it you who decides where your money goes each month, or your lenders?
What's important to keep in mind about financial security, is that you can choose to be financially secure.
You can increase control by eliminating negative financial burdens (i.e. debt, bad spending habits), and thus, increase your financial security.
Money decisions you make every day impact your financial security. Make enough good decisions consistently over time and your financial security improves.
Alternatively, if you make too many bad money decisions, or one really bad decision, you'll decrease your financial security. Sometimes those bad decisions are hard to reverse, like if you bought an expensive car or too much house.
Understanding what impacts your financial security and building a solid financial foundation from which you can grow your wealth is important before getting serious about investing.
Financial Security is a Key to Investing with Confidence
The feeling of insecurity with your investments is often a result of lacking personal financial security. If you're worried about investment losses, ask yourself why are you worried? How is your life impacted if your at-risk assets are severely depleted from a stock market crash or other financial calamity?
What if the stock market declines 50%?
When you are truly financially secure, you can invest with confidence knowing that your investments WILL fluctuate, but those movements WILL NOT affect your long-term well-being.
Market decreases become opportunities.
If you lose sleep over market fluctuations, then you may have invested before setting a proper financial foundation. Perhaps you've taken on too much risk.
This can be fixed but it doesn't happen overnight.
Instead of spending on something you want, pay off your debts. Before investing your excess cash, pad your emergency fund.
Once you make enough good decisions to strengthen your financial security, you free yourself to add investments and more spending without weakening your financial position.
Financial security is so important in my life that it's second nature. I'm surprised it hasn't come up before on this blog and is probably a topic I should revisit in more detail. Stay tuned.
Lack of Competence also Affects your Lack of Confidence
Investing and personal finance are topics that people declare they know nothing about. Like a middle-school kid saying he sucks at math.
Or like my kids when presented with new foods. They declare the food is yucky without trying it.
When it comes to understanding basic principals of investing and personal finance, people give up before they try.
Others invest knowing they should be better equipped with knowledge but are content when markets are increasing. When markets decrease, they are more likely to make a bad decision.
The basics are not difficult to understand. But you do need to make some effort to learn them. A few important financial topics that everyone managing their own money should know include:
Asset allocation – where should you invest your money based on your age and risk tolerance
The difference between stocks and bonds
The difference between mutual funds and ETFs
How to calculate interest
Why investing in tax-advantaged accounts is important
How to budget
How to use a spreadsheet
How alternative investments work (real estate, peer to peer lending etc.)
You can learn about all of this stuff through Google searches. You might end up on a blog or forum, and that's fine. But for lasting knowledge, you best get a book about the basics or take an online course for a more thorough understanding. Learn however you learn best.
If you are already confident in your financial security, but not with your investments, then you need to figure out what's making you uncomfortable and make changes to your investments.
It's common for individuals to have a low risk tolerance but a higher risk portfolio. Especially during a long bull market like the one were still in. Because as stocks rise, a higher percentage of your assets will be invested in stocks. But as you age, you naturally become more risk averse and should hold less in stocks or riskier assets.
Ideally, you'll evaluate your retirement portfolios annually and make adjustments. Most of us don't.
How to Invest Money with More Confidence and Competence
OK, so I've written a lot about financial security and basic investing competence. But how do you apply this to your own situation?
Let's face it, some of us invest money without being as informed as we should be. That's true for many newbies.
And I'll admit, I've certainly made my share of investments without a thorough vetting. I've gotten much more diligent after several mistakes.
But it's probable that many of you are invested in a stock or asset that you do not fully understand. Your level of competence is OK, but maybe not as high as it should be. You should not be investing in things you don't understand. So either educate yourself, get out, or get help.
Here are a few actionable steps you can take to learn how to invest money with more confidence and competence.
Start building your financial security.
Financial security takes time to build and your needs change over time. But you can start today by making good money decisions. Build an emergency fund, pay down stupid high-interest debts, remove clutter from your life and avoid over-consumption.
Buy proper insurance for your life situation. Focus on increasing your income through a primary career and maybe start a side business.
For young people without much responsibility, it can happen quickly if income is decent and spending is under control. As you get older, it becomes more complex but it's not out of reach.
If you're not financially secure, change your mindset and make it a priority.
Start investing (even if you don't know what you're doing).
I know that sounds bad.
If you have a 401(k) at work, you should begin to invest on day one, even if you're fresh out of college and clueless about investing. Get started. Read a book, or a blog to help understand which investments to choose. Ask a friend or family member for help.
Many 401(k) plans now default to an age-based target fund instead of a money market fund. This was true with my new employer. Though I'm not a huge fan of age-based target funds, they are way better than a money market fund or not participating at all.
Outside of employer-sponsored plans, use tax-advantaged accounts such as an IRA or Roth IRA and keep your investments simple with stock or bond index funds to start. (Read more: If I Were Getting Started With Investing, Here's What I'd Do).
Real estate is another option. Buy a home and rent out a room. Invest in a rental property. Look into real estate crowdfunding or buy a traditional REIT index fund.
It's true about starting to invest early on. Time is on your side. So get to it. But…
… Simultaneously learn the basics. Keep learning beyond the basics.
When you start investing, start learning too. You'll learn a lot before you've invested a significant sum. Resources to learn are readily available, but you need to know what's important to understand (check out my bullet points above).
Make investing part of your everyday life. Don't ignore the headlines, be informed about the economy, interest rates, and what the market is doing.
Read articles, books, and talk about investing with friends. Personal finance is a fascinating and important topic and a shame it isn't taught more in high school.
Make several mistakes. Everybody does.
You will make mistakes with your money. Guaranteed.
Learn from your mistakes, only make each one once. Try to limit the size of each mistake.
Expand to other investments and diversify.
As your assets grow, diversification becomes more and more important. Stocks are a great asset over the long-term, but spread your risk out over many stocks and utilize ETFs.
Consider investing in real estate properties beyond your primary residence. If landlording doesn't appeal to you, hire a manager.
Business ventures, alternative investments, advanced education (invest in yourself) are all ways to diversify your investments beyond stocks and bonds.
Adjust your investments as your life situation changes.
Know that as you age and grow wealth, you should make adjustments to your portfolio to lower risk. This is often neglected.
A basic rule of thumb is to subtract your age from the number 110 (for me it's 110 – 42 = 68) and use the result to estimate your stock to bond portfolio ratio (68% in stocks, 32% in bonds, ballpark). If your risk tolerance is higher, use 120.
If you still aren't confident in how to invest money, or you feel that your financial foundation is not firmly planted, pause your investing until your financial security is in order.
There's never a bad time to get your financial shit together.
Photo by NeONBRAND on Unsplash
Favorite tools and investment services right now:
Credible* - Now is an excellent time to refinance your mortgage and save. Credible makes it painless.
Personal Capital - A free tool to track your net worth and analyze investments.
M1 Finance - A top online broker for long-term investors and dividend reinvestment (review)
Fundrise - The easiest way to invest in high-quality real estate with as little as $10 (review)
*Advertising Disclosure: RBD partners with Credible which offers rate comparisons on many loan products, including mortgage refinances and student loans. This content is not provided by Credible or any of the Providers on the Credible website. Any opinions, analyses, reviews or recommendations expressed here are those of the author's alone, and have not been reviewed, approved or otherwise endorsed by Credible. RBD is compensated for customer leads. Credible Operations, Inc., NMLS Number 1681276, not available in all states. 320 Blackwell Street, Suite 200 Durham, NC 27701.