How To Get A Small Business Loan Via Peer To Peer Lending
This page contains links to our partners. RBD may be compensated when a link is clicked. Read disclosures.
The peer to peer lending movement started during the financial crisis of 2007-2008. When business lending was nearly frozen due to the sub-prime loan problems and subsequent government bailout, technology and inter-connectivity combined to create a brand new way to lend.
The concept is simple, borrowers receive loans at lower rates than the banks, while multiple investors fund the loans through smaller investments, cutting out the middleman (banks). The result, lower rates for the borrower, solid returns and steady incomes for the investors.
In its infancy until recent times, these kinds of loans were only available to individuals. But now as the economy has improved and the industry and companies in the field have matured, peer to peer lending has expanded into small business loans.
Small businesses can now borrow at lower rates than before, without the hassle of the Small Business Administration (SBA). Through peer to peer lending, small business owners can easily borrow the money they need avoiding the bureaucracy that comes with an SBA backed loan. Simply apply online, receive funding from the marketplace, and get on with running your business.
One this page, I'll discuss the world of peer to peer lending in general, then specifically for small business loans. After that, I'll go over eligibility for Lending Club small business loans and the terms. Then I'll conclude with a "How To" step by step guide, which won't take very long because this is a fairly simple process.
How Peer to Peer Lending Works
Readers of this blog know that I've been investing in peer to peer loans with Lending Club since May of 2013. Peer to peer lending for consumer loans has been ongoing since 2007 and is no longer a new phenomenon. In fact, with the Lending Club IPO on the horizon, its about to hit the mainstream.
For consumers, borrowers apply for a loan on the Lending Club web site and provide job, financial, and basic background information. If their application and credit rating stand up to the heightened lending standards (compared to credit card lending), their loan will be listed on the marketplace where investors choose to provide a fraction of the capital for each loan. Rates are varied based on credit worthiness. Increasingly risky borrowers lead to higher returns for the lenders. This business model is tried and true for consumer loans.
What's Different For Small Business Loans?
On March 20th, 2014, Lending Club launched its small business loan product entering into a new market, small business loans. Lending Club was not the first company to provide peer to peer loans for small businesses, but its the most dominant in consumer lending, so their presence was certainly disruptive.
Click the banner below to inquire about a small business loan through the peer to peer platform at Lending Club:
The process to apply for being approved for loans does not change for small businesses. Borrowers still provide information on the Lending Club website the same as consumers. The main difference is the lenders.
For consumer loans, myself, or anyone that lives in a state that allows peer to peer investing (currently around 23 states) can participate. However, those of us investing in consumer loans cannot invest in small business loans. The reason, as it was explained to me by Lending Club, is that since this is a new lending platform for small businesses, they want to accumulate risk and loan data before opening the investment to the entirety of the investors. So if people like me and others who invest in consumer loans cannot invest in small business loans, who is?
The answer is larger financial institutions. Essentially, professional lenders. Companies such as divisions of private equity firms, hedge funds and some banks. If there's a return to be made, there's a financial firm willing to take the risk to collect it. This strategy, as laid out by Lending Club, is one that protects individual investors from this very new investment, and leaves it with the professionals.
The Details
Small business owners can apply for loans via the Lending Club platform. Here are some details of the lending product.
Borrow up to $100,000
Length of term from 1-5 years
Credit check has no impact on your rating
Fixed rates only, as low at 5.9%
No prepayment penalties
Use the money to consolidate debt, refinance, inventory or equipment purchases, working capital, remodeling, market, repairs and more
Excellent customer service
A How To Guide
Follow the below guide to apply for your loan. Have your business and financial information handy. The whole process should take 5-10 minutes
Step 1: Click this link or one of the other banners on this page.
Step 2: Enter the loan amount you need, up to $100,000. Then enter the purpose of the loan and click "Get Started" (This won't impact your credit score).
Step 3: Enter the basic financial information for your company.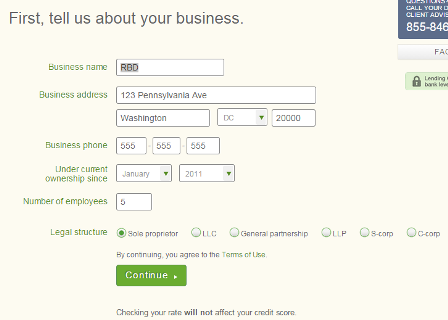 Step 4: Select the terms of the loan that you are pursuing.
Step 5: Checkout.
At this point, the loan will be submitted for review. Lending Club will process the loan and validate the information you submitted. Upon credit approval and risk assessment, the loan will be assigned a market rate based on Lending Club's proprietary underwriting process. When approved, the borrower will have the choice of whether or not to accept the terms of the loan. This step is important for the borrower. If the borrow decides to accept the terms, then the loan will be submitted to the lending marketplace, where professional lenders choose to fund the loan or not.
Once the loan is fund, the borrowers bank account will be funded in just a few days, minus a small origination fee. Lending has absolutely no hidden fees. The terms of the loan are clear from the start. Once you have the money, you are free to spend as planned and continue on running your business.
Small business loans, fast, simple and at lower rates than banks. Invest in your business. Get the capital you need up to $100,000!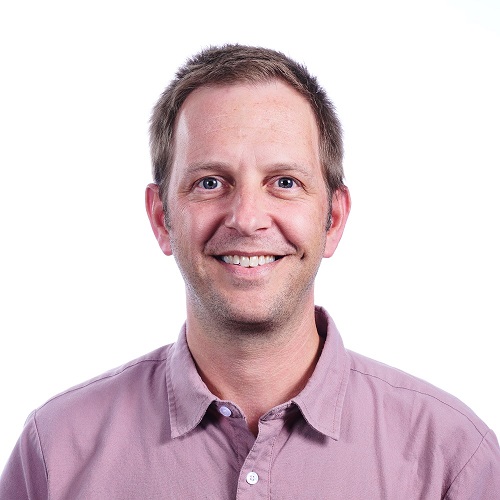 Craig is a former IT professional who left his 20-year career to be a full-time personal finance blogger. He lives in Northern Virginia with his wife and three children. A DIY investor since 1995, he started Retire Before Dad in 2013 as a creative outlet to share his stock and real estate income portfolios. Craig earned a Finance degree from Michigan State University. Read more HERE.
---
Favorite tools and investment services right now:
High Yield Savings — Put idle cash to work. FDIC-insured savings products.
NewRetirement — Spreadsheets are insufficient. Get serious about planning for retirement. (review)
Fundrise — The easiest way to invest in high-quality real estate with as little as $10 (review)
M1 Finance — A top online broker for long-term investors and dividend reinvestment (review)