This is the fifth annual review of Santa's stock portfolio. Since I started this website in 2013, I've been tracking the investment portfolio of Santa Claus, the foremost expert on Christmas and the holiday shopping season.
He's such a prolific investor he even has a stock market rally named after him.
Santa's stock portfolio is a list of 29 stocks that are tied to the Christmas season. Each year I look at the portfolio's performance, industry by industry, and compare it against the S&P 500 index.
In 2016, I started comparing Santa's performance to the second most beloved investor, Warren Buffett. Buffett's inclusion has the dual effect of upping Santa's competition, and, I'll disclose shamelessly, increasing reader interest.
This will be the final year of writing about Santa's stock portfolio. All good things must come to an end.
And I can only joke about reindeer poop and reindeer farts so many times.
But don't worry, I've combined the four previous posts into one new page to which today's post will join after the holiday season. The new page will include a brand new linked spreadsheet that will automatically track Santa's portfolio until we meet the Ghost of Christmas Yet-to-Come.
Methodology
The Santa Claus portfolio (SNTA.NP) started as 25 stocks. Each year I add new holdings based on valuations and relevancy and remove stocks due to acquisitions or Grinch-like behavior. This year, the portfolio consisted of 29 stocks. The portfolio of stocks has two criteria: each stock is Christmas-related and pays a dividend.
Each year I record the Adjusted Close price (sourced from Yahoo Finance) on December 4th and then calculate the annual return of each stock individually and for the equally weighted portfolio. Then I look at the performance since inception. The numbers are compared to the S&P 500 Index ETF (SPY).
As a stocking stuffer beginning last year, I also matched Santa's performance against the jolliest investor of them all, Warren Buffett and his Berkshire Hathaway (BRK-B) stock.
Keep in mind, since Mr. Kringle is NOT required to disclose his holdings to the SEC (being a resident of the North Pole), we can only speculate on what stocks he owns in his portfolio based on his unique expertise.
For the previous year, from the period of December 4th, 2015 through December 4th, 2016, Santa's portfolio was up 6.96%, beating the S&P 500 index by 2.16%.
Santa Claus was a big loser against Warren Buffett last time around, whose Berkshire Hathaway stock was up 16.79% for the year.
Let's see how Santa's stock portfolio performed this year.
But first, let's take a look at some of Santa's holdings by industry.
Santa's Stock Portfolio Industries
Toys
Toys make up the bulk of the clutter in our home. Grandparents always seem to buy the 50-piece toys that scatter everywhere. Here's how kids play with these toys:
Step one: Dump all the pieces and spread them across the floor.
Step two: Move onto the next toy and repeat.
Our oldest is almost six and he's a bit more contained now, so we do finally see a light at the end of the model train tunnel.
During the last four years following the toy space, Santa has witnessed one company, Hasbro (HAS), overtake the other, Mattel (MAT), as the largest toy manufacturer in the U.S. Hasbro's stock rose 96% in that period while Mattel's value was cut in half.
Back in June, Mattel slashed its dividend by 60% and then completely suspended the dividend after poor earnings results in October. The bankruptcy of Toys R Us didn't help. But as recently as last month, merger talks between the two have reignited Mattel's dismal stock.
The once-dominant Mattel was the worst performing stock in Santa's portfolio in 2017 (down 41%) AND since the beginning of this list in 2013 (down 55%). Thankfully, I sold my shares a long time ago.
On a more magical note, media giant Disney (DIS) stock was up 14% for the year and a healthy 67% since 2013. 2018 should continue to be an exciting year for the "House of Mouse" as its latest movie Coco is getting excellent reviews and many others are in the pipeline. Though late-2019 is when Frozen 2 is expected to take over my household.
Retail
Thanks to the dominance of Amazon over the past four years, many of Santa's retail holdings have far underperformed the broader market. Amazon has never been part of Santa's holdings, much to his chagrin.
On December 4th, 2013, Amazon's stock closed at $385.96. December 4th, 2017, the stock traded at $1,133.95, a 194% gain. So much for dividend investing.
One interesting partnership we witnessed this year was Kohl's (KSS) partnering with Amazon to accept returns. The relationship is spurring speculation of a complete takeover.
All was not frosty for the brick-and-mortars. In fact, quite a few names had excellent returns over the four-year period. Home Depot (HD), for one, is up 157% since 2013. It's the second biggest gainer on Santa's list.
Home Depot, along with The Gap (GPS), Walmart (WMT), and Best Buy (BBY) all gained more than 40% in 2017. Not bad for how annoying their commercials are.
Other stocks such as Costco (COST) (up 31%) and Tiffany's (TIF) (up 20%) weren't so naughty either.
Second only to Mattel, Macy's (M) was the turkey parade of retail stocks for the life of this portfolio, declining 36% in 2017 and down more than 43% over the past four years.
Electronics
It's no surprise that Apple (AAPL) has been a top performer in Santa's stock portfolio. What kid doesn't want an iPad, iPhone, or iPad? Apple's stock gained 57% in 2017 and 127% since 2013.
Edging out Apple for the top performer in Santa's electronics portfolio was Microsoft (MSFT), who overcame the embarrassment of the Zune to create a fairly competitive PC/tablet product, the Microsoft Surface. Mr. Softy was up 40% this past year and 131% since the inception of Santa's stock portfolio.
Reinventing itself as a products company to join its software and expanding cloud business is definitely something for shareholders to be merry about.
Lastly, a lesser known electronics company that provides glass for flat screen TVs, Corning (GLW) stock was also up 40% in 2017, though "only" up 110% since 2013.
Lighting the Way
Santa Claus and his reindeer can't rely entirely upon moonlight and Rudolph's nose for navigation. The landscape is illuminated with bright lights from the cities and homes to let Santa know where all the kids live. Without the utilities, it would be too difficult to deliver all those toys.
Dominion Energy (D), a favorite of Santa's for the past five years, is a consistent gainer up 18% this year and 51% since the start of Santa's nice stock list.
Newcomer to the list, Southern Company (SO), yule-logged respectable returns of 13% in 2017.
Holiday foods
Who other than Santa would have guessed that the top stock of Santa's Stock Portfolio list would be a food company? Tyson Foods (TSN) finished strong in 2017 with a nearly 50% gain, adding on to its previous robust performance. Since December 4th, 2013, Tyson gained a snow-blowing 162%, beating out every other stock on the list. Tyson Foods is no turkey.
Makers of sugar and spice and everything nice, McCormick & Company (MKC), continued its consistent performance rising 20% this year and 52% since added in the second year of Santa's list in 2014. Most impressively, this Dividend Aristocrat increased its dividend by more than 10% in recent weeks, a nice habit they've repeated for the past 32 years.
Hershey's (HSY), a company only added to the list in 2015, managed to stay independent after fending off a takeover attempt by Mondelez last year. Returns were sweet this year, up 19%, about the same as 2016.
On the naughty list this year is cereal and packaged foods maker, General Mills (GIS). Investors, myself included, lost almost two percent on the stock. Not kosher considering the overall market.
Shipping
Us grown-ups all know it's a little far-fetched to expect Santa Claus to deliver toys to every house, apartment, and condo on the planet in just one night. So Santa relies on the shipping companies to carry the bulk of what his sleigh can't handle.
Shipping companies had an OK year, but two out of the three on our list increased far less than the S&P 500. The only winner compared to the index was FedEx (FDX). The stock was up 25% this year and 77% for the duration of this experiment.
United Parcel Service (UPS) and cardboard box maker Sonoco (SON) were both up just under 10%. Good for any normal year, bad for 2017.
Payments
Last but certainly not least, the payments processors all had a glorious year. Visa (V) and Mastercard (MA) were both up 43% while their 15-digit brethren American Express (AXP) gained nearly 40%.
It's a dirty job, but somebody's gotta siphon 3% every purchase we make.
Santa Claus vs. The S&P 500
Like most managed mutual fund portfolio managers, Santa did not beat the S&P 500 in 2017. His portfolio of 29 stocks gained 19.13%, compared the S&P 500 index ETF (SPY) which returned 23.43%, a difference of -4.30%. Since inception, Kris Kringle is up 54.14% compared to the SPY (up 60.28%), underperforming by 6.15%.
While many of Santa's stocks in electronics, retail, and foods had strong years, a few lump-of-coal stocks on the naughty list dragged down Santa's portfolio again this year. Though Santa Claus would be a wealthier investor had he just invested in index funds, credit him for investing in what he knows best to get an edge.
Santa Claus vs. Warren Buffett
So the numbers you've all been waiting for are finally here. Santa lost to the S&P 500 Index this year, but how did he perform against the Jolly Oracle of Omaha?
To calculate Buffett's performance (and to keep this simple), I've taken the stock price of Berkshire Hathaway's (BRK-B) stock on December 4th for the past five years and made a side-by-side comparison to Santa's portfolio.
In the head-to-head Jolly Showdown, Buffett EASILY beat Santa again this year. Buffett's Berkshire Hathaway stock was up 24.37% in 2017, narrowing edging out the SPY (up 23.43%) and beating Santa by 5.25%.
Since inception in 2013, Buffett is up 71.93% outperforming the SPY by 11.65% and beating the thermal underwear off of Santa by 17.80%.

This is no surprise, as Buffett is one of the greatest investors of all-time, while Santa is merely an amateur.
Though Buffett will end up being one of the greatest philanthropists in history as well, nobody can compare to the joy Santa delivers to millions of children around the world each year. Not even the Oracle.
The Santa Claus Stock Portfolio
2017: 29 Stocks – Final Year
Click here to see the consolidated Santa's Stock Portfolio page which includes a new dynamic embedded spreadsheet to calculate the numbers automatically going forward.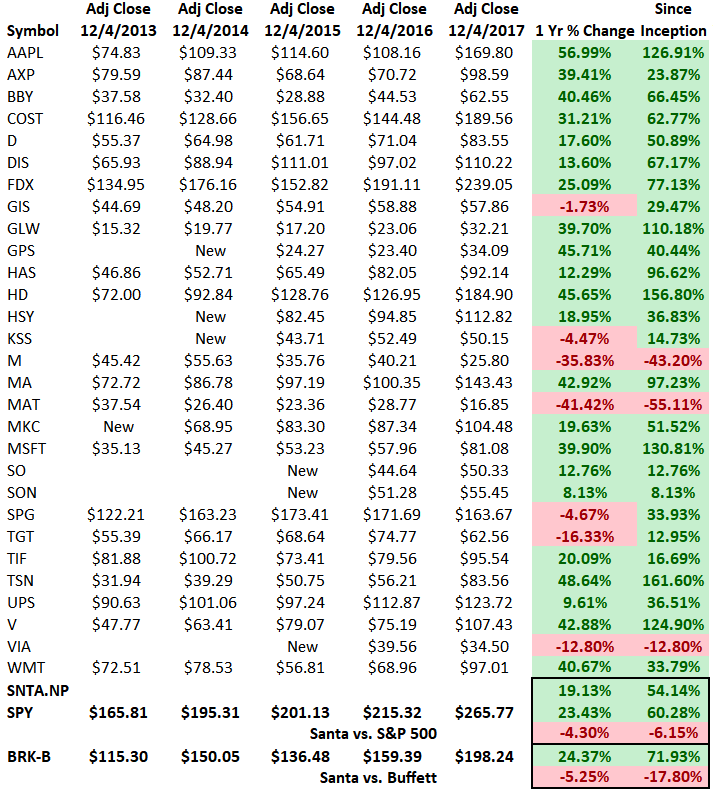 Merry Christmas. Happy Holidays. Happy New Year to everyone. -RBD
Disclosure: At the time of publication, the author was long AAPL, BRK-B, COST, DIS, GIS, HAS, MSFT, SPY, and TGT. The stocks mentioned in this article are for entertainment purposes only and not a recommendation to buy or sell the stocks. 
Subscribe to Retire Before Dad!
You'll receive my weekly articles in your inbox and the FREE eBook 6 EASY Income Streams You Can Start Building Today!